Pelosi unsure about 'Don't Ask' repeal this year
U.S. House Speaker Nancy Pelosi told reporters Thursday she's unsure whether the House will overturn "Don't Ask, Don't Tell" this year before the Pentagon completes its review on implementing repeal.
"I don't know," she said during her weekly press conference. "I'll have to examine. We'll take a look. We'll sit down together and see what is the advantage of going first with legislation or would the legislation more aptly reflect what is in the review — or is it a two-step process?"
Asked by DC Agenda about the timeline for repeal, Pelosi said her preference is "to go first with the legislation," but added, "we'll have to examine and see what the model is for what the review is."
On Tuesday, Defense Secretary Robert Gates unveiled during congressional testimony plans for a working group that would examine the implications on the U.S. military of ending "Don't Ask, Don't Tell," should Congress repeal the statute. Gates said this review would be complete by the end of this year.
Pelosi said acting on repeal would be "a very positive sign" that would put Congress in alignment with the current chairman of the Joint Chiefs of Staff and two previous chairmen who've said they favor moving toward repeal.
Current Chairman of the Joint Chiefs of Staff Adm. Michael Mullen on Tuesday came out in favor of gays serving openly in the U.S. military, and former Chairman Gen. John Shalikashvili has been against "Don't Ask, Don't Tell" for some time. On Wednesday, Gen. Colin Powell said he backs Gates and Mullen in their approach toward repealing the law.
Pelosi said Mullen gave "courageous testimony" and Powell's statement was "just wonderful news and validation on this issue."
Still, Pelosi said "we've done most of our heavy lift last year," suggesting Congress wouldn't take up in an election year repeal of the 1993 law banning gays from serving openly in the U.S. military.
"You don't want me to go through it again, do you?" she said. "All the bills that we've passed, since one year ago. We've done our heavy lift."
Pelosi said whatever decision is made on the timeline, proponents are "moving forward on it" and said "sooner or later with legislation, we'll just do what's best for protecting Americans who want to serve our country and to end discrimination."
The speaker said opponents of "Don't Ask, Don't Tell" in Congress can repeal the statute, but added lawmakers want to make sure they're replacing the law with a non-discrimination policy.
"We have to be careful about how we change it, so that it ends discrimination," she said. "We can get rid of 'Don't Ask, Don't Tell,' but we want to end discrimination, and that's why the review has value."
National Gay & Lesbian Chamber of Commerce Certifies Brown, Naff, Pitts Omnimedia, Inc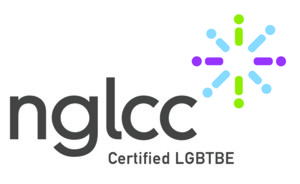 Washington, D.C. — Brown, Naff, Pitts Omnimedia, Inc, the parent company of the Washington Blade and Azer Creative, announced today it has been certified by the National Gay and Lesbian Chamber of Commerce (NGLCC) as an LGBT Business Enterprise. The NGLCC supports and advocates for diversity and inclusion for LGBT-owned businesses. With this certification the Blade's parent company joins more than 510 business and 134 corporate partners of the NGLCC.
Brown, Naff, Pitts Omnimedia, Inc. owns and operates the Washington Blade, the oldest and most acclaimed LGBT newspaper in the country. In 2012, the company launched Azer Creative, a full-service design firm. The company employs more than a dozen full-time LGBT staff.
"We are excited to become one of the 500 LGBT businesses across the country certified by NGLCC," said Lynne Brown, the Blade's publisher and a co-owner of the company. "The LGBT community has been part of our company from the beginning and we look forward to continue that for many years to come."
The Washington Blade was founded in 1969 and is known as the "newspaper of record" for the LGBT community both locally and nationally. Visit washingtonblade.com for more information. Azer Creative is a full-service graphic design firm based in Washington, D.C. Visit azercreative.com for more information. 
Vote now for the 2013 Best of Gay DC!
Choose in dozens of categories among hundreds of nominees, and make your voice heard!
Nominate the 'Best of Gay D.C.' now!
Dozens of categories cover all the best for LGBT Washington. Who deserves the prize this year?