Pulling out the gay stops
Charles Miller knows music, but it's mostly in the classical vein. He's been called one of D.C.'s most brilliant organists and his office at National City Christian Church is well stocked, as one might imagine, with CDs, hymnals, file cabinets full of scores and scholarly books on music. It's easy to throw him, though, when it comes to pop.
When asked if the title of his new organ recital series, "Magical, Mystical, Musical Machine," which resumes today at 12:15 p.m., is a play on words of the similarly monikered Beatles album ("Magical Mystery Tour"), Miller says the thought never occurred to him.
"No, actually," he says. "It's just something I created myself. What I wanted to do was get something with some sort of title that was going to grab people … something other than the National City Christian Church organ series, which is as boring as Wonder Bread. And it's worked."
The series had existed for about 25 years at the large D.C. church, an architectural wonder that anchors Thomas Circle, but was struggling. Thursday was its normal day and it featured a wide array of performers on various instruments, not just organ. Miller and others at the church retooled it after a hiatus. "Machine" debuted in September on Fridays and was an instant hit.
Miller says attendance has tripled. And all the recitals, which are free, are performed on the church's mammoth 7000-pipe Moller organ, the third largest organ in Washington (only organs at National Cathedral and National Shrine of the Immaculate Conception have more ranks, though National City's is the only D.C. organ with five manuals, or keyboards, a distinction Miller says is necessary to play the church's gallery organ in the back).
That makes it distinctive enough that organists from around the country are itching to play it. Miller says he gets unsolicited requests weekly from players willing to donate their recital time to the church. Miller has taken many of them up on the offer. Several are scheduled for "Machine" recitals, which run every Friday through May.
Stephen Harouff, a Peabody graduate who lives in Baltimore and plays at Faith Presbyterian Church there, plays at National City on Feb. 19. This will be his second recital there.
"It's interesting," he says of the National City organ. "It's not often that you can go and sit at an instrument and have everything you need for any style of organ music … it's pretty stellar."
Miller kicks off the series return with today's recital. He plans a toccata by J.S. Bach, a trumpet tune by David N. Johnson, an adaptation of on operatic intermezzo by Pietro Mascagni and a movement of an organ symphony by Louis Vierne.
And though Miller didn't plan it, all the players booked for the series in February are gay (openly gay David Christopher of Wilmington, Del., plays Feb. 12. The month ends with another recital by Miller on Feb. 26). Miller guesses about 75 percent of U.S. organists are gay men.
Miller says why that's the case is "the million dollar question."
"I don't know if it's because as young musicians the pipe organ is such an odd, well, odd is kind of a weird word, but people don't readily seek out to play the pipe organ. You're more likely to say, 'I'm gonna play the trumpet, or the flute, or the piano.' So I can see in many instances if you're a young child struggling with your sexual identity, you're kind of off the beaten path anyway, you feel unique or isolated or weird. I guess maybe that could be it, but it's very difficult to know and it's a phenomenon unique to the U.S. It would be a great sociological study."
Disco Funk Brunch at Crazy Aunt Helen's
Tara Hoot and DJ Phil Reese perform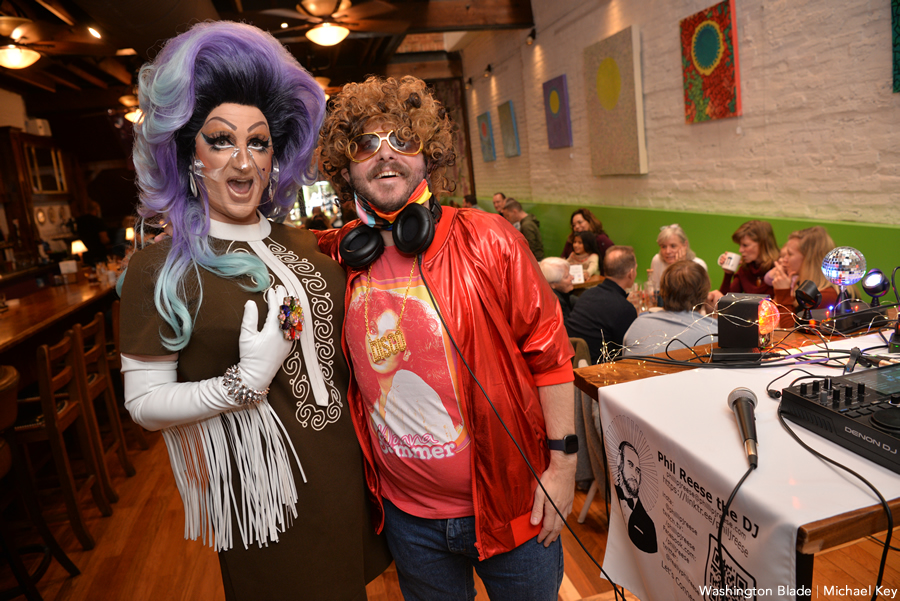 Drag queen Tara Hoot and DJ Phil Reese perform at the biweekly Disco Funk Brunch at the LGBT-owned Crazy Aunt Helen's on Sunday. For future showtimes, go to crazyaunthelens.com. (Blade photo by Michael Key)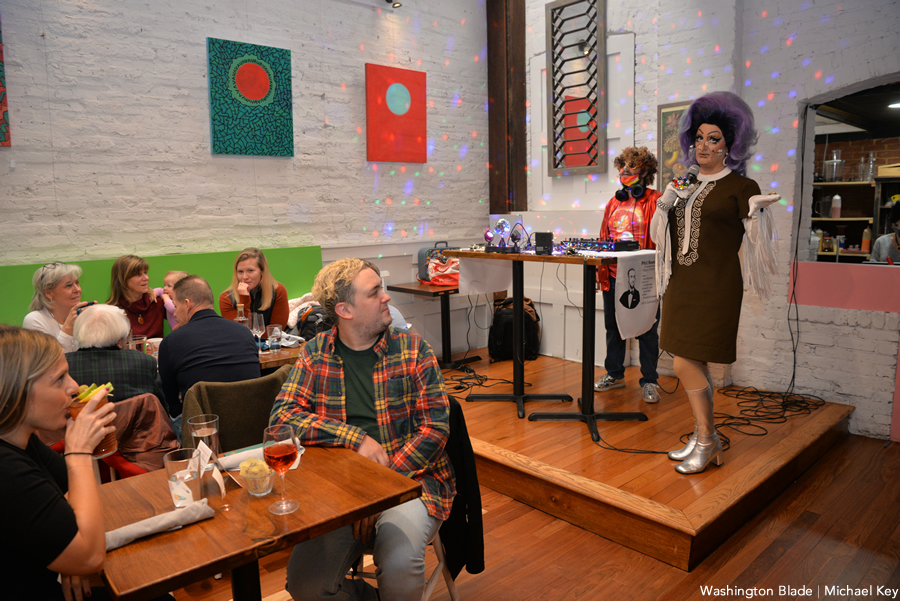 Blade's summer closing party set for Sept. 17 in Rehoboth
Benefits journalism scholarship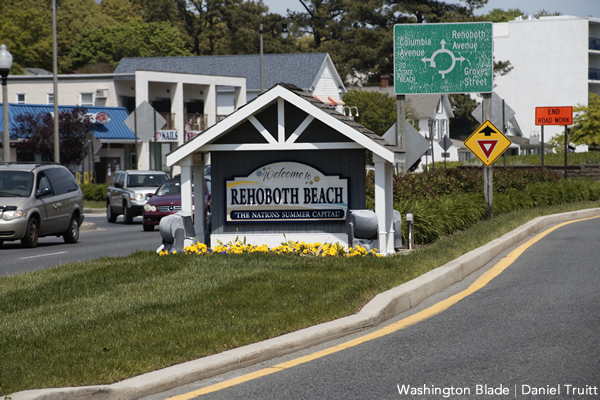 The Washington Blade's 15-year tradition of hosting a summer kickoff party in Rehoboth Beach was disrupted due to COVID restrictions. In lieu of that May event, the Blade is hosting a summer closing party on Friday, Sept. 17 at 6 p.m. at The Pines (56 Baltimore Ave., Rehoboth Beach, Del.).
Tickets are $20, which includes two drinks and appetizers. The event benefits the Blade Foundation's Steve Elkins Memorial Journalism Fellowship, a 12-week program in which an LGBTQ student journalist covers stories of interest to Delaware's queer community each summer.
All COVID safety protocols will be followed, including a requirement that attendees furnish proof of vaccination to gain entry.
If you are unable to attend you can make a donation to the Blade Foundation at BladeFoundation.org. Sponsors of the event include Delmarva Power and The Pines.
Rehoboth to close out summer with SunFest
Series of events to replace long-running Sundance due to pandemic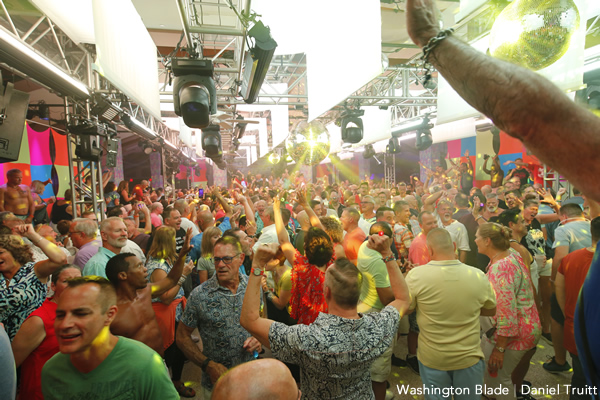 SunFest will feature a week of live performances, dances, and a live auction, sponsored by non-profit LGBTQ+ center CAMP Rehoboth.
The weeklong festival runs from Aug. 29 to Sept. 5 and is a change from the annual SunDance that CAMP Rehoboth has sponsored since 1988. This transformation began last year when the event was forced to go digital due to the coronavirus and the in-person events scheduled this year are important, according to development director and co-coordinator of SunFest Anita Broccolino.
"We love that community feel and the in-person makes all the difference in the world for us. Not being able to do it last year just reminded everyone how important we all are to one another," Broccolino said. "I think that bringing back these events this year is just huge for us and it will be extra celebratory as a result."
The festival begins with a 5k race and online auction opening on Sunday. Monday night features a give-back event at Iron Hill Brewery while Tuesday's agenda is still to be determined, said Broccolino. Diego's will host a Studio 54 give-back dance party on Wednesday and Thursday is the Port 251 women's give-back.
Live performances featuring the Skivvies, Randy Harrison and Diane Huey are scheduled for Friday night and Jennifer Holiday will follow with a performance on Saturday night, both at the Rehoboth Beach Convention Center. The festival closes out Sunday with auction pick-ups and Fun in the Sand and Sun, according to the CAMP Rehoboth website.
This event is also important to the organization's contributions to the community, said Broccolino.
"The essential services we provide for free to the community, which is a huge amount of health and wellness activities, as well as arts programming, a lot of youth programming and the community counts on us for those things. We never stopped during COVID, we made as much as we could virtual, but we took quite a hit not being able to raise those funds and awareness of the programs," Broccolino said. "We invite the entire community to come celebrate with us and make it to Rehoboth Beach, and let's make it joyful, and wonderful and make sure we're living up to the standards of all the people who helped found CAMP Rehoboth and live up to their legacy and beyond."