Not just a Phase
Iconic D.C. lesbian bar celebrates 40 years
(DC Agenda video by Steve Fox)
Time is a blur of memories for the Phase 1 "back-in-the-day" old school crew. It's not senility or old age — these D.C. lesbians are only in their 50s and early 60s. It's just that events and dates blur together for them like they do for everyone else.
It's Sunday night about 8:30. Phase manager Angela Lombardi has gathered a few women whose histories are inextricably linked to the bar for interviews in anticipation of this weekend's 40th anniversary festivities. The subject nobody can manage to agree on is when longtime manager Mary Knowles, who ran the bar for about 13 years, died.
Pam Porter, who tended bar at the Phase from 1975 until about four years ago, tries to pinpoint the date by whom she was dating at the time. She met all her girlfriends at the Phase and half of them worked there with her — Cheryl Gordon for 17 years, Ellie Seelow for four years, Keri Boyd for two-and-a-half years and PJ Felt for the last 12 years. Porter and her longtime gal pal Jean Homza, another former Phase employee, try to nail down the year.
"I know it was November," Homza says.
"I'm trying to think who I was with at the time," Porter says with a giggle.
"It must have been the early 2000s," Homza says. "Because, well let's see, she was here, what, 13 or 14 years? And she started in, what, about '84?"
They pause and just stare at each other for a second while the memory wheels keep turning.
"No, that doesn't make sense," Homza finally concludes, the memory of some other life event suddenly throwing her chronology into a tailspin.
"She just didn't come in one day, which was very unlike her," Porter says of Knowles, who had died in her sleep of heart disease. "She was always in here early, cleaning, getting ready."
Knowles' sudden death was a shock to all who knew her. Porter says Knowles was "just amazing."
"Mary really tried to bring energy and events in here," Homza says. "Over the years the energy ebbed and flowed. Lesbians aren't very loyal."
Some must be. The bar has operated for 40 years, a milestone being celebrated this weekend with a bevy of activities (see phase1dc.com for details). Homza insists it's because owners Allen Carroll and the late Chris Jansen were committed to keeping it going.
"They're the ones who kept this bar open and I really mean that," Homza says. "They've just been dedicated to the women."
So why and how did two gay men happen to open a lesbian bar in 1970? Carroll and Jansen, veterans of the Marines and Air Force respectively, had been dating a few years and worked at adjacent bars on Eighth Street, S.E., a D.C. gayborhood before Dupont Circle was gentrified. Carroll was at Joanna's, a lesbian bar. Its brother bar was Johnny's, where Jansen worked. They were owned by the same person but Joanna's was closing so Carroll and Jansen sensed a need. Carroll says the Phase is the oldest continually operating lesbian bar in the country.
Carroll and Jansen had always had lots of lesbian friends — many from Joanna's — so it didn't feel a stretch to open a women's bar. They eventually opened the Other Side, a larger lesbian venue that was more a club than a bar, which eventually morphed into the male-focused drag/strip club Ziegfeld's/Secrets in the mid-'80s. It eventually closed when the Nationals stadium was built but reopened a year ago on Half Street.
Phase 1, though, has been the constant. It's still at its original location. Carroll says there have been ups and downs over the years but he and Jansen never thought of closing it.
It made sense, for instance, to transform the Other Side into Ziegfeld's because several D.C. bars by that time had started lesbian nights and had stolen some of Side's thunder. The Phase, though, "always felt like home base," Carroll says.
"We had hard times and good times, but it felt like home," he says. "We always held on. They always come in and always say, 'We know to come back here.' It's a good feeling."
Phase 1's popularity has a lot to do with lesbian life cycles, long timers say. It's common, they all say, for lesbians to be regulars for a few years, disappear, then come back years later.
"Let me tell you how the women work," Carroll says with a knowing chuckle. "They get a lover and they disappear for three or four years. And then they come back when they break up. I know it before they even say it. I know they broke up with their girlfriend."
Lombardi says the trend continues though she's worked hard to alter it.
"Lesbians definitely fall into the trap of sitting at home," she says. "Gay boys like to party. Of course there are always exceptions to the rule. Still, the fact is women make less money. I know so many people. 'Oh, I live in Columbia Heights and work for a non-profit.' Yeah. We make less money. Lesbians like to stay home with their girl. It's part of why we have so many events and try to really mix it up. We're trying."
That's not to say that the Phase hasn't changed. It has. Drastically. When Homza looks around the room, she can't help but notice how different it looks since Lombardi took over.
"It's changed a lot but in the same way, it's the same," she says. "I mean when I first came here it had shag carpet up the wall … so physically it's changed. We went through a lot of looks because of Chris, he was a very, uh, the pink flamingo of the pair. He had pink and white tile in here at one point, like a candy store. So this is much different."
The decor now is mostly red and black. A pair of giant silver pumps sits above the bar, the one nod to femininity in an otherwise leather-and-punk aesthetic. Lombardi calls the 10 staff members "the coolest group of queer girls working ever." She says it runs like a well-oiled machine.
"We rarely get a whammy card," Lombardi says. "Patrons are the same and know what to expect. There's fun dance music and the occasional random indie song. Drink prices are cheap and it's a chill environment. Our little 10-by-10 dance floor gets a lot of action. You can see the handprints on the mirror at the end of the night."
Part of the appeal, Lombardi says, is that Phase doesn't try to be something it's not.
"At the end of the day we're kind of a dive bar," she says. "You wanna go out and have a super fancy, I mean try to order a drink with fresh muddled fruit at Phase 1 — it's not gonna happen. So if you wanna go out and have your fancy drink, if you want a capriana or whatever people drink nowadays, you wanna go to a fancy bar and pay $14 a drink, that's not us. Here you get a three dollar PBR pounder."
Porter says the bar is so different now she doubts younger lesbians could fully fathom what it used to be like. She says the late Linda Brown, the bar's glam first manager, was something of an Eighth Street legend.
"Back then it was butches and femmes, very territorial," Porter says. "You had Linda Brown, with her high blonde French curls, she drove a pink Lincoln and her rival Margaret Majors drove a white Cadillac. And they each had their entourages. All women dressed in men's clothes. It was just a totally different world. … They were rivals. Rivals because of the bar, rivals for women, everything. Always dressed to the nines. There was lots of violence. If there wasn't a fight or beer bottles thrown, the night really wasn't considered a success. And I threw with the best of them. I loved a good fight. As long as I had a beer bottle or a cue stick, I was good to go. We had lots of fights in here."
Carroll sees signs of that era in today's younger lesbians.
"Girls have changed over the years," he says. "When we first opened, if you had a butch girlfriend, you didn't bother with her girlfriend and they took it very seriously when they were involved. No one could even talk to them. That's the way women were back then. … Then in the late '80s and '90s, you couldn't tell who was butch and who was femme. But I guess it's no different than with the men. Like at the men's bars, if you have a real queeny queen, you just knew that was a bottom. It's all the same. And let me tell you, the girls were just as promiscuous as the guys."
Porter's ex, Cheryl Gordon, was dating Linda Brown when Porter arrived at Phase. Everyone who was around in the early years remembers Brown, who saw Phase through the '70s, fondly.
"She was absolutely beautiful and hard ass," Porter says. "She would take off her stiletto and pop you in the head if you needed it. Just a wonderful person."
Carroll calls her "the greatest person." He agrees those years were "just different."
"We used to all party together," he says. "We'd have fun and go to the beach. We'd be at my house at the pool. It was like a big family and it's just not like that anymore. Everybody loved [Brown]."
The late David Easterday, who eventually succumbed to AIDS, Pat Sullivan and Sue Ross each managed the bar a few years before Knowles came along. After Knowles died, Keri Boyd, Dale Childress and Porter co-managed the bar. Lombardi came along five years ago and picked up a few bartending shifts to help a friend. Sarah Brasher was managing then but was just doing it to help out and didn't feel it was her calling. Lombardi sensed major potential and brought the bar into the '00s. She built the first Phase web site and started signature Phase events — Phase Fest, a large queer music festival that happens every September, and Jell-O wrestling, which is the second Wednesday of every month.
"People love it," Lombardi says. "Girls, Jell-O, bikinis, kick-ass drink specials, awesomeness — they all go hand in hand."
"A lot of where it is today is because of Angela and all the crazy shit she does," Homza says.
Carroll pretty much lets her do whatever she wants.
"She really breathed a lot of new life into it," he says.
A more low-key staple of the bar is Senait, an African-born lesbian who declines to give her last name. She's been in Washington 11 years and stumbled on the Phase six years ago. She has a day job but spends her evenings here.
"I used to hang out here and I was here, like, every night so they said, 'Hey, you wanna work here?' I said, 'Why not?' I'm a workaholic. I wouldn't know what to do with my free time."
Carroll says it's people like them who make Phase what it is.
"Senait is a loyal and good person," he says. "So much more than an employee."
The long-time employees have equally high regard for Carroll and remember Jansen fondly.
"Alan was the serious business-minded one," Porter says. "Chris cared about the business and wanted it to succeed, but he wanted to have fun. His favorite phrase was, 'Who has more fun than people?' If he said it once he said it a million times a night."
They were together as domestic partners for 16 years but broke up in 1988 and remained business partners and best friends.
"It was tumultuous," Porter says. "On and off, but they always held the businesses together and were complete best friends. Nothing could have ever stopped that. … They're both wonderful people in different ways."
Carroll says they eventually became like brothers. Jansen bought a second home in Thailand and started spending half his time there. He died of heart disease in 2007.
What would Jansen think of Phase's milestone?
Carroll, who says he misses Jansen immensely and thinks of him daily, says Jansen would be "tickled to death" and "very proud."
Homza says they should be praised for their commitment to D.C. lesbian nightlife and culture.
"I think it's important to have a place to call your own instead of depending on the kindness of the Helix or, you know, a men's bar, or Apex, or whatever," she says. "This is your bar."
Phase 1
525 8th St., S.E.
phase1dc.com

Miss Phase 1 Pageant
Friday, Feb. 26, 8-10:30 p.m.

Celebration of the Decades
Feb. 26-27, all night
Here's your guide to the merriest gay holiday season!
Cocktails, music and dancing at upcoming parties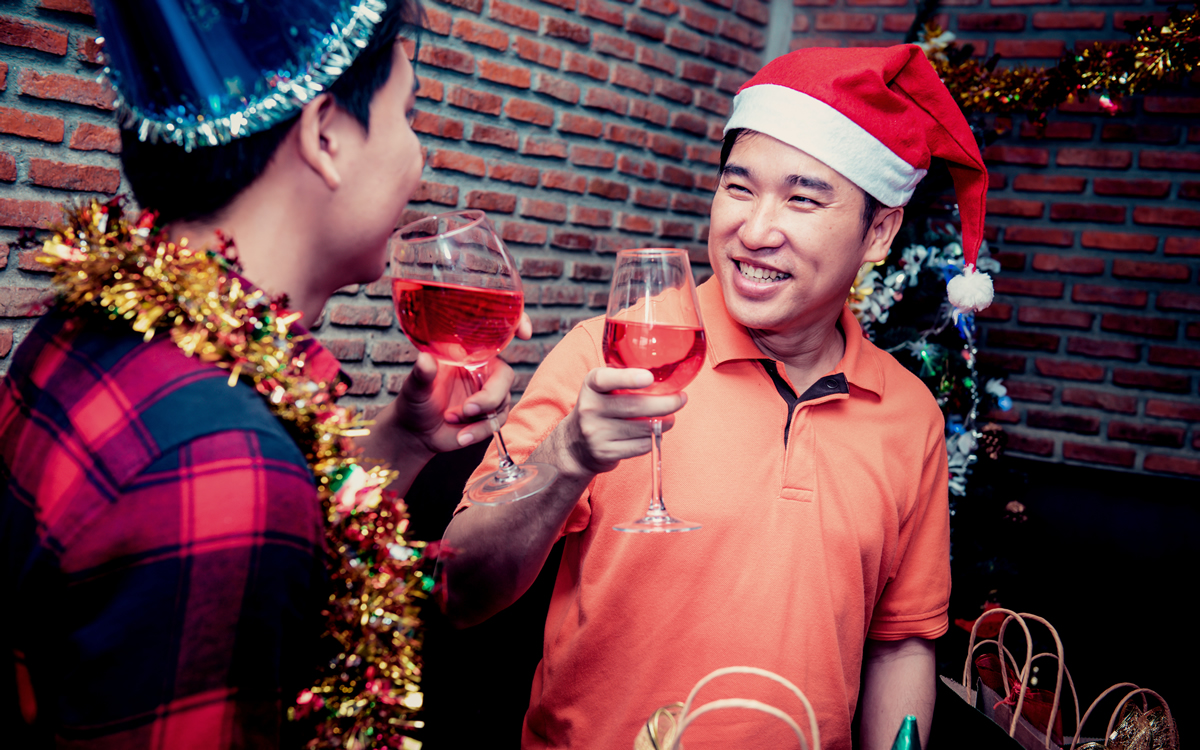 "LGBTQ Social Mixer – Pride On The Patio at Showroom" will be on Tuesday, Dec. 27 at 5:30 p.m. at Showroom.
There will be happy hour cocktails and dinner on the heated patio at the venue. Dress is casual, fancy, or comfortable. Guests are encouraged to bring their most authentic selves to chat, laugh, and get a little crazy.
Admission is free and more details are available on Eventbrite.
The Iconic International House of Balenciaga will host "Naughty or Nice: A Holiday Extravaganza" on Thursday, Dec. 22 at 10 p.m. at Privilege.
There will be a limited buffet and open bar, hookah, VIP packages, bottle specials and music by DJ Dave Thom and DJ Obie. There will also be a sweater contest with a cash prize.
Tickets are $20 and can be purchased on Eventbrite.
"Hip Hop Garden DC Day Party" will be on Saturday, Dec. 24 at 4 p.m. at Lost Society. This exclusive day party experience will feature non-stop music, dancing, and good vibes. Music played will be a crossover of genres and fusion of cultures.
Tickets are $20 and can be purchased on Eventbrite.
Winterfest remains in full force
Yappy Hour will be on Sunday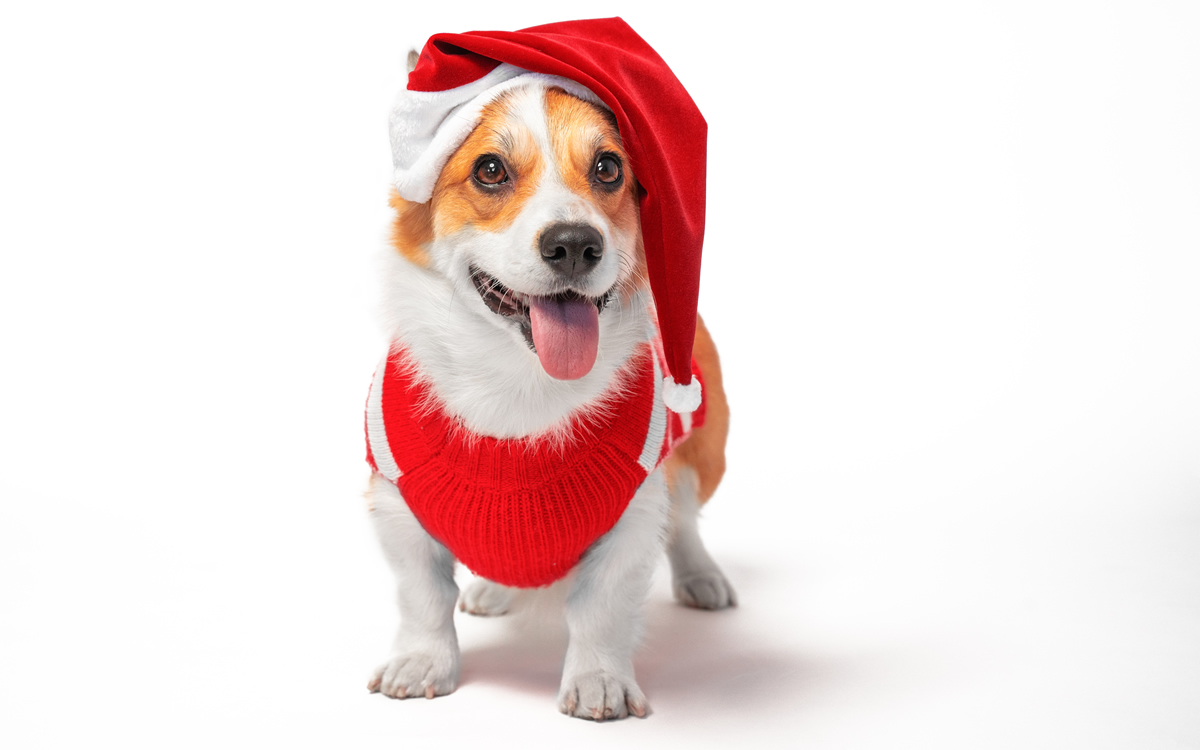 Events for Wunder Garten's 6th Annual Winterfest are still underway at one of D.C.'s most enthralling beer gardens at 1101 First St., N.E.
A Night of 1,000 Santas will be on Saturday, Dec. 17 at 8 p.m. Guests are encouraged to come dressed as Santa, Mrs. Claus, an elf, a reindeer, anything or anyone, to dance the night away and celebrate the holidays. This event is free and more details are available on Eventbrite.
Yappy Hour will be on Sunday, Dec. 18 at 12 p.m. This is a special day for the pups and their "hoomans" and perfect opportunity for the pups to get some treats and make new friends. Select beers cost $6 and there will be free pupucinnos with a purchase. This event is free and more details are on Eventbrite.
Trivia Mondays will be on Monday, Dec. 19 at 7 p.m. This event will be hosted by Mark Lloyd. Guests are encouraged to bring friends and test their knowledge to win prizes and glory. There will also be boozy cocktails, seasonal beers and themed decor. Tickets are free and more details are available on Eventbrite.
Halloween is back and more queer than ever!
Freddie's Beach Bar to host Halloween party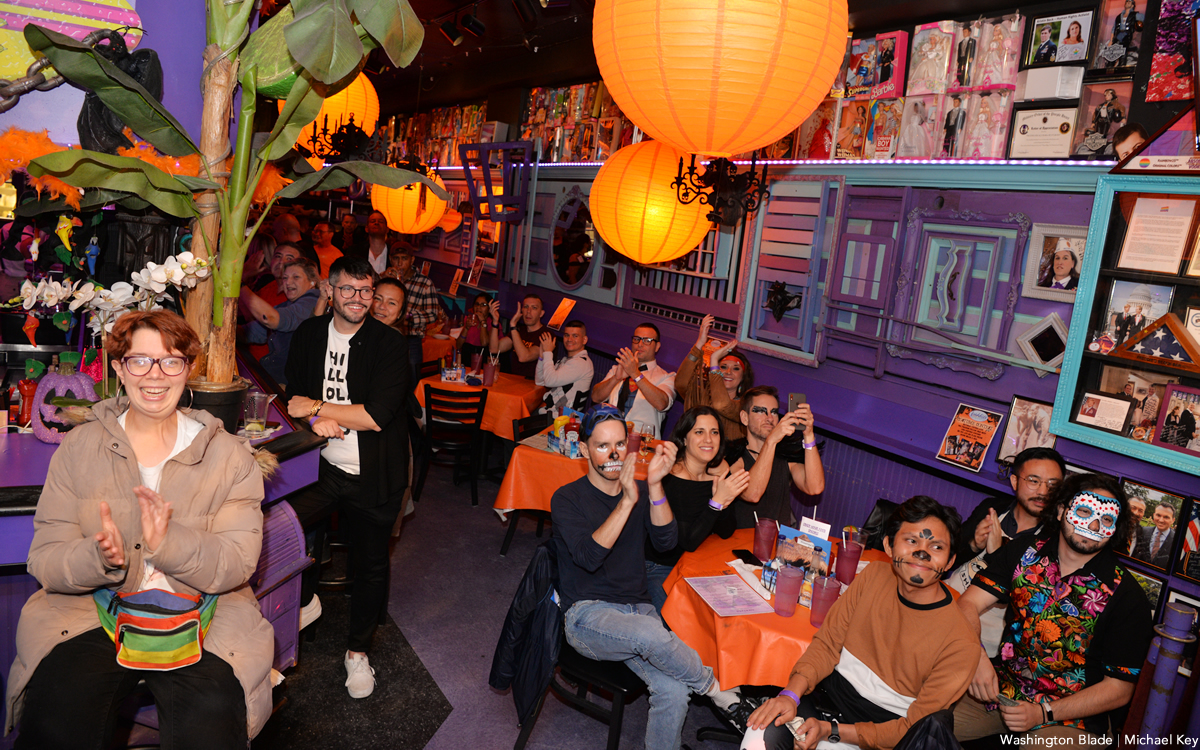 Freddie's Beach Bar and Restaurant will be hosting a Halloween party on Monday, Oct. 31 at 6 p.m.
Guests are encouraged to bring friends and meet new people from all over the world. Guests will gather in the back outside patio if the weather is nice or near the stage if not. Go Gay DC leader TJ Flavell will be there to greet you. Name tags will be provided. There's no cover charge.
For more details, visit Eventbrite. 
Metrobar DC to host 'Booze and Brews' Halloween Brunch'
"Booze and Brews Halloween Brunch" will be on Saturday, Oct. 29 at 7 p.m. at metrobar DC.
Guests are encouraged to come enjoy sounds from DJ Lalee and tasting tables from Catoctin and Republic Restoratives from 7-10 p.m. and drink specials featuring Catoctin or Republic Restoratives spirits all evening long.
This event is free to attend with an optional $15 Bash + SMYAL Fundraiser Ticket to help support LGBTQ youth across the district. Ticket holders will be honored with a cocktail.
For more details, visit Eventbrite.
Cake Pop to host 'HallowQueen Drag Brunch'
"HallowQueen Drag Brunch" will be on Sunday, Oct. 30 at 11 a.m. at The Hall CP. New host Cake Pop will be hosting this ultimate Halloween-themed event.
Flavored mimosas and Bloody Marys will cost $24 and the brunch buffet costs $30 and will include French toast casserole, buttermilk pancakes, tater tots hash, among many other menu items.
Tickets for this event start at $25 and can be purchased on Eventbrite.
Baltimore Playhouse to hold 'Haux-lloween' party
"Taste.Touch.Feel: Haux-lloween" will be on Saturday, Oct. 29 at 7:30 p.m. at Baltimore Playhouse – Private Social Club.
Guests are encouraged to come and enjoy top-tier burlesque and specialty performances, kink edutainment, interactive games, and plenty of surprises to thrill one's senses.
There will also be a costume ball with three categories. Each category is limited to eight participants. The categories are:
Alien Superstar: Most unique, intergalactic freak
Fetish Faerie: Whimsy, kinky, faerie hauxs
Best Couples Costume: Period.
After the costume ball, there will be an "Adult Play Date After Party" for mingling and a night of no inhibitions where guests can enjoy spontaneous performances, play with their lover(s) or be a voyeur while the music plays.
Tickets start at $45 and can be purchased on Eventbrite.
Sirene, X and Nadia to perform at Firefly
Firefly Halloween Special Event will be on Saturday, Oct. 29 at p.m. at Firefly. This event will feature performances by drag queens Sirene, X and Nadia. There will also be two competitions:
• "Holy" a ghoulie drag performance with a cash prize of $100 and a bookings prize of $100.
• A costume contest where the 1st place winner wins a one-night stay at Hotel Madeira, 2nd place wins dinner for two at Firefly, and 3rd place wins brunch for two at Firefly.
This event is free and more details are available on Eventbrite.