Jubilant gay, lesbian couples begin to wed in D.C.
More than 100 seek marriage license in first hours
(Video by Steve Fox)

Washington, D.C., became the nation's sixth jurisdiction to allow same-sex marriage Wednesday when it opened its marriage license application process to gay and lesbian couples.
More than one dozen couples lined up outside the D.C. Superior Court building — some arriving even before sunrise — to become the first same-sex pairs to obtain their applications to wed. Couples alternately smiled and wept as emotion swept the crowd.
"Love has won out over fear," said Rev. Dennis Wiley, co-pastor at Covenant Baptist Church and co-chair of DC Clergy United for Marriage Equality. "Equality has won out over prejudice. Faith has won out over despair."
Because of a mandatory waiting period, couples that applied for marriage licenses Wednesday won't be able to marry until March 9.
But the Human Rights Campaign, National Gay & Lesbian Task Force and other advocacy groups that have long sought same-sex marriage rights in the nation's capital applauded Wednesday's enactment of the Religious Freedom & Civil Marriage Equality Act of 2009.
"This law is an important step toward equal dignity, equal respect and equal rights for all residents of our nation's capital," said Joe Solmonese, HRC's president. "Today represents a hard-fought victory for D.C. residents and a poignant reminder — here in the home of our federal government and most cherished national monuments — of the historic progress being made toward ensuring equality for all across the nation."
Solmonese and Rea Carey, the Task Force's executive director, thanked D.C. Mayor Adrian Fenty and D.C. City Council members who supported the same-sex marriage effort for their commitment to equality.
"This is a profoundly moving moment for many D.C. same-sex couples and their families," Carey said. "To finally be able to share and celebrate one's love and commitment both publicly and legally is a lifelong dream for many."
Couples applied for their marriage licenses one day after U.S. Supreme Court Justice John Roberts denied a request that Washington's same-sex marriage law be prevented from taking effect, a move that would have given opponents more time to organize a voter referendum to overturn the law.
Roberts, who ruled on the matter on behalf of the court, issued a three-page decision saying Bishop Harry Jackson of Hope Christian Church and others opposed to the marriage law failed to show in their request that they could win the case on its merits, or that allowing the law to take effect would cause them irreparable harm.
Roberts said the opponents' argument that the D.C. Board of Elections & Ethics acted improperly by denying the referendum request on groups that it would violate the city's Human Rights Act "has some force."
"Without addressing the merits of the petitioners' underlying claim, however, I conclude that a stay is not warranted," he wrote.
Roberts cited past rulings of the Supreme Court that have said it's the court's practice to "defer to the decisions of the courts of the District of Columbia on matters of exclusively local concern." The D.C. Superior Court and Court of Appeals previously ruled against Jackson's request for a stay of the same-sex marriage law.
"As the courts have uniformly recognized in upholding D.C.'s broad anti-discrimination laws," Solmonese said, "no one should have to have their marriages — or any of their civil rights — put to a public vote."
D.C. court officials were quick to welcome the more then 100 same-sex couples that arrived before noon Wednesday to seek a marriage license.
Leah Gurowitz, a court spokesperson, described the courthouse halls as being festive as clerks processed about 20 to 25 couples each hour. She said the couples took to congratulating each other after completing the marriage application process.
"As each couple walks out of the Marriage Bureau — and there's a long line — everybody claps and cheers," she said. "People have been very festive."
Gurowitz said 101 same-sex couples checked in before 11:30 a.m. Wednesday. She noted that so many couples came to the courthouse that additional markers indicating each couple's position in line were printed.
"It is a line and it's going to take an hour or two, or for some people three," she said. "We're just going as quickly as we can."
D.C. Superior Court Chief Judge Lee Satterfield, who oversees the court's Marriage Bureau, said the influx of marriage license applications was far above average. The court normally gets about 10 to 12 applications each day.
To help reduce wait time and ensure the application process goes smoothly, Satterfield said there are several things same-sex couples can do before they arrive at the courthouse.
"For instance, come with a complete application," he said. "We loaded the application on our web site: dccourts.gov. You can go into the Superior Court section, or actually, there's a link on the front page for folk to go right to the Marriage Bureau section and get the application so they complete it.
"I think it's important that folk — some of the things we see happen to folk that end up having to come back is that they don't come down with their identification because the law requires that you have to be 18 years and older.
"And so if there's one party coming down, they may come down with their own but not with their partner's — so they have to make sure they have some identification, whether it's a driver's license, passport, birth certificate, not just for themselves but the person they're marrying."
Satterfield also noted that couples applying for marriage licenses should bring $35 in cash or a money order, plus $10 for the marriage certificate.
Couples planning to return to the courthouse for a civil marriage ceremony should expect to wait at least 10 days before a time is available, Satterfield said. But once scheduled, same-sex couples need not worry that a court official might decline to marry them.
"You know the law, as I understand it in the District of Columbia, does not allow that when it comes to employees of the court," he said. "It does so for clergy and others. It allows them to decline. It doesn't allow for our folk to do so.
"While I don't discuss personnel matters, what I will say is this: We expect to have anyone doing and officiating weddings to be officiating all weddings."
Staff writer Lou Chibbaro Jr. contributed to this article.
D.C. area LGBTQ bars, eateries receive $100K COVID-19 relief grant
Pitchers, League of Her Own received NGLCC, Grubhub funds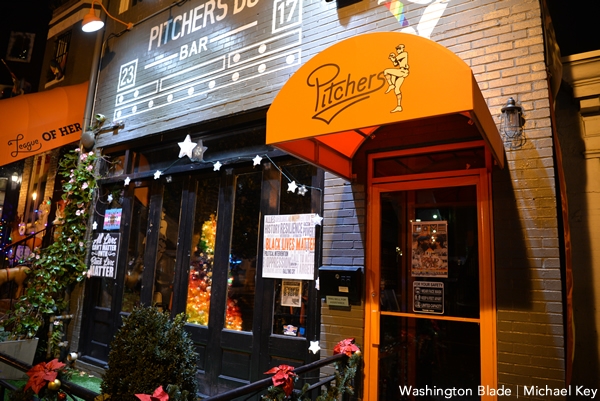 The D.C. LGBTQ sports bar Pitchers and League of Her Own, its adjoining lesbian bar, are among the nation's first LGBTQ bars that serve food as well as alcoholic beverages to receive a $100,000 COVID-19 relief grant under a $2 million Community Impact Grant Program.
The program, aimed at supporting LGBTQ-owned and LGBTQ-allied small businesses struggling from the pandemic, was launched in September as a joint project of the National LGBT Chamber of Commerce, which goes by the initials NGLCC, and the global online food delivery company Grubhub.
In a Tuesday announcement, NGLCC and Grubhub said Pitchers and League of Her Own, which operate as one business in adjoining buildings in D.C.'s Adams Morgan neighborhood, are among the first three recipients of $100,000 grants under the Community Impact Grant Program. The other two recipients are FOODE + Mercantile of Fredericksburg, Va., and Café Gabriela of Oakland, Calif.
"Following this initial round of recipients, more grants will be issued in late 2021 and early 2022," the announcement by the two groups says. In an earlier announcement, the groups said the application period for the grants program took place from September through Oct. 12, and the grants would range in amounts from $5,000 to $100,000.
"The impact of COVID-19 has been debilitating for countless restaurant and bar owners, including the many LGBTQ+-owned restaurants across the country who have persisted through lockdowns, operational changes and labor supply shortages," said NGLCC Co-Founder and President Justin Nelson. "We're grateful to have partnered with Grubhub to offer real lifelines to support businesses throughout the nation," Nelson said.
"Building community in a fun and safe place has been our mission since the very beginning," said David Perruzza, the owner of Pitchers and League of Her Own. "We're relieved and thankful for these funds, and are looking forward to more stable days ahead," Perruzza said.
"As a trans masculine and queer immigrant person of color, I've worked hard and put all my love and energy into building a beautiful and welcoming space in Café Gabriela," said owner Penny Baldado. "I've remained resilient through COVID, and this grant is the injection of funds that we need to continue along our journey to full recovery," Baldado said.
The statement announcing the first three grant recipient says funds for the $2 million grant program were generated by Grubhub's "Donate the Change" program of which NGLCC became a partner in June. Grubhub says the program asks customers receiving food delivered by Grubhub "to round out their order and donate the difference" to the charitable fund.
"COVID has turned the restaurant industry on its head the last 18 months, and at Grubhub, we've been working hard every day to support our restaurant partners across the country," said Amy Healy, Grubhub's vice president of government relations. "As the world starts to return to a new normal, we're proud to partner with the NGLCC and provide these grants to LGBTQ+-owned and LGBTQ+ ally-owned restaurants across the country that are pillars of their communities."
Va. businessman apologizes for burning of rainbow flag poster
'Shocked and horrified': Ashburn incident caught on video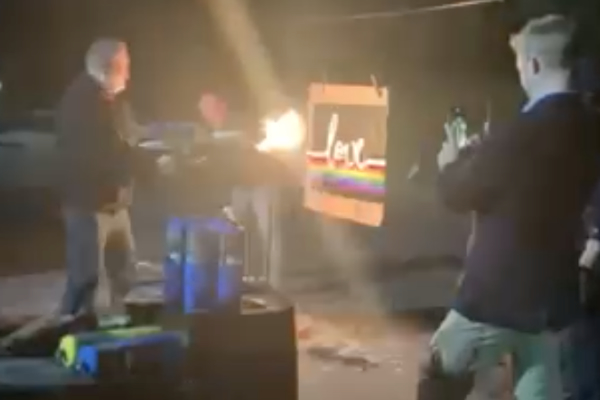 The owner of a Virginia technology company that hosted a private Veterans Day party on the grounds of an Ashburn, Va., brewery in which a company employee used a flame-throwing device to ignite a rainbow flag poster said the selection of the poster was a mistake and he and his company have no ill will toward the LGBTQ community.
The Washington Blade learned about the poster burning from a customer of the Old Ox Brewery in Ashburn, where the incident took place on its outdoor grounds. The customer made a video of the incident with his cell phone and sent a copy of the video to the Blade.
The video, which includes an audio recording, shows a man using a hand-held flame-throwing device to ignite the rainbow poster, which was hanging from a cable and appeared to be mounted on cardboard or a thin sheet of wood. Bystanders can be heard laughing and cheering as the poster is set on fire.
The poster consisted of a variation of the LGBTQ Pride rainbow flag that included the word "love" configured from an upper white stripe on the rainbow symbol.
The customer who took the video, who has asked not to be identified, thought the decision to set the poster on fire was a sign of disrespect if not hatred toward a longstanding symbol of LGBTQ equality and pride.
Chris Burns, Old Ox Brewery's president, shared that view, telling the Blade he and his staff were "shocked and horrified" when they learned later that a rainbow flag poster had been burned on the brewery's grounds. Burns said Old Ox supports the LGBTQ community and participated in LGBTQ Pride month earlier this year.
He said the company that held the private party paid a fee to hold the event on the brewery's grounds, but the brewery did not know a rainbow poster would be burned.
"I'm mortified that our event was interpreted in this way," said Nate Reynolds, the founder and partner of Hypershift Technologies LLC, the Falls Church, Va.-based technology company that organized the Nov. 11 party at Old Ox Brewery. "I can assure you that ZERO ill-will or offense was meant," Reynolds told the Blade in a Nov. 24 email.
"We held a small private party for a few clients, which included a demonstration of Elon Musk's Boring Company 'Not a Flamethrower,'" he said in his message. He was referring to one of billionaire businessman Elon Musk's companies that specializes in boring through the ground to create tunnels for cars, trains, and other purposes.
"After so many being isolated during COVID, we wanted to have an event that was lighthearted and to some small effect, silly," Reynolds said in his message to the Blade.
According to Reynolds, in thinking about what should be used for "fodder" for the flame-thrower, he went to a Five Below discount store and purchased items such as stuffed animals and posters, including a "Space Jam" movie poster as well as what he thought was a poster of the British rock group The Beatles.
"When I pulled the Beatles poster out of the tube it was instead the 'Love' poster," he said, referring to the rainbow flag poster the Blade asked him about in an earlier email.
"All I focused on was the 'Love' wording and not the rainbow and did not draw the conclusion that the poster was an icon that represents the LGBTQ community," Reynolds said. "It was my own ignorance of not connecting the symbolism of the poster. If I had realized it was a symbol of the LGBTQ community, I would not have used it," he said.
"I feel terrible, and I want to emphasize that I am solely responsible for this mistake – not the Old Ox Brewery," he wrote in his message. "Nobody at Old Ox had anything to do with this activity."
Reynolds added, "Hate has no place in my heart, and I sincerely apologize for any offense that could have been drawn from what I now realize was poor judgement on my part. I simply didn't correlate this poster with the LGBTQ pride symbol."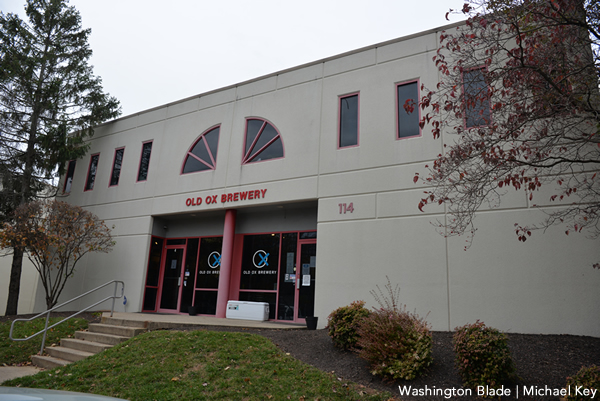 Before Reynolds issued his statement of apology, Burns, the Old Ox Brewery co-owner, told the Blade in an email he was "saddened and upset" over the rainbow poster burning on the grounds of his brewery.
"We do not wish to benefit from this event," he said in his email message. "Therefore, Old Ox is donating 100% of the revenue generated from the private event to GLSEN."
GLSEN is a national LGBTQ advocacy group that focuses on education and support for LGBTQ youth. Burns said Old Ox Brewery also donated proceeds from a Pride month event it organized earlier this year to GLSEN.
LGBTQ activists and organizations contacted by the Blade said they were unfamiliar with the variation of the rainbow flag with the word "love" that was the subject of the poster burning incident. The poster is available for sale at Five Below stores in the D.C. metropolitan area for $5.
Small print writings on the poster show it is produced by Trends International LLC, which describes itself on its website as "the leading publisher and manufacturer of licensed posters, calendars, stickers and social stationery products." The Blade couldn't immediately determine who designed the poster.
The video of the poster burning incident can be viewed here:
Fairfax schools returns LGBTQ-themed books in high school libraries
Review found 'no pedophilia' in texts as critics claimed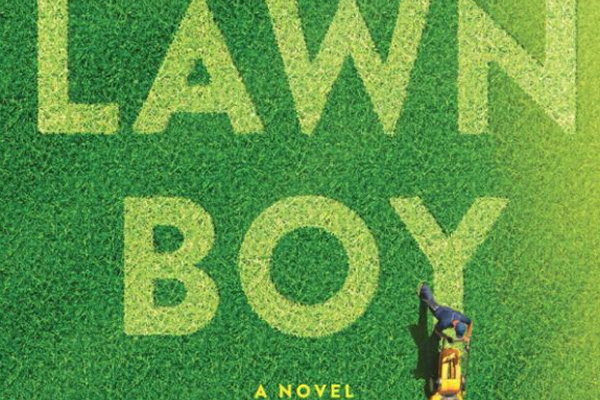 The Fairfax County Public Schools announced on Tuesday that following a detailed review by two committees appointed by school officials it has returned two LGBTQ themed books to its high school libraries that had been temporarily withdrawn after being challenged by critics who claimed they included sexually explicit content inappropriate for students.
The two books, "Lawn Boy," a novel by author Jonathan Evison, and "Gender Queer: A Memoir," which is described as an illustrated autobiography by non-binary author Maia Kobabe, each contain descriptions of sexual acts.
But supporters of the books have argued that they have won praise by literary critics and, while describing intimate relationships, they tell stories that do not fall into the category of pornography.
Fairfax County Public Schools, the name used for the county's public school system, on Tuesday said in a statement that a thorough review of the books by two committees consisting of educators, school officials, parents and some students found that neither book contained content that could be considered to depict pedophilia as claimed by some parents and others opposing the two books.
School officials announced they had temporarily withdrawn the two books from school libraries following a Sept. 23 meeting of the Fairfax County School Board where strong objections to the two books were raised by parents.
"Two books that were subject to formal challenge have been deemed appropriate for high school readers following a two-month review process and will be reinstated to Fairfax County Public Schools (FCPS) libraries," Tuesday's statement by the school system says.
"The decision reaffirms FCPS's ongoing commitment to provide diverse reading materials that reflect our student population, allowing every child an opportunity to see themselves reflected in literary characters," the statement continues. "Both reviews concluded that the books were valuable in their potential to reach marginalized youth who may struggle to find relatable literary characters that reflect their personal journey," the statement says.
The statement says the final decision to reinstate the books was made by Noel Klimenko, the Fairfax County Public Schools' assistant superintendent for its Instructional Services Department.
The two books have received favorable reviews in various literary publications. Both have received the American Library Association's Alex Award, an annual award that recognizes the year's 10 books written for adults that the association says have a special appeal to young adults ages 12 through 18.
"The robust committee process took place over several weeks and considered whether the books flouted regulations by being obscene or harmful to juveniles as defined by the Code of Virginia," the school system statement says. "The members also considered the work in line with an excerpt from the FCPS Student Rights and Responsibilities Handbook pertaining to possessing obscene visual imagery as defined in the Code of Virginia," the statement says.
"After careful consideration, neither books were deemed to have fallen foul of these regulations," it concludes.
The decision by Fairfax school officials to reinstate the two books came about six weeks after more than 425 LGBTQ students and allies from over 30 Fairfax County public high schools sent a letter to the school board and the school system's superintendent urging them to reinstate the two books.
The Pride Liberation Project, a coalition of LGBTQ and allied students in Fairfax County, organized the joint letter.
"Student representatives from over 30 schools, including nearly every high school in Fairfax County Public Schools, have signed this letter, and many of us are students of color, low-income, gender expansive and not out to our families and communities," the letter states.
"We are writing to ask you to reject calls to remove Maia Kobabe's 'Gender Queer' and Jonathan Evison's 'Lawn Boy' from Fairfax County Public Schools libraries," the letter says.
It points out that "hundreds of books in our schools already depict heterosexual relationships and physical intimacy," and says singling out LGBTQ themed books with similar stories of intimacy for rejection is unfair.