Jubilant gay, lesbian couples begin to wed in D.C.
More than 100 seek marriage license in first hours
(Video by Steve Fox)

Washington, D.C., became the nation's sixth jurisdiction to allow same-sex marriage Wednesday when it opened its marriage license application process to gay and lesbian couples.
More than one dozen couples lined up outside the D.C. Superior Court building — some arriving even before sunrise — to become the first same-sex pairs to obtain their applications to wed. Couples alternately smiled and wept as emotion swept the crowd.
"Love has won out over fear," said Rev. Dennis Wiley, co-pastor at Covenant Baptist Church and co-chair of DC Clergy United for Marriage Equality. "Equality has won out over prejudice. Faith has won out over despair."
Because of a mandatory waiting period, couples that applied for marriage licenses Wednesday won't be able to marry until March 9.
But the Human Rights Campaign, National Gay & Lesbian Task Force and other advocacy groups that have long sought same-sex marriage rights in the nation's capital applauded Wednesday's enactment of the Religious Freedom & Civil Marriage Equality Act of 2009.
"This law is an important step toward equal dignity, equal respect and equal rights for all residents of our nation's capital," said Joe Solmonese, HRC's president. "Today represents a hard-fought victory for D.C. residents and a poignant reminder — here in the home of our federal government and most cherished national monuments — of the historic progress being made toward ensuring equality for all across the nation."
Solmonese and Rea Carey, the Task Force's executive director, thanked D.C. Mayor Adrian Fenty and D.C. City Council members who supported the same-sex marriage effort for their commitment to equality.
"This is a profoundly moving moment for many D.C. same-sex couples and their families," Carey said. "To finally be able to share and celebrate one's love and commitment both publicly and legally is a lifelong dream for many."
Couples applied for their marriage licenses one day after U.S. Supreme Court Justice John Roberts denied a request that Washington's same-sex marriage law be prevented from taking effect, a move that would have given opponents more time to organize a voter referendum to overturn the law.
Roberts, who ruled on the matter on behalf of the court, issued a three-page decision saying Bishop Harry Jackson of Hope Christian Church and others opposed to the marriage law failed to show in their request that they could win the case on its merits, or that allowing the law to take effect would cause them irreparable harm.
Roberts said the opponents' argument that the D.C. Board of Elections & Ethics acted improperly by denying the referendum request on groups that it would violate the city's Human Rights Act "has some force."
"Without addressing the merits of the petitioners' underlying claim, however, I conclude that a stay is not warranted," he wrote.
Roberts cited past rulings of the Supreme Court that have said it's the court's practice to "defer to the decisions of the courts of the District of Columbia on matters of exclusively local concern." The D.C. Superior Court and Court of Appeals previously ruled against Jackson's request for a stay of the same-sex marriage law.
"As the courts have uniformly recognized in upholding D.C.'s broad anti-discrimination laws," Solmonese said, "no one should have to have their marriages — or any of their civil rights — put to a public vote."
D.C. court officials were quick to welcome the more then 100 same-sex couples that arrived before noon Wednesday to seek a marriage license.
Leah Gurowitz, a court spokesperson, described the courthouse halls as being festive as clerks processed about 20 to 25 couples each hour. She said the couples took to congratulating each other after completing the marriage application process.
"As each couple walks out of the Marriage Bureau — and there's a long line — everybody claps and cheers," she said. "People have been very festive."
Gurowitz said 101 same-sex couples checked in before 11:30 a.m. Wednesday. She noted that so many couples came to the courthouse that additional markers indicating each couple's position in line were printed.
"It is a line and it's going to take an hour or two, or for some people three," she said. "We're just going as quickly as we can."
D.C. Superior Court Chief Judge Lee Satterfield, who oversees the court's Marriage Bureau, said the influx of marriage license applications was far above average. The court normally gets about 10 to 12 applications each day.
To help reduce wait time and ensure the application process goes smoothly, Satterfield said there are several things same-sex couples can do before they arrive at the courthouse.
"For instance, come with a complete application," he said. "We loaded the application on our web site: dccourts.gov. You can go into the Superior Court section, or actually, there's a link on the front page for folk to go right to the Marriage Bureau section and get the application so they complete it.
"I think it's important that folk — some of the things we see happen to folk that end up having to come back is that they don't come down with their identification because the law requires that you have to be 18 years and older.
"And so if there's one party coming down, they may come down with their own but not with their partner's — so they have to make sure they have some identification, whether it's a driver's license, passport, birth certificate, not just for themselves but the person they're marrying."
Satterfield also noted that couples applying for marriage licenses should bring $35 in cash or a money order, plus $10 for the marriage certificate.
Couples planning to return to the courthouse for a civil marriage ceremony should expect to wait at least 10 days before a time is available, Satterfield said. But once scheduled, same-sex couples need not worry that a court official might decline to marry them.
"You know the law, as I understand it in the District of Columbia, does not allow that when it comes to employees of the court," he said. "It does so for clergy and others. It allows them to decline. It doesn't allow for our folk to do so.
"While I don't discuss personnel matters, what I will say is this: We expect to have anyone doing and officiating weddings to be officiating all weddings."
Staff writer Lou Chibbaro Jr. contributed to this article.
Bowser's highest-level adviser resigns after sexual harassment allegation
Female staffer accuses John Falcicchio of longstanding abuse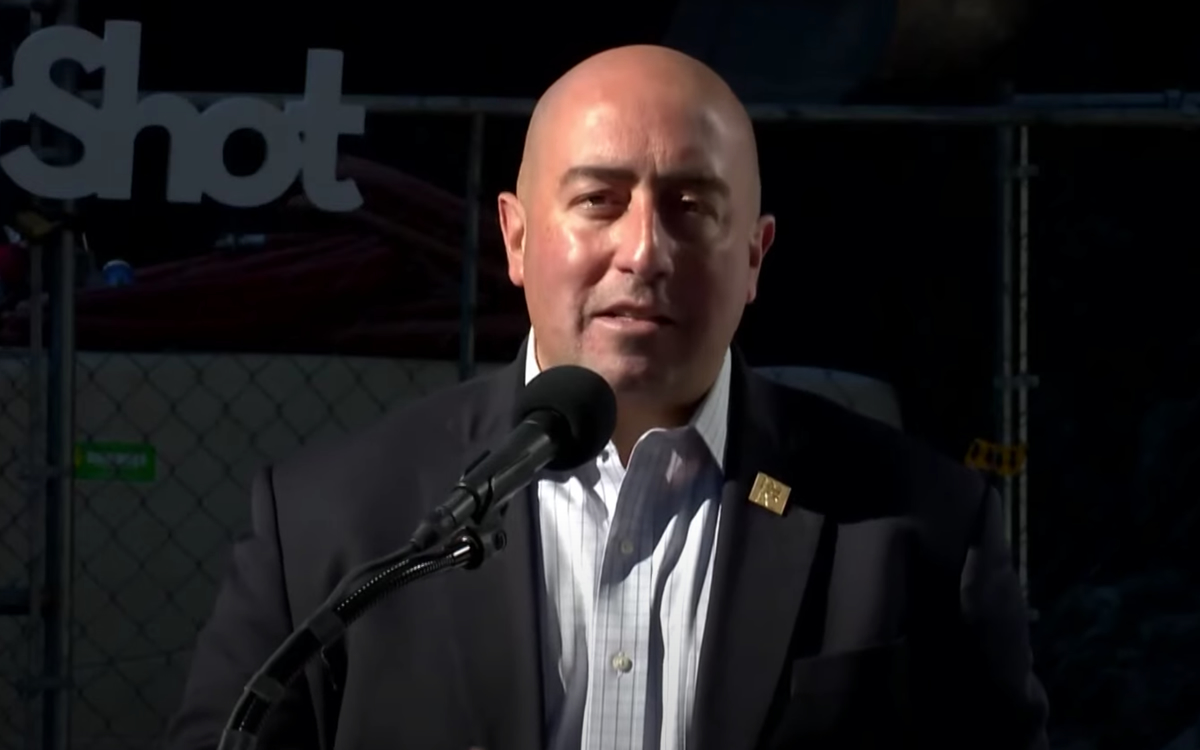 Lawyers representing a D.C. government employee shook up the city's political establishment on Monday when they announced that the employee filed a sexual harassment complaint against John Falcicchio, the now former D.C. Deputy Mayor for Planning and Economic Development and Mayor Muriel Bowser's longtime chief of staff.
The attorneys, Debra Katz and Kayla Morin, did not identify the city employee.
The announcement by Katz and Morin in a press release came shortly after Mayor Bowser issued her own announcement at a news conference on the same day. The mayor confirmed that Falcicchio's sudden resignation last Friday, March 17, followed her decision to launch an investigation into allegations against Falcicchio.
But Bowser said issues surrounding her longtime adviser's departure amounted to "a sensitive matter that includes privacy concerns" that prevented her from disclosing why she initiated the investigation and why Falcicchio abruptly resigned.
She said the investigation was being conducted by the city's Office of Legal Counsel, which is "following established policies and procedures" and that all relevant D.C. government staff members were fully cooperating with the investigation.
"I can also tell you that this investigation does not involve any allegations of improprieties related to business transactions," Bowser told reporters attending the news conference, which was initially called to celebrate the completion of the city's 9th Street, N.W. protected bike lane project and to discuss updates on the Capital Bikeshare program.
"I have every confidence in my new chief of staff, Lindsey Parker, and in our new Interim Deputy Mayor for Planning and Economic Development, Keith Anderson," Bowser said at the news conference. "And I have immense confidence in the 37,000 employees of the D.C. government who will keep us moving forward," she said.
Parker has served as the city's chief technology officer since 2019 and as assistant city administrator since 2022. Anderson has served as director of the D.C. Department of General Services, which oversees the city's buildings and properties.
"We represent an employee of the District of Columbia who came forward to report serious allegations of sexual harassment by former Chief of Staff and Deputy Mayor for Planning and Economic Development John Falcicchio," the statement released by attorneys Katz and Morin says.
"It is our understanding that this behavior is longstanding, and our client is cooperating fully with the investigation, which Mayor Bowser initiated immediately," the statement continues. "Our client is courageous. She came forward to ensure accountability and protect other women," it says. "Given the gravity of our client's allegations – which involve unwelcome advances and sexual contact – we ask the media to respect her privacy," the statement says.
It concludes by encouraging "everyone affected" to contact Maia Ellis, the Associate Director of the Mayor's Office of Legal Counsel, who's leading the investigation, at [email protected].
Katz is a founding partner and Morin is an associate of the D.C. law firm Katz Banks Kumin, which specializes in sexual harassment law, whistleblower law, and employment law, according to a write-up on its website.
Md. Senate approves transgender rights bill
Maryland House of Delegates passed similar measure on Saturday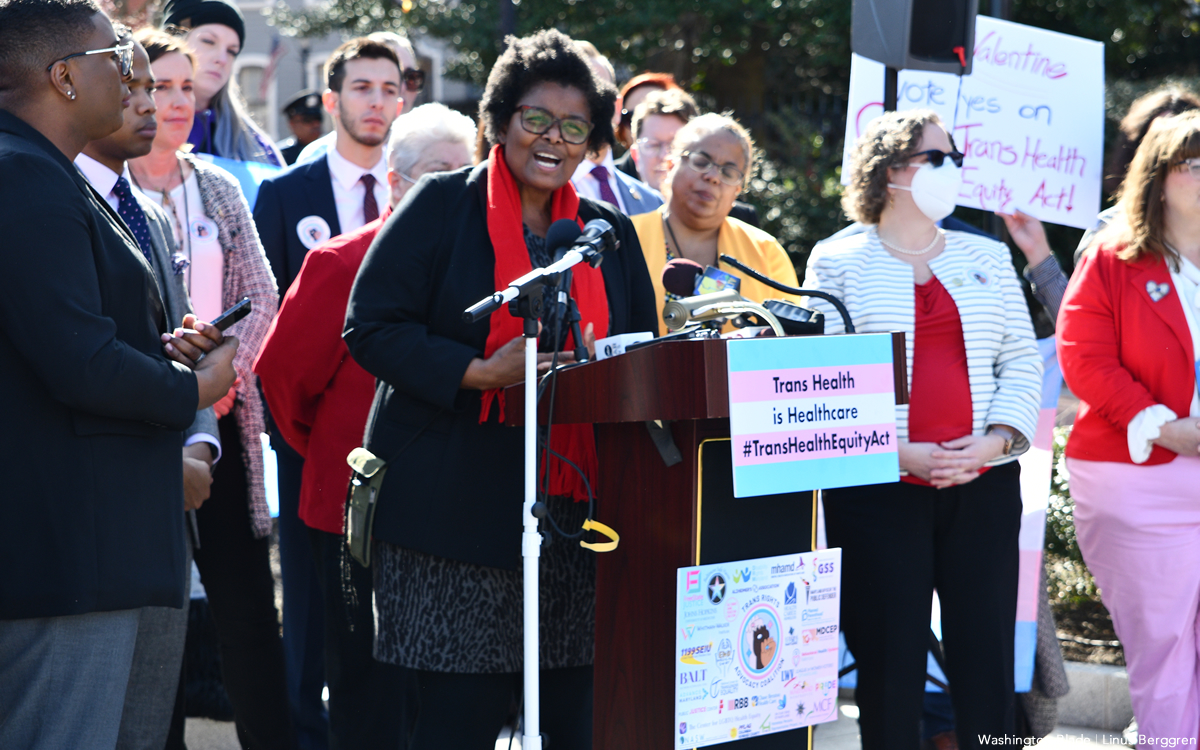 The Maryland Senate on Monday approved a bill that would require the state's Medicaid program to cover gender-affirming treatment for transgender people.
Senate Bill 460 or the Trans Health Equity Act passed by a 31-15 vote margin.
"Requiring, beginning on Jan. 1, 2023, the Maryland Medical Assistance Program to provide gender-affirming treatment in a nondiscriminatory manner; requiring that the gender-affirming treatment be assessed according to nondiscriminatory criteria that are consistent with current clinical standards; prohibiting the issuance of an adverse benefit determination related to gender-affirming treatment unless a certain experienced health care provider has reviewed and confirmed the appropriateness of the determination; etc," reads a summary of the bill.
The Maryland House of Delegates on Saturday passed a similar measure.
Md. House of Delegates approves transgender rights bill
State Medicaid program would be required to cover gender-affirming treatment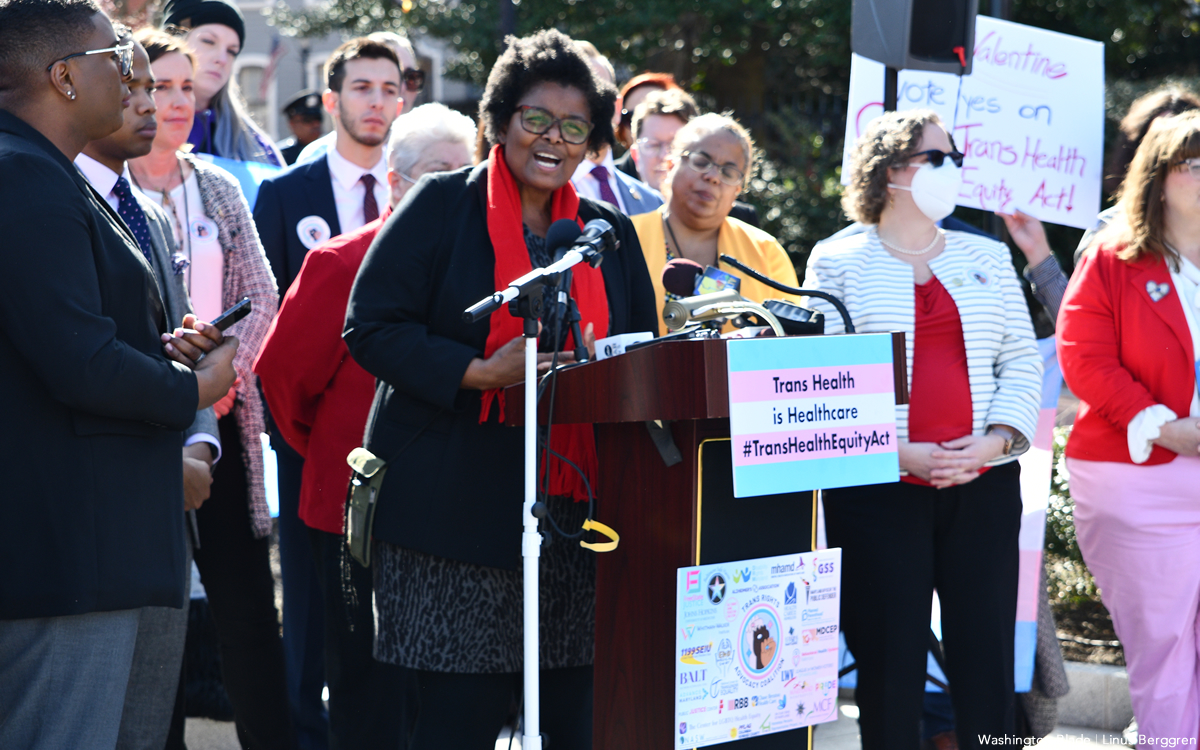 The Maryland House of Delegates on Saturday approved a bill that would require the state's Medicaid program to cover gender-affirming treatment for transgender people.
House Bill 283, or the Trans Health Equity Act, passed by a 93-37 vote margin. The measure now goes before the Maryland Senate.
"Proud that the MD House of Delegates passed the Trans Health Equity Act with such a strong majority," tweeted state Del. Anne Kaiser (D-Montgomery County), who introduced HB 283.
Proud that the MD House of Delegates passed the Trans Health Equity Act with such a strong majority. #TransHumanity pic.twitter.com/1E8MoDFQex

— Anne R. Kaiser (@DelegateKaiser) March 18, 2023