Obstacles in the aisle
Local couple overcomes adversity, enters Crate & Barrel wedding contest
It began as little more than a lark, but a Washington gay couple entered a Crate & Barrel wedding contest and have been shocked to find friends and allies have catapulted them to the top of a huge list of nearly 200 couples hoping to nab the top prize of a $100,000 company-sponsored wedding.
Jonathan Howard, who's 29 and just 11 days younger than his partner, Gregory Jones, discovered the contest in a Crate & Barrel e-mail. They moved to D.C. together in 2008 and got engaged in October when Howard popped the question. They're planning to take advantage of the District's new same-sex marriage law, which went into effect this week, but having an extra $100,000 would obviously sweeten the deal.
Howard and Jones were in second place as of press time with 5,906 votes. They'd previously been in the lead. A Chicago police officer who was paralyzed in the line of duty, Densey Cole, is in first place with Mary Cole with 10,677 votes, but they may be disqualified — they're already married, having wed in the hospital when he awoke from a coma following the May 2009 accident. They're hoping for an ocean-side ceremony to renew their vows. The rules state couples entering the contest must be engaged.
Howard says it would be amazing if they win.
"It would be great for us but more than that for the community to really say, 'Hey, we're a normal couple and we're getting married and it doesn't matter if it's two men,'" Howard says. "This company is supporting us and it's a great story, it's a great step for marriage equality but in a completely different venue, not political at all. I would be shocked and amazed and overwhelmed and overjoyed and it would be just great for everybody involved."
So how did these two average Joes convince nearly 6,000 people to vote for them? A lot of it stems from a tragedy they only hinted at in their 100-word online bio. Howard made a lot of friends and contacts in the gay community following an August 2008 hate crime attack. He and three friends were in Boston, where he went to college and lived at the time, when it happened.
"We were walking home and a group of four guys pulled up to us in a car," Howard says. "I turned around to see what the commotion was and the last thing I remember is hearing, 'Die, faggot, die,' as they stomped my head into the pavement."
Howard says he's lucky he wasn't seriously hurt in the attack. His attacker, Fabio Brandao, eventually pleaded guilty but received a two-year suspended sentence that let him get by without any jail time, an outrage, Howard says.
He met hundreds of gay activists and friends after the attack and was friends with many of them on Facebook. When they heard he and Jones were soliciting votes, they rallied in support. The Gay & Lesbian Alliance Against Defamation wrote about the couple spurring more votes and Jones' brother's fiance in Chicago, Katie Lindner, went on a mini-crusade of sorts helping them get the word out. She's working on a graduate degree in Chicago on new media and says the Facebook phenomenon is fascinating to observe.
"People kind of think of [Facebook] as this thing that doesn't seem important, that wastes your time and fills your day, but it gives me chills to see how much support there's been for them," Lindner says. "It's bigger than any one individual could achieve."
"I think people see our story as a nightmare with a fairy tale ending," Jones says. "We went through this horrible thing together and it made us better, stronger people and brought us closer to each other."
Though the votes are important, it will ultimately be up to a panel of judges to decide who wins. Several prizewinners will be selected from among the top 50 vote getters by Crate & Barrel employees.
Is it realistic to hope the company might select a gay couple for one of the top prizes, even the $100,000 grand prize? Vickie Lang, manager of public relations and community affairs for Crate & Barrel, says it's certainly possible and that the gay-friendly company is open to it.
"Ultimately our role is to be a resource to any couple celebrating a wedding, a commitment ceremony or any of that," Lang says. "As part of that, we're celebrating inclusiveness and we're excited about that. … We're looking for couples who really reflect the Crate & Barrel lifestyle, whether they're same-sex couples or heterosexual couples."
And just what is the "lifestyle"? Lang mentions "Timeless, classic, high quality, clean, vibrant and comfortable — things for a warm, approachable lifestyle."
There's been an ugly side to the contest, though. Anonymous Chicago blogger Detective Shaved Longcock, who knows and supports the Coles, wrote in comments that have since been removed from his blog: "A gay couple is giving Densey and Mary Cole a run for their money? Let's really get the vote out for one of our own. … I am not politically correct and never will be. Period! I am not going to let this fruit loop couple beat one of our own!"
That posting inspired a litany of anti-gay anonymous posts against Howard and Jones including, "these are all guys who can't please a woman," "faggots deserve to die," "Homos are as sick as child molesters and rapists," "I hope they all catch HIV," and more.
But there's also been an upside. Jones says he's heard from people who harassed him with anti-gay slurs in school who've now voted for he and Howard to win. One even apologized.
"I can't even put it into words," Jones says. "It's a warm and amazing feeling."
A handful of other same-sex couples are also in the contest. One couple, Ed and Erwin, who have two adopted sons, are facing Erwin's terminal lung cancer and hope to wed before he dies. They have more than 1,000 votes.
If they win, Howard and Jones would like to wed on their anniversary — Oct. 10 (10/10/10). If not, they'll likely bump to April 2011.
Regardless of how it turns out, they're happy to have found each other and thrilled that they can marry in Washington.
"It is so affirming that this is our nation's capital and this happening right here around people making our rights, laws and liberties," Jones says. "It also makes a huge statement that Congress had the ability to veto this and they did not. It sends a really positive message that this needs to be accepted and that we are equal and deserve every right that every other couple in this country deserves."
To vote, go to www.ultimateweddingcontest.com and register an e-mail address. Howard and Jones are couple number 22682.
DC Front Runners Pride 5K to take place as scheduled
Air quality improved overnight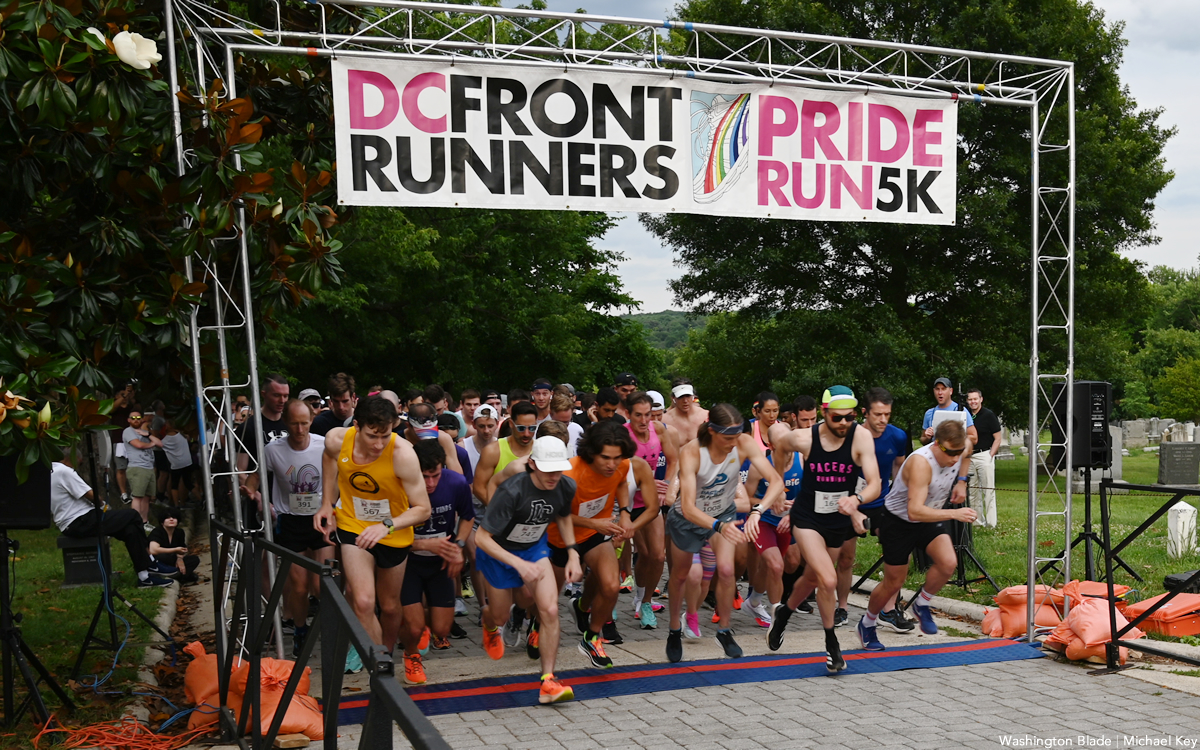 The D.C. Front Runners' annual Pride Run 5K will take place as scheduled at Congressional Cemetery on Friday.
The Blade Foundation, SMYAL, the Wanda Alston Foundation, Team DC, Teens Run DC, Pride 365 and Ainsley's Angels of America are among the race's beneficiaries. Wegmans, Shake Shack, Knead Hospitality and Design, Choice Hotels and Capital One Café are among the sponsors.
Rooftop Pool Party postponed
Capital Pride Alliance moves official event to June 22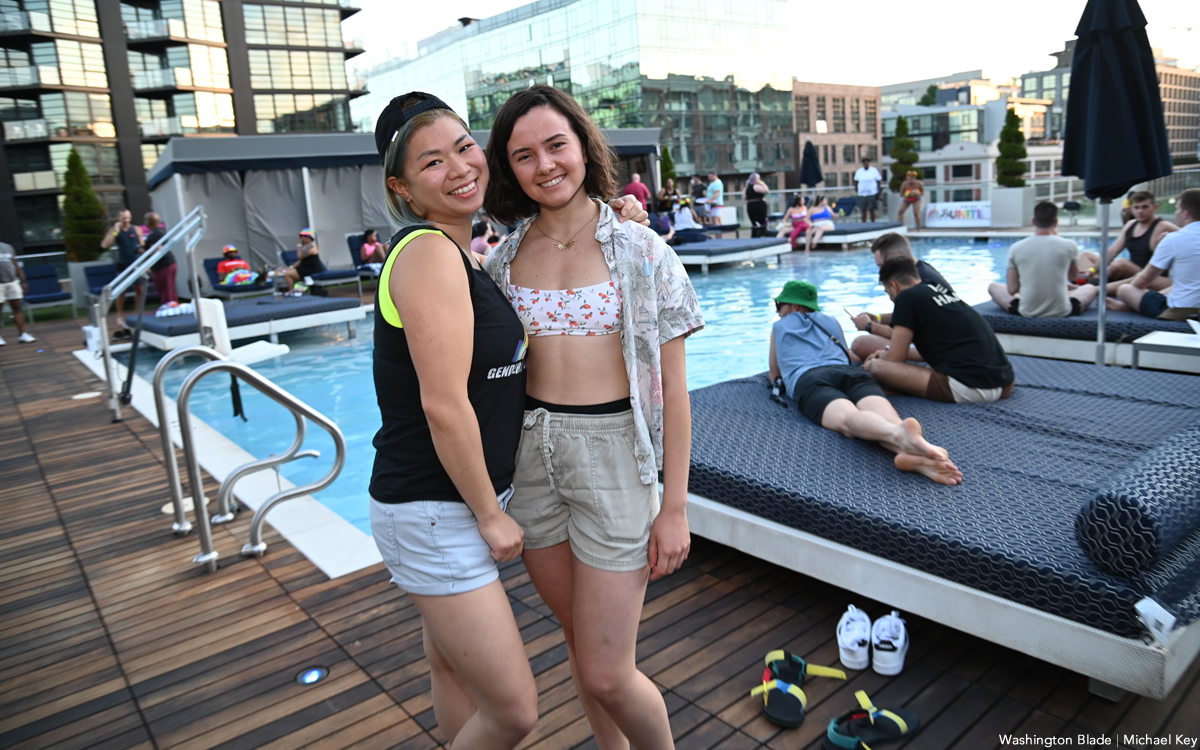 The Capital Pride Rooftop Pool Party, originally scheduled to begin at 8 p.m. tonight, has been postponed until Thursday, June 22, according to a statement released by the Capital Pride Alliance on Instagram. This action comes amid an international climate event created by the Canadian wildfire that has resulted locally in poor air quality and a haze around the region.
The Capital Pride Alliance Instagram account posted, "As with all concerns regarding health and safety issues, the Capital Pride Alliance will closely monitor the air quality situation resulting from Canadian wildfire smoke and take necessary precautions in consultation with our partners in the DC government."
"What does this mean for the pool party?" a question one private Instagram account user posed in the comment section.
"Important Update:" A representative of the Capital Pride Alliance responded through the group's official Instagram account. "Tonight's Capital Pride RoofTop Pool Party at VIDA The Yards is being postponed until Thursday, June 22 at 8:00 pm, due to the current air-quality situation resulting from the Canadian wildfires smoke. Please note that this postponement only applies to today's event."
The Capital Pride Alliance has yet to cancel or postpone any further events.
The White House earlier today rescheduled a large outdoor Pride reception planned for this evening to Saturday.
White House postpones Pride event due to wildfire smoke
Thousands expected for celebration bumped to Saturday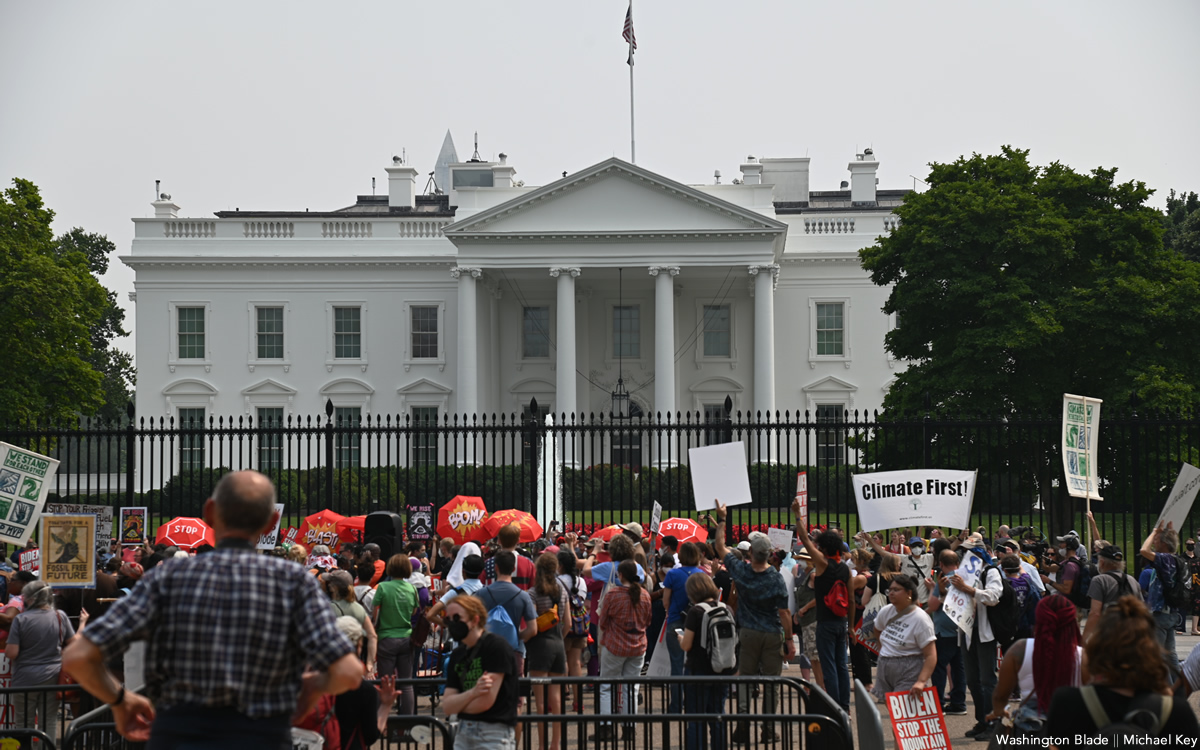 The White House announced Thursday that a Pride event scheduled for this evening has been postponed to Saturday due to the lingering Canadian wildfire smoke.
The smoke has enveloped D.C. in a dangerous haze that triggered a "purple alert" on Thursday, considered worse than a "red alert."
The event, expected to draw thousands of invited LGBTQ advocates and supporters to D.C., has been rescheduled for 1 p.m. on Saturday on the South Lawn of the White House, the same day as D.C.'s Capital Pride Parade, which kicks off at 3 p.m., and Pride on the Pier celebration, which starts at 2 p.m.