Sexual assault may be dropped in Wone murder case
The lead prosecutor in the Robert Wone murder case startled courtroom
 spectators last
The lead prosecutor in the Robert Wone murder case startled courtroom
 spectators last week when he said the government would likely drop its theory that Wone was immobilized by a paralytic drug and
 sexually assaulted before being stabbed to death in the Dupont Circle
 home of three gay men.
The disclosure by Assistant U.S. Attorney Glenn Kirschner at 
a D.C. Superior Court hearing March 12 drew visible sighs of relief from 
defendants Joseph Price, Victor Zaborsky and Dylan Ward. Price gave a
 thumbs-up signal to his attorney, Bernard Grimm.
"This appears to be a major victory for the defense," said D.C.
 attorney Dale Sanders, who practices criminal law in the District.
Sanders said that by withdrawing its earlier contention that Wone was
 sexually assaulted and drugged, prosecutors would make it easier for
 the defense to promote their own contention that an unidentified 
intruder killed Wone after entering the home of the three gay men 
through a rear door.
The men have been indicted on charges of obstruction of justice,
 conspiracy to obstruct justice, and evidence tampering in connection
 with the August 2006 murder. Authorities have yet to charge anyone 
with the murder itself. The trial is scheduled to begin May 10.
Kirschner told D.C. Superior Court Judge Lynn Leibovitz that 
prosecutors were still considering introducing other evidence at trial 
considered highly controversial: a collection of S&M sex toys seized by 
police from Ward's bedroom, which prosecutors have said was located
 across the hall from where Wone was found stabbed in a second-floor
 guest bedroom.
Wone, a prominent Washington attorney, was friends with the three men 
and spending the night at their home after working late in his
 downtown office, the men and members of Wone's family have said. Wone
 was married to a woman, and his family members said he was straight.
Leibovitz said she had yet to see sufficient evidence presented by 
prosecutors to justify the introduction of the "devices" at trial. She 
noted that defense attorneys presented arguments as to why such 
evidence was not relevant to the case and how it would be prejudicial to the jury.
She directed prosecutors to file a motion before April 2 explaining 
their rationale for introducing such evidence and said she would rule
 on its admissibility at that time.
Leibovitz denied a motion by the defense asking the court to order
 prosecutors to release more details surrounding their evidence and 
theories in the case, saying the government has complied with all
 "discovery" requirements for informing the defense of its evidence.
Last week's hearing followed a court motion filed by prosecutors in
 February seeking permission to introduce evidence at trial that Price,
 Zaborsky and Ward engaged in possible criminal conduct not 
identified in the charges pending against them. Some of the alleged
 conduct cited in the court filing pertained to the use of S&M-related
 restraining devices as well as devices used to administer electrical
 shocks to a person's genitals.
"Are you planning to tell the jury that he was sexually assaulted, 
restrained," that sex toys were used on him and he was injected with 
something? Leibovitz asked Kirschner.
"We're moving away from the sexual assault proof," Kirschner replied. But he said prosecutors still planned to offer some evidence that
 "restraints" were found in Ward's bedroom.
In response to another assertion made by prosecutors in their February
 court filing — that "the killer is someone known to and being
 protected" by Price, Zaborsky and Ward — Leibovitz asked Kirschner,
" Do you plan to say one or all of these men killed Wone?"
"Not directly," Kirschner replied.
He said prosecutors also plan to present evidence from the autopsy of
 needle marks on Wone's body, including marks he noted the government's
 medical experts would show were not made by emergency medical 
technicians who arrived at the scene and tried to revive Wone.
Kirschner disclosed at the hearing that he had submitted a letter to 
the defense earlier in the day, which he also filed with the court,
 saying that the government obtained new information from medical 
experts that appeared to raise doubts over whether Wone had been
 sexually assaulted or immobilized by a paralytic drug.
Authorities first raised that theory 
in a lengthy criminal complaint filed at the time police brought
 criminal charges against the three men for obstruction of justice and
 evidence tampering.
The complaint cited an autopsy finding showing that Wone suffered
 three surgical-like, clean stab wounds in the chest and abdomen that 
could only have occurred if he were lying completely still. The
 complaint, and subsequent arguments by prosecutors, claimed that a 
person being stabbed would be expected to recoil in pain or move in a
 defensive way, causing the wounds to be jagged or distorted.
Prosecutors said a paralytic drug must have been administered to
 Wone to render him immobile, but they acknowledged that the autopsy 
and subsequent chemical tests could not find traces of such a drug in 
Wone's body. They argued that the type of anesthesia-like drug in
 question usually dissipates quickly and cannot be detected in tests.
But defense attorneys say in their own court filings that they
 would present expert witnesses to show that such drugs are detectable
 in tests, and the government's inability to detect such a drug shows 
it was never administered.
According to prosecutors, the sexual assault theory was based on 
another finding in the autopsy that traces of Wone's semen were 
found inside his rectum. The defense later argued that its own experts 
would show that the semen had no sperm cells, indicating it was 
secreted naturally by the body after Wone died, as muscles relax during 
the post mortem processes.
Sanders said that although the apparent decision by prosecutors to put aside their earlier sexual assault and paralytic drug theory is a blow to the prosecutors' case, other evidence obtained against the three men remains significant and strong.
He noted, among other things, that investigators found traces of blood in the lint trap of the men's clothes dryer and in a drain outside the house; findings by evidence technicians that someone cleaned the crime scene by attempting to wipe blood spattered near the body; and that the bloody kitchen knife that the men said they found near Wone's body bore fibers from a towel, indicating to evidence experts that Wone's blood was wiped onto knife blade by someone, with another knife likely used to kill Wone.
Authorities also have said Wone appeared to have been dead a significant period of time before Zaborsky called 911 to report a stabbing; and rescue workers reported finding very little blood on Wone's chest and body, indicating that someone cleaned the body before police and rescue workers were called, according to the police affidavit.
"They won this battle, but the war doesn't look good for them," Sanders said. "You can't lose track of the big picture, which doesn't look good for these guys."
DC Front Runners Pride 5K to take place as scheduled
Air quality improved overnight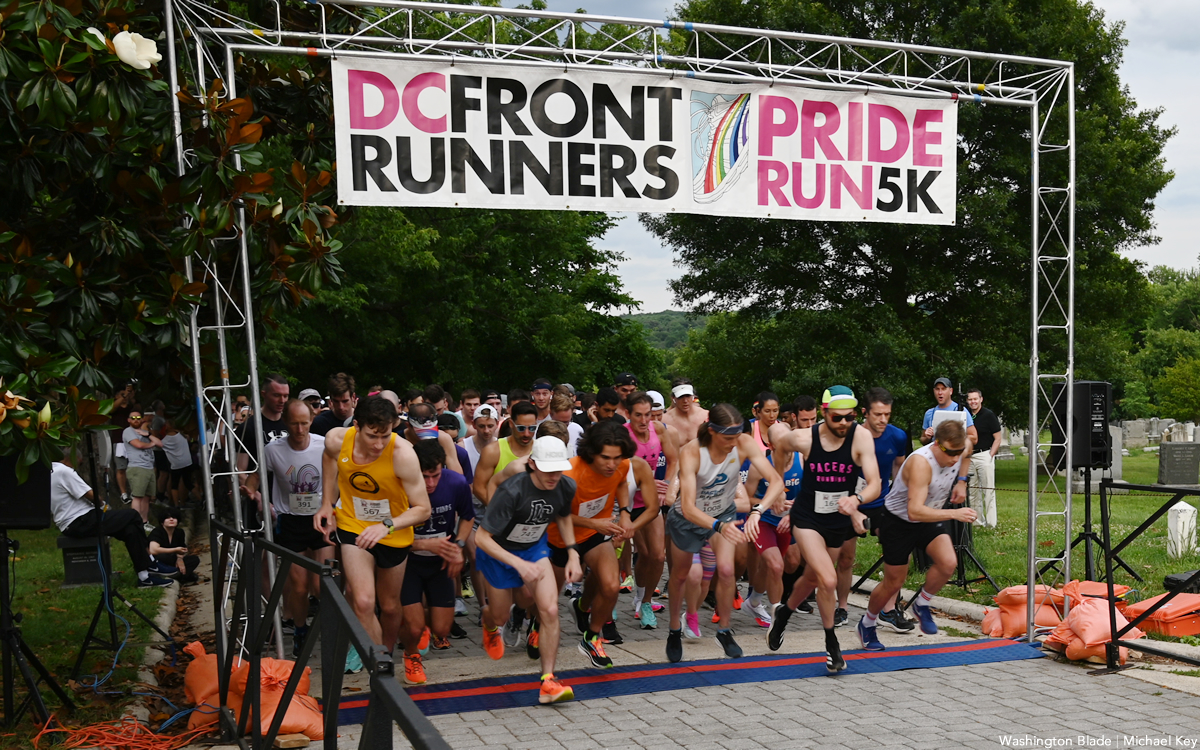 The D.C. Front Runners' annual Pride Run 5K will take place as scheduled at Congressional Cemetery on Friday.
The Blade Foundation, SMYAL, the Wanda Alston Foundation, Team DC, Teens Run DC, Pride 365 and Ainsley's Angels of America are among the race's beneficiaries. Wegmans, Shake Shack, Knead Hospitality and Design, Choice Hotels and Capital One Café are among the sponsors.
Rooftop Pool Party postponed
Capital Pride Alliance moves official event to June 22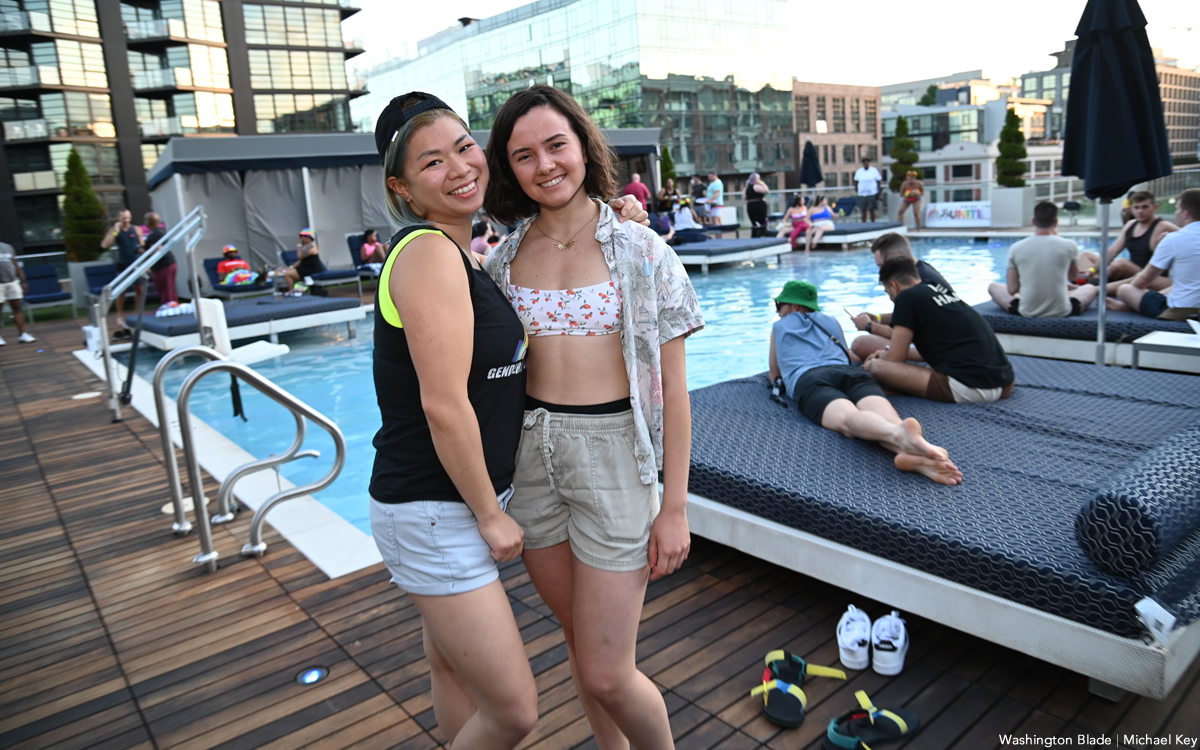 The Capital Pride Rooftop Pool Party, originally scheduled to begin at 8 p.m. tonight, has been postponed until Thursday, June 22, according to a statement released by the Capital Pride Alliance on Instagram. This action comes amid an international climate event created by the Canadian wildfire that has resulted locally in poor air quality and a haze around the region.
The Capital Pride Alliance Instagram account posted, "As with all concerns regarding health and safety issues, the Capital Pride Alliance will closely monitor the air quality situation resulting from Canadian wildfire smoke and take necessary precautions in consultation with our partners in the DC government."
"What does this mean for the pool party?" a question one private Instagram account user posed in the comment section.
"Important Update:" A representative of the Capital Pride Alliance responded through the group's official Instagram account. "Tonight's Capital Pride RoofTop Pool Party at VIDA The Yards is being postponed until Thursday, June 22 at 8:00 pm, due to the current air-quality situation resulting from the Canadian wildfires smoke. Please note that this postponement only applies to today's event."
The Capital Pride Alliance has yet to cancel or postpone any further events.
The White House earlier today rescheduled a large outdoor Pride reception planned for this evening to Saturday.
White House postpones Pride event due to wildfire smoke
Thousands expected for celebration bumped to Saturday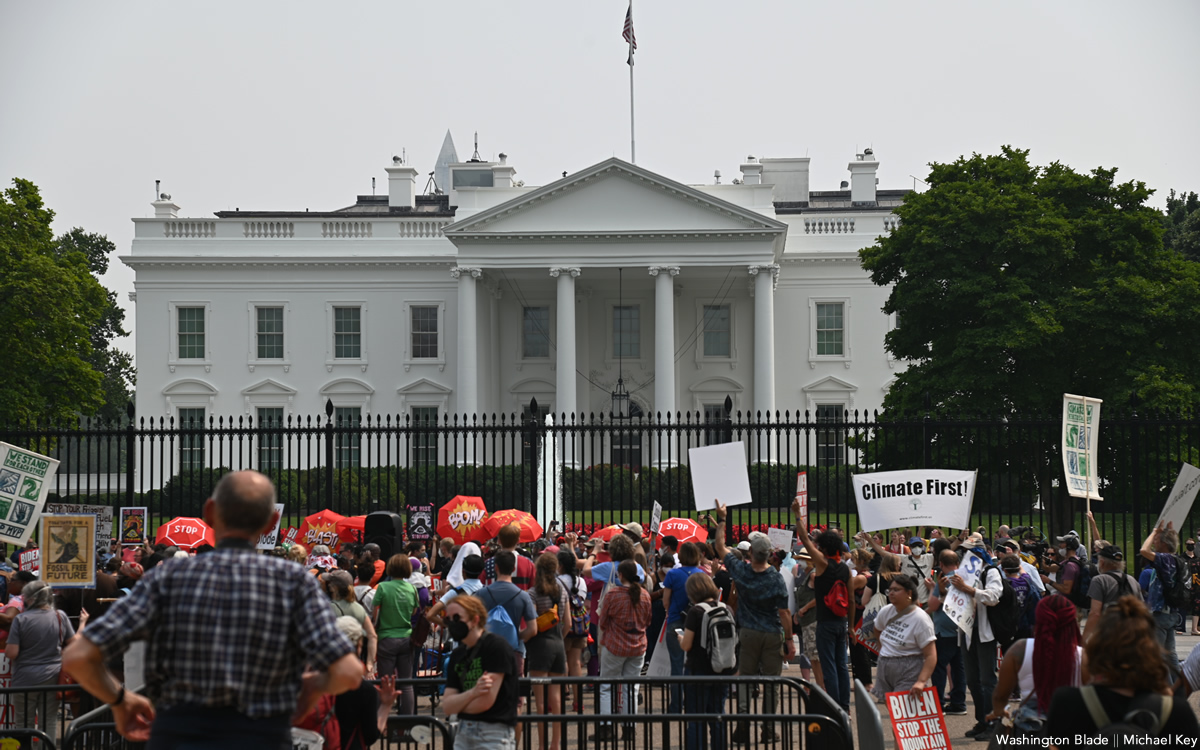 The White House announced Thursday that a Pride event scheduled for this evening has been postponed to Saturday due to the lingering Canadian wildfire smoke.
The smoke has enveloped D.C. in a dangerous haze that triggered a "purple alert" on Thursday, considered worse than a "red alert."
The event, expected to draw thousands of invited LGBTQ advocates and supporters to D.C., has been rescheduled for 1 p.m. on Saturday on the South Lawn of the White House, the same day as D.C.'s Capital Pride Parade, which kicks off at 3 p.m., and Pride on the Pier celebration, which starts at 2 p.m.