Pentagon working with gay groups on 'Don't Ask' review
Defense officials seek advice, are 'open and inclusive'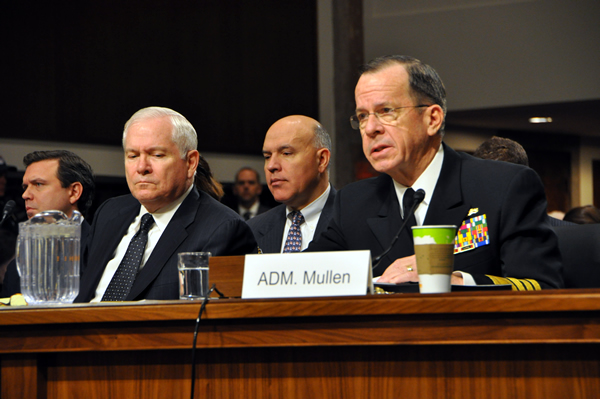 Gay organizations working to end "Don't Ask, Don't Tell" are enjoying an open relationship with the Pentagon working group reviewing the law as they continue to express concerns about the study deviating from its purpose.
Defense Secretary Robert Gates and Chairman of the Joint Chiefs of Staff Adm. Michael Mullen established the working group following a Feb. 2 hearing on Capitol Hill as a way to examine how to implement an end to "Don't Ask, Don't Tell," should Congress repeal the law. The work is expected to be completed Dec. 1.
Alex Nicholson, executive director of Servicemembers United, said his organization has had a positive engagement with the working group since its inception.
"They brought us in — in the very beginning — to initially brief us on what they were planning to do, to answer any questions we had," he said. "They were very open and inclusive, but not only to us. They were that way with our opposition as well."
In one such conversation, Nicholson said the working group held a conference call to answer questions about the new regulations that were instituted last month to relax the implementation of "Don't Ask, Don't Tell."
"There was a little bit of a worry, I think, in the beginning that maybe them bringing us in, being so open in answering questions, was a one-time, token gesture," Nicholson said. "I'm pleased to say now it's my impression that those worries, at least so far, have been unfounded. The working group has a primary point of contact for us within the Department of Defense, and that point of contact has been extremely open and extremely available."
Nicholson said Servicemembers United first spoke with someone at the working group to express concern about the group's mandate and noted it would set a bad precedent to poll the force on potential policy changes.
"The working group responded to that by telling us that the terms of reference have been issued, they are what they are and they don't have control over them," he said.
In a second round of suggestions, Nicholson said Servicemembers United passed along some ideas for the methodology the working group could institute to examine how to implement repeal. Some of the recommendations, he noted, were to advise against town hall meetings and focus groups to poll the force.
"Focus groups are a bad idea because of the phenomena of group think and posturing," he said. "On any perceived controversial issue, you're going to get a much a different set of answers if you ask people about it in a group rather than asking them one on one."
Aubrey Sarvis, executive director of the Servicemembers Legal Defense Network, also said his organization's staff have had weekly conversations and meetings with the working group.
"I think it's been positive, ongoing," he said. "It's not a process that we asked for, or that we think is needed, but we're dealing with the reality that it's in place and we're going to do everything that we can to make it work and have a positive contribution."
In these conversations, Sarvis said SLDN has been recommending voices and organizations that work to end the ban on open service.
Another organization that has engaged with the working group is the Palm Center, a think tank on gays in the military at the University of California, Santa Barbara. Nathaniel Frank, a Palm Center research fellow, said he's had a "good relationship" with the Pentagon working group.
"They've reached out to us consistently and they've been responsive to us and I'm impressed by that," he said. "The question will be, obviously, what are the results of the study and how are they expressed. So that proof will be in the pudding."
Frank said the working group has asked the Palm Center to make recommendations on a litany of issues, including how to identify the costs to the military of "Don't Ask, Don't Tell."
"That doesn't mean just financial costs," he said. "It means a litany of costs to morale, recruitment, cohesion, the impact on GLB service members, and Palm is coming out with a memo that I'm finalizing now that tries to convey all of those costs."
Frank said the working group also asked about the pitfalls of using focus groups; how to measure the views of military families; and how to empirically assess the impact of lifting the ban on unit cohesion.
Another item that Frank said he was asked about was getting the views of gay service members for the study without putting them at risk for discharge under "Don't Ask, Don't Tell."
This challenge has been repeatedly discussed in hearings on Capitol Hill and among those seeking repeal. In a statement released last week, Army Secretary John McHugh said the Pentagon is "likely" to employ a third party to solicit those views.
Sarvis said his understanding is the Pentagon is considering the use of a professional consultant or pollsters who have worked with the Pentagon before on manpower issues.
"In addition, I think they're also looking to the RAND Corp. as part of that engagement," he said.
But the decision on how the Defense Department will obtain these views is apparently not yet final. Cynthia Smith, a Pentagon spokesperson, said in a statement to DC Agenda on April 9 that the working group is still considering the best way to incorporate gay service members into the study.
"Getting the views of gay and lesbian service members is very important to the working group," she said. "We are still in the process of developing the proper instrument to obtain this information from gay and lesbian service members currently serving."
Frank said he would take issue with any decision from the Pentagon to use a third party to solicit the views of gay service members because it would create a situation where service members generally would speak to one group, and gay, lesbian and bisexual service members would talk to another.
"Uniform personnel … would be consulting service members generally and then they would employ civilians or a third party only to speak to known gays and lesbians," he said. "There's an unfairness there in having the military speak directly to straight service members and not to gay service members."
A better solution, Frank said, would be for the Pentagon to issue new regulations that would enable all service members to speak to the working group without fear of being discharged under "Don't Ask, Don't Tell."
"The only consistent way to do it is to apply that uniformly to all people and not have separate standards, which is obviously the problem with the policy as it is," he said.
Even with the openness between these groups and Pentagon officials, some repeal advocates say they have concerns about the working group's direction.
Gates has repeatedly said the purpose of the group will be to examine how to implement an end to the ban should Congress repeal the law during the Senate hearing in February. But some repeal advocates say there's a lack of clarity.
Nicholson said he has "big concerns" about the direction the group is heading, recalling testimony that Jeh Johnson, head of the Pentagon's Office of General Counsel and co-chair of the group, gave before the House in March in which the results of the working group would inform how Congress would proceed on the issue.
"And that, I think, was very dangerous and was a new twist," he said. "If the mission of the working group is to simply come up with an effective implementation management plan for after repeal takes effect, then there really should be no reason why Congress should need to wait for the outcome of the working group."
Frank also acknowledged "some confusion" about whether the purpose of the working group is to study how to lift the ban or whether to lift the ban.
"I think the reason for that confusion is while the group says it's studying how to lift the ban, given the strategic intention of the president, whether the ban is actually lifted is in the hands of the Congress," Frank said. "So if the group comes out with a study that exaggerates the risks to cohesion, or other risks associated with lifting the ban, obviously, that will make it easier for obstructionists in Congress to try to block repeal."
Frank called on leaders handling the group to "make it more clear that they are assessing how best to lift the ban" and note that the only reason they're evaluating repeal is to determine how to mitigate any harm.
"It's important to say that years and years of research across the board make clear that that impact will be negligible or non-existent, and most of us already know that," he said.
Nicholson was particularly critical of the White House and said he thinks it's "extremely concerning" President Obama hasn't come out and clarified the study's purpose. Nicholson noted that he's been asking for clarification from the White House for several weeks now and hasn't received a response.
"I just felt like with the working group, they've been very much great in communicating with us, been very receptive, I do get the impression that they're honestly considering the suggestions we give to them," he said. "The White House, on the other hand, it's felt like we've been throwing suggestions down a black hole."
Nicholson said he doesn't think that White House officials are seriously considering his organization's input and that "they ignore a lot of us for weeks at a time sometimes."
"Unfortunately, the White House is not only not listening to or considering our suggestions and communicating with us, but they haven't given any indication that they intend to clarify the position of the working group or curtail the expansion of its scope," he said.
Shin Inouye, a White House spokesperson, disputed the notion that the White House wasn't engaged with the Servicemembers United.
"The White House is actively engaged with Servicemembers United and other groups on many issues of interest to the LGBT community, including 'Don't Ask, Don't Tell,'" he said in a statement.
But Sarvis said he thinks the group will stay on track with its mission as long as it adheres to its mandate and stays focused on implementing open service.
"If they move away from their mandate, if they get into polling on if or whether, or seeking the personal opinions of service members, then, yes," he said, "I think we have a problem."
How a pro-transgender memo sneaked through the Trump administration
2020 memo an outlier amid otherwise hostile policy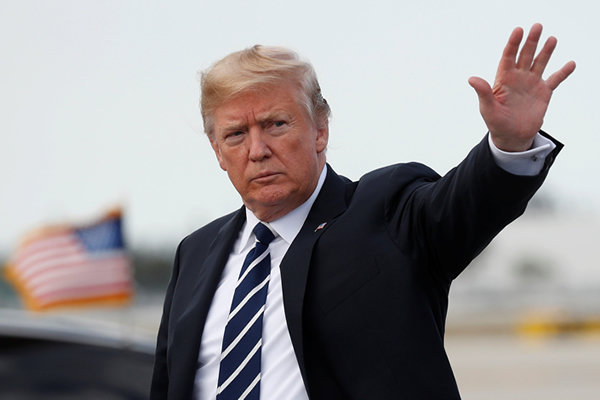 By the time the Trump administration ended, it had solidified a reputation for being hostile to transgender people — barring them from military service and reversing regulations aimed at ensuring non-discrimination protections regardless of gender identity — but one minor policy decision managed to sneak through affirming the acceptance of employees going through gender transition.
Top officials at the Defense Intelligence Agency, a company support agency for the U.S. government, outlined in a memo dated June 15, 2020 the process for employees and supervisors to "navigate transitioning while employed at the DIA." The document, which was not previously made available to the public, was obtained earlier this month by the Washington Blade through an appeal of a request under the Freedom of Information Act.
"Transitioning in the workplace is a personal decision," the memo says. "DIA encourages transitioning employees to openly communicate during the transitioning process; discuss plans for workplace transition with their supervisor or manager; and, as appropriate, include any steps that will prompt workplace changes (e.g., transitioning employees may begin using a different name or pronoun)."
Because the fundamental nature of a memo outlining steps to help employees in the workplace transition is contrary to the overwhelming anti-transgender outlook of the Trump administration, the DIA memo appears to have been an internal effort shielded from the White House at the time as opposed to a government-wide initiative.
The DIA guidance for transgender employees runs contrary to other sweeping Trump administration policies that sought to enable discrimination against transgender people, including the military policy former President Trump issued via Twitter in 2017 outright banning them from service "in any capacity."
Other anti-trans actions include the Department of Health & Human Services rescinding an Obama-era regulation that barred health care providers and insurers from discriminating against transgender patients, including the denial of transition-related care, which was orchestrated by then-director of Office of Civil Rights Roger Severino and came just days before the DIA memo.
Both the military ban and the health care rollback have since been reversed under the Biden administration.
Another Trump-era policy at a comparable scope to the DIA memo to employees, however, was the U.S. Office of Personal Management deleting on a page on its website outlining the guidance for accommodating federal workers going through the transition process. The DIA memo, which facilitates those transitions within that one agency, contradicts the message sent by the deletion of the OPM resource.
Although two sources familiar with the document told the Washington Blade it was timed for Pride month (which would be consistent with the June publication date), it would also be consistent with the U.S. Supreme Court's decision in Bostock v. Clayton County, which determined anti-LGBTQ discrimination is a form of illegal sex discrimination. After all, the Bostock decision came out on the same day as the date on the DIA memo.
A defense insider familiar with the DIA memo, who spoke on condition of anonymity, was among those who said the memo went out in recognition of Pride month and said it was intended to ensure there was guidance for transition at the agency.
"We had a number of different individuals who were going through the transition process and management needed to understand what the policy as they dealt with the individuals who were going through transition," the insider said.
The insider said production of the memo "wasn't part of any government wide effort" and completely within DIA. The memo, the insider said, wasn't creating any new policy for the agency, but "looking at existing policy, and then providing our manager and our workforce clear guidance."
Asked whether there was any backlash to the memo, the insider said, "No, I would say absolutely not." Once the guidance went out, the insider said, he "didn't hear anything from outside the organization" about it.
In response to a follow-up question on whether the White House or Pentagon under Trump expressed any objections to the guidance, the insider denied that was the case: "No one said anything to me about it."
Other highlights of the memo include options for diversity training to better understand transition-related issues; instructions to refer to employees by the name and pronoun of their choice; a reminder the Defense Intelligence Agency has no dress code, therefore employees are allowed to wear attire in the manner they choose; and a guarantee employees shall have access to restrooms consistent with their gender identity. Employees may transition without prior coordination, the memo says, or may do so while creating a transition plan that includes the date the transition will begin, whether time off is needed and how to discuss the situation with colleagues.
"Employees can use the restroom and other facilities that best align with their gender identity and are not restricted to use of a single-user restroom," the memo says. "Employees are not required to undergo or provide proof of any medical procedures to use restroom facilities designed for use by a specific gender."
Additionally, the document outlines the process for administrative record updates, including making a request for a gender marker changer through human resources, updating personnel files, and changing DIA and intelligence community badges and identification cards.
A DIA spokesperson, in response to email inquiries from the Washington Blade on the document, confirmed the memo was issued to coincide with Pride month and remains in effect to this day.
"Released jointly to the DIA civilian workforce by the DIA Chief of Staff, Equal Opportunity and Diversity Office, and Office of Human Resources, the memo titled 'Gender Transition in the Workplace for Civilian Employees' serves to notify DIA civilian employees of the Agency's position on supporting Lesbian, Gay, Bisexual, Transgender, Queer (LGBTQ) employees, including those taking steps to align themselves more fully with their gender identities," the DIA spokesperson said. "The memo was released in June 2020 to coincide with Pride Month and serves as active guidance."
In many cases, regulations and guidance would have to go through the White House Office of Management & Budget or Office of Information and Regulatory Affairs, but not necessarily, especially an internal memo to supervisors and employees to reinforce policy that purportedly was already in place.
A Trump White House official said he was unaware of the document until the Blade brought it to his attention and said it would not have come to the White House because it was never published in the Federal Register. The Office of Management & Budget didn't respond to the Blade's request to comment on whether it ever was brought to the attention of the White House at the time of its publication in 2020.
While regulations within U.S. agencies go to the White House for review and consultations, government agencies as well as businesses often consult transgender groups for assistance in developing guidance for transitioning in the workforce, such as the National Center for Transgender Equality.
Mara Keisling, a transgender advocate who served as executive director of the advocacy group during the Trump administration, said she was completely unaware of the memo until the Blade brought it to her attention, although DIA would have been "required by law" to have such a policy for transgender workers after the Supreme Court's decision in Bostock.
"We would have been happy to see it, but this was not the Trump administration doing something good," Keisling said. "This was HR bureaucrats, I don't mean bureaucrat in a bad way at all. This is HR bureaucrats following the law, and it clearly didn't rise to the level of the White House."
Keisling said she was unaware of any similar guidance for gender transition coming from a U.S. agency during the Trump administration. However, she disclosed her organization was able to work with federal workers to get "a couple of sneaky things done the White House didn't know about" consistent with the DIA memo, although she didn't elaborate.
"And super importantly, it's the intelligence community and defense and intelligence, which Defense Intelligence Agency obviously is both," Keisling said. "They have a little more autonomy than others anyway, so … if you told me there was something surprising from somewhere on a personnel issue, I would have guessed that it was somewhere in the intelligence report or Foreign Service community."
Texas to resume abuse investigations into families with trans children
"To be clear the Supreme Court has not directed Commissioner Masters & DFPS to continue investigating parents of trans youth for child abuse"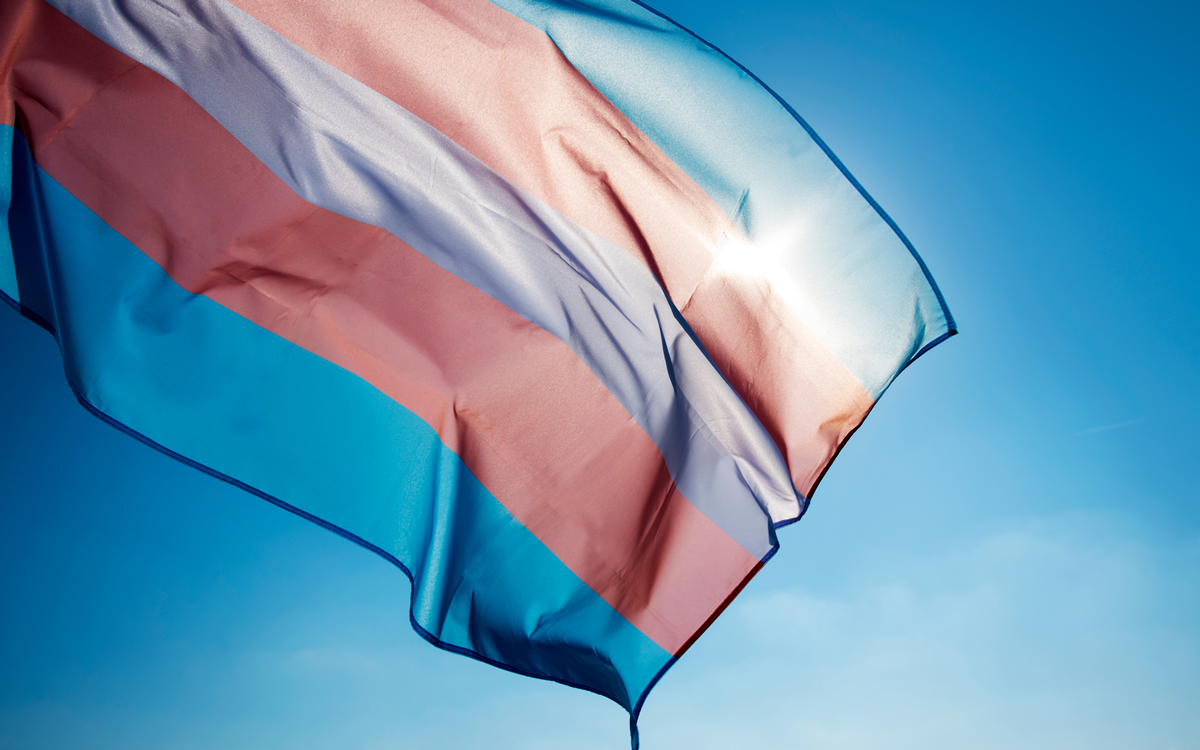 In a statement issued Thursday, the Texas Department of Family and Protective Services (DFPS) agency announced that it will resume abuse investigations into families with transgender kids.
"DFPS treats all reports of abuse, neglect, and exploitation seriously and will continue to investigate each to the full extent of the law," the statement read.
The Dallas Morning News reported that the DFPS statement, while not addressing the investigations into medical treatments for trans youth, indirectly indicated that these probes will now continue.
Current state law does not explicitly define gender affirming medical treatments, such as puberty blockers and hormone therapy as child abuse. A DFPS spokesman did not comment when asked if the agency plans to continue investigating such treatments as child abuse, the Dallas Morning News noted.
The Texas Supreme Court ruled last week that DFPS can continue to investigate families in the state who provide medically necessary care for their Trans children, excluding the parties in the litigation that brought the matter forward in a lawsuit filed in March.
In its decision, the court emphasized that neither Attorney General Paxton nor Governor Abbott has the power or authority to direct DFPS to investigate the provision of medically necessary lifesaving health care for transgender youth as child abuse. But the court limited the order blocking all investigations to the specific plaintiffs who filed suit.
Trans activist Landon Richie who has been deeply involved in the efforts to mitigate the anti-trans actions by Texas lawmakers and has led protests against the transphobic actions by Texas Governor Greg Abbott and Attorney General Ken Paxton told the Blade:
"To be clear, the Texas Supreme Court has not directed Commissioner Masters and DFPS to continue investigating parents of trans youth for child abuse. While the decision means now only the named plaintiffs in the lawsuit have protection, it reiterates that Attorney General Paxton's opinion and Governor Abbott's letter are not binding and not enforceable, meaning DFPS's actions moving forward are at the discretion of Commissioner Masters only and not the state leadership's directives. The Texas Supreme Court allowing for the district court to provide a temporary injunction is a good sign for people's protection.
It bears reminding families in Texas and around the country that today's decision (and yesterday's regarding gender-affirming care at UT Southwestern and Texas Children's) reaffirms what we already know: opinions are only opinions and the people in power cannot abuse that power to abuse trans people. We know decisions can change at a moment's notice and that this fight will take years, but to our families and communities under attack, please remain strong and take a moment to breathe. We're in this together. "
An employee of DFPS who was a litigant in the lawsuit is represented by the ACLU of Texas.
Brian Klosterboer, an attorney with the ACLU of Texas who is on the team representing that unnamed employee, said the state's decision to reopen the cases is unfortunate and unlawful. He said his team believes that the high court's decision removes any responsibility for Texans to report trans youth getting treatments, the Dallas Morning News reported.
"We are going to be closely monitoring what the agency does. We would encourage families that have any reason to believe that they have an investigation to seek legal help," Klosterboer said.
"Abbott's letter and Paxton's opinion did not change Texas law," he added. "Gender affirming health care is still legal in all 50 states."
"Don't Say Gay" student leader says school stopping run for student leadership
Jack Petocz organized a state-wide student protest against Florida's "Don't Say Gay" bill & annoyed administrators suspended him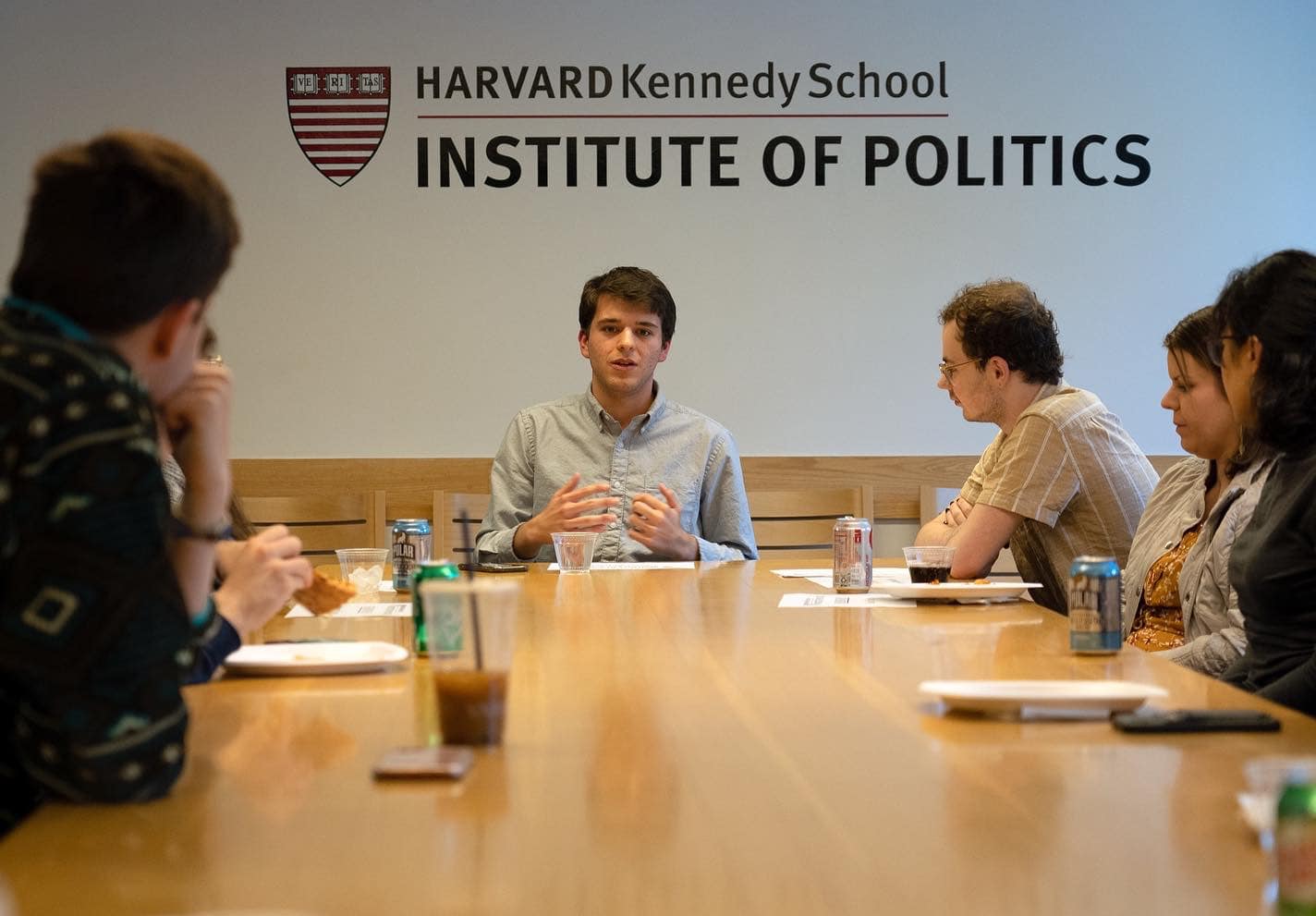 Jack Petocz, a Flagler Palm Coast High School junior, organized a state-wide student protest against Florida's "Don't Say Gay" bill this past March, and at his school, annoyed administrators suspended him.
On Tuesday, Petocz said that the school's disciplinary action is now preventing him from running for senior class president.
"When I returned, the administration assured me that no further disciplinary action would be taken. A month later, they broke this verbal agreement and placed a level 3 referral on my record. Now, due to this high level of discipline, I am being prevented from running for senior class president. I am continuing to be punished for standing up for my identity and against widespread hatred."
The suspension over the student walkout became a viral moment that propelled the 17-year-old into the national spotlight and into the national discourse over a spate of harsh laws targeting the LGBTQ+ community.
17-year-old Cameron Driggers, a student LGBTQ+ activist-organizer of the group Recall Flagler County School Board and co-leader of the walk-out, his friend's suspension inspired him to create a petition on Change.org to pressure Flagler Palm Coast High School Principal Greg Schwartz to rescind his seemingly arbitrary decision to suspend Petocz.
One protest at the school over its suspension of Petocz brought together a grizzled and proud Out gay U.S. Marine Corps veteran accompanied by his fellow vets, who alongside with Driggers and the other young adolescent activists protested in a rally in front of the school at the same time Petocz and his father were inside meeting with Flagler Palm Coast High School Principal Greg Schwartz, hoping to get him to rescind his seemingly arbitrary decision to suspend Petocz.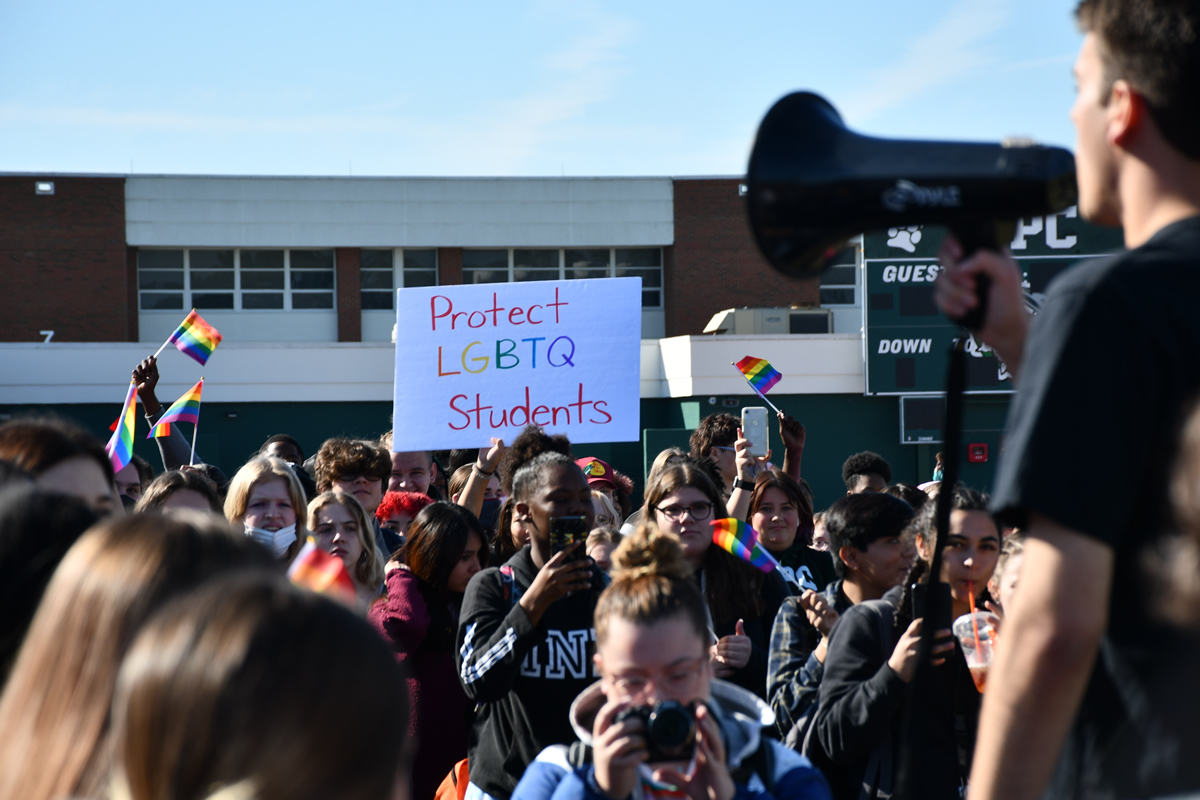 Later on during the day Driggers posted to the Change.org petition the news that Principal Schwartz had backed off.
"Recall FCSB is pleased to announce that Jack's suspension has ended and he is back on-campus. We are grateful for the thousands of people around the globe that shared, tweeted and protested in support of Jack, the organizer behind the state-wide Don't Say Gay Walkout. Over 7500 signatures were collected on a condemnation of Principal Greg Schwartz' conduct last Thursday. With Jack back on campus, Recall FCSB will continue to empower student leaders in and out of school," Driggers wrote.
Principal Schwartz also committed to removing the 'disciplinary action' from Petocz's school record.
On Tuesday, Petocz announced that Principal Schwartz and other school officials are barring him from running for an elected student office.
My name is Jack Petocz. I am the high school junior who led walkouts in opposition to the "Don't Say Gay" bill and was suspended for passing out pride flags. Now, I'm being prevented from running for senior class president. No matter what, I won't stop fighting for my community. pic.twitter.com/5lG6EYIXo2

— Jack Petocz (@Jack_Petocz) May 17, 2022
In response to the news, PEN America issued the following statement from Jonathan Friedman, director of the Free Expression and Education program:
"By going back on their word and imposing a red mark on Jack Petocz's disciplinary record, the Flagler Palm Coast High School administration appears bent on retaliating against him for organizing the walkout against the 'Don't Say Gay' bill. This is unconscionable. Jack exercised his right to protest as a citizen, and he led the walkout with the school's approval. No student ought to be intimidated or punished by school authorities for their political speech, and the school already told him he would not be disciplined. This is especially troubling alongside news of other efforts to censor or intimidate students raising their voices for LGBTQ+ rights across Florida. The leaders of Flagler Palm Coast High School should remove this infraction from his record so that he can run for class president just like any other student."
On Twitter, Petocz urged people to contact his school to get officials to reverse this latest decision.
If you want to help me fight, click the link below to send an email to administrators and the superintendent of my district. It's ridiculous queer kids have to be punished while fighting for our rights. https://t.co/oBOKZDLavb

— Jack Petocz (@Jack_Petocz) May 17, 2022