Calendar for June 4
Friday, June 4, to Thursday, June 10

Friday, June 4
RAW returns to the Green Lantern, 1335 Green Court N.W., from 10 p.m.-3 a.m. RAW is inspired by gay parties of the early 80s, filled with fog, strobe lights and throbbing music and features go-go boys and naughty performances. The hosts for the evening are Karl Marks and resident DJs, Shea and Bil. DJ Sirlinda will be the special guest DJ. Entry is free before 11 p.m., and $3 after that. 21 and over.
Reel Affirmations 20th Anniversary Celebration. One in Ten invites you to help celebrate the 20th Anniversary of Reel Affirmations. The celebration takes place at 7 p.m. at the home of Alison and Dan Masey, 1700 Kalorama Road, N.W. The suggested donation for this event is $100. RSVP to [email protected] For more information visit oneinten.org.
Saturday, June 5
Special Friday night/Saturday Morning After Hours XXX CODE Event at The Crucible, 1816 Half Street S.W., from 2:30 a.m.-7 a.m. Strict CODE dress code enforced as always. $10 admission, music by DJs Bryan Yamasaki & C-Dubz.
Join the DC Center for a discussion of intimate partner violence with a focus on the LGBTQ youth and trans communities. Panelists for these partner organizations will provide insight on the signs and fallout of partner violence among the people they serve, as well as the services they provide to combat violence. The forum takes place at 7 p.m. at the DC Center for the LGBT Community, 1810 14th Street, N.W.
Tom Goss and Jeremiah Clark are wrapping their 50-city tour with a performance at Freddie's Beach Bar, 555 23rd St. South, Arlington, Va., from 8 p.m.-11 p.m. Tickets are $10 but only $5 if you are a Freddie's VIP (you can fill out the form day of) and free if you wear pajamas. That's right — it's pajama night at Freddie's!
CODE, returns to EFN Lounge, 1318 9th St. N.W., for its monthly installment. Gear, rubber, skin, uniform or leather dress code will be strictly enforced. Music provided by DJ Frank Wild. Admission is $10. Code is an 18+ event. There will be an open bar from 9-10.
Queering Sound 10, an annual staging of alternative sound, digital arts, and spoken word from LGBT, post-gender-identified, supportive, and queer artisans. Queering Sound, presented by Triangle Artists Group and DC Sonic Circuits, takes place at 7 p.m. at Pyramid Atlantic, 8230 Georgia Ave., Silver Spring, Md. Performers include Arthur Loves Plastic, Michelle Webb, Nicholas Szczepanik, A.B. Miner, Insect Factory, Isnaj Dui, Dan Vera, Danielle Evennou, Blk w/Bear, VJ Poppins, Richard Chartier, Vlt, Blk, Soft Pieces, and Human Crochet Project.
Sunday, June 6
From 7 a.m.-4 p.m., DC Strokes Rowing Club hosts the 17th annual Stonewall Regatta. This year, the regatta will take place at Thompson Boat Center on the Potomac River. The Stonewall Regatta is a USRowing certified regatta. Athletes come from as far away as Toronto, Chicago, Boston and Denver to join our mid-Atlantic neighbors from Virginia, Maryland, and D.C. Go to dcstrokes.org for more details.
If you and your partner are planning to wed in the DC Metropolitan area, then circle today on your calendar for a very special event. Pink Dot Concepts will premiere "Say I Do!" — the ultimate LGBT Wedding Expo — at the Hotel Palomar, 2121 P St., N.W., from 1-6 p.m. For more information or to purchase tickets in advance, visit sayidoexpo.com.
Monday, June 7
Volunteer night at 6:30 p.m., at the DC Center, 1810 14th St., N.W. Come for a chance to get involved with your local community center, and to check out the facility. Bring your friends and meet new ones. Activities may include updating the lending library, making safer sex kits, data entry, or anything else that needs to be done. Pizza and soda will be served.
The DCJCC will be hosting the D.C. premiere of Seth Rudetsky's "Deconstructing Broadway" at 8 p.m. Sirius/XM Radio star and Broadway pianist Seth Rudetsky explores his own private audio/video collection in his one-man show, "Deconstructing Broadway." With perfect comic timing, Rudetsky deconstructs what's vocally amazing and what's a vocal travesty. He has played piano for more than a dozen Broadway shows including "Ragtime" and "Les Miserables." Rudetsky wrote for "The Rosie O'Donnell Show," was the vocal coach on MTV's "Legally Blonde: Search for Elle Woods" and writes a weekly column at Playbill.com. The cost of the event is $15, $12 Washington DCJCC Members/Seniors/Students/Limited Income. Buy tickets at the JCC, or visit washingtondcjcc.org.
Tuesday, June 8
AltDCPride is proud to present CocoRosie starting at 9:30 p.m. The queer band will be gracing the Black Cat main stage, 1811 14th St., N.W., with their unique brand of ethereal, performance-infused rock.
Wednesday, June 9
POZ Wednesdays from 8 p.m.-12 a.m., upstairs at the Green Lantern, 1331 Green Ct., N.W. Music by DJ C-Dubz. $3 Grey Goose from 9-11 p.m.
Thursday, June 10
DCBiWomen, the area's social group for bisexual and bicurious women, will meet at Cafe Luna, 1633 P St., N.W., at 7 p.m. The group's goal is to create an accepting, encouraging environment for bisexual women regardless of the gender of their partner or what they are looking for, meet other bi women and affirm the existence of the bi-identity. Bi-curious women are welcome. For more information visit dcbiwomen.org.
Blade's summer closing party set for Sept. 17 in Rehoboth
Benefits journalism scholarship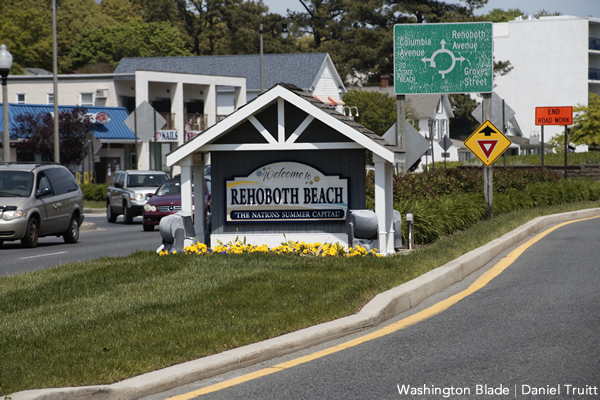 The Washington Blade's 15-year tradition of hosting a summer kickoff party in Rehoboth Beach was disrupted due to COVID restrictions. In lieu of that May event, the Blade is hosting a summer closing party on Friday, Sept. 17 at 6 p.m. at The Pines (56 Baltimore Ave., Rehoboth Beach, Del.).
Tickets are $20, which includes two drinks and appetizers. The event benefits the Blade Foundation's Steve Elkins Memorial Journalism Fellowship, a 12-week program in which an LGBTQ student journalist covers stories of interest to Delaware's queer community each summer.
All COVID safety protocols will be followed, including a requirement that attendees furnish proof of vaccination to gain entry.
If you are unable to attend you can make a donation to the Blade Foundation at BladeFoundation.org. Sponsors of the event include Delmarva Power and The Pines.
Rehoboth to close out summer with SunFest
Series of events to replace long-running Sundance due to pandemic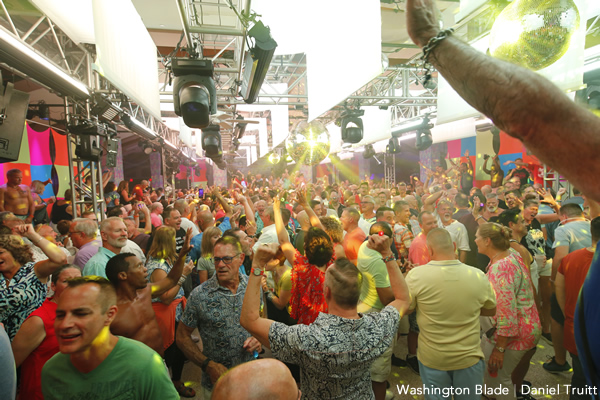 SunFest will feature a week of live performances, dances, and a live auction, sponsored by non-profit LGBTQ+ center CAMP Rehoboth.
The weeklong festival runs from Aug. 29 to Sept. 5 and is a change from the annual SunDance that CAMP Rehoboth has sponsored since 1988. This transformation began last year when the event was forced to go digital due to the coronavirus and the in-person events scheduled this year are important, according to development director and co-coordinator of SunFest Anita Broccolino.
"We love that community feel and the in-person makes all the difference in the world for us. Not being able to do it last year just reminded everyone how important we all are to one another," Broccolino said. "I think that bringing back these events this year is just huge for us and it will be extra celebratory as a result."
The festival begins with a 5k race and online auction opening on Sunday. Monday night features a give-back event at Iron Hill Brewery while Tuesday's agenda is still to be determined, said Broccolino. Diego's will host a Studio 54 give-back dance party on Wednesday and Thursday is the Port 251 women's give-back.
Live performances featuring the Skivvies, Randy Harrison and Diane Huey are scheduled for Friday night and Jennifer Holiday will follow with a performance on Saturday night, both at the Rehoboth Beach Convention Center. The festival closes out Sunday with auction pick-ups and Fun in the Sand and Sun, according to the CAMP Rehoboth website.
This event is also important to the organization's contributions to the community, said Broccolino.
"The essential services we provide for free to the community, which is a huge amount of health and wellness activities, as well as arts programming, a lot of youth programming and the community counts on us for those things. We never stopped during COVID, we made as much as we could virtual, but we took quite a hit not being able to raise those funds and awareness of the programs," Broccolino said. "We invite the entire community to come celebrate with us and make it to Rehoboth Beach, and let's make it joyful, and wonderful and make sure we're living up to the standards of all the people who helped found CAMP Rehoboth and live up to their legacy and beyond."
Rehoboth Beach welcomes Christopher Peterson back
Drag legend to perform weekly beginning July 4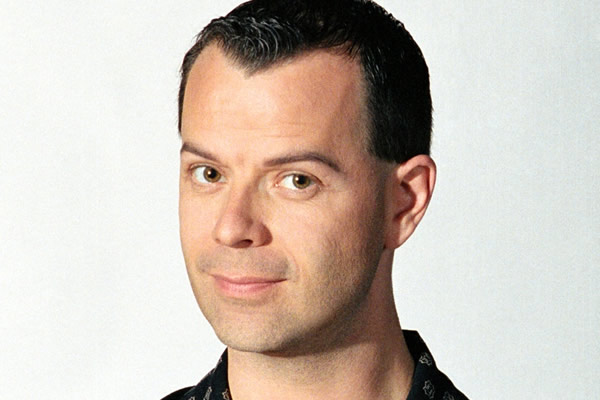 Christopher Peterson will celebrate 25 years of performing his brilliant show EYECONS when he brings it back to Rehoboth Beach this summer. He will be at Clear Space Theatre every Saturday at 10 p.m. and Sunday at 9 p.m. from July 4 to Sept. 5.
I have seen the show a number of times over the years from when he performed at the Renegade showroom (youngsters may not remember the Renegade out on the highway) to now at the Clear Space Theatre, so I am biased in saying it is always worth the price of a ticket. In fact it is worth a lot more because Christopher is an amazing talent. In addition to his own show he can be seen in "Priscilla, Queen of the Desert" at Clear Space.
I recently had the opportunity to chat with Christopher. He has lived in Key West, Fla., for years and performs there during the winter and when he isn't booked around the country. Christopher told me he was born Moncton, New Brunswick but grew up in Halifax (actually Dartmouth across the harbor) Nova Scotia, Canada 58 years ago.
We talked about gay life today and I asked him when he came out and he responded: "in the womb." He told me he always knew who he was even before he knew you could call it gay. He told me he was lucky and grew up in a family that always accepted him for who he was. I asked him if he was excited about coming back to Rehoboth and he told me he sometimes thought of this as his final 'widow tour' as it is his first time back at the beach since he lost the love of his life, James Mill, in September of 2019. They were together for 35 years and James was not only his partner in life but in business. Many in Rehoboth knew James and will miss seeing him at Christopher's side. He was a beautiful man.
Christopher has been called North America's greatest female impersonator and though I haven't seen all of them, I have seen enough to thoroughly concur with that. He not only impersonate the characters, he seems to become them. He never lip-syncs but sings their songs and talks in their voice. Christopher once said his only vocal training was in high school and in church choirs but you would never know that when listening to him sing. Christopher also designs all of his own costumes and they are incredible. It's amazing how quickly he can change from Marilyn Monroe and become Cher with just a new gown and new wig that he has stashed in the closet at the side of the stage. The transformation is mesmerizing.
Over the years he has impersonated so many iconic women, including Marilyn Monroe, Carol Channing, Madonna, Joan Rivers, Reba McEntire, Bette Midler, Tina Turner, Julie Andrews, Barbra Streisand, Liza Minnelli, Judy Garland, Eartha Kitt, Cher, Bette Davis, and Lucille Ball. He will add a new character once in a while if he feels comfortable having tried them out — one being Lady Gaga.
I asked him if he has a favorite character and he said, "That's like asking me if I have a favorite child. These are all my children and they each represent something special to me." He said, "as an example Streisand is the voice and Garland is the heart." I remember he was once quoted as saying Judy Garland is his favorite to do and since he told me she represents the heart it didn't surprise me as Christopher has a big heart. He often saves her for the end of the show and when you see her you leave wanting more.
I asked Christopher about the weirdest thing that ever happened during his show. He told me the story about an evening during the show, when he talks with an audience member, he leaned over the stage and began to chat with a table on the right of the stage and asked an older gentleman, Christopher called him Mary, how he liked the show. After saying he loved it the next thing Christopher saw was Mary keeling over. Turns out he had a heart attack. Christopher said he told the audience there would be a pause in the show and asked if there was a doctor in the house. One came forward and attended to the man and called 911. The gentleman seemed to recover and after they took him out on a stretcher the show went on. Christopher said this has happened more than once at his shows. Maybe it's the excitement.
I asked him if any of the women he impersonates have been to see the show and was surprised when he said no. I would think any of those still alive would be honored to see how Christopher does them and shows them off so well.
This will be an exciting summer in Rehoboth and Christopher is prepared for visitors to come to the show and still follow any restrictions in effect for the pandemic. The theater has said it will continue to abide by all COVID restrictions in order to ensure the safety of both the actors and the audience. Clear Space Theatre has been doing this all winter and doing it safely.
I urge anyone who has never seen Christopher Peterson to get your tickets early as anyone who has seen him will be buying tickets to his shows and you don't want to miss this chance to have a great fun evening in the theater.