We should celebrate single people
From Kagan to Carrie, tough questions for the unmarried

"If you are single, after graduation there isn't one occasion where people celebrate you," the fictional character Carrie Bradshaw, a writer, said in the HBO series "Sex and the City."
Some years later, with the movie "Sex and the City 2″ playing nationwide and Senate confirmation hearings for Supreme Court nominee Elena Kagan, an unmarried woman, slated to start June 28, I think to myself, Carrie really nailed what life's often like if you're single. Whether you're straight or queer, your friends and family won't throw a party or drink a toast to send you off on a long and happy single life. Forget the un-bridal gift registry. If you want presents, you'll have to follow in Carrie's footsteps, and, as she did in an episode of SATC, start a registry for yourself.
As in the case of Kagan, if you're unmarried, (particularly, if you're over 40), people will question your sexual orientation. Though unmarried (or uncoupled) women may face these questions more often, rumors still swirl around single men (take the speculation about retired Supreme Court Justice David Souter's sexual orientation).
As a single lesbian, I feel for not only Kagan, Carrie and Souter, but for all, whether famous or unknown, straight or LGBTQ, who are unmarried or uncoupled. Why do I feel this bond? Because often, both the culture at large and the queer community, devalue single people.
I don't mean to paint the dividing line between the single and the unmarried with too wide a brush or to dismiss the joys of marriage. I have straight and LGBTQ friends who are both coupled and uncoupled. My late partner Anne and I would have gotten married if we could have. We, who are queer, won't have achieved equality until same-sex marriage is a legal right. Having enjoyed relationships, if the right woman came along, I'd think seriously about re-partnering. No question about it. When things are going well, love and marriage can, as the Frank Sinatra song says, "go together like a horse and carriage."
But not everyone wants to be a partner or to marry. Some folks, whether straight or LGBTQ, choose for part or all of their lives to be single. Others are single due to circumstances such as the death of a spouse. Either way, we're still part of the community – a member of the same species as the coupled and married. You'd think people, queer and straight, would get this. Yet, too often, we who are single are regarded, and sometimes treated, as if we're aliens from another planet.
Who knows if Kagan is lesbian? We won't know if Kagan's queer, unless she herself says what her sexual orientation is. But it's a safe bet that her sexuality is up for discussion because she's single. Whatever her orientation, I hope that if Kagan is confirmed, she'll rule in favor of LGBTQ people when cases involving same-sex marriage come before the Supreme Court. This having been said though, I can't help but wonder: has the sexual orientation of any married Supreme Court nominee been questioned during his or her confirmation hearings? (I'm not speaking here of Justice Clarence Thoma, as the issue of sexual harassment was involved during his confirmation process.)
The speculation around Kagan mirrors the stereotypical assumptions that many, hetero and queer, have about single people. These misperceptions run the gamut from thinking we're hyper-sexed narcissists to believing that we're a-sexual workaholics. Granted, there's often a nugget of truth in stereotypes. Undoubtedly, some uncoupled folk are over-sexed, over-worked or self-absorbed. But most of us are no more horny, narcissistic or career-oriented than our coupled peers.
Historically, the queer community has been a place where you could feel at home if you weren't part of a couple. Single people, often treated as outsiders in the straight world, were respected in gay life. But, in the push for same-sex marriage equality, too frequently, we're being metaphorically seated at the "children's table."
Unlike Carrie, I don't want to set up a registry for myself. (I couldn't walk in Manolo Blahniks.) I've no desire to impede the fight for same-sex marriage. I only hope that single people will be given a place at the adult table.
Kathi Wolfe is a local writer, poet and regular contributor to the Blade. Reach her at [email protected]
National Gay & Lesbian Chamber of Commerce Certifies Brown, Naff, Pitts Omnimedia, Inc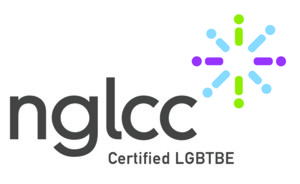 Washington, D.C. — Brown, Naff, Pitts Omnimedia, Inc, the parent company of the Washington Blade and Azer Creative, announced today it has been certified by the National Gay and Lesbian Chamber of Commerce (NGLCC) as an LGBT Business Enterprise. The NGLCC supports and advocates for diversity and inclusion for LGBT-owned businesses. With this certification the Blade's parent company joins more than 510 business and 134 corporate partners of the NGLCC.
Brown, Naff, Pitts Omnimedia, Inc. owns and operates the Washington Blade, the oldest and most acclaimed LGBT newspaper in the country. In 2012, the company launched Azer Creative, a full-service design firm. The company employs more than a dozen full-time LGBT staff.
"We are excited to become one of the 500 LGBT businesses across the country certified by NGLCC," said Lynne Brown, the Blade's publisher and a co-owner of the company. "The LGBT community has been part of our company from the beginning and we look forward to continue that for many years to come."
The Washington Blade was founded in 1969 and is known as the "newspaper of record" for the LGBT community both locally and nationally. Visit washingtonblade.com for more information. Azer Creative is a full-service graphic design firm based in Washington, D.C. Visit azercreative.com for more information. 
Vote now for the 2013 Best of Gay DC!
Choose in dozens of categories among hundreds of nominees, and make your voice heard!
Nominate the 'Best of Gay D.C.' now!
Dozens of categories cover all the best for LGBT Washington. Who deserves the prize this year?