Is ENDA the best use of our energy?
Rethinking the next priorities for the movement

Last week the House passed important legislation toward the repeal of "Don't Ask, Don't Tell," a discriminatory law that does not allow gays to serve openly in the military. The question we now face is what our legislative priorities will be going forward.
I would like to see an agenda that is as broad, practical (meaning that it has a good chance of being enacted) and strategic as it can be, advancing equality for as much of the LGBT community as possible in the most meaningful ways. We have limited resources in terms of volunteers, money, political capital and lobbying, so this choice is important. Most national LGBT organizations have targeted the Employment Non-Discrimination Act as their primary focus. ENDA, which would outlaw discrimination in the workplace, is no stranger to our cause, as it has been in the legislative hopper for many years with no progress.
Ending discrimination in the workplace is a worthy goal, but since ENDA does not apply to government-sanctioned discrimination, which is the most serious against us, ENDA is no panacea and our money, lobbying and votes should support an agenda that is broader than solely ENDA. Further, the private sector has made tremendous progress toward equality in the past decade and might not be the best place to focus change efforts. Transgender activist and blogger Corinna Cohn, proposes that there might be other ways to accomplish ENDA's goals:
"Proponents of the Employment Non-discrimination Act (ENDA) say the bill is necessary to protect vulnerable people from being judged on personal traits. However, the biggest gains in workplace protections have come from businesses, not government. The 2010 Corporate Equality Index (CEI), published by the Human Rights Campaign (HRC), reported that 72 percent of businesses surveyed have gender identity protections, and the number grows each year.
"When groups like HRC let businesses know that they are going to be measured and scored based on their corporate policies, the businesses evaluate themselves for changes based on community expectations and on the practices of their competitors.
"This is the most logical way to advance workplace protections, because discrimination is a phenomenon of human attitudes, and attitudes are changed through experience and personal growth, not through the imposition of federal law. Discrimination based on personal characteristics is an affront to human dignity, but creating federal penalties for discrimination will only spray perfume on one of the symptoms of discrimination without addressing the underlying cause."
I am not suggesting that our LGBT organizations abandon pursuit of ENDA; what I am suggesting is that ENDA might not deserve the tremendous expense of political capital that it is getting to the exclusion of other avenues of change. What other strategic priorities that improve the lives of the most LGBT people should we pursue? Healthcare equality is one idea.
This year we missed a historic opportunity, with the recent passage of massive health care reform, to address the inequality of the tax treatment of domestic partner health benefits. Democrats delivered for unions by exempting the first $27,500 of a straight family's health plan from the "Cadillac tax" and delayed any taxation on those benefits until 2018. Gay individuals, parents and their children who receive their health insurance through their domestic partners pay income tax on dollar one of their benefits. This is a huge disparity in the treatment of gays and straights. It is also a hardship for middle and low-income gay families and an injustice for all gays. Lobbying to include domestic partners in the "Cadillac tax" exemption would have been smart, non-controversial and helped many in our community. Instead of making progress, by ignoring this opportunity we were left with the expansion of a discriminatory system.
One also has to ask where gay Democrats Barney Frank, Tammy Baldwin and Jared Polis were when this legislation was being debated for almost a year. Other Democrats stood up for their constituents to the point of ridicule but our advocates were silent. Perhaps that is because we did not ask them to speak up for us.
There are many other areas in which a practical approach could improve the day-to-day lives of the majority of gay Americans, especially those who are middle and lower-income. The tax code is full of inequities and would be a good place to start looking for opportunities to change.
Jessica Lee is a new board member of GOProud and regular contributor to the Blade. Reach her at [email protected]
National Gay & Lesbian Chamber of Commerce Certifies Brown, Naff, Pitts Omnimedia, Inc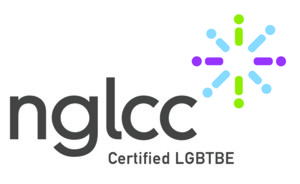 Washington, D.C. — Brown, Naff, Pitts Omnimedia, Inc, the parent company of the Washington Blade and Azer Creative, announced today it has been certified by the National Gay and Lesbian Chamber of Commerce (NGLCC) as an LGBT Business Enterprise. The NGLCC supports and advocates for diversity and inclusion for LGBT-owned businesses. With this certification the Blade's parent company joins more than 510 business and 134 corporate partners of the NGLCC.
Brown, Naff, Pitts Omnimedia, Inc. owns and operates the Washington Blade, the oldest and most acclaimed LGBT newspaper in the country. In 2012, the company launched Azer Creative, a full-service design firm. The company employs more than a dozen full-time LGBT staff.
"We are excited to become one of the 500 LGBT businesses across the country certified by NGLCC," said Lynne Brown, the Blade's publisher and a co-owner of the company. "The LGBT community has been part of our company from the beginning and we look forward to continue that for many years to come."
The Washington Blade was founded in 1969 and is known as the "newspaper of record" for the LGBT community both locally and nationally. Visit washingtonblade.com for more information. Azer Creative is a full-service graphic design firm based in Washington, D.C. Visit azercreative.com for more information. 
Vote now for the 2013 Best of Gay DC!
Choose in dozens of categories among hundreds of nominees, and make your voice heard!
Nominate the 'Best of Gay D.C.' now!
Dozens of categories cover all the best for LGBT Washington. Who deserves the prize this year?