Letter to the editor
Re: "Holding wealthy gay donors accountable"

I am writing in response to the editorial on Gov. Martin O'Malley's remarks at the OutGiving conference held in Chicago. I know many LGBT Marylanders were disheartened to hear the governor declare his belief that our state is not ready for full marriage equality. I beg to differ. In addition to the recent Washington Post poll, which found that a majority of registered voters support extending the freedom to marry to same-sex couples, Equality Maryland also commissioned a poll in the fall with a plurality of Marylanders standing behind equal protections for LGBT couples.
While his recent comments are disappointing, it is important to point out that Gov. O'Malley has a long history of supporting our community. As mayor of Baltimore, he signed into law anti-discrimination protections on the basis of gender identity or expression in the areas of employment, housing and public accommodations. As governor, he has signed several relationship recognition bills into law, as well as a bill specifically protecting LGBT students.
Recently, O'Malley directed state agencies to comply with Attorney General Doug Gansler's opinion recognizing out-of-state same-sex marriages and has made multiple public statements in support of the opinion. The governor has also publicly committed to signing a marriage equality bill when it passes.
We certainly can and should expect that our governor is in stride with the current times and the growing momentum behind equal protections in both his words and his actions. The funny thing is that if O'Malley openly and unequivocally claimed all that he has done on behalf of the LGBT community, this would be a very different conversation.
Without access to civil marriage equality here at home and comprehensive statewide anti-discrimination laws, a large number of Marylanders are not being treated fairly under the law.
The election is less than six months away and we must continue to thank those who have stood by our side in the past, including Gov. O'Malley, while also pushing them to continue to work with us to realize true and lasting equality for all of Maryland's families.
— Morgan Meneses-Sheets, executive director, Equality Maryland
National Gay & Lesbian Chamber of Commerce Certifies Brown, Naff, Pitts Omnimedia, Inc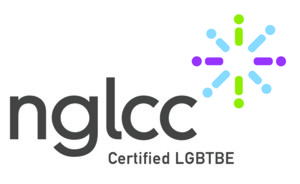 Washington, D.C. — Brown, Naff, Pitts Omnimedia, Inc, the parent company of the Washington Blade and Azer Creative, announced today it has been certified by the National Gay and Lesbian Chamber of Commerce (NGLCC) as an LGBT Business Enterprise. The NGLCC supports and advocates for diversity and inclusion for LGBT-owned businesses. With this certification the Blade's parent company joins more than 510 business and 134 corporate partners of the NGLCC.
Brown, Naff, Pitts Omnimedia, Inc. owns and operates the Washington Blade, the oldest and most acclaimed LGBT newspaper in the country. In 2012, the company launched Azer Creative, a full-service design firm. The company employs more than a dozen full-time LGBT staff.
"We are excited to become one of the 500 LGBT businesses across the country certified by NGLCC," said Lynne Brown, the Blade's publisher and a co-owner of the company. "The LGBT community has been part of our company from the beginning and we look forward to continue that for many years to come."
The Washington Blade was founded in 1969 and is known as the "newspaper of record" for the LGBT community both locally and nationally. Visit washingtonblade.com for more information. Azer Creative is a full-service graphic design firm based in Washington, D.C. Visit azercreative.com for more information. 
Vote now for the 2013 Best of Gay DC!
Choose in dozens of categories among hundreds of nominees, and make your voice heard!
Nominate the 'Best of Gay D.C.' now!
Dozens of categories cover all the best for LGBT Washington. Who deserves the prize this year?