10 people who make us proud
These champions are boosting visibility, smashing stereotypes
The LGBT residents of Washington, D.C., have much to celebrate this year, following the historic enactment of same-sex marriage in March. In addition, D.C. is home to many innovative and hard-working LGBT entrepreneurs, activists, politicians and other professionals we can be proud of.
Here, we present 10 such LGBT people. Some are nationally known (Rep. Patrick Murphy, Chely Wright, Lt. Dan Choi) for their bold work on behalf of LGBT rights. Others helped make same-sex marriage a reality in D.C. (Michael Crawford, David Catania), while still others are helping to advance equality while smashing stereotypes (Dana Beyer, Linda McAlister).
Of course, there are many, many more worthy of recognition. Check out our 10, then tell us who would make your top-10 list.
REP. PATRICK MURPHY
Working 'like hell' to end 'Don't Ask, Don't Tell'
By CHRIS JOHNSON
You would be hard pressed to find a member of Congress that LGBT people are more proud of than Rep. Patrick Murphy.
Most advocates agree he's responsible for guiding to passage an amendment that would overturn the "Don't Ask, Don't Tell" law prohibiting openly gay, lesbian and bisexual Americans from serving in the U.S. military.
Championing the measure, which passed on May 27 in the House as part of major defense budget legislation by a 234-194 vote, was Murphy, a Pennsylvania Democrat currently serving his second term in Congress. On the same day, the Senate Armed Services Committee approved an identical measure, 16-12.
The first Iraq war veteran to serve in Congress, Murphy said the votes last month put opponents of the ban on open service "one step closer" to making sure "every American has the same opportunity I did to serve our nation."
"And I just know in my heart that we have patriotic Americans who are willing to take a bullet for their country and should never be forced to lie about who they are in order to serve the country that they love," Murphy said.
In an interview with the Blade last week, Murphy said he wasn't surprised that he was able to get a vote to repeal "Don't Ask, Don't Tell" as part of the fiscal year 2011 defense authorization bill because that was his goal when he took up the cause.
"As I said to leadership a year ago, the goal was always to get this done and we always viewed the NDAA as the best vehicle to do it," he said.
Last year, Murphy took up sponsorship of the Military Readiness Enhancement Act — a standalone bill to repeal "Don't Ask, Don't Tell" — after the bill's previous sponsor, former Rep. Ellen Tauscher, left Congress for a high-level position in the State Department.
Alex Nicholson, executive director of Servicemembers United, said Murphy first grabbed the attention of LGBT activists after he ripped into anti-gay Elaine Donnelly during her congressional testimony in 2008 in opposition to gays in the military.
"As the first Iraq war veteran elected to Congress, Congressman Murphy has tremendous credibility on defense policy issues," Nicholson said. "We simply could not have had a better person step up to the plate to take over the Military Readiness Enhancement Act when Congresswoman Tauscher went over to the Department of State."
Murphy worked to grow the number of co-sponsors of the measure to 192. He also obtained a couple dozen other commitments from lawmakers who said they wouldn't sign on as co-sponsors, but would vote for the bill when it came before them.
Before the defense authorization bill came to the House floor, Murphy said he asked permission from House Democratic leadership to bring a "Don't Ask, Don't Tell" repeal amendment before lawmakers.
"And they checked my whip count, came back after, and they felt confident to bring it up for a vote," he said.
Even though he believed he had sufficient support, Murphy said he was "pleasantly surprised" to have 234 votes in favor of repeal as well as five votes from Republican House members giving the measure a hint of bi-partisanship.
And what does Murphy think about the remaining House members that voted against ending the 17-year-old ban on open service in the military?
"I think they're to the right of Dick Cheney, and that's not where I would want to be," he said, referring to the former vice president's recent public comments that "Don't Ask, Don't Tell" should be reconsidered.
But why is Murphy, who's straight, so committed to ending a law that affects gay Americans? Hailing from a traditionally Republican district, making "Don't Ask, Don't Tell" his signature issue could arguably hurt his chances for re-election.
Murphy said he came to believe the ban on open service was flawed when he taught at the U.S. Military Academy at West Point starting in 2000.
"I saw great leaders, many women, thrown out of our military not for anything except for that they were gay, and I saw firsthand how it hurt our national security, how it wasted taxpayer dollars, and it made our families less safe," he said.
Upon his election to Congress in 2006, Murphy said he realized he had the opportunity to change "Don't Ask, Don't Tell" and "worked like hell to make repeal a reality."
Nicholson called Murphy "truly a hero" for the LGBT veteran community because he "certainly did not have to do everything he has done."
"We would have been honored to even just have his support on our issue, and even more so to have his active and vocal support," Nicholson said. "But it was truly heroic for him, especially as a Blue Dog Democrat, to step up and take the lead on this issue and to become the public face of the issue in Congress."
The vote on "Don't Ask, Don't Tell" repeal comes at an opportune time as LGBT Americans prepare for Pride celebrations.
Murphy said the votes are "something we'll be able to celebrate" as Pride festivities begin, noting recent polls showing that 8 in 10 Americans want to end "Don't Ask, Don't Tell."
"It goes to the very foundation of what our Constitution says, that all men and women are created equal and should be treated equal as well," he said.
Murphy said he usually participates in Pride events in Pennsylvania, but couldn't attend this year because of a scheduling conflict. Instead, Murphy said his wife, Jenni Murphy, took part and marched in a Pride parade along with their children.
"My wife Jenni was pushing in the stroller my three-and-a-half year-old daughter Maggie Murphy and my six-month-old son Jack Murphy in the Gay Pride parade," Patrick Murphy said. "It's something that as a family we definitely celebrate and are proud of where we stand in the ledger of history."
But as supporters of repeal celebrate, hurdles remain that could obstruct the measure from making its way to President Obama's desk.
Opponents of repeal — most notably Sen. John McCain (R-Ariz.) — have threatened to filibuster in the Senate the defense budget legislation to which the "Don't Ask, Don't Tell" repeal is attached. Obama himself may veto the defense bill if it contains funding for an alternate engine program he deems unnecessary for a next-generation aircraft.
Moreover, the measure spells out that repeal wouldn't take effect until after the Pentagon completes its study on "Don't Ask, Don't Tell" at the end of the year and the president, defense secretary and chairman of the Joint Chiefs of Staff certify the U.S. military is ready.
Despite these obstacles, Murphy said he's "not going to rest" until "Don't Ask, Don't Tell" is "finally repealed."
"My amendment dismantles the policy, but only after the Pentagon completes its review process, and they certify that it won't hurt our national security," Murphy said. "They've already testified that it won't, but still, I want to make sure that it works out right."
Murphy said he's "confident" that Pentagon leaders would not withhold certification of repeal once the study is complete because both Defense Secretary Robert Gates and Chairman of the Joint Chiefs of Staff Adm. Michael Mullen testified in favor of open service in a February congressional hearing.
"Adm. Mullen said himself that it's a question of integrity — theirs as individuals and ours as an institution," Murphy said. "And they know that this is bad for national security."
Also of concern to many repeal advocates is lack of non-discrimination language in the measure protecting gay, lesbian and bisexual service members. Such language was present in standalone versions of the repeal bill.
Supporters have been pushing Obama — upon his certification — to issue an executive order to protect LGBT service members or to expand President Truman's order from 1948 to provide such protections.
Murphy said he'd have to examine such a move from the president, but said he generally supports the idea.
"I'll have to take a look at that and see where we're moving," he said. "Of course, I think this policy hurts our national security and the American taxpayer, so I would be supportive of it."
Murphy urged gay service members who are anticipating the end to "Don't Ask, Don't Tell" to be patient just a short while longer.
"I would first say thank you to them, and then I would tell them to stand strong because this policy is going to change at any moment," he said. "I hope that they're proud of what the Congress is trying to do, not just for them, but for the national security of our country."
LT. DAN CHOI
Reminding us what activism looks like
By JOSHUA LYNSEN
As a graduate of the U.S. Military Academy at West Point, Army Lt. Dan Choi considers himself a man of duty.
That's why Choi, who's gay, feels so compelled to fight for LGBT civil rights. His most public acts in recent months — speaking against "Don't Ask, Don't Tell" and protesting outside the White House — reflect the responsibility Choi feels he has regarding the next generation of gay Americans.
"There's a lot of people who judge their actions based on what's possible now, what's possible politically, what's profitable, what is easy, or what needs to be done to achieve a particular agenda," he said. "And I understand where they're coming from."
But as LGBT activists and their allies work to improve tomorrow, Choi said, it's incumbent on them to remember they're fighting every bit as much for the future.
"And that's something that's lacking not only within our movement, but within our community," he said. "Responsibility toward the next generation of gay people."
Choi, whose father is a Southern Baptist minister, made headlines in March 2009 when he came out on national television. The revelation triggered a military trial that ended in June 2009 with a recommendation for his discharge in accordance with "Don't Ask, Don't Tell." Twelve months later, though, Choi said he's still waiting for the Pentagon to complete the process.
"They just don't know what to do," he said. "And we've been waiting for a year."
In the meantime, Choi has become one of the nation's most visible LGBT civil rights activists. A frequent event speaker and rally participant, Choi was arrested in March after handcuffing himself in uniform to the White House fence in protest of "Don't Ask, Don't Tell." He was arrested a second time after again handcuffing himself to the White House fence.
"I believe it's our duty as citizens to hold our leaders accountable," he said. "As a military officer, I take that duty all the more seriously."
Undeterred by his arrests, Choi has continued to fight against "Don't Ask, Don't Tell." He recently completed a seven-day, water-only fast in protest of the law. Choi said the fast was also done to encourage President Obama to "stop the firings" of gay, lesbian and bisexual soldiers.
That the fast ended June 2 with no action from Obama might dishearten some people. Not Choi.
"I know that a lot of the movement and our community's interests, at least politically, have been based and formulated by those who come from that kind of a background where those metrics, if you will, are easily employed," he said. "And we're quite fluent in that kind of vernacular."
But the Army National Guard lieutenant said, "it would be limiting our movement as well as our community and ourselves" to judge successes or failures so immediately and in such limited terms.
"It relegates us to a small perspective," he said, "which is not befitting such a talented and vibrant community.
"We do have to start broadening our ways of not only judging ourselves, but creating and building our movement. We need to judge it in terms of what we contribute to future generations."
BETSY PURSELL
From educator to 'gay for pay'
By SARAH McKIBBEN
Betsy Pursell thinks it's a waste to live without purpose. She and her partner are parents to a set of twin tweens, and as she'll attest, her unwavering love for her family —and instinct to protect it — has been the cornerstone of her LGBT-related work. As vice president of education and outreach for the Human Rights Campaign and board chair of the Sexual Minority Youth Assistance League, she grabs every opportunity available to improve the well being of the LGBT community, particularly its youth.
"I really have gotten to a point in my life where I deliberately do the things I do because I think they're going to make a positive impact for the world I live in, for my family, and to a certain extent, for myself," she says during a phone interview late one evening.
A longtime teacher and principal of a Maryland private school, Pursell hasn't always been an out-front community spokesperson. As is the situation for many educators, she felt forced to separate her personal and professional lives. After years of struggle, however, the stress finally took its toll and she left education for good.
"I was just at the point where I couldn't hide it anymore and I needed to be who I am," she says. Still, her commitment to improving achievement and outcomes for youth never went by the wayside. Her decision to live her dream and be "gay for pay," as she quips, ultimately led her to HRC.
In the few years she's been with the organization, Pursell's work has already left an indelible mark on the national queer landscape. The programs she administers collectively protect families, promote workplace and religious equality and encourage youth to advocate on their own behalf. Keeping education at the forefront of her mission, she helped oversee the implementation of the "Welcoming Schools" pilot program in several districts across the country. The initiative, which she's especially proud of, provides schools with K-5 curriculum that promotes acceptance for all kinds of families while also addressing gender stereotyping and name-calling.
Locally, Pursell has used her position as board chair of SMYAL to help turn around the organization that's dedicated exclusively to LGBT youth. A welcoming place for the city's queer kids since the early 1980s, SMYAL was formed during the onset of the AIDS epidemic and subsequently attracted more young men to its services than women. Determined to change that, Pursell made engaging young women a top priority for the nonprofit. She tells the Blade that, "while we still do direct service, counseling, and HIV education and testing, we have moved to more of an empowerment model that emphasizes leadership and self-advocacy."
As the interview winds down, the conversation is suddenly interrupted by one of Pursell's daughters. An exchange of whispering is heard before she patiently says, "Honey, it'll have to wait." The moment is priceless. It's the perfect reminder of why Pursell directs every ounce of energy into advocating on behalf of youth and families. She works hard and deliberately to protect what's closest to her heart. 

MICHAEL CRAWFORD
Master of marriage messaging
By JULIETTE EBNER
After helping to win same-sex marriage in D.C., Michael Crawford is a person the LGBT community can be proud of.
Crawford first moved to D.C. to help organize the 2000 Millennium March on Washington for LGBT Equal Rights.
He co-founded and co-chaired D.C. for Marriage, a grassroots organization.
According to Crawford, one of the best parts about the recent win in D.C. was the high number of African-American supporters — both LGBT and straight — who were active and visible in the fight. He thinks one of the keys to winning marriage equality in other places is to include the African-American community, as well as local faith leaders.
"I was happy to play a role in that," said Crawford.
Since February, Crawford has been in New York, working as the director of new media at Freedom to Marry, where he is in charge of the national organization's online presence. He organizes everything from the website to a Facebook page and Twitter account. He also works to figure out ways to use social networking, blogging, online videos and other emerging media to advance marriage equality.
Crawford uses these media outlets to get different organizations, including grassroots and national groups, working together to get a "diversity of tactics and strategies."
A major part of that effort is using Freedom to Marry's "Roadmap to Victory," which includes three major steps: win more states, build a majority and advance federally.
Activists often have many factors that motivate and inspire them to do their work, and Crawford is no exception. He fights because he wants sexual orientation to not be a factor in a person's success.
"I want young LGBT people to effectively rule the world," said Crawford.
Crawford is the managing editor of dc.bilerico.com and a member of the editorial team for bilerico.com. He also blogs at Huffington Post.
Crawford has served as associate field director at the Human Rights Campaign, specializing in working with state and local advocacy groups to advance legislation.
Crawford served as communications director at Energy Action Coalition, a coalition of youth and student organizations working on a clean energy movement. He was also the online director for Citizens for Responsibility and Ethics in Washington.
In addition, he was awarded the Gay & Lesbian Activists Alliance Distinguished Service Award.
Crawford said he makes it back to D.C. as often as possible and intends to be part of the Pride parade this year.
DEACON MACCUBBIN
Organizer of D.C.'s first Pride celebration
By LOU CHIBBARO JR.
Deacon Maccubbin is best known for his role as the founder and owner of D.C.'s Lambda Rising Bookstore, which played a key role in the development of the local LGBT community for 35 years.
He also has the distinction of being the initiator and organizer of the city's first annual LGBT pride celebration in 1975.
Held as a block party on the street near Dupont Circle where the first Lambda Rising store was located, the event became the forerunner to the Capital Pride festival set to take place June 13 on Pennsylvania Avenue near the U.S. Capitol.
The LGBT books and periodicals that Maccubbin provided for the community for more than three decades, and the community center-like ambience he created in his store, have been credited with helping countless people understand and accept their sexual orientation and become involved in the LGBT rights movement.
But Maccubbin attributes his own inspiration in becoming an out gay man active in changing society's attitudes toward gays to a straight friend in the 1960s.
"He was my very, very best friend in the world," Maccubbin says. "And I started feeling guilty about not telling him who and what I was."
After building up the courage, Maccubbin says he blurted out, "It's a little hard to talk about but I feel like I'm lying to you by not telling you about it, so I'm just going to tell you. I'm gay, I'm a homosexual."
As Maccubbin recalls it, the friend laughed and said, "Shit, is that all you were worrying about? I knew it all along. I don't give a fuck."
"The thing that made an impression on me is that he meant more to me than anybody in the world right then," says Maccubbin. "And if he didn't care, then I didn't care who did. So I proceeded to tell everybody."
His near universal coming out in the late 1960s played a role in his decision to get involved in politics, including the anti-Vietnam War movement. His says his first involvement in gay rights came in 1970, shortly after he moved to D.C. from his hometown of Norfolk, Va., when he started going to meetings of the Gay Liberation Front.
A short time after that, Maccubbin opened Earthworks, an upscale "paraphernalia" shop that specialized in, among other things, water pipes and candles. Located just off Dupont Circle at 1724 20th St., N.W., the shop enabled Maccubbin to secure space in the same building to open Lambda Rising in 1974.
"In '72, I had gone to New York for Gay Pride Day and I came across, totally by accident, the Oscar Wilde Memorial Bookshop," he says. The tiny shop was one of the nation's first gay bookstores.
"I thought this is really cool," he says. "Someday Washington should have a store like this — not thinking that I should do it, but just that it should happen."
So in 1974, when space became available in the building where Earthworks was located, Maccubbin decided to take the plunge and open a D.C. gay bookstore.
"I didn't have any idea whether it would work or not," he says. "But it did work, and it worked very well. And three years later, we needed more space and moved around the corner to S Street. And then in '84, we ran out of room in that space and had to move to where we finally were — Connecticut Avenue."
After more than 35 years in business, Maccubbin and his longtime domestic partner, Jim Bennett, decided to close the store for good last January. Maccubbin, who wanted to retire, says he and Bennett remain active in LGBT endeavors. Capital Pride organizers recognized Maccubbin as a Pride Hero this year.
LINDA McALLISTER
Making a political statement while having fun
By JOEY DiGUGLIELMO
Linda McAllister, like many entrepreneurs, sensed a need that inspired her to go into business. Lace, a mostly lesbian bar/restaurant, in D.C.'s Woodbridge/Brookland neighborhood (2214 Rhode Island Ave., N.E.), opened in 2008 and is equal parts political statement and business, McAllister says.
"I would go to major cities and notice that women often did not have an identified space or women were provided a space on certain days of the week or a space that was inconsistent," the 48-year-old North Carolina native says. "Women really have been marginalized in this way, so for me it was almost a political statement that women should have equal opportunity to have a place that's consistent, to talk, have a great time, have great food and not just on odd days."
Lace — open every Friday through Sunday and every other week on Thursday — is mostly lesbian but bi and straight women hang out there too, McAllister says. Men are welcome — she's even experimenting with a Wednesday night men's night for gay guys. It's for anyone comfortable in an upscale, mostly female environment. Of the roughly 350 to 400 patrons who visit the space on an average weekend, McAllister guesses about 60 percent are black. A crusted tilapia dish is the most popular menu item. A peachy martini called Tie Me To the Bedpost is the most popular drink.
"When I decided to move forward, quite frankly, I did have people say, 'Oh, women are fickle, they don't come out much.' But I moved forward from the perspective that if that's the case, I want more than anecdotal information. I still believe that over time, women will make a clear statement that we deserve to have a space that caters to our needs."
McAllister is a social worker by day. She still works full-time in her field but would eventually like to make running Lace — with sister bars in other cities — her main work. The double duty has taken a toll. Spending so much time on Lace was a contributing factor in the end of a two-year relationship she was in until a few months ago.
"My ex and I are very cordial and she's wonderful," McAllister says. "Unfortunately a relationship didn't quite fit in with everything I have going on."
McAllister calls Lace her contribution to the local LGBT community.
"To go with your girlfriend and celebrate in a primarily straight environment, you often feel slightly uncomfortable if you want to kiss or something. Those affectionate moments. Women feel very comfortable here and I'm just extraordinarily pleased to be able to provide that."
DANA BEYER
Making history in Maryland
By NICK NAPOLITANO
Dana Beyer can clearly recall the moment she transitioned from private citizen to activist and political candidate. It was in the days following President George W. Bush's 2004 re-election and Beyer was feeling angry and disgusted.
"I was complaining, and thinking out loud about moving to Canada," Beyer admitted. "My girlfriend at the time said, 'why don't you just stop whining about this. Stop complaining and do something.' It took a few days, but that really sunk in."
By 2006, the successful eye surgeon and native New Yorker had set her sights on the Maryland statehouse. With no initial name recognition and zero endorsements, she came within 1,100 votes of winning a delegate seat from Maryland's 18th District, which would have made her the first openly transgender candidate in American history to win election to a state legislature. Though she lost, her campaign impressed many, including Montgomery County Councilwoman Duchy Trachtenberg, who called Beyer the day after her loss to commend her for a great campaign and offer her a job as a senior adviser.
It took Beyer less than a day to decide she would run for office again, and this fall she will try a second time to make history. After four years learning the ins and outs of county government, she believes she is a much stronger candidate now and even says that losing in 2006 was probably the best thing that could have happened to her.
"When I ran before, I knew I could make a contribution just because of my well of knowledge and experience as a physician and a surgeon, but I didn't know how the system worked. Now I know very well how it works. I know what needs to get done in order to achieve a particular goal."
And just as Beyer has changed and grown over the past five years, so too has the political environment.
"Before, it wasn't about my being a physician and a surgeon, what I could bring to Annapolis, my integrity, my life experience, raising children. It was, 'Oooo, she had a sex change.' At this point, I think I'm enough of a political player here that that's really muted. People don't speak of me amongst my peers that way in local and state politics. So I think it's very different."
Beyer has also won respect and support from the LGBT political establishment, including the Gill Foundation and the Gay and Lesbian Victory Fund, which sent her to Harvard University two years ago for the Senior Executive Leadership Program and is endorsing her run.
"I do feel a responsibility to the national LGBT community. I'm the first really credible [transgender] candidate. I need to give it 100 percent."
But at the same time, she says, "I can do more to advance the trans agenda and the LGBT agenda simply by going to work every day and doing my job."
Though quick to point out that she is the same person now that she was before gender reassignment, in all the ways that truly matter, the parent of two does credit her transition with providing the strength and drive to serve her community.
"I took care of myself so now I can take care of others."
DAVID CATANIA
Out — and outspoken — advocate on City Council
By LOU CHIBBARO JR.
David Catania, a member of the D.C. City Council since 1997, has an immediate answer to the question of what motivated him as a gay man to take on the cause of LGBT equality, including his role in introducing the city's same-sex marriage law.
"There's an easy answer to that," he says. "I represent all of the people of the District of Columbia as an at-large member. And as a result, I represent the LGBT community just as I represent every other community."
He adds, "Just as I endeavor to extend human rights and protect human rights of other residents, I obviously have worked to do the same for a community that I'm a part of. It's part of my responsibility to represent everyone."
D.C. government observers and gay activists agree that, while virtually everyone recognizes Catania as an advocate for LGBT rights, no one with any knowledge of the City Council considers him a one-issue lawmaker confined only to gay issues.
Since he burst on the political scene in 1997, when he won an upset victory for his at-large Council seat, Catania has tenaciously pushed for city government reform on a number of fronts. Since becoming chair of the Council's Committee on Health in 2005, health care has been among his top priorities.
In a series of highly publicized oversight hearings, Catania is credited with systematically prodding the Department of Health under the administrations of former Mayor Anthony Williams and Mayor Adrian Fenty to overhaul the long trouble-plagued HIV/AIDS Administration.
He credits Williams for starting the ball rolling and Fenty with putting in place a "top notch" director of the AIDS administration, Dr. Shannon Hader. Along the way, City Hall insiders say Catania kept them all on their toes, holding more than 20 hearings in which he cajoled and sometimes reprimanded upper and middle level managers to push harder for results in improving the city's HIV/AIDS services.
"We now have the best epidemiology data in the nation," he says. "We are the most aggressive in testing and treatment. And recently, as you've reported, we've started to see dramatic improvements in our confrontation with this epidemic. And I'm proud of that."
And while he acknowledges that much of the media attention has focused on his efforts to push for marriage equality for gays and lesbians, he says his "real passion" has been health care. He notes that as a result of a number of health insurance related reforms and policies he has championed in the Council over the past five years, D.C. now leads the nation with the lowest rate of children who lack health insurance coverage. The city also has the second lowest rate of uninsured in health care for the overall city population.
And with both same-sex marriage and health care being his top priorities, Catania points out another fact that makes him proud.
"The states that have the highest rates of [health] insurance are coincidently the states that have marriage equality," he says. "Isn't that interesting? It goes in this order. The states with the highest rates of insured are the District, Massachusetts, Connecticut, Vermont and Iowa."
Each of those jurisdictions has legalized same-sex marriage.
On the marriage bill, Catania says that while it is among his proudest endeavors on the Council, the credit must be shared with his Council colleagues and the LGBT activists who worked on the issues for decades.
"I want to be very clear that while I was privileged to ultimately author the measure that brought marriage equality to the city, there are individuals too numerous to mention that have had a hand in this victory for more than four decades," he says.
"So I want to put it in perspective. This is a win for the entire LGBT community and our allies. And it is a result of decades of work."
CHELY WRIGHT
Making music and no longer 'in hiding'
By SHANNON HAMES
Last month, for the first time in the history of country music, an established country singer came out. In the May 17 issue of People magazine, Chely Wright discussed how she knew she was gay by age 9, but thought she had to hide it to succeed in music — living a lie that drove her to consider suicide in 2006.
Wright had her biggest hit in 1999 with "Single White Female," which went to No. 1; made People's list of Most Beautiful people in 2001, and dated fellow country singer Brad Paisley. In her People interview, she described how she decided to come out when making her new album, "Lifted Off the Ground."
Wright also has a new memoir, "Like Me," and has spent the days since the People story hit newsstands in a whirlwind of interviews, from Oprah to Larry King,
She performed at the Gay & Lesbian Alliance Against Defamation Media Awards on June 5, and is scheduled to serve as grand marshal of Michigan Pride on June 12 and headline Capital Pride in Washington, D.C. on June 13.
She is also headlining Chicago Pride and recently joined the board of Faith in America, a nonprofit group that works to end "religion-based bigotry" against LGBT people.
"Chely's decision is creating an opportunity for the voices of acceptance and equality to be heard and history has shown that those voices reflect the true hearts and minds of most Americans," says FIA founder Mitchell Gold.
In an interview, Wright talked about growing up closeted in rural Kansas and her assertion that it's possible to be gay and a Christian.
"I knew that I was different, but from the minute that I realized what the difference in me was, I went into hiding. It was an undefined prison without bars. I thought I had a birth defect or that I was possessed by the Devil," she said.
"I spun my mind around all day long trying to figure out what was wrong with me. Then, I had that preacher standing there telling me what was wrong with me and that I was going to hell. I was being told that I would never fit in anywhere."
She added, "The most compelling things that I have been told by the LGBT community is, 'Thank you for coming out and for talking about your relationship with God.' My faith defines me more than anything else."
The country music industry is considered conservative, so many LGBT advocates have praised Wright for bravery in coming out.
"It was a result of my finally submitting to God. In my new book, 'Like Me,' I detail the tipping point for me was getting on my knees the day after I had a gun in my mouth about to kill myself. I prayed, 'Dear God, give me a moment's peace. We've been doin' it my way for 36 years. Now, I'm ready to do it your way. Show me the way.'
"His answer was, 'OK, You're going to stand up and tell your truth.' … Not only do we damage ourselves when we hide, but we wreak havoc on those around us. I detached from my family and it confused them. I tried to have relationships with men that hurt them. It's a no-win situation. People get hurt when you lie."
IMANI WOODY
Empowering the disenfranchised
By JOEY DiGUGLIELMO
Sometimes it's hard for Imani Woody to believe how far things have come. The native Washingtonian who grew up the daughter of a Pentacostal minister remembers a segregated District where blacks weren't allowed at the lunch counter at the Hecht Company.
And though she remembers playing house and doctor with her childhood girlfriends and always choosing another girl to be her playtime "spouse," gay and lesbian issues wouldn't emerge on her personal radar until well into adulthood, after two marriages to men.
"I always say I was married twice before I got it right," Woody says with a laugh. "It started with a light kiss. This woman and I, we were just friends, but we just kind of spontaneously kissed and things started connecting. It really opened my mind up that this was a possibility. If I could grow up now, oh my God, are you kidding me? But when I was growing up it wasn't even a possibility."
Woody and her wife, Andrea Macko, have been together five years. They wed five years ago in a religious ceremony and plan to have a legal marriage this year. Woody got started in LGBT activism work years ago through a Social Security course at Whitman-Walker that educated lawyers about the need to get the hearings of AIDS patients scheduled before they died. She's now at AARP co-chairing an LGBT employee resource group called the AARP Prism Network and along the way she has volunteered for the Mautner Project, PFLAG, support groups at Whitman-Walker and more. She's currently working on a doctoral program through Minnesota's Cappella University in which she's studying the combined effects of aging among black gays and lesbians.
"LGBT work is really where my passion is," she says. "I've always been an advocate for the disenfranchised, people with disabilities, African Americans, women's issues. I did my master's thesis on women in a transitional housing project. Empowering folks is what I do. You don't give them the fish. You teach them how to fish and they will do it. People don't realize how powerful they are."
Woody's especially concerned about elderly gays and lesbians who are forced back into the closet when they need end-of-life care.
"I've gone to nursing homes to do research and they say, 'Oh, well we don't have any LGBT residents.' So you know what that means. Nobody felt comfortable to come out because of course there are gay people there. Gays are everywhere. So what are the barriers to health care? We need to educate churches, Meals on Wheels, whatever resources there are for the larger community to be sensitive. I see how vulnerable my very frail father is now and how dependent he is so he kind of lets me be in charge. I certainly don't want to have to go back in the closet when I get to that age."
Is Pride still important? Woody doesn't hesitate to say yes.
"It's still important the way Black History Month is still important," she says. "It's important that we have a space to celebrate. It would be great if it were celebrated every day. We can't forget people who couldn't come out, who were stoned and got electro shock therapy for being gay. Some of that still happens. Pride is a celebration of who we are and who we may become."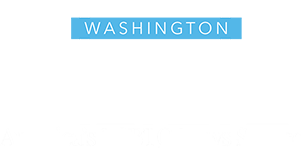 Anne Heche dies after removal from life support
Actress dated Ellen DeGeneres in late 1990s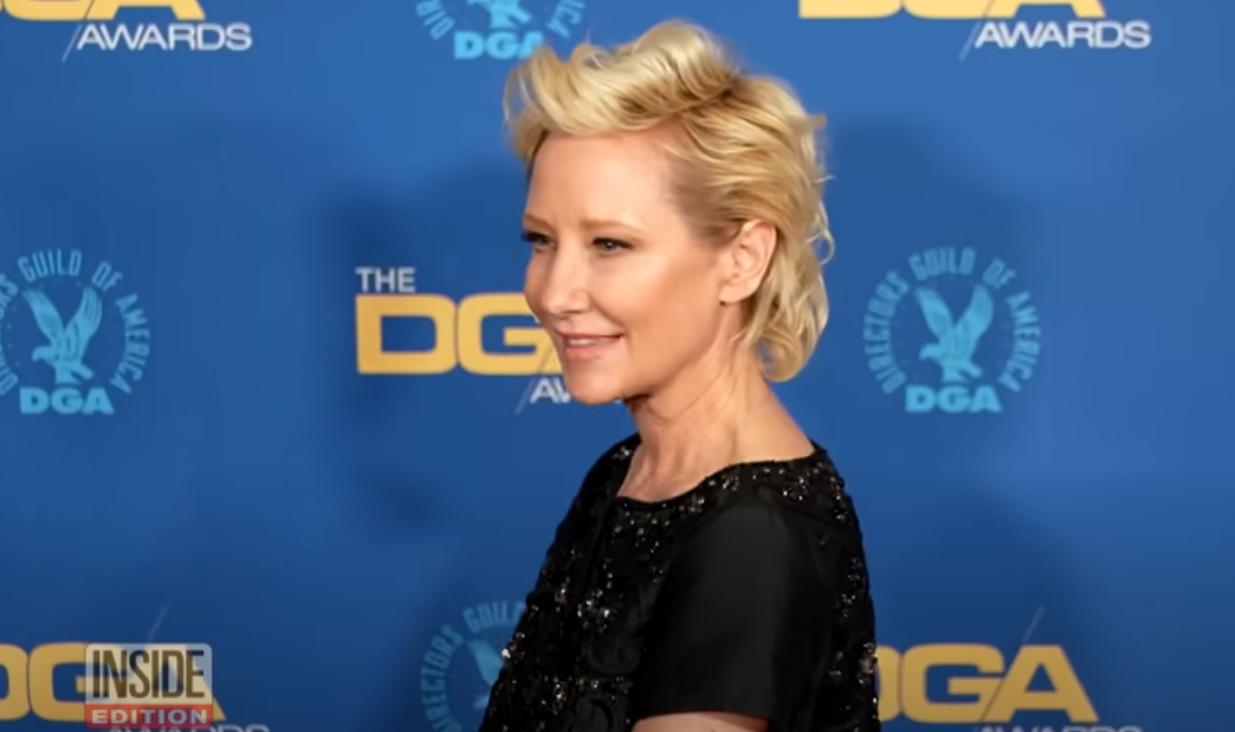 Actress Anne Heche died after she was removed from life support on Sunday, nearly two weeks after her Mini-Cooper crashed through a two-story house in Los Angeles' Mar Vista neighborhood. Investigators with the Los Angeles Police Department believe she was intoxicated at the time.
She sustained a severe anoxic brain injury along with severe burns and was being treated at the Grossman Burn Center at West Hills Hospital, near Chatsworth in the San Fernando Valley.
The 53-year-old actress who was a star of films like "Donnie Brasco," the political satire "Wag the Dog" and the 1998 remake of "Psycho," had been declared legally dead under California law on Friday, however, her family kept her alive long enough to be an organ donor.
In a statement Friday, the LAPD announced that: "As of today, there will be no further investigative efforts made in this case. Any information or records that have been requested prior to this turn of events will still be collected as they arrive as a matter of formalities and included in the overall case. When a person suspected of a crime expires, we do not present for filing consideration." LAPD detectives had previously made public that investigators into the crash found narcotics in a blood sample taken from Heche.
The actress's family released a statement on Friday:
"Today we lost a bright light, a kind and most joyful soul, a loving mother, and a loyal friend. Anne will be deeply missed but she lives on through her beautiful sons, her iconic body of work, and her passionate advocacy. Her bravery for always standing in her truth, spreading her message of love and acceptance, will continue to have a lasting impact," the statement added.
Heche was married to camera operator Coleman Laffoon from 2001 to 2009. The two had a son, Homer, together. She had another son, named Atlas, during a relationship with actor James Tupper, her co-star on the TV series "Men In Trees."
Laffoon left a moving tribute on an Instagram reel in which he also gave an update on how their 20-year-old son Homer Laffoon is coping with the loss of his mother.
"I loved her and I miss her, and I'm always going to," he said adding: "Homer is okay. He's grieving, of course, and it's rough. It's really rough, as probably anybody can imagine. But he's surrounded by family and he's strong, and he's gonna be okay."
"Rest In Peace, Mom, I love you, Homer," the actor's 20-year-old son, Homer, said in a statement after Heche was declared legally dead on Friday." My brother Atlas and I lost our Mom," read the statement. "After six days of almost unbelievable emotional swings, I am left with a deep, wordless sadness. Hopefully, my mom is free from pain and beginning to explore what I like to imagine as her eternal freedom. Over those six days, thousands of friends, family, and fans made their hearts known to me. I am grateful for their love, as I am for the support of my Dad, Coley, and my stepmom Alexi who continue to be my rock during this time. Rest In Peace Mom, I love you, Homer."
Tupper, a Canadian actor who starred alongside Heche in "Men in Trees," had a 13-year-old son, Atlas, with her. "Love you forever," Tupper, 57, wrote on his Instagram post's caption with a broken heart emoji, which shared an image of the actress from Men in Trees.
Between 1997 and 2000, Heche was also in a relationship with talk show host Ellen DeGeneres.
"This is a sad day," DeGeneres posted on Twitter. "I'm sending Anne's children, family and friends all of my love." The year after her break-up with the comedian, in September 2001, Heche recounted in her memoir "Call Me Crazy," about her lifelong struggles with mental health and a childhood of abuse.
KTLA's entertainment reporter Sam Rubin noted that over the past two decades, Heche's career pivoted several times. In 2017, she hosted a weekly radio show on SiriusXM with Jason Ellis called "Love and Heche."
In 2020, Heche made her way into the podcast world. She launched "Better Together" which she cohosted alongside Heather Duffy Boylston. The show was described as a way to celebrate friendship.
She also worked in smaller films, on Broadway, and on TV shows. She recently had recurring roles on the network series "Chicago P.D.," and "All Rise" and was a contestant on "Dancing with the Stars."
People magazine reported that several of Heche's acting projects are expected to be released posthumously.
These include "Girl in Room 13," expected to be released on Lifetime in September, "What Remains," scheduled to be released in 2023, and HBO Max TV series "The Idol," created by Abel Tesfaye (The Weeknd) and Euphoria creator Sam Levinson.
In her Instagram post from earlier this year Heche stands between her sons Atlas, 13 and Homer, 20.
From KTLA:
'Star Trek' actress Nichelle Nichols dies at 89
George Takei tweets 'we lived long and prospered together'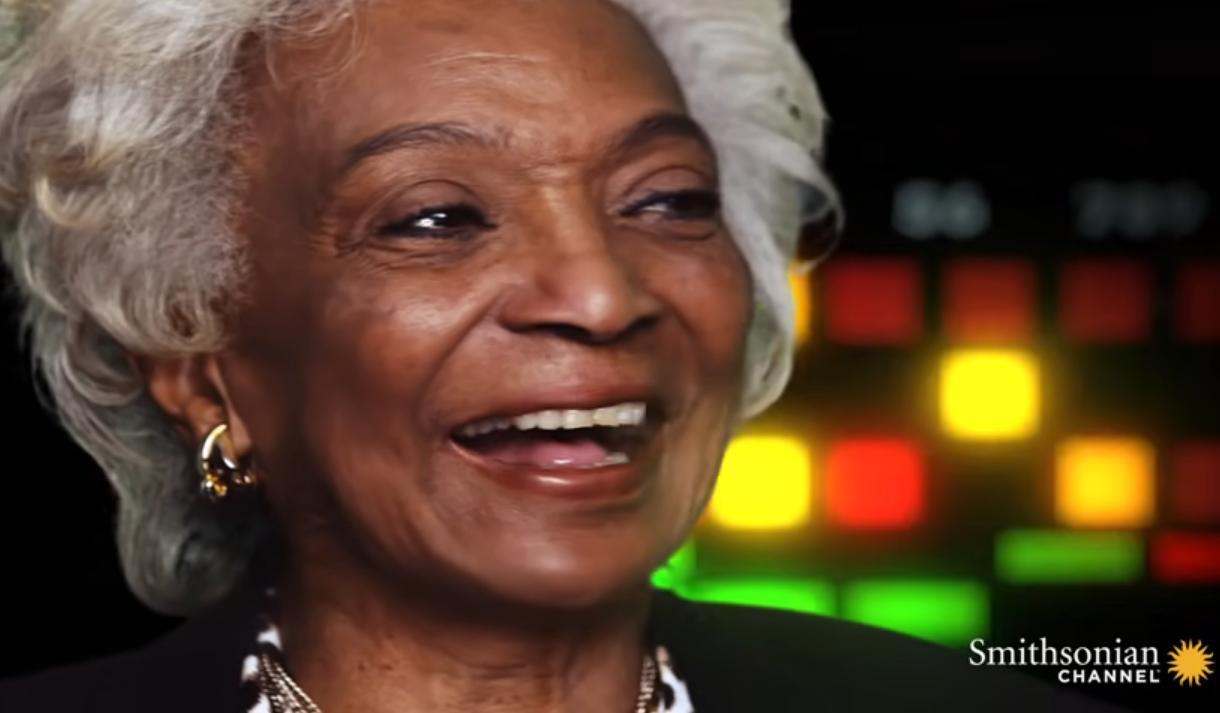 She was a groundbreaking cultural icon who broke barriers in a time of societal upheaval and battling for the civil rights of Black Americans. An actress, a mother and thoroughly devoted to the legions of fans of "Star Trek," Nichelle Nichols, Star Trek's Lt. Nyota Uhura, has died at 89.
The announcement on her Facebook page by her son read:
Sunday, July 31, 2022
Friends, Fans, Colleagues, World
I regret to inform you that a great light in the firmament no longer shines for us as it has for so many years.
Last night, my mother, Nichelle Nichols, succumbed to natural causes and passed away. Her light however, like the ancient galaxies now being seen for the first time, will remain for us and future generations to enjoy, learn from, and draw inspiration.
Hers was a life well lived and as such a model for us all.
I, and the rest of our family, would appreciate your patience and forbearance as we grieve her loss until we can recover sufficiently to speak further. Her services will be for family members and the closest of her friends and we request that her and our privacy be respected.
Live Long and Prosper,
Kyle Johnson
Nichols was born in Robbins, Ill., in 1932, according to her IMDb page. Legendary composer Duke Ellington "discovered" Nichols and helped her become a singer and dancer. She later turned to acting, and joined Gene Roddenberry's "Star Trek," where she played Uhura from 1966 to 1969.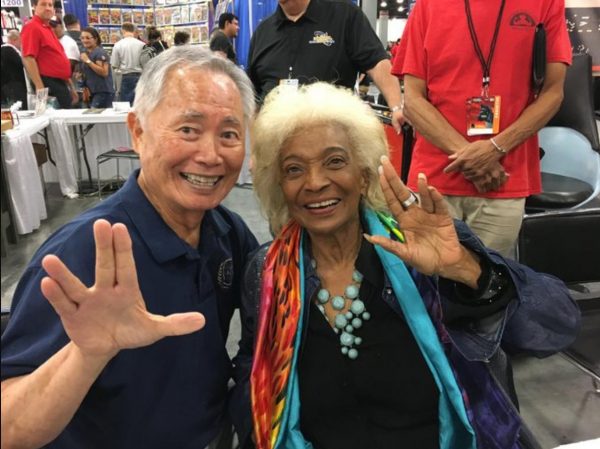 It was in that role of Uhura that Nichols not only broke barriers between races, most famously her onscreen kiss, the first between a Black person and a white person, with castmate William Shatner, who played Capt. James T. Kirk, but she also became a role model for young Black women and men inspiring them to seek out their own places in science, technology, and other human endeavors.
In numerous interviews over the years Nichols often recalled how the Rev. Martin Luther King, Jr., was a fan of the show and praised her role and personally encouraged her to stay with the series.
When the first series ended Nichols went on to become a spokesperson for NASA, where she "helped recruit and inspire a new generation of fearless astronauts." She later reprised her role in several successful "Star Trek" films and continued to advocate for the advancement of Black Americans especially in the areas of science and technology.
We celebrate the life of Nichelle Nichols, Star Trek actor, trailblazer, and role model, who symbolized to so many what was possible. She partnered with us to recruit some of the first women and minority astronauts, and inspired generations to reach for the stars. pic.twitter.com/pmQaKDb5zw

— NASA (@NASA) July 31, 2022
Formerly a NASA deputy administrator, Frederick Gregory, now 81, told the Associated Press he once saw an advertisement in which Nichols said "I want you to apply for the NASA program."
"She was talking to me," he recounted. The U.S. Air Force pilot would apply and later become the first African American shuttle pilot.
President Joe Biden weighed in Sunday afternoon on her passing in a statement issued by the White House:
"In Nichelle Nichols, our nation has lost a trailblazer of stage and screen who redefined what is possible for Black Americans and women.

A daughter of a working-class family from Illinois, she first honed her craft as an actor and singer in Chicago before touring the country and the world performing with the likes of Duke Ellington and giving life to the words of James Baldwin.

During the height of the Civil Rights Movement, she shattered stereotypes to become the first Black woman to act in a major role on a primetime television show with her groundbreaking portrayal of Lt. Uhura in the original Star Trek. With a defining dignity and authority, she helped tell a central story that reimagined scientific pursuits and discoveries. And she continued this legacy by going on to work with NASA to empower generations of Americans from every background to reach for the stars and beyond.

Our nation is forever indebted to inspiring artists like Nichelle Nichols, who show us a future where unity, dignity, and respect are cornerstones of every society."
Nichols son said that services will be private for family members and her closest friends.
In 2008 the actress at a news conference, coordinated by the filmmakers of the motion picture "TRU LOVED," in honor of the more than 900 students at Los Angeles' Miguel Contreras Learning Complex's School of Social Justice who participated in the GLSEN Day of Silence.
Nichelle Nichols speaks on LGBTQ rights:
Her fellow castmate and life long friend, openly Out actor George Takei shared his sadness on hearing of Nichols' passing on Twitter:
We lived long and prospered together. pic.twitter.com/MgLjOeZ98X

— George Takei (@GeorgeTakei) July 31, 2022
From the September 2016 edition of the Smithsonian Channel: "Star Trek's decision to cast Nichelle Nichols, an African American woman, as major character on the show was an almost unheard-of move in 1966. But for black women all over the country, it redefined the notions of what was possible."
Star Trek's Nichelle Nichols on Uhura's Radical Impact:
Emma Corin becomes first nonbinary person featured on cover of American Vogue
The star of The Crown opened up about their identity.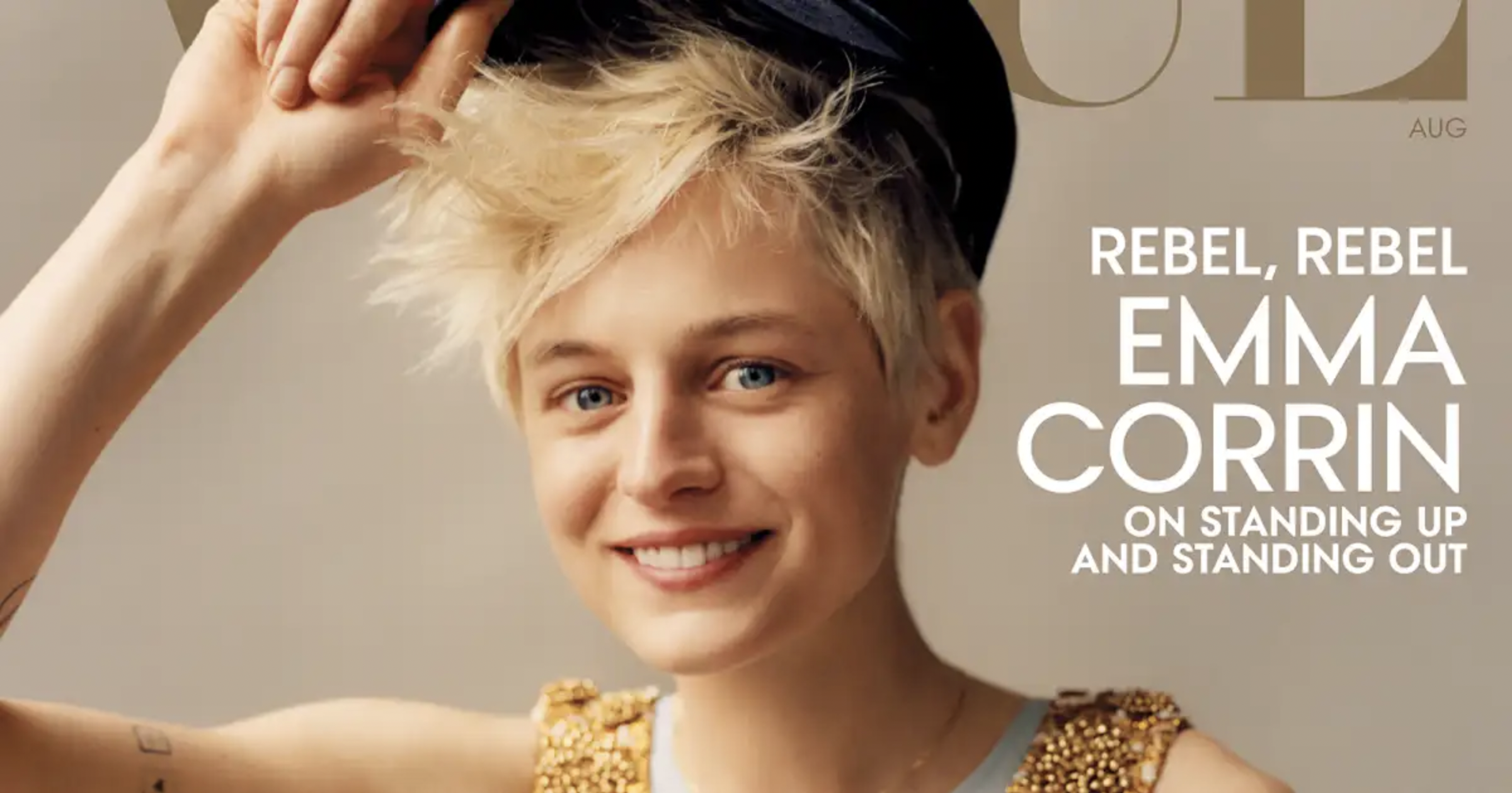 Emma Corin was announced as the cover star of the August edition of Vogue. It's the first time a nonbinary person is featured on the cover of American Vogue.
Corin posted the cover photo and wrote, "My grin really says it all! A huge honour to be your August cover."
In early 2021, Corin quietly came out as a queer and nonbinary, changing pronouns to "she/they" in their instagram bio. Currently Corin sticks to pronouns "they/them."
"I feel much more seen when I'm referred to as 'they,' but my closest friends, they will call me 'she,' and I don't mind, because I know they know me," Corin explained during the interview with Vogue.
Corin stated that they've still gone on dates with various kinds of people and set no limit on who they date. "I like people," they simply said and shrugged.
Corin also shared some of their dating experiences. "My first date with a girl, they were like, Oh! You're a baby queer!" Corin said, "It was amazing. We actually didn't end up seeing each other again, but she really gave me the lowdown."
Besides, Corin was frank about their conflicting feelings towards gender and sexuality issues. "I'm working out all this complex gender and sexuality stuff. And yet, I'm seeing a guy? That feels very juxtaposed, even if I'm very happy."
Corin is known for playing Diana on the Netflix series The Crown.