Fenty leads Gray by 6 points in Blade poll
Small sample hints at gay vote in D.C. mayor's race
Participants in an unscientific straw poll conducted by the Washington Blade at the Capital Pride street festival June 13 said they would vote for D.C. Mayor Adrian Fenty over his chief rival, City Council Chairman Vincent Gray, 40.7 percent to 33.8 percent.
The poll shows Fenty with a 6.9 percent lead among the 145 mostly LGBT festival attendees that participated in the poll.
But nearly 25 percent of the straw poll participants indicated they had yet to decide who would get their vote for mayor in the Sept. 14 Democratic primary. Because the overwhelming majority of D.C. voters are registered Democrats, the primary almost always predicts the winner in the November general election.
Mayoral contender Leo Alexander, a former TV news anchor who supports bringing the city's same-sex marriage law before voters in a ballot initiative, received support from less than 1 percent of the straw poll respondents. Eight other, lesser-known mayoral candidates received no votes in the straw poll.
In the hotly contested race for City Council chairman, respondents in the Blade straw poll indicated they would vote for at-large City Council member Kwame Brown over his main rival, former Ward 5 Council member Vincent Orange, 37.2 percent to 8.3 percent. Slightly more than 43 percent said they were undecided in that contest.
Two lesser-known candidates in the race, Dorothy Douglas and Calvin Gurley, received 1.3 percent and 0.7 percent respectively.
Orange came out against legislation to legalize same-sex marriage in the District when he ran for mayor in 2006, and denounced his mayoral rivals, including Fenty, who supported gay marriage. He said this year that he's changed his mind on the matter and now supports the same-sex marriage bill that the Council passed and Fenty signed.
In the race for at-large Council member, incumbent Phil Mendelson outscored gay challenger Clark Ray, 45.1 percent to 13.9 percent, among straw poll respondents. About 35 percent said they were undecided in the race. At-large candidate Donna Jean Alston received 2.8 percent of the straw poll vote, with candidates Kelvin Robinson and Will Ross receiving no votes.
The 145 respondents in the Blade's D.C. election straw poll comprised a far smaller number than those who participated in a separate Blade presidential approval rating poll also conducted at the Capital Pride street festival.
The 145 respondents are too few to make the straw poll a statistically valid sample of the LGBT D.C. residents who attended the Capital Pride festival. But Blade editor Kevin Naff said the straw poll provides the only available glimpse so far into where LGBT voters stand in the race for mayor and City Council chair and the contest for an at-large Council seat in which an openly gay candidate is considered to have a shot at winning.
No city polls conducted to date, including those by the Washington Post, have included information about the LGBT vote, which is considered influential in D.C. elections.
A total of 560 people completed the Obama approval poll, which asked respondents to disclose whether they approve or disapprove of President Barack Obama's handling of LGBT issues as well as all matters. The Blade is planning to release the results of that poll later this month.
The greater participation in the presidential approval poll suggests that a significantly larger percentage of people attending the Capital Pride street festival were from jurisdictions outside D.C., such as the Virginia and Maryland suburbs and other mid-Atlantic states.
Blade staff members invited Capital Pride attendees to participate in the poll as the attendees walked past the Blade booth at the festival. All attendees could complete the presidential approval poll, but only attendees additionally identifying themselves as D.C. residents were allowed to participate in the D.C. election poll.
Among the 145 respondents in the Blade D.C. election straw poll, about 73 percent identified as being gay male, 13 percent were lesbian, about 5 percent were bisexual, 0.7 percent were transgender, 1.4 percent identified as queer, about 8 percent were straight, and 0.7 percent identified as other.
By race and ethnicity, about 77 percent of respondents identified as white, 17 percent were black, about 7 percent were Latino, 1.4 percent were Asian-Pacific Islander, and 2.7 percent identified as other.
In a breakdown by age, about 21 percent of respondents identified as being between 17 and 29; about 52 percent were between 30 and 49; about 24 percent were between 50 and 64; and 0.38 percent were 65 or older.
Just 119 of the 145 respondents answered a question asking them to identify the ward in which they live. By ward, the breakdown was 20 from Ward 1; 36 from Ward 2; 12 from Ward 3; 10 from Ward 4; 14 from Ward 5; 23 from Ward 6; three from Ward 7; and one from Ward 8.
The small representation of respondents from Wards 7 and 8 suggests that Gray might have received more support in the Blade poll had more people from those two wards participated in the poll. Other public opinion polls have shown Gray leading Fenty by a wide margin in wards 7 and 8, and gay activists living in the two wards have said they believe gays in the two wards also back Gray by a significant margin.
But with some political pundits predicting voters will be nearly evenly divided citywide between Fenty and Gray as the September primary approaches, the gay vote could be a key factor in the outcome of the election.
Although Gray won the endorsement last month of the Gertrude Stein Democratic Club, the city's largest LGBT political group, many believe LGBT voters are closely divided over the mayoral contest. A significant number of LGBT activists have yet to take sides in the mayoral race, a development backed up by the Blade poll showing that 24.8 percent of respondents are undecided in the race.
The Blade poll finding that Ray, a gay Democratic activist and former D.C. Department of Parks & Recreation Director, is trailing Mendelson by more than 30 points could mean any of several factors are at play.
Mendelson supporters have predicted LGBT voters will back Mendelson because of his strong support for LGBT rights, including his leadership in shepherding the gay marriage bill through the Council last year in his role as chair of the committee with jurisdiction over the bill.
Ray's poor showing in the Blade poll could also be due to his lack of name recognition compared to Mendelson, who has sat on the Council for nearly 12 years.
Gay Democratic activist Peter Rosenstein, a campaign adviser for Ray, said the sample was too small to be an accurate predictor in the election.
Rosenstein said the only aspect of the poll that could be a factor is its high number of undecided voters in the mayoral and at-large Council races.
"That's not a good sign for an incumbent like Mendelson, who has been in office for 12 years," he said.
Gay activist Bob Summersgill, a Mendelson supporter, said that while the number of participants in the Blade poll is small, its composition of mostly white gay men is a demographic for which Ray should have made a stronger showing as a gay candidate.
"Phil beat Ray three to one in what should be Clark Ray's best demographic," Summersgill said. "And Ray even lost to undecided, two to one. I think that's pretty significant and shows the lack of name recognition and lack of seriousness which the community is generally giving him."
Yet Summersgill and Jeffrey Richardson, president of the Stein Club, noted that the large number of respondents to the Blade poll saying they were undecided in the Council chair and at-large Council races also indicates those two races have received far less media coverage and voter attention than the widely publicized mayoral race between Fenty and Gray.
"The reality is Phil Mendelson is the incumbent with higher name recognition," Richardson said. "And even though Clark Ray was a director of the Department of Parks & Recreation, because Phil is the incumbent and has done so much legislatively and has been vocal on so many different issues, even marriage equality, people know and recognize what he has done.
"So Clark Ray has a lot of ground to gain in trying to overcome the name-recognition battle," Richardson said. "But in regards to where people really would be with one over the other, I'm not so certain."
The Stein Club is scheduled to hold its endorsement meeting and vote on the at-large Council and Council chair races on Monday at Town nightclub in D.C.
Gay Democratic activist Lane Hudson, a volunteer in Gray's mayoral campaign, said the Blade poll shows strong potential for Gray, even though it reveals him to be trailing Fenty among the sample of Pride festival goers.
"I think the results show that there's a wide opening for Vince Gray to win a significant majority of the LGBT vote if he can show that he is empathetic to the issues that are important to our community, such as a strong response from the mayor's office on hate crimes, a comprehensive HIV/AIDS prevention strategy, and LGBT youth and schools," Hudson said.
Hudson and other Gray supporters have said Fenty's record is weak on those issues.
"It's significant because those are people who are not necessarily the most active. If you look at the most active in our community — the Stein Club — Vince got 63 percent," he said. "So as the gay community learns more about candidates in the race, I think Vince Gray's numbers will go up significantly."
Deacon Maccubbin, former owner of D.C.'s Lambda Rising bookstore and a Fenty supporter, said he wasn't surprised at the Blade poll's finding that a large number of respondents are undecided in the mayoral race.
"But I have seen movement toward Fenty and I think he'll do fine," he said. "I think the gay vote is going to go the same way the city vote goes.
"I think that between the two candidates, there's not a whole lot of difference on gay-specific issues and consequently Adrian Fenty has come through and done what he promised he was going to do. And as a result, I think he's earned the support of the community."
Pride flags vandalized, stolen in Loudoun County town
'Bigoted efforts to terrorize members of our community will not stand'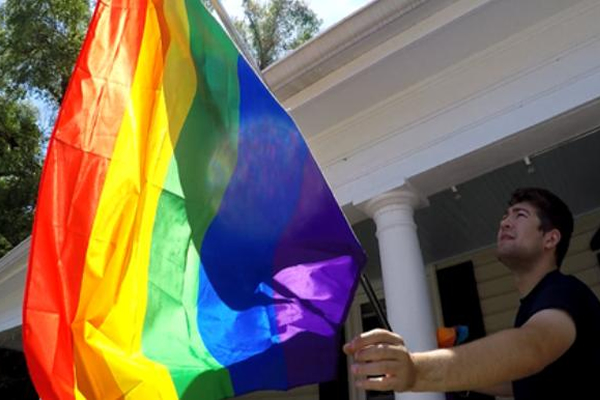 Vandals this week destroyed or stole Pride flags that Lovettsville residents had displayed on their homes.
Calvin Woehrie told WUSA the vandals used a blade to slash the Pride flag that was hanging from his house. The D.C. television station reported the vandals also targeted Woehrie's neighbors who are a lesbian couple with four children.
The Loudoun County's Sheriff's Office said the vandals damaged five Pride flags from three homes and they stole two more. A spokesperson for the Loudoun County's Sheriff's Office told WUSA the vandalism is being investigated as a possible hate crime.
"I wanted to address events that happened over the weekend, that are deplorable and devastating to the entire community," said Lovettsville Mayor Nate Fontaine in a letter he sent to town residents on June 16. "Over the weekend, there was destruction of property that specifically targeted our LGBTQ community. To make this even more heinous is that the destruction of property was done during Pride Month. To have property destroyed targeting members of our community is horrible and can be frightening for those targeted."
"For the individuals who committed these crimes, know that your bigoted efforts to terrorize members of our community will not stand," added Fontaine. "We are working closely with the Loudoun County Sheriff's Office and this has also been added as an agenda item for our June 24th Council meeting."
Glenn Youngkin, the Republican nominee to succeed Virginia Gov. Ralph Northam, on Saturday described the vandalism as "absolutely unacceptable."
"Whether someone is voicing an opinion or flying a flag, as Virginians — and as human beings — we must be respectful of one another," wrote Youngkin in a Facebook post.
"Politicians always seem to be pitting neighbor against neighbor, but I am committed to bringing people together around our shared values, like treating others the same way you want to be treated," he added. "We must all do better by respecting others' right to live their lives freely, without being targeted because of who they are."
WUSA reported Lovettsville residents bought Pride flags to replace the ones that had been vandalized and stolen.
Transgender man murdered in Va.
EJ Boykin was shot outside Lynchburg store on June 14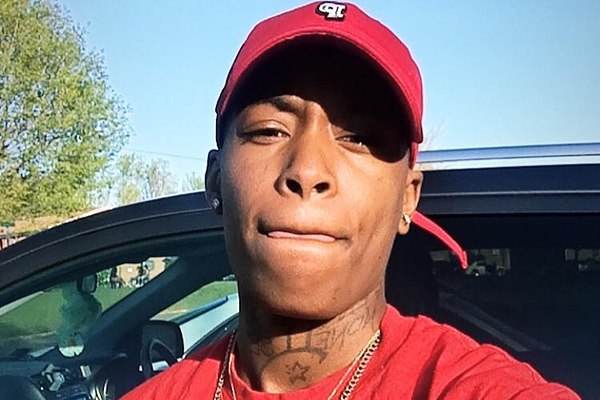 A transgender man was murdered in Lynchburg, Va., on June 14.
The News and Advance, a local newspaper, reported EJ Boykin, who was also known as Novaa Watson, was shot outside a Family Dollar store on the city's Fort Avenue at around 6 p.m. Boykin passed away at Lynchburg General Hospital a short time later.
A spokesperson for the Lynchburg Police Department told the News and Advance the shooting may have been the result of a domestic dispute. Authorities added there is no evidence to currently suggest the shooting was a hate crime based on Boykin's gender identity.
Pittsburgh Lesbian Correspondents reported Boykin was born and raised in Baltimore and was a student at Morgan State University. The blog said Boykin celebrated his 23rd Birthday on June 10, four days before his murder.
Tori Cooper, the director of community engagement for the Human Rights Campaign's Transgender Justice Initiative, in a statement notes Boykin is the fifth trans man reported killed in 2021. HRC notes at least 29 trans or gender non-conforming people are known to have been murdered so far this year.
"The level of fatal violence we've recorded this year is higher than we've ever seen," said Cooper. "All of these individuals deserved to live. We must strike at the roots of racism and transphobia, and continue to work toward justice and equality for trans and gender non-conforming people."
Comings & Goings
Jarvis lands lead consultant role at Meridian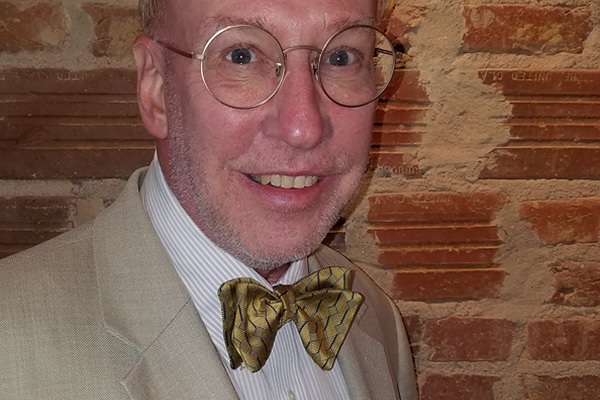 The Comings & Goings column is about sharing the professional successes of our community. We want to recognize those landing new jobs, new clients for their business, joining boards of organizations and other achievements. Please share your successes with us at: [email protected].
The Comings & Goings column also invites LGBTQ+ college students to share their successes with us. If you have been elected to a student government position, gotten an exciting internship, or are graduating and beginning your career with a great job, let us know so we can share your success.
Congratulations to Ted Jarvis on his new position as Lead Consultant with Meridian Compensation Partners, in D.C. He will work on executive compensation, governance research and development. When asked for a response to news of his new role, Jarvis told this story: "I was on the prowl for a new job, I contacted the CEO of Meridian, who worked closely with me during our years at Towers Perrin. After half an hour on the phone, he asked: 'Send me a list of things you really like to do.' I followed up with a list of activities that continually engage my interest. Within a few days he mailed me a job description that reiterated my list almost word-for-word. I feel truly blessed to have a job so aligned with what I enjoy doing. This is going to be great."
Prior to working for Meridian, Jarvis worked as Managing Director with Main Data Group in D.C. and Wilton Manors, Fla. He has also worked as Global Director of Executive Compensation Data, Research & Publications, Mercer, in D.C.; principal with Willis Towers Watson; and as a research consultant with McKinsey & Company. Jarvis is a member of the Lotos Club (New York); a benefactor at Drew University (Morristown, N.J.). He funded two undergraduate prizes (Wettstein Drama Prize; Norton Wettstein and Jane Brown Memorial Prize for Outstanding Academic Achievement); a benefactor, Woodmere Art Museum (Philadelphia): funded William Joseph Coverley-Smith Prize, awarded annually at the Juried Art Competition; and a benefactor, St. Thomas's Episcopal Church (Rochester, N.Y.).
Jarvis earned his MBA from The University of Chicago, Booth School of Business; his bachelor's (cum laude); his Ph.D. (ABD) major in music history, literature and theory from NYU. He earned a Fulbright Scholarship to the University of Vienna.