D.C. earthquake a message from God?
Perhaps a sign of approval for shaking things up

I woke up early last Friday and felt the biggest earthquake in D.C. since they've kept records here. At 5:10 a.m. I was at my computer checking e-mails when the desk and chair began to shake. I looked out the window to see if a truck was going by but the street was quiet. So I went on Facebook and, sure enough, a friend, Bob Witeck, also up at that ungodly hour, was reporting an earthquake. Then Joel Lawson posted the website to check it out. It was a 3.6 quake whose epicenter was in Germantown. I always knew that Germantown was going to be famous one day.
But I began to think about the timing of this quake and that maybe God was saying something about how we in the LGBT community were shaking up the world. The newspapers that morning had the story of gay marriage becoming legal in Argentina and the Court of Appeals denying Rev. Jackson and his homophobic cohorts the right to hold an initiative on marriage equality in the District of Columbia. Some may see the quake as God's wrath. I see it as her approval since it was mild, just kind of a wake-up call and no damage or injury involved at all.
This has been an exciting couple of weeks for the LGBT community. A federal judge in Massachusetts, appointed by Richard Nixon, ruled Article 3 of DOMA was unconstitutional. The Log Cabin case against "Don't Ask, Don't Tell" moved forward, the judge in the Prop 8 case asked some encouraging questions, and Elena Kagan got closer to confirmation as a Supreme Court Justice. Then the charges against Capt. Jim Pietrangelo and Lt. Dan Choi resulting from their chaining themselves to the White House gate were dropped.
But all was not positive. On July 6 in the Petworth section of D.C., a young man was called faggot and beaten. The police classified this as a hate crime but not one word has been heard from the mayor about it. It appears movement on repeal of "Don't Ask, Don't Tell" in the Senate will take more time and ENDA is nowhere near being passed. So as usual we move two steps forward and one step back in our march to full civil and human rights.
For those who waited breathlessly — why I can't imagine — for Kathy Griffin's D-list show filmed here when she held her sorry rally against "Don't Ask, Don't Tell" and lobbied Congress on the issue, it became clear that it wasn't worth the wait. Apparently the show, which I gratefully missed, was as boring as the events themselves. You could hear her disrespect a member of Congress, showcase her ignorance on how things in Washington get done, and see HRC fall all over themselves to make something out of nothing. But then again, no one is perfect.
Then I read the debates in the gay and lesbian blogs over what role GetEqual has and how they are or aren't doing anything positive. Why can't we as a community accept that all avenues of creating awareness and moving our march toward full civil and human rights are needed? I may be thankful that Barack Obama is our president and that we control both houses of the Congress, but at the same time I am for saying out loud that neither side of Pennsylvania Avenue has been stellar in moving our rights forward. If Democrats lose the Congress in the mid-term elections, either the House or the Senate or both, we will most likely be in even a worse position so let's keep that in mind as we go on the attack.
A real highlight of my week came on Sunday at Foundry Methodist Church where Senior Minister Dean Snyder continues to stand up and speak out for the LGBT community and is now asking his congregation to support marrying us in their church. I had the chance to hear Rev. V. Gene Robinson, the gay Episcopal bishop, speak on courage and the future in a sermon titled, "Dancing in the Temple." He gave me renewed hope that we will eventually win our battles.
His sermon reminded me that life is never easy but then we shouldn't expect it to be. I enjoyed when Robinson spoke of his enemies in the church and how he still loves them. He said, "We will all meet one day in heaven and I know that they will be much more surprised about that than I."
National Gay & Lesbian Chamber of Commerce Certifies Brown, Naff, Pitts Omnimedia, Inc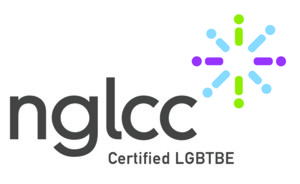 Washington, D.C. — Brown, Naff, Pitts Omnimedia, Inc, the parent company of the Washington Blade and Azer Creative, announced today it has been certified by the National Gay and Lesbian Chamber of Commerce (NGLCC) as an LGBT Business Enterprise. The NGLCC supports and advocates for diversity and inclusion for LGBT-owned businesses. With this certification the Blade's parent company joins more than 510 business and 134 corporate partners of the NGLCC.
Brown, Naff, Pitts Omnimedia, Inc. owns and operates the Washington Blade, the oldest and most acclaimed LGBT newspaper in the country. In 2012, the company launched Azer Creative, a full-service design firm. The company employs more than a dozen full-time LGBT staff.
"We are excited to become one of the 500 LGBT businesses across the country certified by NGLCC," said Lynne Brown, the Blade's publisher and a co-owner of the company. "The LGBT community has been part of our company from the beginning and we look forward to continue that for many years to come."
The Washington Blade was founded in 1969 and is known as the "newspaper of record" for the LGBT community both locally and nationally. Visit washingtonblade.com for more information. Azer Creative is a full-service graphic design firm based in Washington, D.C. Visit azercreative.com for more information. 
Vote now for the 2013 Best of Gay DC!
Choose in dozens of categories among hundreds of nominees, and make your voice heard!
Nominate the 'Best of Gay D.C.' now!
Dozens of categories cover all the best for LGBT Washington. Who deserves the prize this year?