Get to know a queer crip
As ADA turns 20, some of us are still not part of the community

This month, Disability Pride Month, people with disabilities, queer and straight, will celebrate a milestone. July 26 is the 20th anniversary of the passage of the Americans with Disabilities Act (ADA).
Twenty years ago, holding on to my white cane in my office in Cleveland where I worked then, I wept with joy when the Americans with Disabilities Act was passed. When the first President George Bush declared that it was time for the "walls of exclusion" to come tumbling down, I, along with millions of people with disabilities, LGBTQ and hetero, went over the moon.
The ADA protects people with disabilities ranging from blindness to diabetes from disability-based discrimination in employment, government services and public accommodations. When it became law, people like me had civil rights for the first time. Earlier in my life, a woman working at a public library told me that, "a blind person like you shouldn't be out alone." My experience was far from unique. Knowing that we had the ADA was like catnip to us. If we encountered discrimination, we could now seek legal redress.
One in five Americans (51.2 million) has a disability and from three to five million people are LGBTQ and have disabilities, according to the U.S. Census Bureau. I am one of many who are disabled in the queer community. We are of all races, classes, ages, genders and occupations. Reclaiming the pejorative terms "queer" and "cripple," increasing numbers of us proudly call ourselves "queer crips."
Yet our presence isn't well known or always welcomed in the LGBTQ community. Many places (from bars to shops) and events (such as conferences) in the queer community aren't accessible to folks with disabilities. My friend, Hugh Gallagher, used a wheelchair. Gallagher, the author of "FDR's Splendid Deception," worked on Capitol Hill. "I can only get into one gay bar [in Washington, D.C.]," he told me in 2004, the year he died.
In 2008, I was honored to be chosen to participate in a Lambda Literary Foundation retreat. I had a fabulous time attending poetry workshops and hanging out with other queer writers. But I couldn't wholeheartedly benefit from the gathering, because some aspects of the event (such as getting to the dining area) weren't accessible to people with disabilities.
Then there's the perception that queer crips can't have or don't like sex. Wrong. We can and we do. Years ago, at a lesbian bar a woman turned to me and exclaimed, "I love Helen Keller! What are you doing in a place like this?" What she meant was that blind people are inspirational — but they never look for sex or romance.
Most LGBTQ people don't know that disability and gay rights activists were among those who worked together to get the ADA passed. Often, able-bodied people think of people with disabilities as being disconnected from their lives, history or culture. But this is a false assumption. Though little known, there are parallels between being queer and crip.
The ADA covers many in the LGBTQ community, including, but not limited to, people with HIV/AIDS, cancer survivors and recovering alcoholics.
Disabled people, like LGBTQ people, are often misunderstood by their families. For years, laws and societal pressures prohibited people with disabilities from marrying and having children. If you're queer and crip, you run up against people who will want to "heal" you.
Don Dew, a gay man who has epilepsy, is executive director of ReachOut USA, an organization that focuses on the intersection of disability and LGBT concerns. It is the first such program in the country.
"Often, when disabled people come out of the closet, they're kept out of the community that they've come out to," he said in a phone interview. It's almost as if "people stay away out of fear of catching a disability from you," Dew said, adding, "I've talked to LGBT organizations about disability issues.
They said it was something that needed to be studied. "Nothing happened after that."
As we enter the next decade of life with the ADA, I invite you to get to know us queer crips and to celebrate our history. That's what must happen if we are to become a full part of the LGBTQ community.
National Gay & Lesbian Chamber of Commerce Certifies Brown, Naff, Pitts Omnimedia, Inc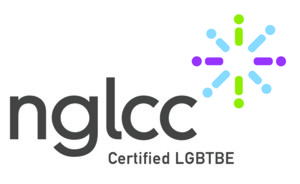 Washington, D.C. — Brown, Naff, Pitts Omnimedia, Inc, the parent company of the Washington Blade and Azer Creative, announced today it has been certified by the National Gay and Lesbian Chamber of Commerce (NGLCC) as an LGBT Business Enterprise. The NGLCC supports and advocates for diversity and inclusion for LGBT-owned businesses. With this certification the Blade's parent company joins more than 510 business and 134 corporate partners of the NGLCC.
Brown, Naff, Pitts Omnimedia, Inc. owns and operates the Washington Blade, the oldest and most acclaimed LGBT newspaper in the country. In 2012, the company launched Azer Creative, a full-service design firm. The company employs more than a dozen full-time LGBT staff.
"We are excited to become one of the 500 LGBT businesses across the country certified by NGLCC," said Lynne Brown, the Blade's publisher and a co-owner of the company. "The LGBT community has been part of our company from the beginning and we look forward to continue that for many years to come."
The Washington Blade was founded in 1969 and is known as the "newspaper of record" for the LGBT community both locally and nationally. Visit washingtonblade.com for more information. Azer Creative is a full-service graphic design firm based in Washington, D.C. Visit azercreative.com for more information. 
Vote now for the 2013 Best of Gay DC!
Choose in dozens of categories among hundreds of nominees, and make your voice heard!
Nominate the 'Best of Gay D.C.' now!
Dozens of categories cover all the best for LGBT Washington. Who deserves the prize this year?