Do Asian Americans hate gay marriage?
Votes are influenced more by religion than race

Korean Americans Hate Gay Marriage Most, Poll Reveals.The headline reeled me in, but it was the blogger's assertion that "it's been known for some time that Asian Americans are the ethnic group most opposed to gay marriage in California" which got me going.
First of all, Asian American is not an ethnic group. Rather, it is a catch-all for Americans who can trace their roots to East Asia, Southeast Asia and South Asia. Secondly, the Field Poll report that the writer cites only discusses three Asian American subgroups: Chinese Americans, Korean Americans and Vietnamese Americans. Finally, the article that he links to his generalization quotes a couple of experts, a political consultant and an executive director of a Chinese American nonprofit, who were sharing their opinions on what happened in November 2008, when Barack Obama and Proposition 8 prevailed in California.
The results of an exit poll conducted Nov. 4 that year revealed that 64 percent of Asian American voters in Los Angeles voted against Proposition 8. Likewise, a survey by professors Patrick Egan and Kenneth Sherrill showed that 52 percent of Asian Americans in California voted against the ballot initiative. Moreover, their report concluded that a voter's party identification, ideology, religious affiliation and age had a much bigger impact on the decision to vote for or against Proposition 8. The academics explained much of the difference among racial and ethnic groups to varying levels of religiosity. It has little to do with race and more to do with how often a voter worships.
Cuc Vu, a Vietnamese-American who works closely with immigrant communities, disagrees with the contention that all Asian Americans oppose same-sex marriage. She is not surprised, however, by the Field Poll findings about Korean and Vietnamese Americans.
"Koreans are the most conservative among Asians on marriage equality because of the Baptist tradition that large segments of Koreans follow. For Vietnamese, the Catholic Church is very influential." She points out, however, that "that younger Koreans and Vietnamese have different views than their more traditional and religious immigrant parents or grandparents."
Although one cannot say that all Asian Americans hate gay marriage, the reality is many do because of their faith traditions, age and political and social ideologies. They form a sizable bloc of voters we need to convince of our fundamental right to fair and equal treatment under the law. So how can we change the minds and hearts of more conservative Asian Americans?
I think the onus is on lesbian, gay, bisexual and transgender Asian American people and organizations who need to reach out to their communities. Vu points out that "one of the reasons why I think you saw a majority of Asian voters in California voting against Prop 8 is because of Asian Pacific Islander LGBT leaders in California making themselves visible in key spaces — like marching in the annual Chinese New Year Parade. That would be the equivalent of black LGBTs having a strong presence at the annual Black Family Reunion."
"API LGBT leaders also housed API Equality, which has been working on marriage equality for years, in the offices of Chinese for Affirmative Action, a respected local civil rights organization in the Bay Area. Integrating LGBT issues in a community-based civil rights organization recast LGBT issues as part of the Chinese community's civil rights issues."
"Both of these strategies are about engaging straight allies," Vu emphasizes. "And stepping out of our LGBT bubble and into spaces where we might face rejection. But API LGBT leaders in California have put themselves out there consistently, year after year, and that's why I think you saw API voters behaving differently than black and Latino voters."
Filipino-American Hyacinth Alvaran, co-chair of Asian Pacific Islander Queer Sisters, agrees.
"I think being visibly present, supporting API community activities is important. This is where API LGBT groups can come in, to help speak on behalf of API LGBT people and build the trust with other API organizations, especially those that serve the immigrant community. Whether it be helping organize, participating in, or humbly but proudly serving at citizenship workshops, cultural events, events where critical community services are being provided, etc., we can interact with members of the community in a way that shows that we are out and that we are proud to be both LGBT and API. We alone as API LGBT people can't change the attitudes of our larger API communities, but if we build trust with key community leaders and organizations who can help us do that, it's a start."
It is a start, not only for queer Asian Americans, but for all of us.
You can follow Erwin on Twitter at @ErwindeLeon.
National Gay & Lesbian Chamber of Commerce Certifies Brown, Naff, Pitts Omnimedia, Inc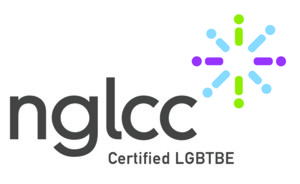 Washington, D.C. — Brown, Naff, Pitts Omnimedia, Inc, the parent company of the Washington Blade and Azer Creative, announced today it has been certified by the National Gay and Lesbian Chamber of Commerce (NGLCC) as an LGBT Business Enterprise. The NGLCC supports and advocates for diversity and inclusion for LGBT-owned businesses. With this certification the Blade's parent company joins more than 510 business and 134 corporate partners of the NGLCC.
Brown, Naff, Pitts Omnimedia, Inc. owns and operates the Washington Blade, the oldest and most acclaimed LGBT newspaper in the country. In 2012, the company launched Azer Creative, a full-service design firm. The company employs more than a dozen full-time LGBT staff.
"We are excited to become one of the 500 LGBT businesses across the country certified by NGLCC," said Lynne Brown, the Blade's publisher and a co-owner of the company. "The LGBT community has been part of our company from the beginning and we look forward to continue that for many years to come."
The Washington Blade was founded in 1969 and is known as the "newspaper of record" for the LGBT community both locally and nationally. Visit washingtonblade.com for more information. Azer Creative is a full-service graphic design firm based in Washington, D.C. Visit azercreative.com for more information. 
Vote now for the 2013 Best of Gay DC!
Choose in dozens of categories among hundreds of nominees, and make your voice heard!
Nominate the 'Best of Gay D.C.' now!
Dozens of categories cover all the best for LGBT Washington. Who deserves the prize this year?