This is why I was arrested, Speaker Pelosi
I fight for those who are unable to be out at work

I have held meetings, I have lobbied, I have phone banked all in support of passing the Employment Non-Discrimination Act.
Speaker Pelosi, what more can I do to "push," you as requested? I heard your call to action for community at the recent NetRoots Nation conference. So, Speaker Pelosi, this is your reminder. Everyday lives are on the line and hang in the balance for lesbian, gay, bisexual and transgender individuals in and out of the workplace. I am asking you to please bring ENDA for a vote before the end of 2010.
As a community leader, organizer and former educator, I have spent my career fighting for the rights of individuals, families and neighborhoods. Nationally, I see a need to invest in the potential of every human and want to do my part in helping to hold accountable organizations designed to advocate for human rights. In the past, I have fought tirelessly for the inclusion and protections of families. However, as a gay woman, I, too, face ridicule and discrimination fighting for my own rights in regard to inconsistencies in employment opportunities, workplace protections, housing and safety at schools.
As a former director of a federal government program that served low-income families from urban and rural areas, I embraced and promoted diversity. This included making each family feel comfortable and accepted, breaking down stigmas by fostering an environment of understanding. This was a personal goal. It wasn't always easy when there were 12 languages spoken and hundreds of program participants, but we made positive strides. Along with support staff and the family participants, we celebrated our uniqueness and embraced our differences. However, there was a looming series of circumstances that would threaten the network that we had worked to build.
Just over a year ago, the importance of workplace discrimination became personal. An early morning phone call delivered the devastating news that a closeted colleague had committed suicide. Her fear of serving as an "out" teacher, being ridiculed in her community, overwhelmed her and caused her to take her own life. I witnessed firsthand the inefficiency of our employer to establish workplace protections. I decided to take action myself.
In the weeks that followed, I offered support to staff and families and created mental health and wellness programs. We ran workshops on self-love, hate crime prevention and awareness for everyone. I fought for stronger language to be added for workplace protections so that no one would ever feel unprotected on the job again. I became a fierce advocate, speaking out to community leaders, parent groups, organizations — anyone who would listen on job protections, safety and promoting a culture of understanding.
My concerns fell on deaf ears at Head Start's administration. We were a federally regulated program that promoted diversity and acceptance, but it seemed to be selectively limited. I was pre-warned that my actions would carry consequences. I was told to stop pursuing workplace protections and access and that it wasn't an issue that was relevant at this time. The administration felt that nothing else was necessary for program compliance and assurance. They tried to silence me, but still, I pushed harder. I asked the questions that made them uncomfortable to answer.
Why was it so hard to add workplace protections and safety for LGBT employees and families? I demanded a vote to add workplace protections for LGBT employees that included health and wellness programs. That was the last time that I was to address my concerns to the board as an employee.
By participating in this direct action, I am choosing to fight for those who are unable to be out at work. To secure the protections that should already be in place on the federal, state and local levels. No one should lose their job because of their gender identity or sexual orientation. But sadly, until the passage of ENDA, LGBT employees will not have job security.
As a community, we must come together to ensure that everyone has the opportunity to pursue employment opportunities and safe schools.
National Gay & Lesbian Chamber of Commerce Certifies Brown, Naff, Pitts Omnimedia, Inc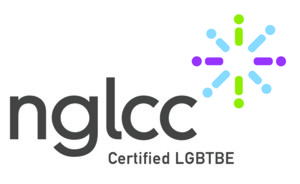 Washington, D.C. — Brown, Naff, Pitts Omnimedia, Inc, the parent company of the Washington Blade and Azer Creative, announced today it has been certified by the National Gay and Lesbian Chamber of Commerce (NGLCC) as an LGBT Business Enterprise. The NGLCC supports and advocates for diversity and inclusion for LGBT-owned businesses. With this certification the Blade's parent company joins more than 510 business and 134 corporate partners of the NGLCC.
Brown, Naff, Pitts Omnimedia, Inc. owns and operates the Washington Blade, the oldest and most acclaimed LGBT newspaper in the country. In 2012, the company launched Azer Creative, a full-service design firm. The company employs more than a dozen full-time LGBT staff.
"We are excited to become one of the 500 LGBT businesses across the country certified by NGLCC," said Lynne Brown, the Blade's publisher and a co-owner of the company. "The LGBT community has been part of our company from the beginning and we look forward to continue that for many years to come."
The Washington Blade was founded in 1969 and is known as the "newspaper of record" for the LGBT community both locally and nationally. Visit washingtonblade.com for more information. Azer Creative is a full-service graphic design firm based in Washington, D.C. Visit azercreative.com for more information. 
Vote now for the 2013 Best of Gay DC!
Choose in dozens of categories among hundreds of nominees, and make your voice heard!
Nominate the 'Best of Gay D.C.' now!
Dozens of categories cover all the best for LGBT Washington. Who deserves the prize this year?