'Reel' debt delays festival
Acclaimed LGBT film event moved to April due to money woes
An inability to raise the money needed to hold D.C.'s annual LGBT film festival this October has spurred a decision to reschedule Reel Affirmations for spring 2011, according to organizers and sources familiar with the event.
The money problems also prompted organizers to reassess the time of year the event should be held, leading to a permanent rescheduling of the highly acclaimed event for late April and early May in succeeding years.
Larry Guillemette, marketing and sponsorship manager for One In Ten, the non-profit group that has organized Reel Affirmations each October for the past 19 years, acknowledged that a debt exceeding $40,000 from last year's festival and a diminishing number of corporate sponsors and donors made it difficult to pull together the festival this year.
It had been scheduled to take place Oct. 14-23 in a number of prominent city theaters, including the Harmon Center for the Arts, the Goethe Institute and the E Street Cinema downtown, the Jewish Community Center near Dupont Circle and the AFI Theater in Silver Spring.
"As with a lot of non-profit organizations in our nation's capital, gay or straight, we are faced with the same [monetary] challenges," Guillemette said.
"What we found ourselves doing this year was going to various different organizations that we were hoping might sponsor us. And the economy being what it is, that kind of ability to support us wasn't there," he said.
Guillemete said One In Ten will screen three LGBT films this fall, including an award-winning film the group planned to announce soon. Beginning in November, One In Ten will resume a practice it previously discontinued: a monthly showing of an LGBT film in Washington at different theaters.
The group's ability to hold the full festival in October was further hampered by last year's resignation of Margaret Murray, who had served as One In Ten's executive director since 2006, Guillemette said. He noted that it was Murray's job to work on corporate and organizational sponsorships and other fundraising efforts for the 2010 festival beginning in the latter months of 2009.
"What that did for us on some levels is put us in a tiny bit of a period of flux and transition that we weren't necessarily prepared for because that was the time of year that most festivals are putting together their proposals for funding for the following year," he said.
Meanwhile, the group's debt and general shortage of funds prevented the hiring of someone to replace Murray, who left to take a new job, he said.
At the time of Murray's departure in November, Guillemette said, One In Ten had become nearly an all-volunteer organization, returning to its "roots" before its first executive director was hired in 2000.
Joe Bilancio, One In Ten's programs manager and the person in charge of obtaining the films, is being compensated as a consultant, Guillemette said. Guillemette is serving as a volunteer and called his work on the festival "a labor of love."
According to Guillemette, the funding problems were just one of several issues that prompted the One In Ten board to move the annual festival to the spring. He said other factors included competing LGBT events in October, such as the Human Rights Campaign's annual national dinner and the Miss Adams Morgan drag pageant, a large event that attracts participants who might otherwise attend the film festival.
Guillemette said the problems associated with holding the festival this October led to long discussions on something the event's organizers have contemplated for a number of years: the advantages of holding a film festival in the early months of the year.
Among other things, top-quality LGBT-related films made by independent filmmakers are usually released in the early part of the year and shown at other film festivals in the winter and spring, said Guillemette and Bilancio. The two noted that by the time One In Ten's Reel Affirmations festival is held in the fall, some of the patrons of Reel Affirmations have already seen these films at other festivals.
In recent years, a number of films shown at Reel Affirmations and other LGBT film festivals also have been shown first on gay cable television networks, with others sometimes available through Netflix, said Guillemette and Bilancio.
"It's significantly different than what it was when we started the festival in the early 1990s, when access to independent gay film was not that easy," Guillemette said. "And we could count on a sold-out festival because there weren't options like Neflix and Logo and Here TV and other things."
Although moving the festival to the spring won't counter the competing venues for gay film, Bilancio said holding Reel Affirmation in the early part of the year will at least ensure that it's the first opportunity for most D.C. festival goers to see the films.
One source familiar with last year's Reel Affirmations festival, who spoke with the Blade on condition of anonymity, said the One In Ten debt stemmed from a drop in revenue compared to previous festivals. Ticket sales were down as was advertising in the festival's lengthy program booklet, the source said.
Instead of generating seed money for the 2010 festival, which was slated to celebrate Reel Affirmations' 20th anniversary, the revenue shortfall resulted in debts to various vendors, including the graphic artist who helped produce the program booklet. At least $20,000 to $25,000 was needed to produce the booklet for this year, a sum the group apparently did not have, the source said.
Organizers were hopeful that a special town hall meeting that One In Ten held in April at the Human Rights Campaign headquarters would persuade people to make the donations that were needed to keep the event on track for October. But less than $5,000 was raised as a result of the town meeting, the source said, an amount far less than was needed to stage the festival in October.
Guillemette, who was not among the festival organizers last year, said still other factors were at play, including foul weather during several evenings of the October 2009 festival. He also noted that an earlier decision to discontinue the festival's VIP membership program, which provided special benefits to large donors, made the festival more reliant on single ticket sales, which were down in 2009.
He said the board this year reinstated the VIP membership program and is taking other steps to better promote the spring festival.
"We're not burying our head in the sand. We fully acknowledge there were things that needed to be changed in the way we did things," he said. "And I think we brought back the right team to make those changes."
Lisa King, One In Ten's board president, declined to comment, deferring to Guillemette as the organization's spokesperson. Murray could not be immediately reached for comment.
Virginia Beach high school students stage walkouts to support transgender rights
City's school board approved policy to out trans students to parents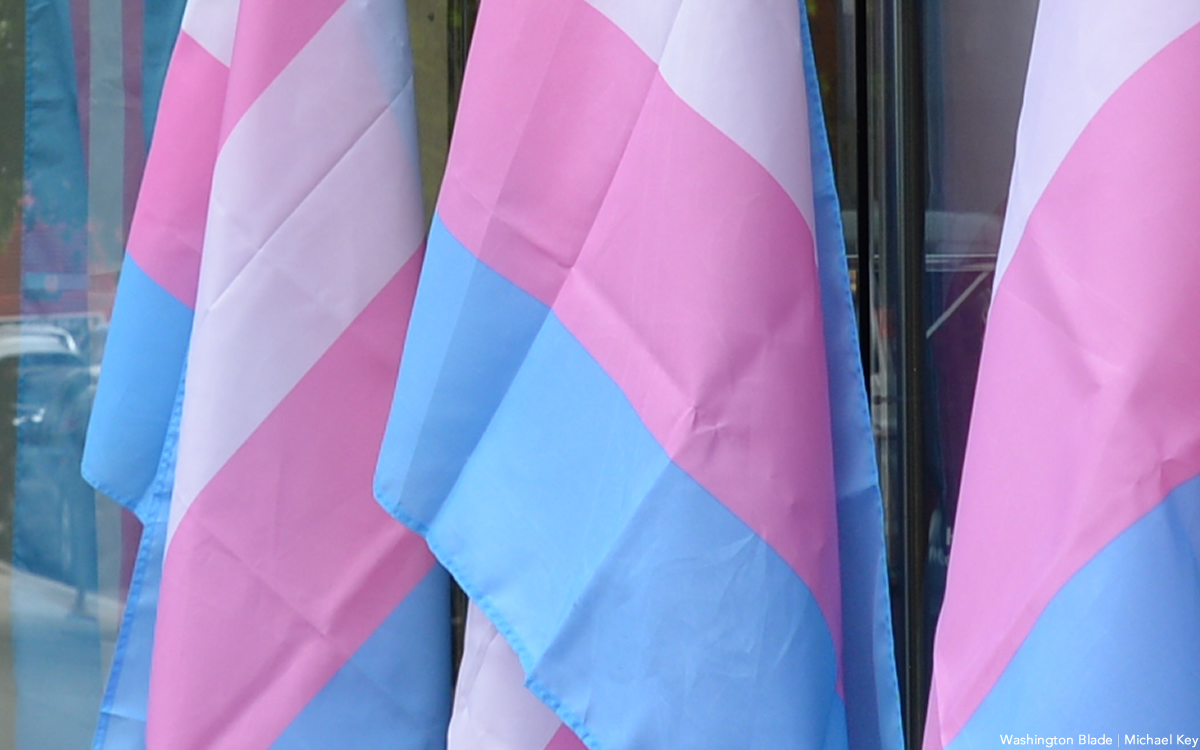 Students at five Virginia Beach high schools on Friday staged walkouts in support of transgender rights.
The walkout is in response to the Virginia Beach School Board approving policy 5-31, which the Pride Liberation Project says will require schools to out trans students to their parents.
Students have been organizing walkouts across the state since Republican Gov. Glenn Youngkin earlier this year announced new guidelines for trans and nonbinary students.
"Students like me aren't going to be able to talk to our teachers if we're constantly worried about our school officials calling home to forcibly out us," AJ, a trans Kellam High School Student, told the Pride Liberation Project.
Pepco, Exelon announce $2.7 million in funding for four minority-owned businesses
'It's good business sense to bring more people to the table'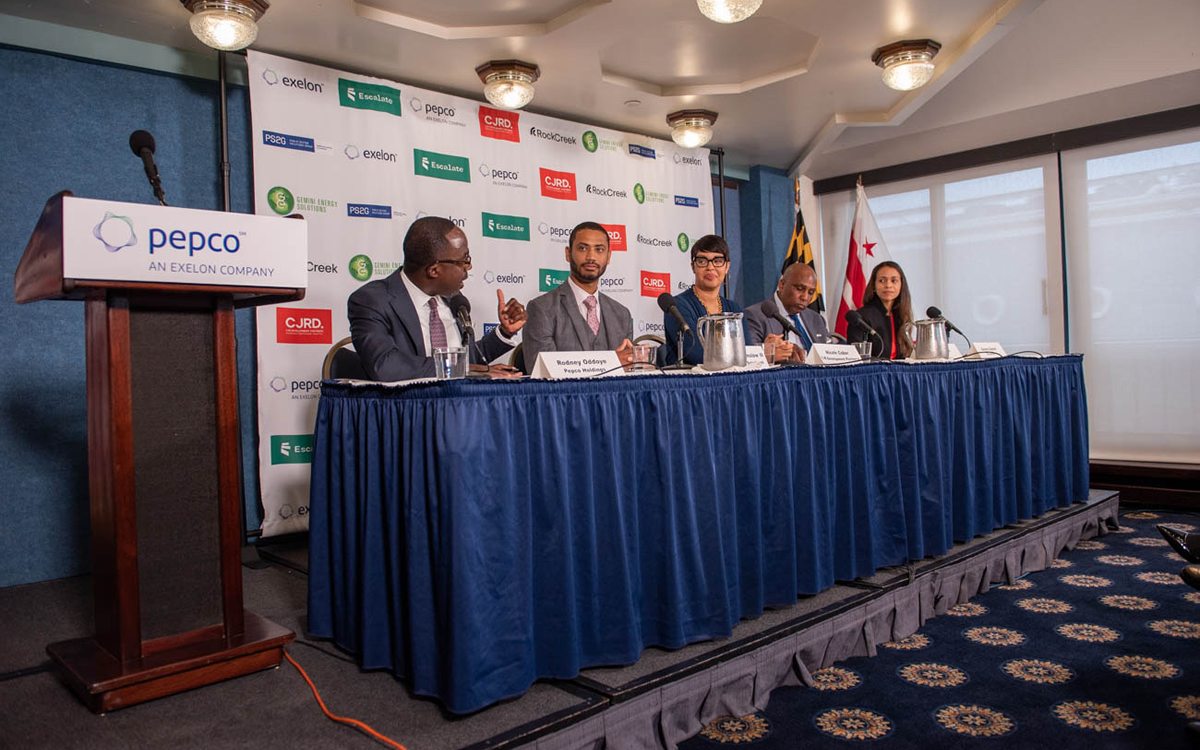 Pepco and Exelon announced a $2.7 million investment in four minority-owned businesses on Friday.
"Today's been a long time coming," said Pepco Vice President of Governmental and External Affairs Valencia McClure.
Pepco's parent company, Exelon, launched the Racial Equity Capital Fund (RECF) in 2022 to expand capital access to diverse businesses. This latest $2.7 million investment is just a portion of RECF's $36 million in funding.
At the announcement, D.C. Mayor Muriel E. Bowser spoke about the other ways Pepco and Exelon have "put their money where their mouth is" through their partnership with the D.C. Infrastructure Academy. She reported that all 22 of the residents that graduated from the program last week have a job offer from Pepco.
"We know that is not just a job, but a career," she said to the crowd's applause. "We know that working together, we can invest in D.C. residents, provide opportunity, and ensure that our D.C. businesses are a part of D.C.'s growing prosperity."
The four minority businesses that received funding were Gemini Energy Solutions, Public Sector Solutions Group, CJR Development Partners, and Escalate.
"It's good business sense to bring more people to the table," said fund recipient Nicole Cober, CJR Development's Principle Managing Partner.
Gemini Energy Solutions, which is Black owned, received $1 million, the most of the four companies. Its mission is to equitably scale energy efficiency to marginalized communities. For the founder and CEO Anthony Kinslow II, this investment means that he is able to get paid and advance the work of his organization.
"We are now able to accelerate the work in our software and technology development," he said. "What we were going to do in two years, we are now going to do in six months."
For Escalate, a workforce development platform focused on frontline worker retention, the funding means that it will be able to double the pay for frontline workers.
Public Sector Solutions Group CEO Darryl Wiggins emphasized that this investment was not just 'charity' work, but mission-driven work.
"The principle and the intent is greater than the money we receive," he said. Public Sector Solutions is Black owned.
Public Sector Solutions Group received a $600,000 debt investment; CJR Development, a minority and woman-owned small business, received a $600,000 debt investment; and Escalate, a majority Black and woman-owned company, received a $500,000 equity investment.
Exelon launched the RECF in partnership with RockCreek, one of the world's largest diverse-owned global investment firms, in 2022. The RECF expands capital access to diverse businesses so they can create more jobs, grow their companies and reinvest in their neighborhoods and communities, according to a statement from Exelon.
New RECF applications are accepted on a rolling basis. Interested businesses may apply online or contact RockCreek at [email protected] for more information.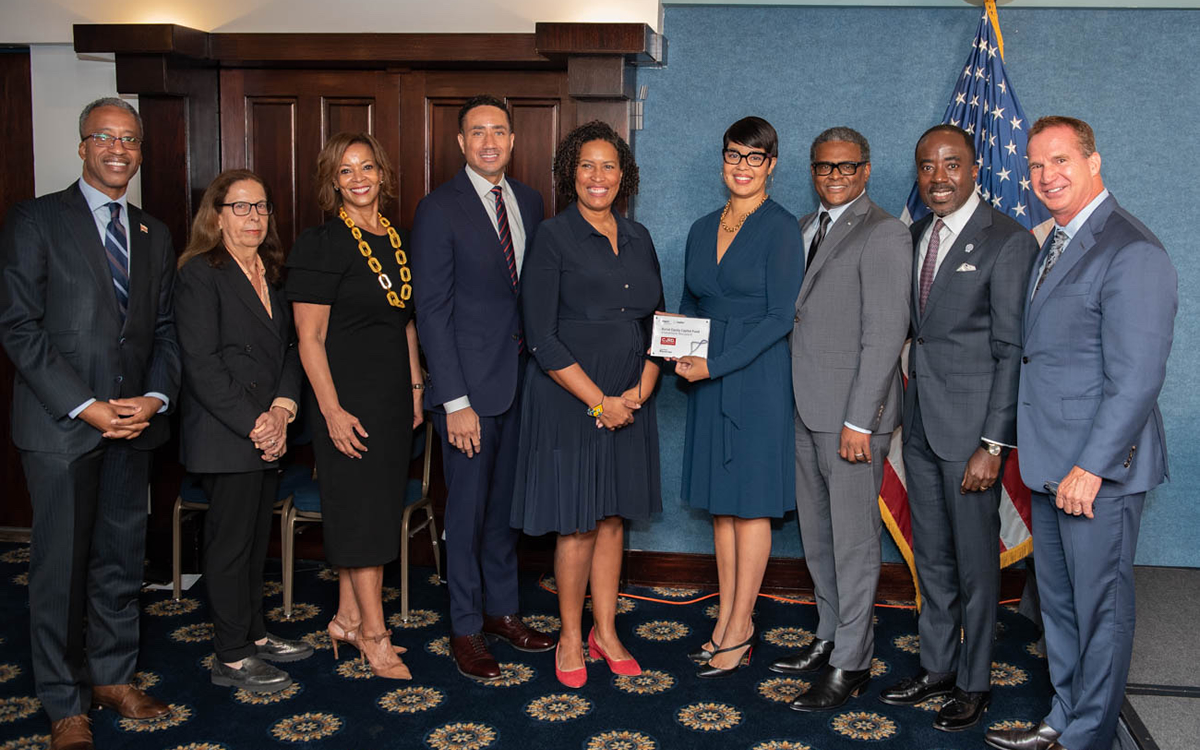 Comings & Goings
Armstrong recognized with Lifetime Achievement Award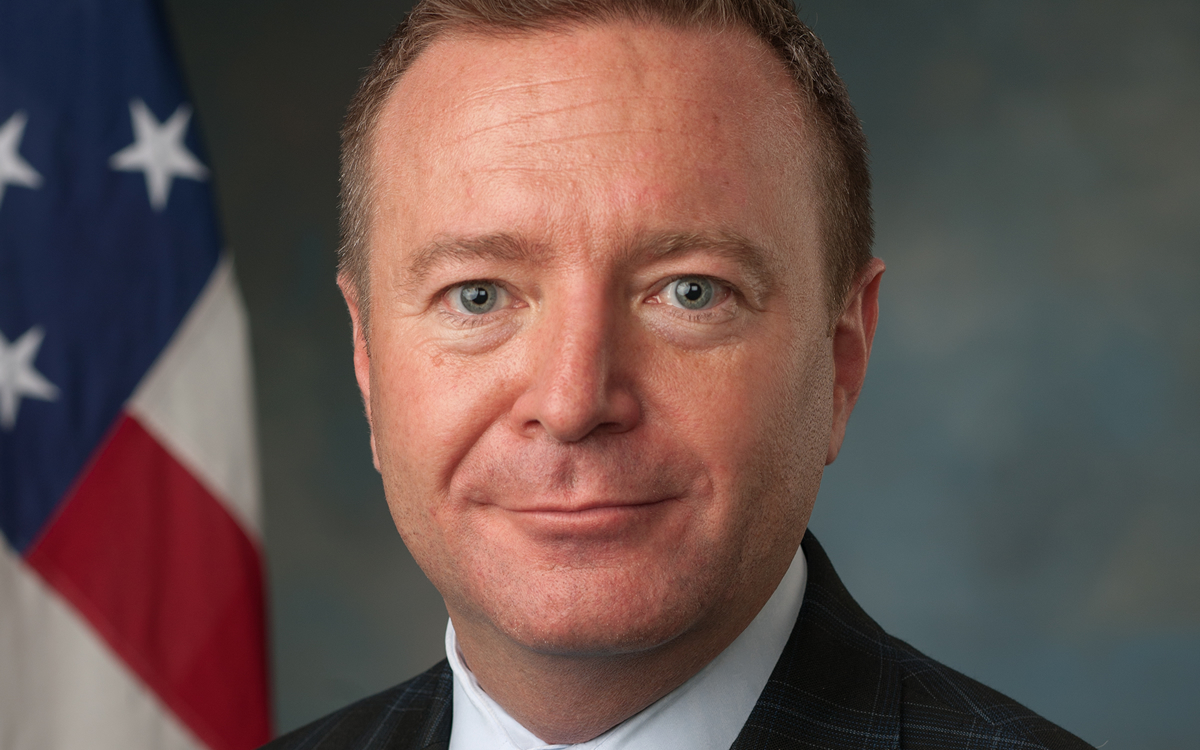 The Comings & Goings column is about sharing the professional successes of our community. We want to recognize those landing new jobs, new clients for their business, joining boards of organizations and other achievements. Please share your successes with us at: [email protected].
Congratulations to Lynden C. Armstrong on his Lifetime Achievement award from the Congressional Management Foundation in recognition of his exemplary public service in Congress.
Upon receiving the award Armstrong said, "This recognition is not just a personal achievement, but a testament to the unwavering dedication and hard work of colleagues and mentors who have been with me on this journey. I've dedicated my entire career to public service within the Senate, where recognition isn't the primary motivation for our work, making this recognition even more humbling." He is currently Deputy Assistant Senate Sergeant at Arms and Chief Information Officer.
Armstrong started his career with Sen. Pete Domenici (R-N.M.), where he rose to Deputy Chief of Staff in his more than 13-year stint. In 2004, during his tenure with Domenici, amid a debate on the Federal Marriage Amendment, Armstrong became a co-founder of the Gay, Lesbian and Allies Senate Staff (GLASS) Caucus. In 2014, he moved to the Sergeant at Arms CIO organization, where he established a new department within the CIO that was crafted to engage Senate offices in comprehending and harnessing technologies provided by the SAA.
Lynden has previously served as Chief Clerk on the U.S. Senate, Committee on Rules and Administration, and with the U.S. Senate, Joint Congressional Committee on Inaugural Ceremonies, as Deputy Inaugural Coordinator, 2012–2013. In that role among other responsibilities, he served as civilian liaison to the National Special Security Event Executive Steering Committee and subcommittees, including the Capitol, USCP, Crowd Management, Public Relations, Transportation, and credentialing, and as liaison to the Joint Task Force – National Capital Region.