Rally pushes D.C. ballot measure on marriage
Counter protesters celebrate local rights for same-sex couples
About 150 same-sex marriage opponents rallied at the U.S. Capitol on Sunday, calling for the definition of marriage as the exclusive union of one man and one woman.
National Organization for Marriage officials, who organized the event and billed it as the finale to a series of similar rallies held this summer in locations across the country, focused on the group's efforts to overturn D.C.'s same-sex marriage law through a voter initiative.
"Let the people vote! Let the people vote!" chanted Bishop Harry Jackson, one of the speakers at the rally and the leader of a campaign to oppose D.C.'s same-sex marriage law. The D.C. City Council passed and Mayor Adrian Fenty signed that legislation in December.
The rally at the Capitol took place at the same time that a coalition of LGBT organizations staged an opposing event at Freedom Plaza, which is located about a mile away and next the John A. Wilson D.C. City Hall building, where the City Council passed the same-sex marriage law.
Organizers of the Freedom Plaza rally estimated that between 200 and 250 people attended that event. Among the speakers were D.C. Council member David Catania (I-At Large), author of the same-sex marriage bill, and Council member Phil Mendelson (D-At Large), who headed the committee that guided the measure through the Council.
The groups that helped organize the Freedom Plaza rally included Equality Across America, Full Equality Now! D.C., and Talk About Equality.
"We know what this fight is about," said Brian Brown, the National Organization for Marriage president, at the Capitol gathering. "It is about a profound love and respect for an institution that the government did not create … that brings together the two great halves of humanity, male and female, so that they can know and be known by — love and be loved by — any children that they may bear.
"And this, my friends, is something worth fighting for."
Brown denounced U.S. District Court Judge Vaughn Walker in California for overturning Proposition 8, which banned same-sex marriage in the state. Brown said he was nearly certain that a higher court would overturn Walker's ruling.
But Brown noted, as have other same-sex marriage opponents, that a U.S. constitutional amendment banning same-sex marriage will be pursued if Walker's decision is allowed to stand.
"If the worst-case situation were to happen, that this decision goes all the way to the Supreme Court and somehow five justices define out of thin air a right to redefine marriage, we still have the power to vote," he said. "It's called amending the United States constitution to protect marriage as a union of a man and a woman."
Brown added that "the consequences are clear and profound when our children are taught in the schools that it's the same thing for Jimmy to grow up and marry Johnny as it is to marry Mary, and that you, the parents, are bigots for teaching them otherwise."
Jackson called same-sex marriage advocates "out of control radicals" and compared the tactics that some have used to the tactics of "intimidation" used by white supremacists in the South to oppress blacks during the 1960s civil rights struggle.
"What we're experiencing is injustice American style," he said. "A privileged minority with a whole lot of money and a whole lot of sway is basically saying to the rest of you, 'You sit down. You shut up. Your opinion doesn't count.'
"They're willing to threaten us. They're willing to talk down to us. They're trying to intimidate us," he said. "I'm here to tell you: Do not be intimidated. Enough! Enough! Stand up!"
At one point during his remarks, Jackson held up the book "Heather Has Two Mommies" and warned that it would used to teach children about same-sex marriage in the nation's schools if opponents don't rise up in opposition.
Other speakers at the Capitol rally included former D.C. congressional Del. Walter Fauntroy and D.C. Advisory Neighborhood Commissioner Robert King, who joined Jackson in calling on the city government to drop its opposition to a ballot measure that would allow voters to decide whether to keep or overturn same-sex marriage in Washington.
The city's Board of Elections & Ethics has ruled that a ballot measure seeking to ban same-sex marriage cannot be held because it would violate a law disqualifying ballot measures that would lead to discrimination outlawed by the D.C. Human Rights Act. The Human Rights Act bans discrimination based on sexual orientation.
Two courts have upheld the board's ruling. Jackson has said his side will appeal the matter to the U.S. Supreme Court.
During the Capitol rally Sunday, about 40 counter protesters, including members of local and out-of-state LGBT groups, stood silently along the perimeter holding signs that called for same-sex marriage. At one point, a separate group of about 30 counter protesters marched briefly along the Capitol plaza near the steps of the U.S. Senate. One of that group's members used a bull horn to express support for same-sex marriage. The group circled back twice before being escorted off of the Capitol grounds by U.S. Capitol police.
Among the counter protesters holding a silent vigil at the Capitol were Rev. Mel White, founder of the LGBT advocacy group Soulforce, which has dispatched its members throughout the country to hold similar vigils at National Organization for Marriage rallies in other states.
Two of the rally's scheduled speakers — National Organization for Marriage co-founder and board chair Maggie Gallagher and same-sex marriage opponent Alveda King, niece of Martin Luther King Jr. — did not attend the event.
Members of the LGBT media appeared to outnumber reporters from the mainstream press at the really, with several LGBT bloggers engaging Brown and Fauntroy in interviews that devolved into heated debates.
White said Soulforce, among other things, challenges same-sex marriage opponents like Jackson on religious grounds, arguing that same-sex unions are consistent with Christian beliefs and theology.
"They come in the name of Jesus," White said. "And I think it would break Jesus' heart to be here and see them. If Jesus were here, he would be on the side of gay, lesbian, bisexual and transgender people. Jesus was always with the outcasts. Jesus was an outcast himself … and we must show them that, being here, we will no longer take second-class standing in our own country."
Youngkin mum on whether parents should report teaching of LGBTQ topics
Republican governor on Monday touted tip line during an interview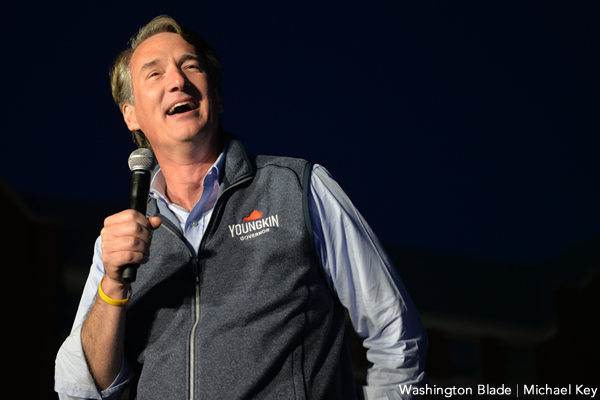 A spokesperson for Virginia Gov. Glenn Youngkin has yet to clarify whether the governor is encouraging parents to report educators who are teaching LGBTQ-specific topics.
The Washington Post reported Youngkin on Monday during an interview with John Fredericks on "Outside the Beltway with John Fredericks" referenced a tip line that parents can use to report the teaching of "divisive" subjects.
"We're asking for folks to send us reports and observations [to] help us be aware … of their child being denied their rights that parents have in Virginia, and we're going to make sure we catalogue it all," Youngkin told Fredericks, according to the Post.
Fredericks co-chaired former President Trump's 2016 campaign in Virginia.
Youngkin spokesperson Macaulay Porter on Tuesday did not respond to the Washington Blade's request for comment on the tip line.
The first executive order that Youngkin, who is a Republican, issued after he took office on Jan. 15 ended "the use of" so-called "critical race theory" (which is not taught in Virginia public schools) and other "divisive concepts" in the state's classrooms.
Youngkin during his campaign against Terry McAuliffe expressed support for Tanner Cross, a gym teacher at a Leesburg elementary school who was suspended from his job after he spoke out against Virginia Department of Education guidelines that are designed to protect transgender and non-binary students. Youngkin has also said he does not support allowing trans children to play on sports teams that are consistent with their gender identity.
Youngkin has named Elizabeth Schultz, an anti-LGBTQ former member of the Fairfax County School Board, to his administration.
Republicans control the House of Delegates by a 52-48 vote margin. Democrats have a 21-19 majority in the state Senate.
State Sen. Travis Hackworth (R-Tazewell County) has introduced Senate Bill 20, which would eliminate the requirement that school districts must implement the Department of Education's trans and non-binary student guidelines. State Sen. Jennifer Kiggans (R-Virginia Beach) has put forth Senate Bill 766, which would ban trans students from school sports teams that are consistent with their gender identity. State Del. John Avoli (R-Stanton) has sponsored House Bill 1126, which would restrict the ability of transgender students and school board employees to use bathrooms and other facilities in public schools.
Democrats have vowed to block any anti-LGBTQ bill in the General Assembly.
Lawsuit charges D.C. Courts illegally fired trans man
Complaint says building technician subjected to abuse by supervisors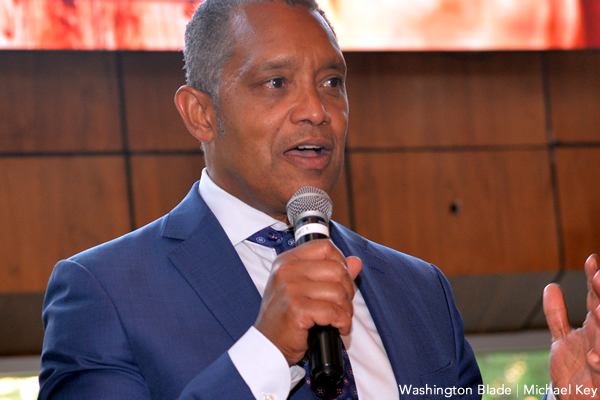 The D.C. Court of Appeals is currently deliberating over whether a 51-year-old transgender man who was fired in June 2019 from his job as a building maintenance technician at three buildings where the D.C. Superior Court and D.C. Court of Appeals are located has legal grounds to contest the firing, which he says was based on his gender identity.
In a little-noticed development, D.C. resident Dion Carter in June 2020 filed a lawsuit in D.C. Superior Court naming the D.C. government as the main defendant in the case on grounds that it plays a role in the funding of the D.C. Courts system and was responsible in part for more than eight years of discrimination and abusive treatment to which Carter was subjected on the job.
At the request of the Office of the D.C. Attorney General, which is representing the DC Court system in the lawsuit, a D.C. Superior Court judge on Jan. 29, 2021, dismissed the lawsuit on procedural grounds without addressing any of Carter's allegations of discrimination.
Superior Court Judge William M. Jackson stated in a three-page ruling that the D.C. Attorney General's Office correctly stated in a motion seeking the dismissal of the case that Carter's lawsuit failed to plead a viable cause of action on two grounds.
One of the grounds, the AG's office stated, is that the D.C. Courts' Comprehensive Personnel Policy does not provide a remedy for employment discrimination allegations. Jackson cited the second ground for dismissal proposed by the AG's office was that the D.C. Courts' same personnel policy does not provide a private right of action for employees to seek monetary damages in a lawsuit related to discrimination.
In its brief calling for dismissal, the D.C. AG's office also pointed out that Carter's lawsuit was invalid because under court rules pertaining to the D.C. Courts' personnel system, an internal administrative complaint alleging employment discrimination must be filed and carried out to completion before a lawsuit could be filed in court.
In a brief in support of Carter's lawsuit, Carter's attorney, Stephen Pershing, strongly disputes the AG office's assertions, saying at least one Court of Appeals ruling indicated the D.C. Courts' personnel policies legally "mirror" the provisions of the D.C. Human Rights Act, which, among other things, prohibits discrimination based on gender identity and sexual orientation.
Pershing also argued in his court briefs that Carter did file an internal administration complaint to contest his firing. But he stated that a high-level D.C. Courts' official advised Carter that under the court system's personnel rules, a ruling in Carter's favor could not result in monetary compensation for lost wages or other legal remedies that Carter called for in his complaint. The official advised Carter and Pershing to file the discrimination case in a lawsuit in court, the lawsuit says. This prompted Carter to withdraw his administrative complaint, a development that Pershing now says was based on false and misleading information provided by the D.C. Court's official.
In February 2021, Pershing appealed the dismissal of the case before the D.C. Court of Appeals, requesting that the dismissal be reversed and the case be sent back to D.C. Superior Court, where the specific merits of the case could be argued and presented before a jury.
Since the filing of the appeal, Pershing and attorneys with the Office of the D.C. Attorney General have filed briefs under consideration by the Court of Appeals supporting and opposing the contention that the D.C. Courts' personnel rules allow a remedy for Carter's discrimination claims.
Like the original lawsuit filed in Superior Court, Carter's appeal briefs filed by Pershing state that the alleged discrimination against Carter started shortly after Carter first began working in the court system's building maintenance department in January 2010 as an out lesbian prior to his transition as a male.
At that time Carter already had 15 years of experience in the field of building maintenance technology and became the first woman to hold such as position at the D.C. Courts, the lawsuit says.
According to the lawsuit, the abusive and discriminatory treatment toward Carter increased dramatically in 2015 when Carter informed his then-supervisor Emanuel Allen that he would be taking a short period of leave to undergo gender reassignment surgery. Upon his return to work after the first of five gender reassignment surgical procedures that he has now completed, Carter presented for the first time at work as a male, the lawsuit says.
"For the six months between Carter's Family Medical Leave Act notice and his surgery, Mr. Allen cut Mr. Carter out of all overtime duty, overtime that was mandatory for all building maintenance workers and that they considered desirable," the lawsuit says. It says that when Carter asked why Allen did this Allen refused to provide an answer and threatened to issue a poor work performance evaluation against Carter if he continued to question the overtime denial decision.
When Carter returned from his surgery and presented as male, the lawsuit charges, Allen repeatedly referred to Carter as "he-she" in the presence of fellow employees as well as high-level officials involved in the operation of the court system buildings. Carter viewed his treatment by Allen as a form of bullying and disrespect, the lawsuit states.
Over the next three years, according to the lawsuit, Carter was subjected to a hostile work environment by supervisors who, among other things, made false claims that Carter was not doing his job properly, was absent from work without permission, and was acting "aggressively" toward his supervisors or fellow employees. One supervisor blamed Carter's alleged hostile behavior on the testosterone treatment that Carter was undergoing as a routine part of his gender transition process, the lawsuit says.
The lawsuit alleges that Carter was ultimately fired "on a false pretext" allegedly fabricated by James Vaughn, the Chief Building Engineer and Acting Building Operations Manager of the D.C. Courts. The lawsuit and appeals court briefs say Vaughn accused Carter of consuming an alcoholic beverage at one of the court buildings where Carter was assigned to work on April 6, 2019.
Vaughn recommended to the court system's acting director of capital projects and facilities management that Carter be terminated from his job on grounds of violating Personnel Policy No. 800, which prohibits consuming illegal drugs or alcohol on court property while on duty.
"That allegation is factually untrue," the lawsuit states. "Mr. Carter neither consumed nor was under the influence of alcohol while on site," it says.
"Mr. Carter's termination was unjustified on any legitimate ground and was an act of unlawful discrimination on account of Mr. Carter's race, sex, sexual orientation and/or gender identity and expression, and in retaliation for his complaining to his superiors about his illicit mistreatment on these grounds," the lawsuit and the current appeals court briefs charge.
"These acts and omissions caused Mr. Carter loss of employment, loss of pay and other benefits of employment, as well as anguish, intense hurt, humiliation, anger, sense of loss, disappointment, and emotional conflict between his desire for professional excellence and the torment inflicted on him merely for showing up every day, working, and working well, as an African American, as a lesbian, and as a transgender male," the lawsuit says.
"The acts of one or more of Mr. Carter's superiors alleged in this complaint were motivated by actual malice and/or evil intent and were done with the intention to cause Mr. Carter pain, humiliation, anguish and torment, and as such warrant the imposition of punitive damages," the lawsuit concludes.
Abigail McDonough, a spokesperson for the Office of the D.C. Attorney General, did not respond to an email message from the Blade asking the AG's office to comment on Carter's discrimination allegations. Among the names appearing on the AG office's court briefs in the Carter lawsuit is D.C. Attorney General Karl Racine, who has expressed strong support for LGBTQ rights in the past.
Douglas Buchanan, a spokesperson for the D.C. Courts, said he would try to determine whether the court system's building maintenance department would respond to a Blade request for comment on the Carter lawsuit and its allegations that high-level court officials in the maintenance department engaged in anti-transgender discrimination.
Pershing said he plans to file a separate lawsuit on Carter's behalf in the U.S. District Court for the District of Columbia claiming the discrimination Carter faced violated his constitutional rights. He said he is hopeful that the D.C. Court of Appeals will rule in Carter's favor, but a backlog in cases will likely mean a ruling would not take place before June of this year.
Under federal court rules, Carter must file his federal discrimination lawsuit in the U.S. District Court within three years from the time he was fired from his job in June of 2019.
Congress created the D.C. court system as a federal entity in 1970 at the time it created D.C.'s home rule government. The U.S. president appoints all judges. The D.C. Council and mayor have no control over the court system, although the D.C. government along with Congress funds the court system. The system is run by a Joint Committee on Judicial Administration consisting of five judges and a secretary who serves as the executive officer.
D.C.'s Capital Pride to resume 'large-scale' outdoor events
Organizers say one of the largest ever parades and festivals set for June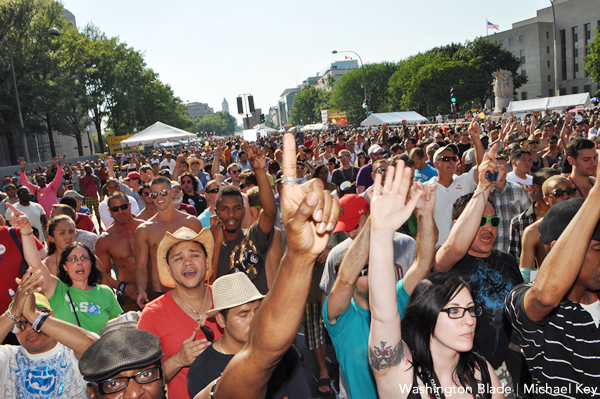 Capital Pride Alliance, the group that organizes D.C.'s annual LGBTQ Pride events, has announced on its website that it plans to resume the city's Pride Parade and Festival in June 2022 that traditionally has attracted tens of thousands of participants after canceling the two events in 2020 and 2021 due to the COVID pandemic.
"The Capital Pride Alliance is excited to announce the highly anticipated return of our annual large-scale outdoor Pride Celebration in June 2022!" the group says on its website. "Registration for the Capital Pride Parade on June 11, 2022, and the Capital Pride Festival on June 12, 2022, will be open soon," the website message says.
Ryan Bos, the Capital Pride Alliance executive director, told the Washington Blade the group met with D.C. government officials on Monday to coordinate plans for the upcoming outdoor events in June. He said an updated announcement with more details of the events would be released later this week or early next week.
The Capital Pride website message focuses on the parade and festival.
"Join the LGBTQ+ community for the return of the historic Capital Pride Parade," the website message says. "In 2022, a modified route will honor our history and acknowledge the evolution of the LGBTQ+ neighborhoods in Washington, DC, while respecting the origins and importance of taking to the streets in our fight for equality," it says.
"Be prepared to experience one of the largest Pride Parades to ever take place in the United States Capital," the message adds.
The message says the Pride Festival will resume at its traditional location on Pennsylvania Avenue, N.W. near the U.S. Capitol that it refers to as America's Mainstreet.
"Enjoy a full day of entertainment on three stages, food, drink and advocacy with over 300 exhibitors," the website message says. "The Festival is the largest annual event in the national capital region," the message continues, adding that the Capital Pride Concert will also return this year at its usual locations at the site of the festival.
"You will experience entertainment on three stages, from international headliners to our best local regional LGBTQ+ talent," according to the Capital Pride website message. It says concert performances will take place from 12-10 p.m. And a "Capitol" Sunset Dance Party will take place at the festival site from 8-10 p.m.
"The concert may end but the dancing will continue," the message says. "Enjoy the electronica sounds of an international DJ sensation while you dance in the middle of America's Main Street on Pennsylvania Avenue, with the sun setting on the U.S. Capitol."
D.C. Mayor Muriel Bowser and the city's public health officials ended the city's COVID-related restrictions on the number of people allowed to attend outdoor events as well as indoor entertainment events last May as the number of COVID infections began to decline.
But as the number of Omicron variant cases of the COVID virus increased dramatically in the fall of 2021, the mayor resumed the requirement of the use of face masks in all indoor public places.
Also put in place earlier this month by the city was a requirement that restaurants, bars, nightclubs, and other entertainment establishments require customers to show proof of vaccination as a condition for admission to the establishments. Bowser, however, has said the city was not considering resuming restrictions on the number of people allowed in establishments such as restaurants and bars or outdoor stadiums.
Capital Pride Alliance has not said whether it will put in place a vaccination requirement for admission to the Pride festival and parade as well as some of its planned indoor events. With the number of Omicron related COVID cases beginning to drop in the past two weeks in D.C. and the surrounding suburbs, the prospect of a resumption in restrictions on the number of people allowed to assemble at outdoor events like the Pride Parade and Festival appears to be less likely.