Casualties of war
Gay Iraqi, shot helping U.S., seeks fresh start in D.C. area
Firas Abdulmajeed wants to make one thing clear up front: He's not looking for a handout, just a job.
The 33-year-old gay Iraqi refugee, who fled to Alexandria, Va. a month ago with his 68-year-old mother after living six years in the United Arab Emirates, has faced an uphill battle most of his life. His home country was ravaged by war for most of his formative years; he lived under the violent regime of Saddam Hussein; and he suffered within a virulently anti-gay society that told him his same-sex desires were demonic.
Things have calmed for Abdulmajeed since he arrived in the U.S., but huge obstacles remain. While fluent in English and possessing the proper papers to work here, he suffered a life-changing gunshot wound in his native Iraq on July 21, 2003, that eventually required a below-the-knee amputation of his left leg.
The loss had an incalculably negative effect on Abdulmajeed's life. He sometimes wishes the wound had been fatal.
He has a bachelor's degree in computer science that he earned from Al Mansour University in his hometown of Baghdad, but Abdulmajeed says he'd be happy taking any job that doesn't require him to stand and walk for any length of time. Infection and shoddy medical care after the injury — he's certain his leg could have been saved had he received proper care — resulted in 17 operations, years of excruciating pain and a series of ill-fitting prosthetics that offer little help.
He met James Jorkasky, a gay Arlington resident, at a grocery store in Northern Virginia two weeks ago. Jorkasky, a lobbyist for medical research funding, could see Abdulmajeed was struggling to walk and started their conversation. He's been using his contacts to help Abdulmajeed find a job, see an orthopedic surgeon and get a proper-fitting prosthetic leg.
"I'm really pushy and nosy, so I asked a lot of questions and found out a lot," Jorkasky says. "I just thought maybe I could help."
Abdulmajeed says knew he was gay around age 13. He was athletic and enjoyed swimming. He soon realized he was attracted to men he saw at the pool — and thought he was the only person in the world who felt this way. Confiding to the head of his mosque about his desires proved disastrous.
"He started shouting, 'You are the devil,' and kicked me out. I felt awful and embarrassed. So it was a hard time."
The development came during Hussein-era Iraq, which natives regard as something of a mixed bag. Abdulmajeed says many Iraqis prefer it to the violence and chaos that has engulfed the country since the U.S. invasion. Even gay life was better then, he says.
"There was a gay community and a gay cruising area. In the Saddam time it was better. If you were gay and don't talk about the government or Saddam, you were safe. Now both the Sunnis and Shiites are against that and want to show the Islamic world they are brave so they kill gay people."
Abdulmajeed moved to Dubai after college, working various administrative jobs, but came back to Iraq just before the U.S. invasion in 2002. By March 2003, communication was down and Abdulmajeed, who lived with his parents again in Baghdad, visited a hotel to try to learn the whereabouts of relatives. Though Muslim, Abdulmajeed had attended a Catholic school and studied English. He also studied in Dubai and honed his speaking skills watching U.S. movies.
Abdulmajeed approached a U.S. Army officer and asked him in English if it was possible to make an international call at the hotel. In turn, the officer gave him an offer to work for the U.S. as a translator. Abdulmajeed became one of a team of Iraqi translators working in an Army contracting office in the Green Zone, Iraq's international 3.8 square-mile zone in Baghdad.
While the work went well, it quickly became obvious to Abdulmajeed, a Sunni Muslim, that the Shiites did not approve of his work for the U.S. His new car was stolen, which he says may have had nothing to do with his work, but about three weeks later, a small bomb was thrown into his family's house. Intimidating notes were sent to him. Still, he didn't consider quitting.
"I think I was doing a good job and the officers in the contracting office, they were really nice people," he says. "I wanted to help the Iraqis, and they always try to support Iraqi vendors, so I think it was [a] really good job, ethically, as I am Iraqi and also the payment was good.
"I didn't understand the message — or maybe I was ignoring the message — as I [had] a chance to have [a] promotion to work with the USA embassy in Baghdad, as I was a hard worker."
'I'll never forget his face'
The attack that claimed part of Abdulmajeed's left leg happened quickly.
It was a Saturday in July 2003 and extremely hot. Abdulmajeed was waiting for a taxi to take him to his office in the Green Zone. He remembers thinking it would be a busy day, more like a Monday because the office was closed on Sunday, so there'd be extra work. On this day, he was to accompany a U.S. officer to a construction site.
He remembers thinking how hot it would likely be in the Humvee without air conditioning.
Without warning, a Shiite he'd never seen before came face to face with him carrying a gun. After reciting a Muslim creed ("I believe in one god, one prophet Mohammad…"), he pointed at Abdulmajeed's left leg and shot him.
"I'll never forget his face," Abdulmajeed says. "He didn't cover his face or try to hide. By the chance that a police [officer] was there it didn't matter, because there was no government at that time. I didn't feel it, actually. I just fell and my feet were moving kind of automatically. I was confused, then I start seeing blood over my jeans and I knew something was wrong. He was so close to me he could have easily shot me in the head and nobody would have stopped him."
A neighbor helped Abdulmajeed get to a hospital by taxi, but staff there had few supplies and said they could do nothing for him. He was taken to another hospital where he stayed for six months. It was the beginning of a grueling ordeal that continues today.
Painkillers were in short supply. He was given one pill a day. He cut it in half and took half in the morning and half in the evening. Some of the 17 surgeries were performed without any anesthetic. His mother stayed with him around-the-clock at the hospital — a blessing and curse as he felt he had to mask his true emotions so she wouldn't see him in agony.
"You act as if you don't care because your parents are watching," he says. "They want to know how you feel and you feel down but you cannot show it, the things in my heart, so I just smile and [was] joking."
Aside from the physical pain, there were other scars. Just 26 years old at the time, Abdulmajeed realized he'd never again enjoy his hobbies of swimming and tennis. He also thought it would affect his desirability in the gay world.
"Maybe if I were straight it would be easier, but as a gay, it's worse because it's hard to be gay and beauty is so hard, and at that time I was thinking about my future, which I lost it already. I lost my job and every dream I had in my life."
By July 2003, many doctors had fled Iraq or had been killed. A steel rod was inserted into Abdulmajeed's leg, but he says that turned out to be a mistake as the wound should have been kept open. A gangrene-like infection set in and the muscle started dying. The infection caused a foul smell that scared away visitors. And though he'd had a boyfriend for about 18 months prior to the shooting, Abdulmajeed was dumped while he was in the hospital.
"He sent a message through a friend and said, 'I can't be with an amputee guy,'" Abdulmajeed recalls.
Within a few weeks, he also lost his Army job, since being in the hospital prevented him from performing his duties.
Upon his release from the hospital, Abdulmajeed found a cheap prosthetic in Iraq, but it required a size 10 shoe and Abdulmajeed's shoes were one size too small. He was able to walk with the aid of a stick and also used a wheelchair.
A relative arranged for him to come to the UAE in July 2004, but he faced an anti-handicap prejudice.
"It's the Mediterranean mentality," he says. "They don't even call you by name. They just say, 'Amputee.' That really affected me a lot but I don't have another choice. I couldn't go back to Iraq and I was only allowed to stay in the UAE as long as I had a job."
Abdulmajeed's father, a retired civil engineer, was kidnapped in November 2006 after Abdulmajeed left for the UAE. The circumstances surrounding his disappearance remain unclear, but his mother was ordered to pay $30,000 to get him back. She followed the instructions to drive to a spot two hours from her house with the money. They were supposed to send her husband an hour after getting the money. She never saw him again.
Abdulmajeed says the tragedies were nearly too much to bear.
"We never even saw his body or know whatever happened to him. Surely he's not still alive after all these years. So this old lady, she loses her husband and her son lost his leg for no reason. I didn't do any mistake. If I was fighting or a soldier, that would be one thing, but I was a civilian. And my father, a Shiite kidnapped him because he was Sunni.
"It really affects your way of thinking, your dreams that you will get freedom. We don't even need the freedom, just safety. And you can't imagine the temperature. It's 110 and there's no electricity."
Abdulmajeed eventually was able to have his mother join him in UAE in January 2007, but she was never the same.
"She lost it sometimes," he says. "If I come in from work, I go inside the home and heard her speaking with my father. She imagines him there. So this is a problem."
'I don't want charity'
Life stabilized for the two in UAE, but uncertainty loomed as their ability to remain there depended on Abdulmajeed staying employed, which he was able to do.
In 2007, he applied to a refugee program with the United Nations to come to the U.S. It was three years before his application was approved, but he and his mother, who has diabetes, high blood pressure and a heart condition, were able to come to the U.S. last month.
The two have little between them. He has a permanent Visa for refugees and a work permit, a few pieces of furniture, eight months of health insurance and food stamps.
"I don't want charity or a handout," Abdulmajeed says emphatically. "I just want a desk job, even data entry. Nothing fancy, just [enough] to cover expenses and to live here.
"About this point: I'm not looking for charity or donation. If someone wants to help, I need the jobs. Not because they're sorry I lost my leg or am an amputee, but because he feels I desire a chance to prove myself. Only that. The day that I feel I can't offer the life here, that's the day I should go back to Iraq or wherever, but I don't want charity."
Jorkasky says he's been amazed at his friend's drive.
"I've never seen such a quick study on anything," he says. "He soaks up everything I give him. I think somebody would get themselves and excellent, smart, dedicated worker."
Jorkasky hopes the local LGBT community will help Abdulmajeed get the aid he needs.
Abdulmajeed's new life is modest by American standards. He and his mother love the country and have been amazed by what they say are friendly, smiling people. He enjoys simple freedoms like visiting a garden near the apartment building where he lives. He's been to no gay clubs since arriving. Jorkasky is his only gay friend. He knows one other Iraqi here.
"Sometimes I just sit there in the garden and I have this feeling how great it is do to anything or talking about anything gay or whatever in public," he says. "I don't have this feeling before, so this kind of freedom, it's a great feeling everybody wants since childhood.
"I think there are a lot of Americans who may not agree with the war or the invasion of Iraq, but whatever your politics are, what gets lost in the equation a lot of times are the real casualties," Jorkasky says. "I think everybody in the D.C. gay community should just take a step back and look at their lives and realize what they have compared to the incredible struggle that Firas has had. One of our brothers is suffering right now and needs our help."
Job leads can be sent to Abdulmajaeed at [email protected] or Jorkasky at [email protected]
Hyattsville mayor dies by suicide
Kevin Ward and husband adopted son in D.C. in 2012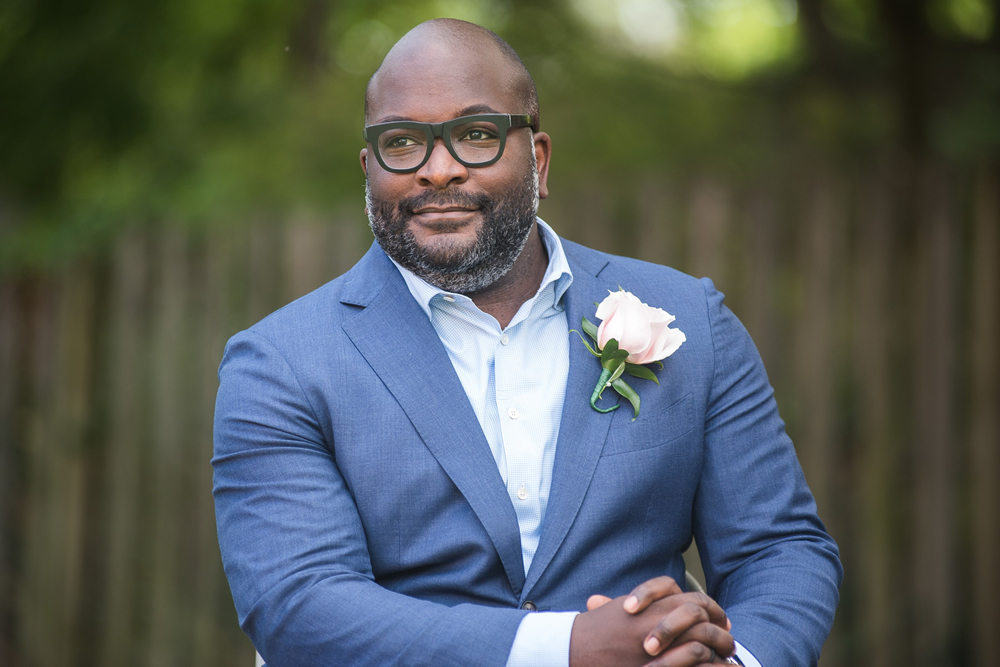 The city of Hyattsville released a statement on Wednesday afternoon announcing that their city's openly gay Mayor Kevin Ward had died one day earlier by an apparent suicide.
"The city of Hyattsville reports with great sadness that our beloved Mayor Kevin Ward passed away yesterday, Jan. 25, from an apparent self-inflicted gunshot wound," the statement says.
"Mayor Ward was a valued and trusted leader and a fierce advocate for all the people of Hyattsville," the statement continues. "We are heartbroken at this loss and extend our deepest sympathy to the mayor's family," it says.
"No further information is available at this time," the statement adds. "Details about services and remembrances will be shared when they are available."
The Washington Post reported that U.S. Park Police disclosed that Ward was found deceased in Fort Marcy Park in McLean, Va., with a "self-inflicted gunshot wound."
Ward, 44, became acting mayor of Hyattsville on Jan. 1, 2021, following the resignation of former Mayor Candace Hollingsworth. He was next in line to become mayor under the city's political system in his then-position as president of the Hyattsville City Council.
He won election to complete the remainder of Hollingsworth's term through 2023 in a May 11, 2021, special election, receiving 57.8 percent of the vote in a three candidate race, according to the Hyattsville election board. His closest opponent, Joseph Solomon, received 31.7 percent of the vote.
Nearby fellow gay mayors — Patrick Wojahn of College Park and Jeffrey Slavin of Somerset — said they got to know Ward through Maryland political circles and thought very highly of him.
"He was insightful, smart and dedicated," Wojahn said. "He always seemed very confident and together as a person. And he had a great sense of humor."
Slavin said he shared that remembrance of Ward, adding that he found Ward to be a "very nice person" dedicated to the people he served both as mayor and during his two terms on the Hyattsville City Council.
"There was noting in his public life that would have predicted this," said Slavin in referring to Ward's sudden passing.
The Washington Blade first reported on Ward in 2012 in a feature story on Ward and his then-domestic partner Chad Copeland when the two attended a ceremony at the D.C. Superior Court to complete the process of adopting their then-5-year-old son Norman. Ward and Copeland were among several gay couples who had their adoption papers signed by a judge at the ceremony.
On the website for his mayoral election campaign last year Ward said he and his family made Hyattsville their home in 2014 after he and his husband adopted their two sons.
"I am a pretty straightforward person," he said in message to voters on his campaign website. "I believe in listening more than talking. But when I talk, I am not one to mince words or tell people what they want to hear," he said. "I believe in doing the work. I believe that if I can help someone, then I can change her or his life," he continued.
"This is why I dedicated my career to providing the best technology to education and to human services, to help as many people as I can," he said.  
Ward was referring to his career in the field of educational and human services technology.
ANC supports license for Capitol Hill LGBTQ bar
Lesbian owners back 'settlement agreement' with restrictions on hours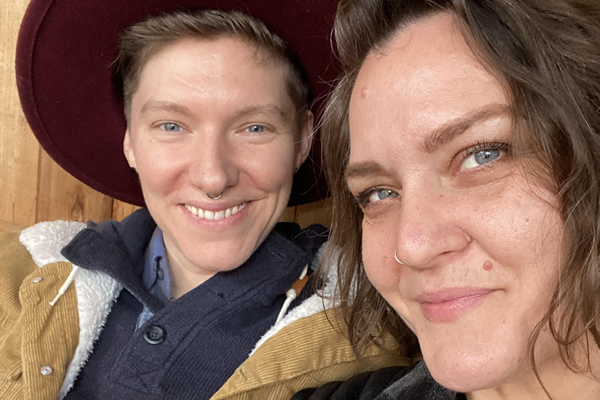 The Capitol Hill Advisory Neighborhood Commission 6B voted unanimously on Tuesday night to support a liquor license for the LGBTQ-owned As You Are Bar, which plans to open in a two-story building at 500 8th St., S.E. in a commercial section of Capitol Hill known as Barracks Row.
The ANC's decision to support the license took place at a virtual meeting attended by nearby residents and supporters of the bar after its owners, lesbian activists Jo McDaniel and Rachel Pike, agreed to the terms of an ANC settlement agreement that calls for restrictions in the hours the bar can offer dancing, entertainment, and music from a DJ.
The agreement means the ANC will not file a protest against the license before the city's Alcoholic Beverage Control Board, a development that would have delayed a decision on the license by the ABC Board by as much as seven months. A protest by the ANC could have cost the bar thousands of dollars in legal fees to contest the protest by providing legal arguments seeking the approval of the license.
The ABC Board makes the final decision on whether to approve all liquor licenses in the city.
McDaniel and Pike have said they plan to operate an upstairs dance bar during evening hours and a café on the first floor during the day as well as in the evenings that will be an inclusive space that "welcomes anyone of any walk of life that will support, love, and celebrate the mission of queer culture."
The two, who are business and life partners, say As You Are Bar will welcome people of all ages, genders, sexual orientations and gender identities as well as drinkers and non-drinkers as customers.
They have also told the ANC and nearby residents they have taken steps to soundproof the building, which they are renting, to ensure their plans to operate a dance bar with music from a DJ on the second floor will not disturb nearby residents.
Under terms of the settlement agreement, which was posted on the ANC's website prior to the start of the meeting, the bar's operating hours will be from 12 p.m. to 12 a.m. Sunday through Thursday and 12 p.m. to 3 a.m. on Friday and Saturday. Under D.C. law, bars are allowed to remain open for the sale of alcoholic beverages until 2 a.m. during weekdays and 3 a.m. on Fridays and Saturdays.
The Settlement Agreement further calls for As You Are Bar to restrict the hours of consumption of alcohol from 12 p.m. to 11:30 p.m. Sunday through Thursday and 12 p.m. to 2:30 a.m. on Friday and Saturday. It calls for allowing live entertainment and dancing (indoors only) from 12 p.m. to 12 a.m. Sunday through Thursday and from 12 p.m. to 1:30 a.m. on Friday and Saturday.
However, the agreement says DJ and amplified music will not be permitted after 8 p.m. on weekdays.
McDaniel told the Blade that at the request of As You Are Bar's attorney Richard Bianco, the ANC agreed to modify that restriction at the Tuesday night meeting to allow the bar to play "conversational" background music after 8 p.m. until closing time on weekdays.
Among other things, the agreement requires the bar comply with a noise mitigation provision to "ensure that sound, noise, and vibrations are not audible or felt beyond the curb or any other premises at any time." It also calls on the bar to provide an "appropriate number of staff" to monitor patrons as they leave the bar through the 8th Street entrance to "prevent loud voices and littering."
Under rules established by the ABC Board and the city's Alcoholic Beverage Regulation Administration or ABRA, if a settlement agreement is reached between an applicant for a liquor license and the ANC, a protest against the license by groups of five or more citizens is not allowed. Protests could still be filed by community-based civic groups and residents of an "abutting" house or residential facility.
In the case of As You Are Bar, no citizens group has emerged to oppose the license. There is just one abutting townhouse on E Street whose owner has expressed general support for the settlement agreement, according to McDaniel. But the resident has indicated she will not rule out a possible protest until Feb. 7, which is the deadline for filing a protest under ABRA's rules.
Youngkin mum on whether parents should report teaching of LGBTQ topics
Republican governor on Monday touted tip line during an interview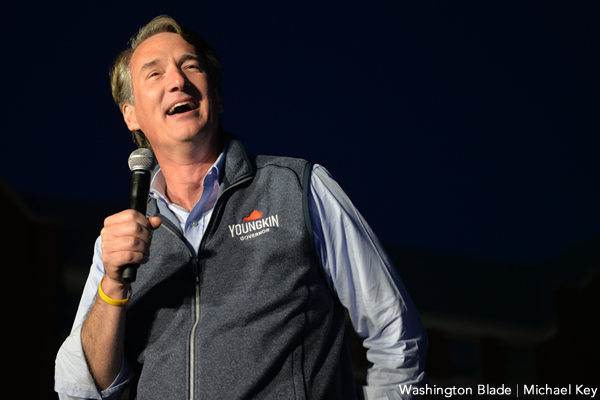 A spokesperson for Virginia Gov. Glenn Youngkin has yet to clarify whether the governor is encouraging parents to report educators who are teaching LGBTQ-specific topics.
The Washington Post reported Youngkin on Monday during an interview with John Fredericks on "Outside the Beltway with John Fredericks" referenced a tip line that parents can use to report the teaching of "divisive" subjects.
"We're asking for folks to send us reports and observations [to] help us be aware … of their child being denied their rights that parents have in Virginia, and we're going to make sure we catalogue it all," Youngkin told Fredericks, according to the Post.
Fredericks co-chaired former President Trump's 2016 campaign in Virginia.
Youngkin spokesperson Macaulay Porter on Tuesday did not respond to the Washington Blade's request for comment on the tip line.
The first executive order that Youngkin, who is a Republican, issued after he took office on Jan. 15 ended "the use of" so-called "critical race theory" (which is not taught in Virginia public schools) and other "divisive concepts" in the state's classrooms.
Youngkin during his campaign against Terry McAuliffe expressed support for Tanner Cross, a gym teacher at a Leesburg elementary school who was suspended from his job after he spoke out against Virginia Department of Education guidelines that are designed to protect transgender and non-binary students. Youngkin has also said he does not support allowing trans children to play on sports teams that are consistent with their gender identity.
Youngkin has named Elizabeth Schultz, an anti-LGBTQ former member of the Fairfax County School Board, to his administration.
Republicans control the House of Delegates by a 52-48 vote margin. Democrats have a 21-19 majority in the state Senate.
State Sen. Travis Hackworth (R-Tazewell County) has introduced Senate Bill 20, which would eliminate the requirement that school districts must implement the Department of Education's trans and non-binary student guidelines. State Sen. Jennifer Kiggans (R-Virginia Beach) has put forth Senate Bill 766, which would ban trans students from school sports teams that are consistent with their gender identity. State Del. John Avoli (R-Stanton) has sponsored House Bill 1126, which would restrict the ability of transgender students and school board employees to use bathrooms and other facilities in public schools.
Democrats have vowed to block any anti-LGBTQ bill in the General Assembly.