Friday, Sept. 17
Servicemembers United present "Beyond Repeal," a rooftop gala and fundraiser tonight at the Servicemembers United office, 1725 I St., N.W., from 6:30 to 9 p.m. There will be an open bar and light hors d'oeuvres. Standard admission tickets are $50 and can be purchased at servicemembersunited.org. There are other packages available as well.
Wolf Trap presents "ABBA – The Music" tonight at the Filene Center, 1551 Trap Rd., in Vienna, at 8 p.m. Waterloo, an ABBA cover band, keep's the group's music alive with their "uncanny" resemblance and quality performances. Tickets are $25 for the lawn and $38 in-house and can be purchased at wloftrap.org.
Caliente Grande is tonight at Apex, 1415 22nd St., N.W., starting at 9 p.m. DJ Michael Brandon will be spinning the latin dance party in the main hall. There is a $10 cover charge. Attendees must be 18 to enter, 21 to drink.
The D.C. Cowboys host Brodeo tonight at Remingtons, 639 Pennsylvania Ave., S.E., from 10 p.m. to 1 a.m. The party will feature country/western and disco/club music, live performances, giveaways, jello shots and an auction.
Saturday, Sept. 18
CBS Radio of Washington presents its signature event, HFSTIVAL, "We're Taking You Back" today at Merriweather Post Pavilion, 10475 Little Patuxent Pky., in Columbia. This year's lineup includes Billy Idol, Everclear, Third Eye Blind, Marcy Playground and more, including 18 local bands. Festival gates open at 10 a.m. and the concert goes from 11 a.m. to 11 p.m. Tickets range from $35 to $50 and can be purchased at whfs.radio.com.
Burgundy Crescent Volunteers is holding a photo scavenger hunt today starting at the Taras Shevchenko monument at 22nd and P streets, N.W., at 10 a.m. BCV Social Committee members will be greeting participants as they arrive. Come with a group or alone. Everyone will end up in a group of three to six members with at least one camera. Each group will have two hours to take as many digital photographs from the supplied list of subjects as they can. The hunt will be done at noon and photos will be shared over lunch. Visit burgundycrescent.org for more information.
Merrifield Garden Center presents its latest weekly gardening seminar today. At the Merrifield location, 8104 Lee Highway, Renatta Holt will be talking about gardening in small spaces using container gardens and more. At the Fair Oaks location, 12101 Lee Highway, Peg Bier will be talking about creating gorgeous combinations of bulbs and perennials for long-lasting displays. At the Gainesville location, 6895 Wellington Rd., David Yost will be talking about building the lawn of your dreams. All seminars being at 10 a.m.
MIXTAPE D.C.'s two year anniversary party is tonight at the Rock & Roll Hotel, 1353 H St., N.W., from 8 p.m. to 2:30 a.m. MIXTAPE is a dance party for queer guys and gals and their pals that features DJs Shea Van Horn and Matt Bailer playing an eclectic mix of electro, alt-pop, indie rock, house, disco, new wave and anything else you can dance to. $5 cover for 21 and over.
Allie Wilson and Jacob Pring present Cotton Candy, Green Lantern's first 18 and older party. DJs David Merrill and Bryan Yamasaki will be providing the music. Green Lantern is located at 1335 Green Court, N.W. and the party will be held upstairs. There is a $10 cover fee.
Town is hosting its biggest theme party of the year tonight with its Red Party. The party will feature music by Tracy Young with music and video downstairs by Wess. Drag show starts at 10:30 p.m. Attendees are asked to wear red. Doors open at 10 p.m. with $3 rail drinks until 11. Cover is $8 before 11 p.m. and $12 after. Must be 21 and over to enter.
Sunday, Sept. 19
Pocket Gays present Pocket Rocket Sunday School: Summer Send-Off is tonight on the rooftop of Local 16, 1602 U St., N.W., from 3 to 9 p.m. Music will be by DJ Majr (SHIFT, Siren). There will be $5 Smirnoff drink specials, prizes and games. There's no cover.
Monday, Sept. 20
Celebrity photographer, Adam Bouska, will bring the national NOH8 photo shoot to D.C., tonight at Cobalt, 1639 R St., N.W., from 4 to 7 p.m.
Bears do Yoga will meet at Green Lantern, 1335 Green Court, N.W., at 6:30 p.m. and last for an hour. This class serves as an introduction to yoga for people of all body types and physical abilities. To RSVP for the class, email [email protected]
Tuesday, Sept. 21
Drag Bingo will be at Nellie's Sports Bar, 900 U St., N.W., tonight hosted by Shi-Queeta Lee, starting at 8 p.m. It's free to play and there will be prizes.
Wednesday, Sept. 22
Mautner Project presents its speakers' series Financial and Medical Planning with Michele Zavos and Mark Scurti at Mautner Project office, 1875 Connecticut Ave., N.W., at 6:30 p.m.
Thursday, Sept. 23
CAGLCC presents Thursday Morning MasterMind GROUP Meetings facilitated by Jay Vilar from 7:30 to 9 a.m. at the Intelligent Office, 1425 K St., N.W., Ste. 350. The agenda belongs to the group and each person's participation is key. Peers give you feedback, help you brainstorm and set up accountability structures to keep you focused and on track.
Mautner Project presents its speakers' series Financial and Medical Planning with Michele Zavos and Mark Scurti at Equality Maryland, 1201 Sharp St., in Baltimore at 6:30 p.m.
Phasefest 2010 kicks off tonight at Phase 1, 525 8th St., S.E., with Wicked Jezebel, Melissa Li, Kit Yan, Jenny Grind, Nikki Smith and Alex Voegele. Doors open at 7 p.m. Tickets are $10 and can be purchased at phasefestdc.com. This event continues through Saturday.
PHOTOS: New Year Still Queer
The Washington Blade holds appreciation happy hour at Pitchers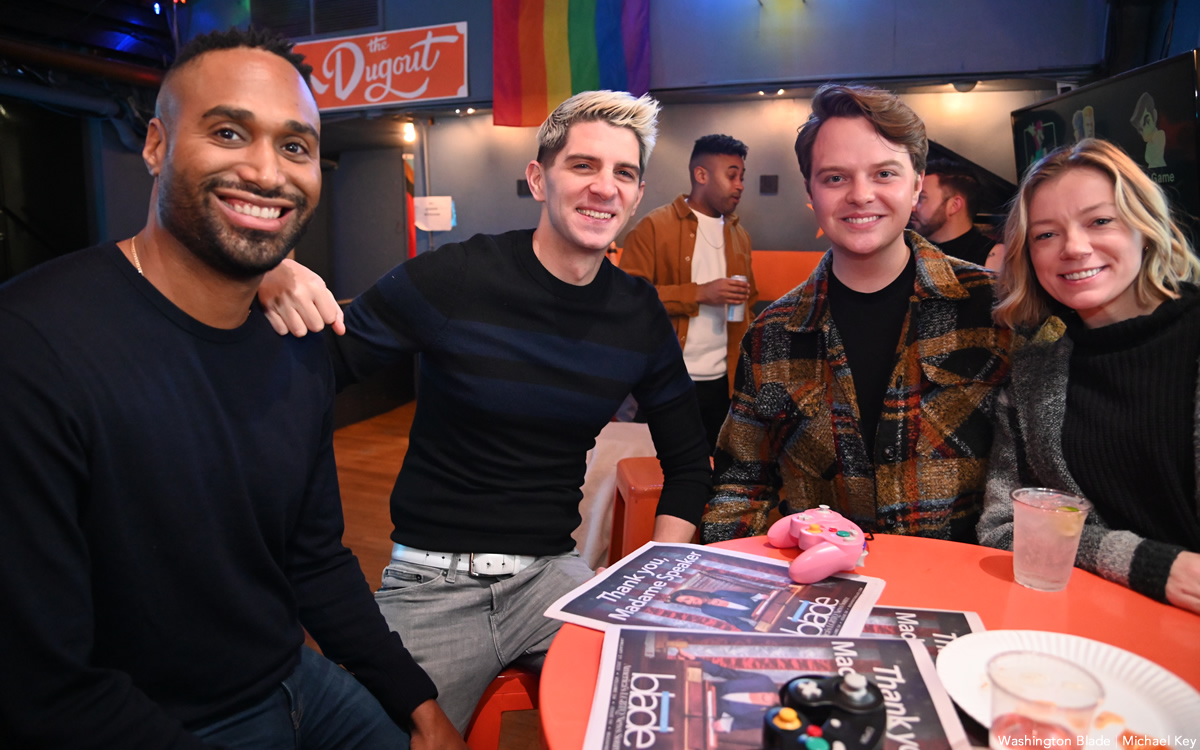 The Washington Blade held a New Year Still Queer appreciation happy hour at Pitchers DC on Friday, January 27.
(Washington Blade photos by Michael Key)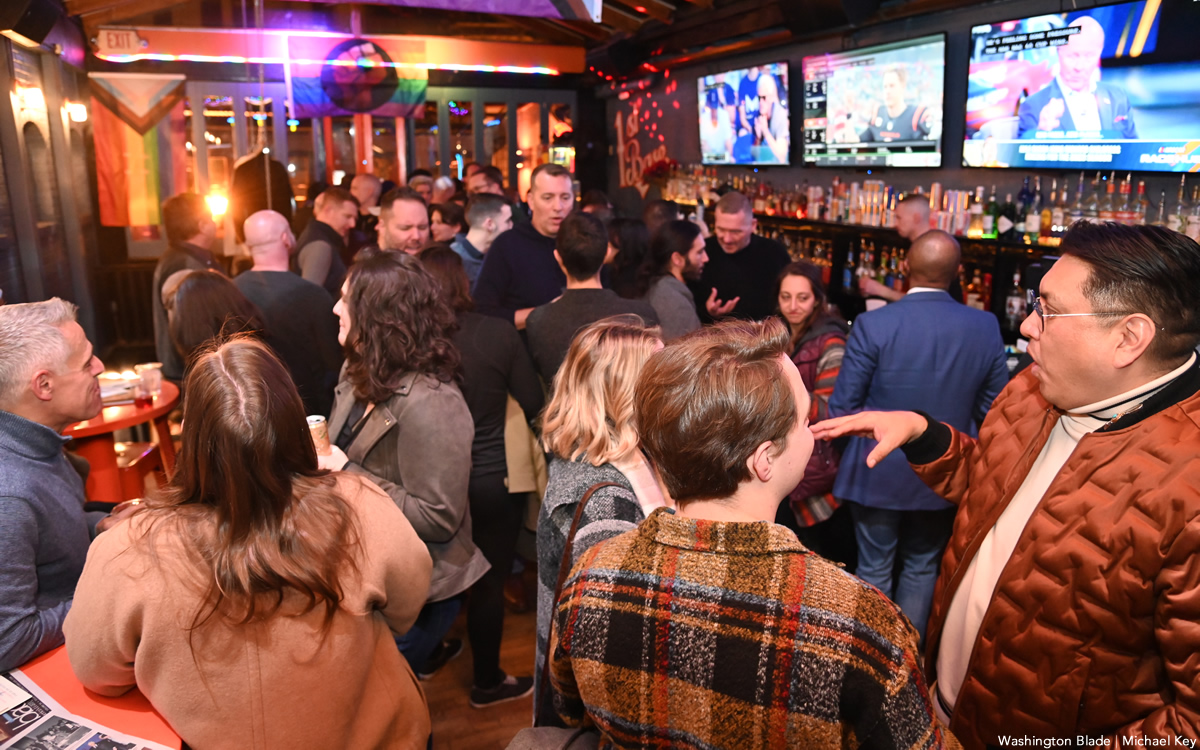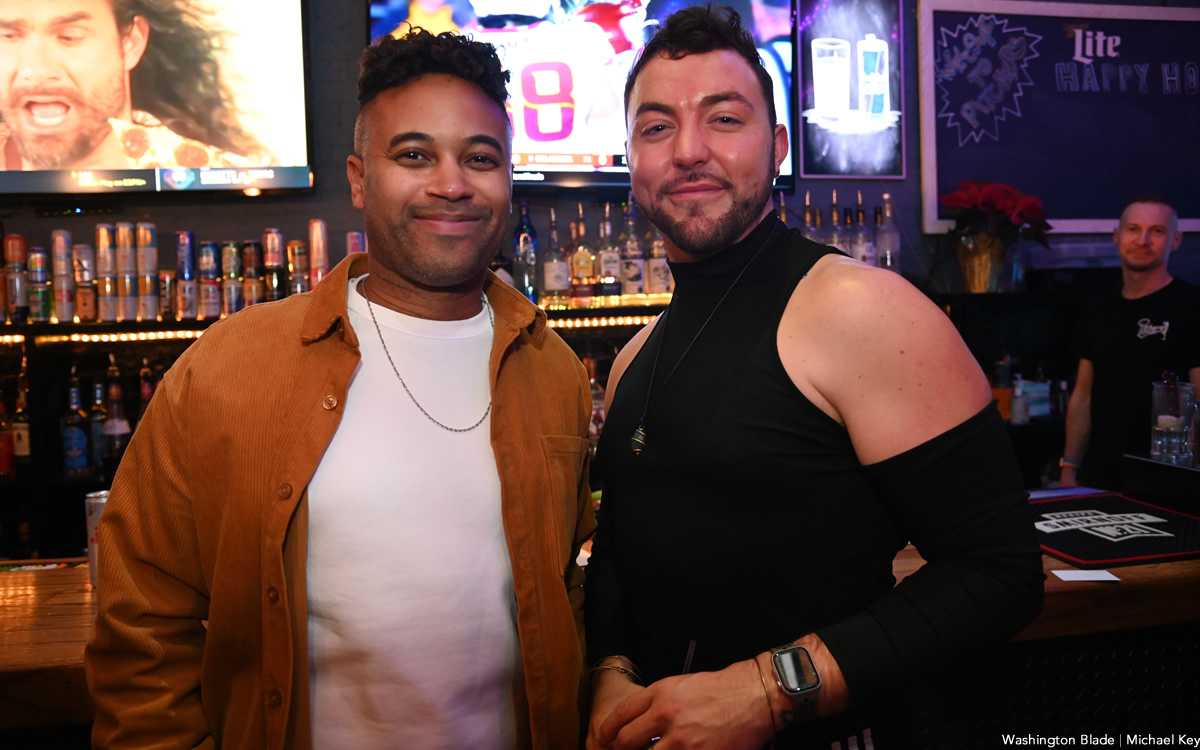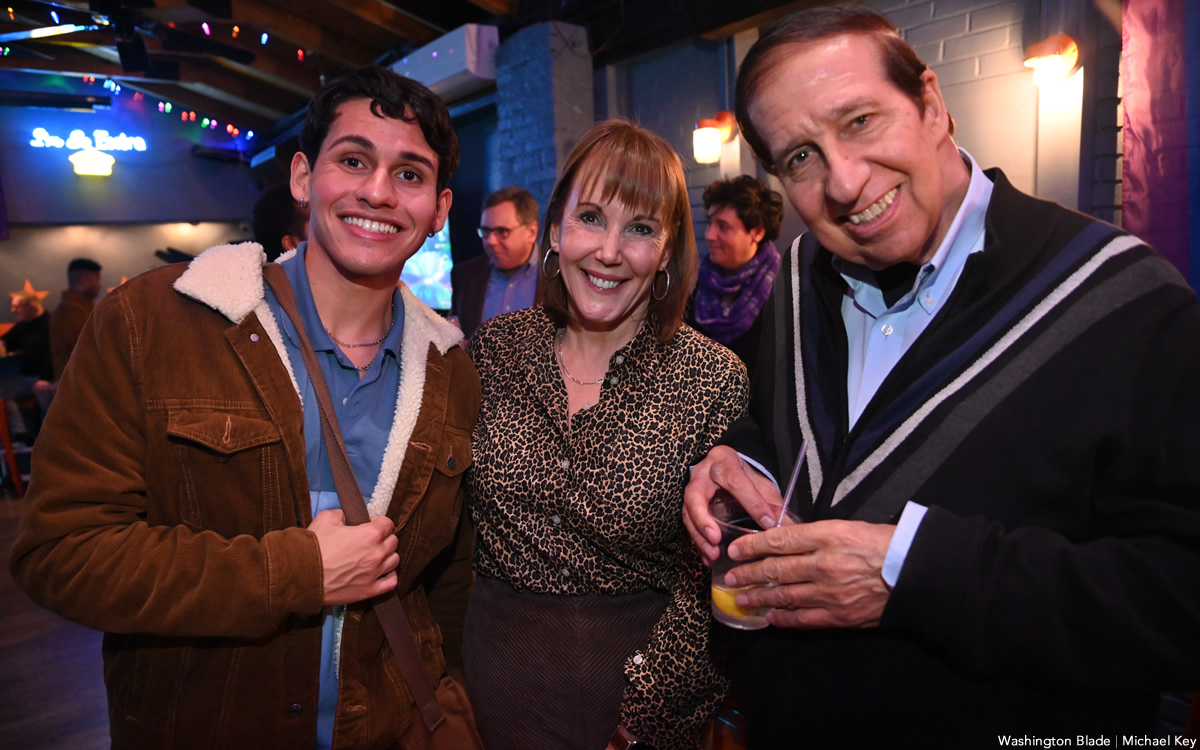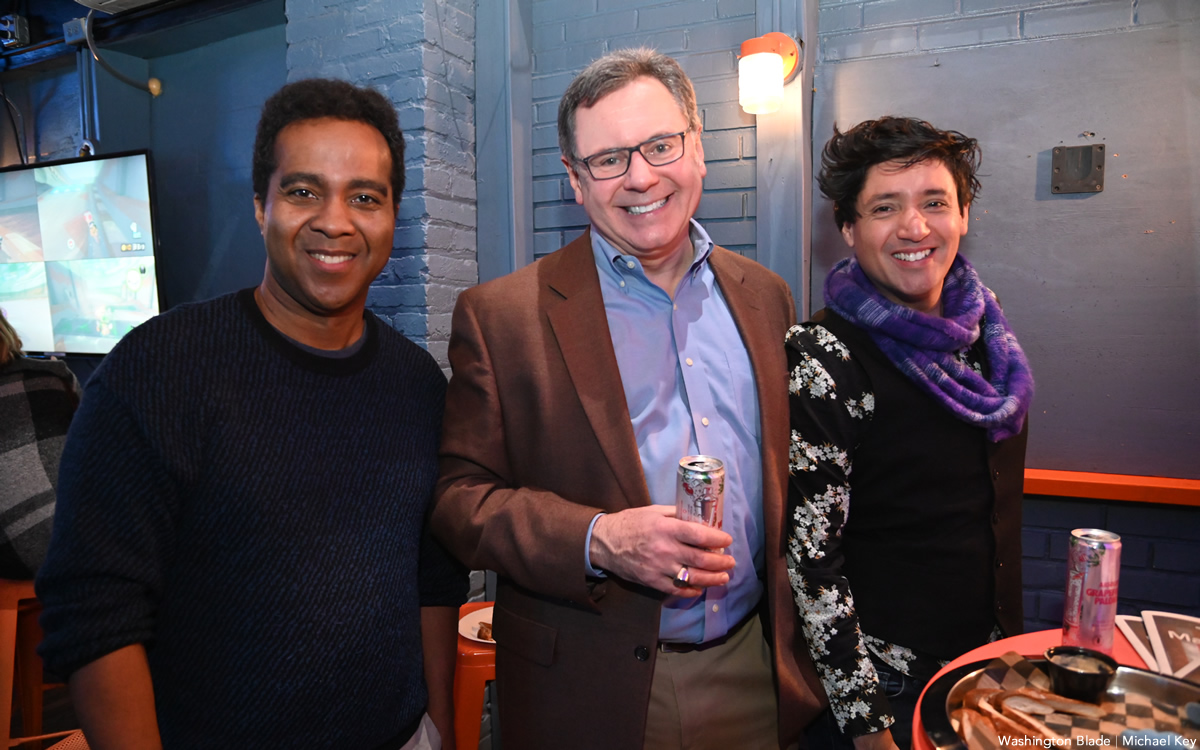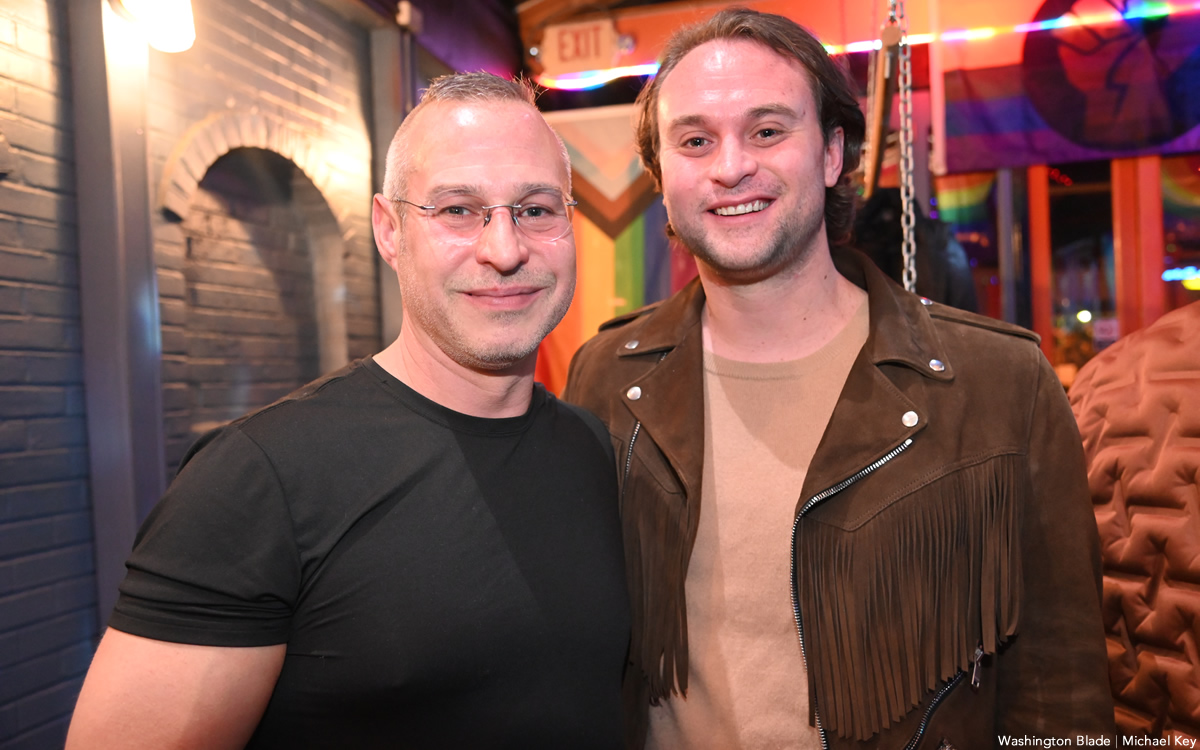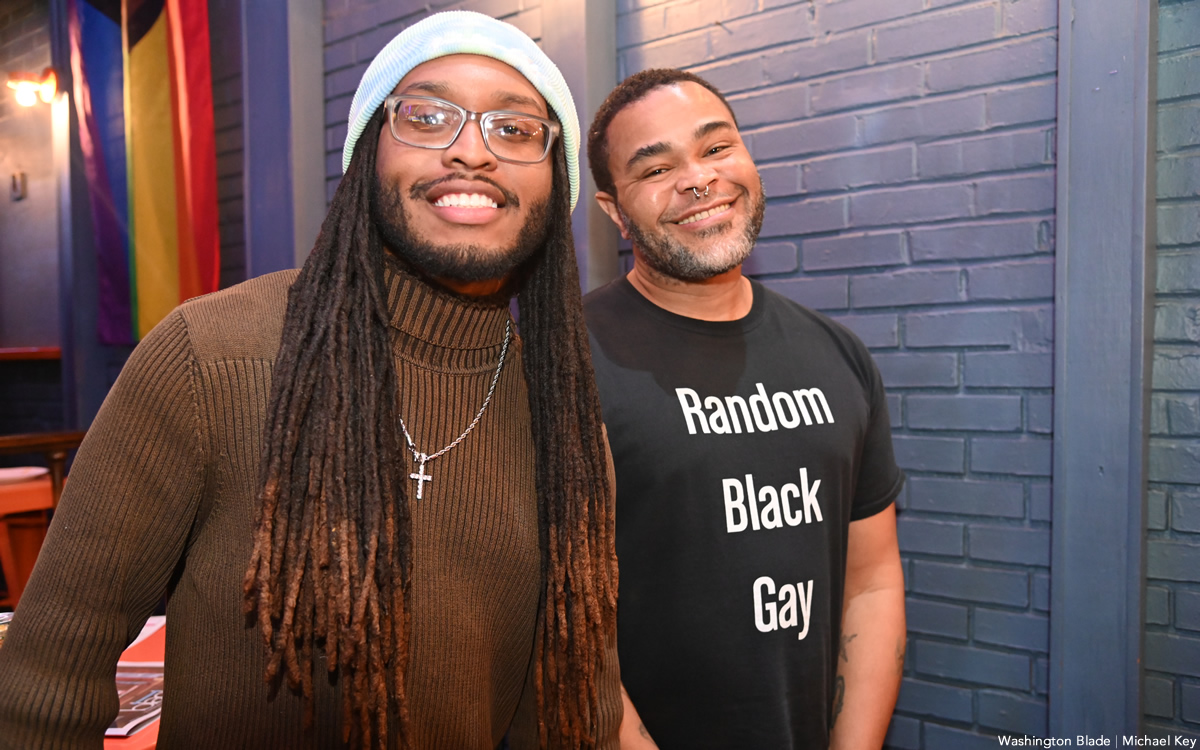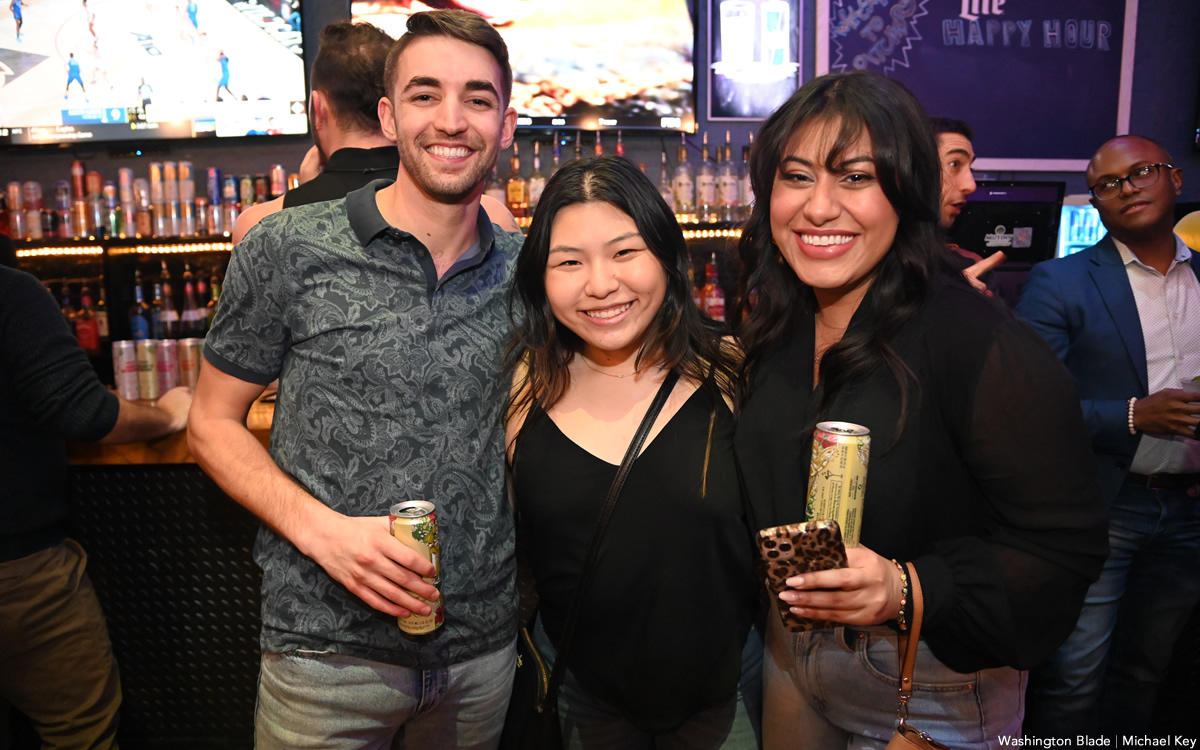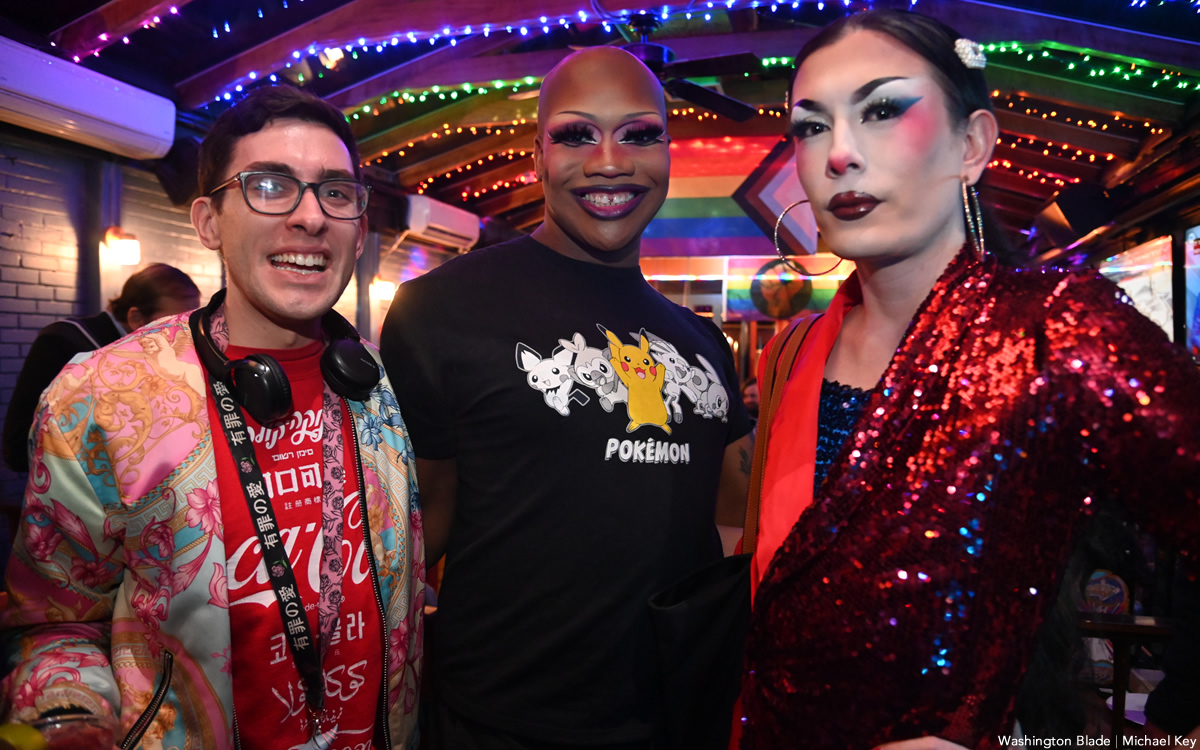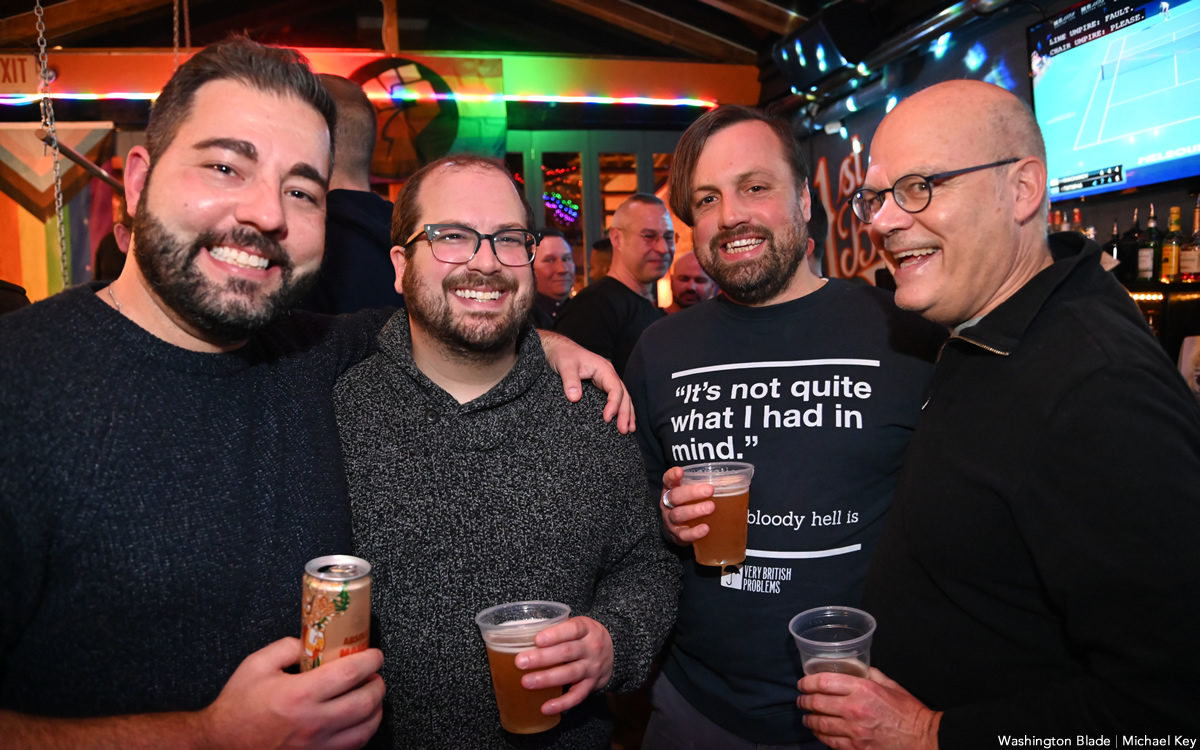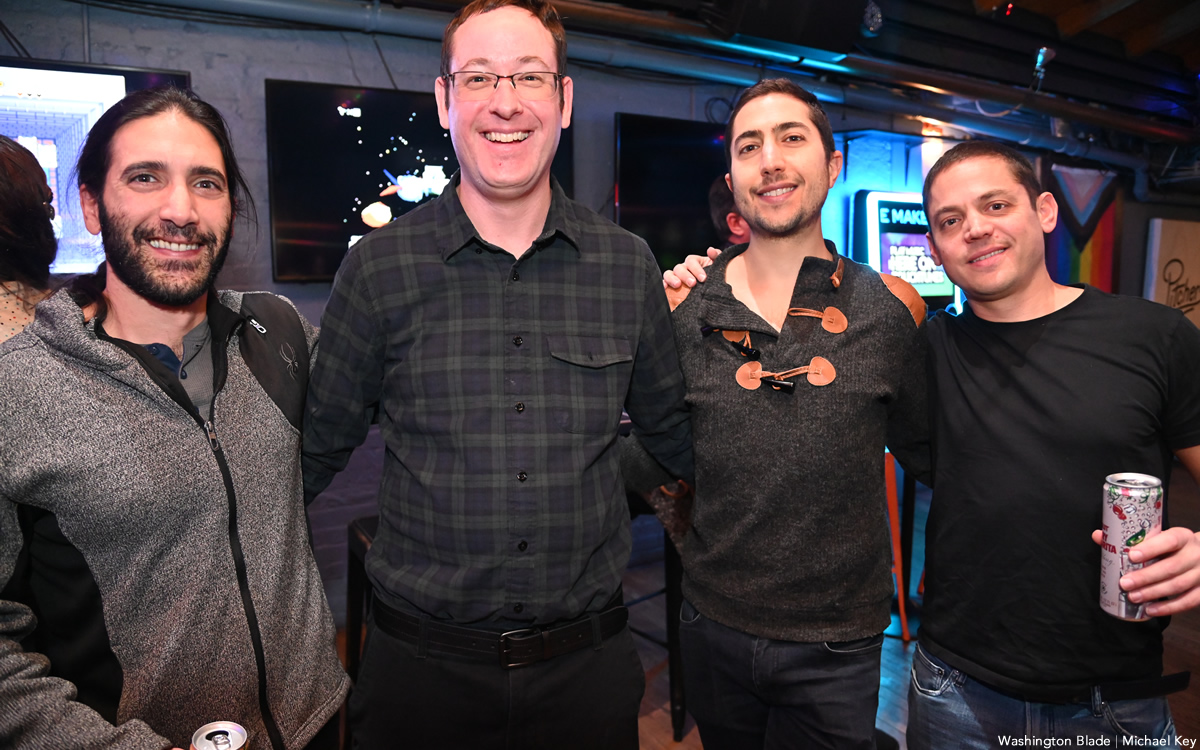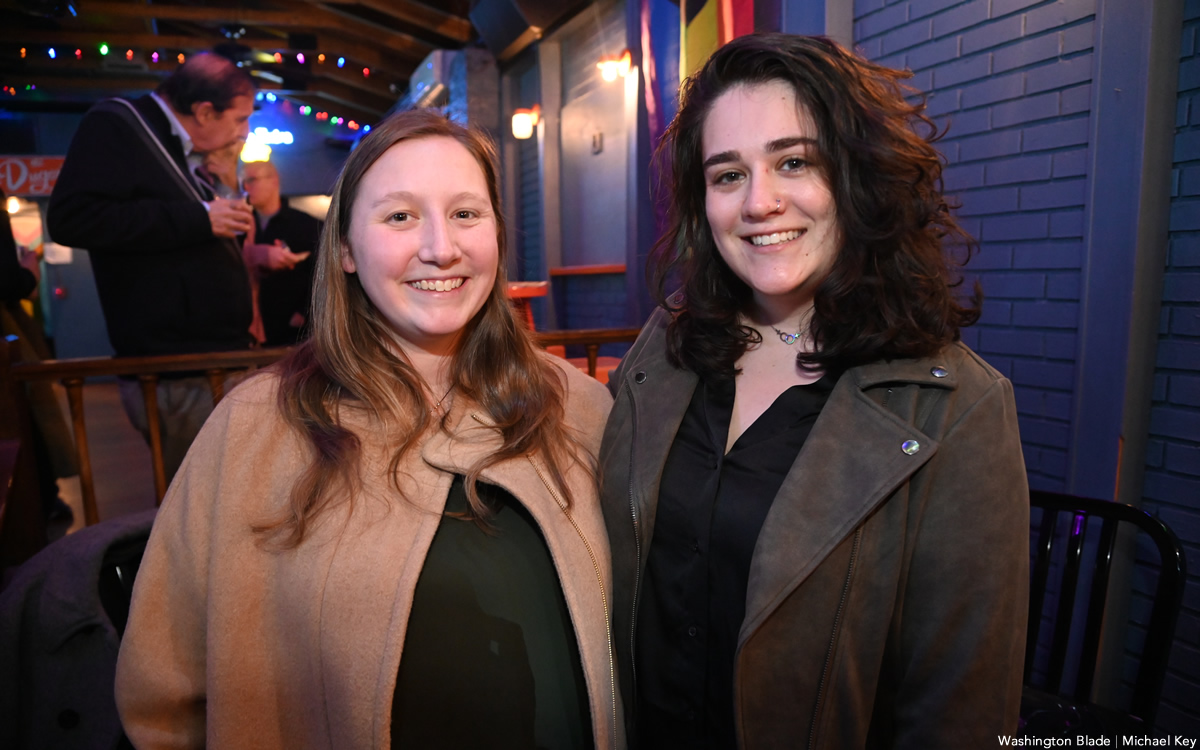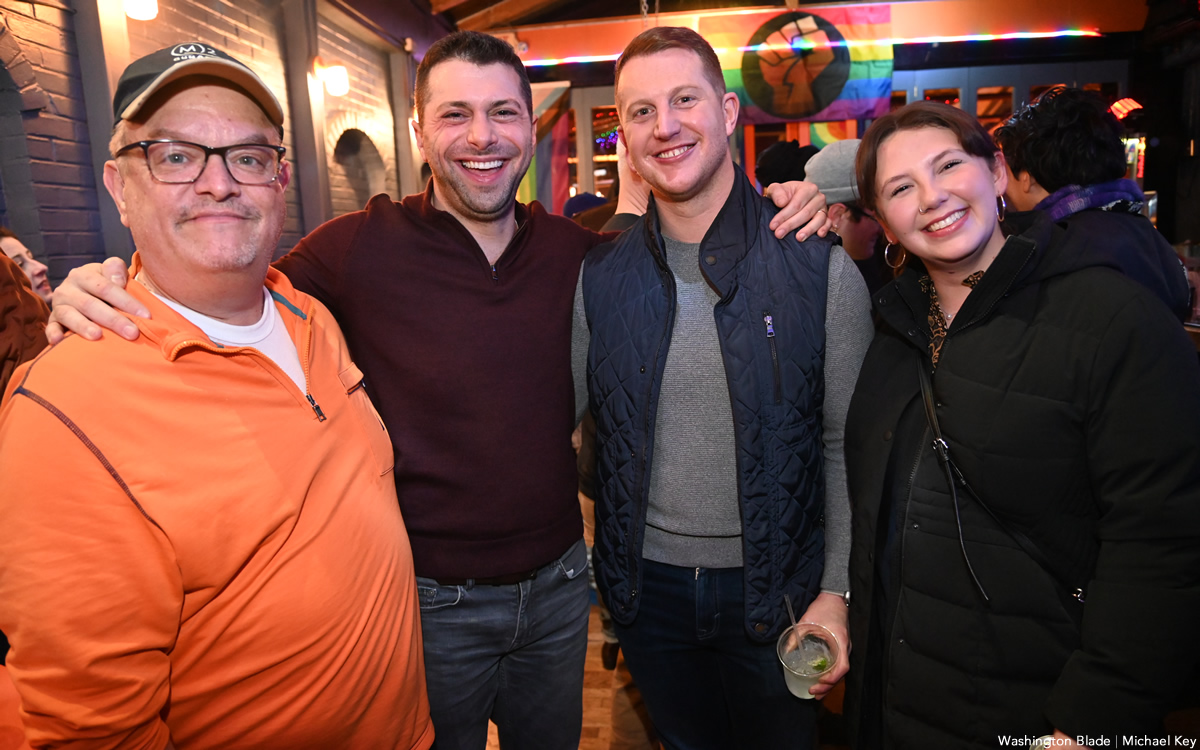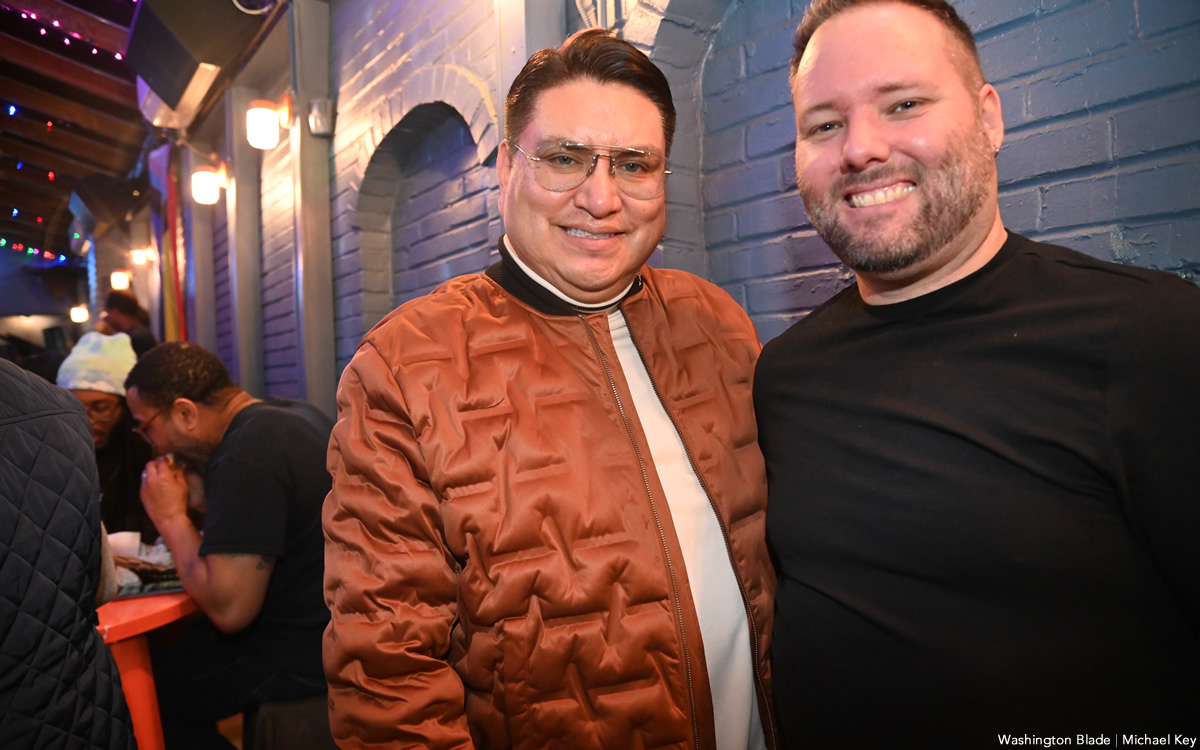 A balanced look at whether to have children
New book, 'So When are You Having Kids?' makes no judgments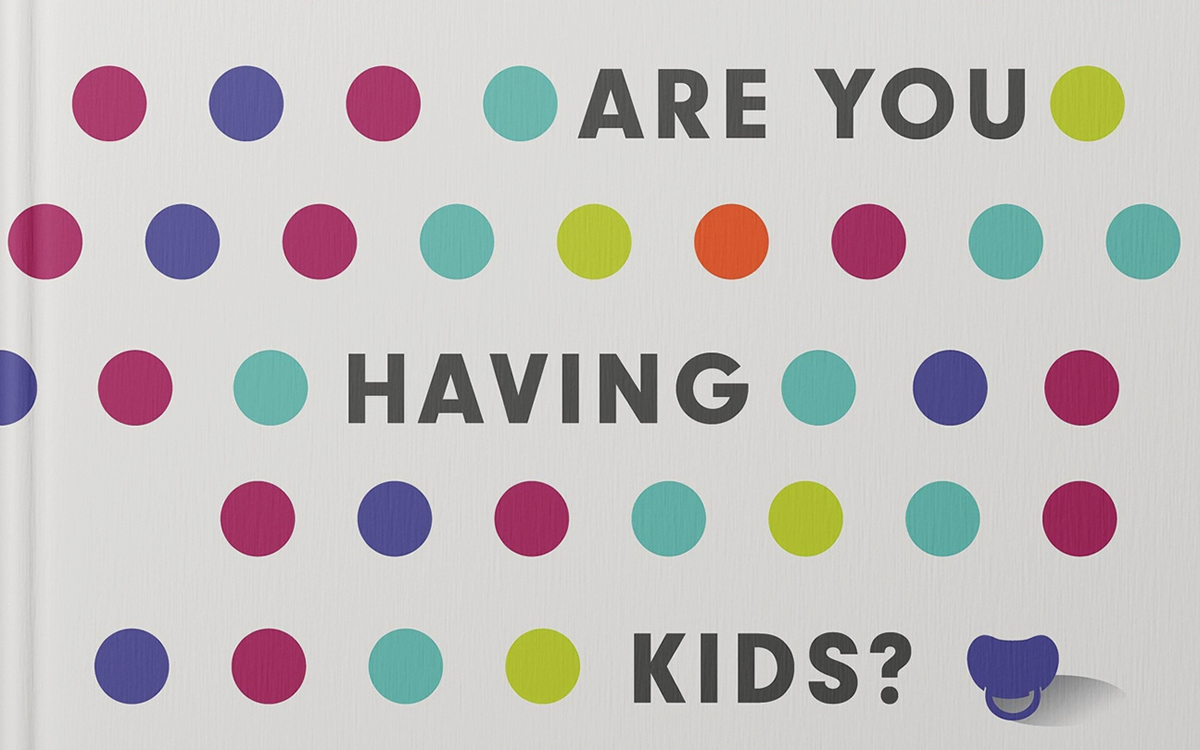 'So When are You Having Kids?'
By Jordan Davidson
c.2022, Sounds True, Macmillan
$28.99/356 pages
Your mother lingers way too long in the children's department.
She sighs over tiny suits and little sneakers, running her fingers along soft blankets, hugging plush animals. You know what she wants but you're not ready; she might be sure but you're not. Maybe baby for you or, with the new book "So When are You Having Kids?" by Jordan Davidson, maybe not.

It's the thorniest of decisions, "one of the biggest you'll ever make." It's personal, but even strangers want to know; the questions start in your 20s and end when you've acquiesced or aged, although having kids is not a given or a thing-by-committee. So how do you quiet the busybodies and make the right decision for yourself?
First, says Davidson, ask yourself if you even want children, and after you've looked inward, "it's worth looking outward" at expectations, culture, and things that "shape our understanding of parenthood." Ask around, to see why others had children but don't be surprised if you get cliches. Throw out the idea that children fulfill you or that they'll take care of you when you're old. Know that genetics, religion, and your parents' parenting styles will affect you; and that if you're queer or Black, there'll be other factors involved in having and raising a child.
Should you decide to the positive, you may still have reservations.
Don't give in to the romance of having kids; it's hard work, and expensive in both money and time. Remember that perceptions of good parenting have "shifted over time" and that having a childhood exactly like yours probably won't be an option for your kids. If you have a partner, communicate your thoughts, hopes, and divisions of household labor and childcare.
Finally, decide how you're going to become a parent. Will you give birth, choose IVF, adopt, foster, or kick the decision down the road?
Says Davidson, the mere ability to ask these questions and decide "is in many ways a privilege."
Chances are that if you hear a screaming baby, you have one of two reactions: you cringe and look for an exit, or you notice and shrug. Either way, "So When are You Having Kids?" is a book for you.
There are many, many parenting books on miles of shelves, and a number of books on being childless, but author Jordan Davidson pulls the two subjects together here with thoughtfulness, candor, inclusiveness, and a refreshing lack of judgment. This is a book that doesn't promise answers, though: it's meant to give readers – whether they want kids, don't, or are ambivalent – an in-one-place, balanced look at myths, truths, pros, cons, and rarely-considered points for an informed decision. It also, perhaps most importantly, offers comforting reminders that there is no right or wrong, no matter what Mom says.
"So When are You Having Kids?" is like having a big sister to bounce ideas with, or a break-out session in your living room. It's like asking Baby Maybe questions you didn't know you had. It's help when you need it in that department.
The Blade may receive commissions from qualifying purchases made via this post.
PHOTOS: SMYAL for the New Year
LGBTQ youth services organization holds fundraiser at Red Bear Brewing
The SMYAL Young Donors Committee held a fundraiser for the LGBTQ youth services organization Supporting and Mentoring Youth Advocates and Leaders (SMYAL) at Red Bear Brewing Company on Thursday, Jan. 26.
(Washington Blade photos by Michael Key)