Homocon was an affair to remember
Gay conservatives, Ann Coulter celebrate our fabulous freedom

It was an affair to remember. Last Saturday, GOProud hosted its Homocon event, appropriating a term that has been used derisively to describe gay conservatives. The event, which organizers plan to make annual, took place at the Manhattan apartment of Peter Thiel, the billionaire co-founder of Pay Pal, who is based in the Bay Area.
The purpose of the event was to welcome GOProud supporters in a New York City venue and also make a national splash. But controversy quickly ensued as controversial Ann Coulter was the featured speaker. The event was something to behold: lots of hot young volunteers wearing tight "freedom is fabulous" T-shirts (a phrase coined in this column and newspaper), even hotter bartenders and wait staff and an apartment that made me wish that I had co-founded Pay Pal.
As I mingled around the room, I met people from just about everywhere. I met three Canadians who flew into New York just for Homocon. Other folks who traveled for the event were a North Carolinian, a Brit and a few from Los Angeles. There were also a lot of people from the District, GOProud's home turf.
In sum, there were a lot of interesting people at the event, including a world-famous porn star. And, despite Esquire calling it a room of gay men, there were several women there. One of them was Margaret Hoover. She is a fabulous straight woman who is dedicated to marriage equality and is part of the American Foundation for Equal Rights. AFER's purpose is to achieve marriage equality and is funding Ted Olson and David Boies' court fight against Proposition 8.
Hoover had this to say about the event: "What's unique about GOProud, particularly this event, is that they are the only group that actively strives to engage their skeptics.  Debating Joe Farah and inviting Ann Coulter to speak demonstrates the best of the American system — that when we talk to each other reasonably, with respect and persistence, we can win hearts and minds. Hearts were changed at the World Net Daily Take America Back conference. With Ann, we listened and disagreed, but the effort to reach out instead of speaking in an echo chamber is remarkable."
And I also disagreed. Coulter went on a rant against gay marriage. She also does not like lesbians, as was demonstrated by her calling the Mississippi high schooler who wanted to take her girlfriend to the prom an "annoying lesbian." When Coulter says that she likes gays, she means gay males. But Coulter was only a small part of a bigger event.
Tammy Bruce, an author, Fox News commentator and lesbian feminist who ran the Los Angeles chapter of NOW for several years was at Homocon. We got a chance to chat in the hall of Thiel's apartment:
Jessica Lee: What was your overall reaction to the Homocon event tonight?
Tammy Bruce: I think it's terrific; it's our generation.
Lee: Can you define "our generation?"
Bruce: Our generation is we who are moving into our 40s and 50s and had to deal with AIDS and the ignorance on that issue. It is a generation that has moved from wanting more from government to realizing that maybe less government is the answer. As we get older, we have a sense that we are now in charge of our lives and the country. And while our lives are not necessarily easy, we are doing well because we are Americans. And we have to ask ourselves why we are doing well, especially being in New York today where Iranian leader Ahmadinijad has recently been. That reminds you of the power and importance of this nation and the power of importance of what we can do with it.
So our generation, and being a right of center gay, is about embracing who you are, knowing the importance of activism but also being respectful that we wake up first as Americans every day.
As we get older, we also see what works and was doesn't. We have learned that liberalism does not work. That is why, when someone like Barack Obama, who is my age, doesn't get it, something is wrong with that person.
Lee: Don't you also think that the young voters who embraced Obama had never seen the Carter years, gas rationing and stagflation, and take prosperity as a given?
Bruce: It is a younger generation, and just like every younger generation there is a whole host of things that they have missed. Our responsibility as people who have gone through certain things, going through the Carter years and the 70s and 80s, AIDS and the abortion wars — any time when any group wants to interfere with the nature of who we are and what we do, however that manifests, at first we worked on it thinking that government is the answer, but you find out as you get older that it is not. Whenever government gets involved not only does it get screwed up, but then they want more power. Then we lose our individual power. The only answer regardless of the economic situation is for people to be able to live the lives that they want to live: personally, in business and as entrepreneurs.
Lee: Tonight Ann Coulter made a comment that gays are high income and therefore should not complain about being discriminated against. Is that not the same argument that has been used against Jews for centuries?
Bruce: It is. And the interesting thing is that we do earn more money, because the system has forced us to be independent. Those who are more successful are more isolated from government controls and support and we find ways to make our lives better.
Lee: Because we can't rely on our families or the government?
Bruce: Exactly. And so when you look at that in a larger context, those who rely on government are still in poverty and hurting right now. It's not about being a Jew or being gay, it is about striking out on one's own. That is the thing that makes a person a success.
Lee: Which is what Jews have always had to do to survive.
Bruce: Exactly. So when you look at, historically, what works and what doesn't, we know what works. What works is small government, individual initiative and the American individualist sensibility. I think that bodes well for gay conservatives, because Americans really want what is best for their families and the future. Supporting gays might be at odds with their faith, or may not be, but the bottom line, especially with Obama, is that we now know that this nation is at risk, that we must work shoulder to shoulder, that we have more in common than not even though there are people who say otherwise.
I think tonight is very exciting because it highlights my generation that is the power generation that realizes what is important, what we need to do now, and it bodes well for the future. It also sends a very good message to young people: that there is a different way of doing things, and it is at least worth considering. And I think that a lot of people now are open to different ideas because what they were told was going to work with Barack Obama not only didn't, but it is destroying things that are very important in our lives.
Lee: And don't you think that when you give the government the power to help you, via ENDA or something similar, you also give the government the power to discriminate against you. And if you look at it, it is the federal government that does 99 percent of the discrimination against gay people.
Bruce: Well, exactly. If you are looking to the federal government you are looking to politicians and politicians only care about themselves. You can look at the Clintons—they did more damage to gay civil rights than any Republican ever in office. So politicians are politicians. No one is going to be our daddy. No one is going to be our savior but ourselves. As long as you look to the government to feel good about yourself in the morning, you're in trouble. As long as you are looking for someone else to help you, then you are putting off something that you have to do yourself.
Victory Fund honors Maine House speaker at D.C. conference
Ryan Fecteau is gay Catholic University alum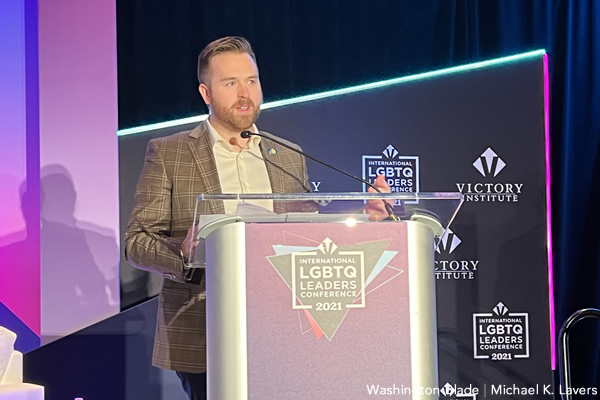 The Victory Fund on Saturday honored Maine House Speaker Ryan Fecteau on the last day of its International LGBTQ Leaders Conference in D.C.
Fecteau — an openly gay Catholic University of America alum — won a seat in the Maine House of Representatives in 2014. He became the chamber's speaker in 2018.
"Hate and intolerance will not derail us," said Fecteau after Florida state Rep. Carlos Guillermo Smith presented him with the Tammy Baldwin Breakthrough Award, which is named after U.S. Sen. Tammy Baldwin (D-Wis.). "Our community will not be intimidated."
The Victory Fund on Friday honored Guatemalan Congressman Aldo Dávila, a gay man who is living with HIV.
Victory Fund honors gay Guatemalan congressman at D.C. conference
Aldo Dávila a vocal critic of country's government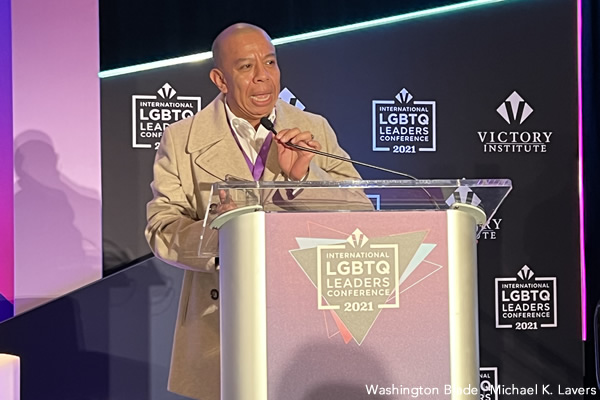 The Victory Fund on Friday honored an openly gay Guatemalan congressman who has faced death threats because of his efforts to fight corruption in his country.
Dávila — a member of the Winaq movement, a leftist party founded by Rigoberta Menchú, an indigenous human rights activist and Nobel Peace Prize winner — in 2019 became the first openly gay man elected to Guatemala's congress. Dávila, who also lives with HIV, had previously been the executive director of Asociación Gente Positiva, a Guatemala City-based HIV/AIDS service organization.
Supporters of President Alejandro Giammattei have lodged several formal complaints against Dávila after he publicly criticized the government over corruption, its response to the pandemic and other issues.
Three men on April 19 approached Dávila's vehicle near Guatemala's National Library and tried to rob him. One of Dávila's bodyguards shot one of the men, but the two other assailants fled the scene before police officers and passersby arrived.
Dávila told the Washington Blade in September during an interview at a Guatemala City hotel that he and his partner installed cameras in their apartment after someone killed their dog.
Two female police officers who arrived at the hotel with Dávila sat in the lobby while he spoke with the Blade. The government a few weeks later reduced his security detail.
"Guatemala is living through the worst democratic crisis in the last 40 years," said Dávila after he accepted the Victory Fund's Global Trailblazer Award at its 2021 International LGBTQ Leaders Conference that is taking place in-person at the JW Marriott in downtown D.C. "Guatemala right now is being paralyzed by corruption and impunity and my voice is uncomfortable because of this."
Dávila became emotional at the end of his remarks.
"I will keep fighting for our rights," he said.
Comings & Goings
Nathanson takes role at Outright Action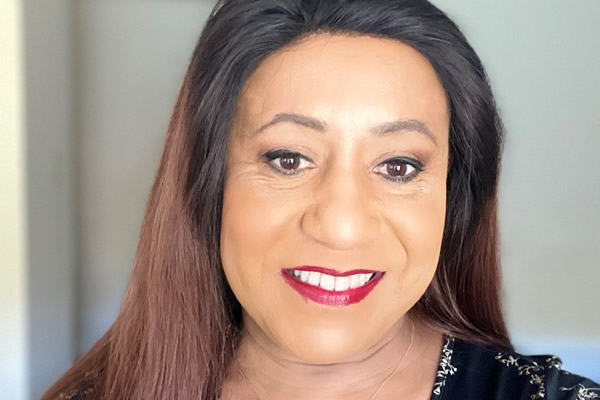 The Comings & Goings column is about sharing the professional successes of our community. We want to recognize those landing new jobs, new clients for their business, joining boards of organizations and other achievements. Please share your successes with us at: [email protected]
The Comings & Goings column also invites LGBTQ+ college students to share their successes with us. If you have been elected to a student government position, gotten an exciting internship, or are graduating and beginning your career with a great job, let us know so we can share your success.
Congratulations to Rikki Nathanson on her new position as Senior Advisor – Global Trans Program with OutRight Action International in New York. Nathanson will be based in D.C.
"I am absolutely thrilled to be taking on this new role as Senior Advisor in OutRight's Global Trans Program," said Nathanson. "I have finally found the perfect fit for me: as a trans woman who has been fighting for equality not only for myself, but for others globally, this position is not only a job, it's intrinsically part of who I am. So, what better way to live, nurture and grow myself."
Nathanson will be working closely with all program staff to ensure a cohesive and intentional approach to gender issues throughout OutRight's programs, including its approach to gender ideology movements. She will lead new initiatives on gender advocacy and policy change, focused but not limited to legal gender recognition and anti-discrimination legislation and policies.
Prior to this Nathanson was director of housing programs at Casa Ruby in D.C. She has also held a number of other positions including: founder/executive director of Trans Research, Education, Advocacy & Training (TREAT), Zimbabwe; chairperson Southern Africa Trans Forum, SATF, Cape Town, South Africa; executive director, Ricochet Modeling Agency, Zimbabwe; and company secretary for Dunlop Zimbabwe Limited, Zimbabwe.