A passion for fashion
Gay 'Project Runway' alum to show collection at new Va. event

Ra'mon Lawrence Coleman collection

Oct. 23, 8 p.m.

Waterfront Park

1A Prince St.

Alexandria, VA 22314

$10-$50

Tickets are here.
Fashionistas, get ready for the runway. And don't be thinking now about autumn/winter, but spring/summer, for fashion is always forward looking.
The second annual NOVA Fashion Week is Oct. 21 to 24 in Old Town Alexandria and designers from near and far will flock here along with buyers and the media. The entire D.C. region is beginning to make its fashion imprint felt, from Chevy Chase's "Rodeo Drive" of luxury retailers to similar offerings of Sak's Fifth Avenue and Neiman Marcus at Tysons Corner.
So the buzz is on and organizers hope this event will help establish the region as the next big place for fashion, buyers, customers and investors in new talent.
Thus it should be no surprise that new this year among designers showing their spring/summer 2011 collections at NOVA Fashion Week is 32-year-old Ra'mon Lawrence Coleman, a bright star among young designers with a flair for the bold and edgy but also fine hand detailing and impeccable construction. Coleman, who's gay, describes himself as "a perpetual student." He's a whirlwind of energy who began his journey growing up in one of Chicago's predominantly black neighborhoods on the South Side in a single-parent home with his mother, a teacher.
"I certainly wasn't interested in fashion," he says, but he acknowledges he had "a weird artistic side" and was "inclined toward musical theatre and art."
From a pre-teen love of science and math, however, stemmed a decision to plan for pre-med studies and a career in neurological surgery, an ambition partly sparked from his mother who he says "liked the idea of saying 'my son, the doctor.'"
A precocious high school graduate at age 15, Ra'mon (friends call him "Ray") entered the University of Iowa on an all-expenses scholarship to major in biology, firmly ensconced on a pre-med path.
But Ra'mon says during his senior year "my next stop was med school … I had to do some critical thinking and self-analysis, and I couldn't say 'yes' to the next step." Could he really be passionate about medicine? The answer was no.
Though he earned his bachelor's in biology, his love for theater and the arts had cast a spell over him and his laboratory focus on anatomy simply shifted from the physiological to the aesthetic. Instead of the healing arts he would choose a focus on assessing how "fabric can drape the body" in interpretations of human form and texture.
From Iowa City he moved on to the School of the Art Institute of Chicago.
"At first, I wasn't sure of what I wanted to do," he says. "Maybe something theatrical but then I learned they didn't have a costume design program at SAIC."
But they did have a program in fashion design. He created costumes for a performance piece and discovered he had an easy flair for tailoring. He entered the school's fashion design program and went on to earn two degrees in both fine arts and performing arts.
Ra'mon's next step was to head uptown for a design assistant job at the Price Walton Couture Lab, a design studio known to cater to the fashion forward.
"It was an eye-opening experience for me," he says, because Price Walton was "very client-oriented, for people who want your name (as a designer) but they also want what they want."
He could see first hand the whims of customers seeking "very specific and high-end designs," such as for custom-ordered evening wear for Chicago socialites and politicians.
Ra'mon's assignments were to organize trims and hand-embellish custom-made handbags but also menial tasks like cleaning the studio. He would spend hours analyzing the pattern scraps he swept up from the workspace floors and would then match each scrap to its finished counterpart.
Following his early apprenticeship there, he bounced around the four world "fashion capitals" — London, Paris, Milan, and then a stint as an intern in New York City at Gary Graham, a New York design house. Under Graham, he created jeans and a bustier that Britney Spears wore on an album cover.
But his first real step onto the fashion stage came in Washington in 2002 when the Black Fashion Museum named him apparel designer of the year, based on what he now calls his "first real novice show," one he did in Chicago that was part of his junior year thesis at SAIC, a collection he called "Nefertiti's Lament." An homage to the beauteous wife  of the Egyptian Pharaoh Akhenaton, Ra'mon says today that "my collection was based on my idea of what I would offer Nefertiti as a woman."
"She was an empowered figure of her time," he says, and in tribute to her feminine power Ra'mon created a look in silks and chiffons that made a real mark.
"It was my first exploration of architectural silhouettes," he says, and even included one garment where "the sleeve is also the hem … it's one of those things where you just have to see it to believe it."
In 2004, Ra'mon came to Minneapolis to be an associate designer for Target's Massimo label, which he has described as "a very long training course," staying there for five years learning what he calls "fashion for the mass market."
While at Target, during a Twin Cities fashion week in April 2008, he also launched a line of his own creations in his "Eluded Love" solo show featuring 52 looks with muted mauves and creams, sculptural shapes and with a remarkable range from ornate beading on an evening shift dress to hand finishing on a sheer T-shirt, and even safari-esque menswear.
But in September 2008, he left Target to compete on reality TV and take his chances on season six of "Project Runway" with the sudden-death eliminations and often absurdist design challenges under the judging of supermodel Heidi Klum with Tim Gunn as mentor to the aspiring designers. The glittering first prize was $100,000 to start a line of clothing and an all-expenses-paid trip for two to Paris. The shows aired on the Lifetime cable network beginning a year later in the fall of 2009.
Ra'mon started off strong in the competition, looking like a favorite to make it to the finals, scoring a "high" in one competition, to design a dress for a red-carpet event on a $200 budget, and ended the third episode with a "win" from a competition to create fashionable surfer-inspired beachwear.
He held his own through two more rounds, but his luck ran out in the sixth face-off when the judges declared that he flubbed the assignment to create a movie character inspired by the science-fiction genre.
"I took a risk," Ra-mon says, "and it was the least impressive design that I have ever done, but I respect the decision." At the time, however, he was "utterly shocked, because I had won other challenges."
More recently, he has moved on to tackle design assignments for the Mudd label for Kohl's, the giant mid-priced department store chain, and has also showed a spring 2010 collection during New York's fashion week. But now comes the next hurdle — his spring/summer 2011 collection for both men and women's wear for NOVA Fashion Week. He has named his collection "Give Them Grace," based, he says, around Grace Jones, the actress and performer he calls "an iconic, androgynous figure."
His colors will be "a little bit more bold," he says, "not muted at all but bright and vibrant," and with a "punchy" pizzazz that he calls "pop-y" and "a hybrid of everything — from a futuristic spin forecasting a look for the year 2033, to a more ethnic look, but more abstract."
He'll also showcase a menswear collection (another was last year in New York), showing what he calls "a sense of androgyny without being at all feminine."
"I like to be edgy," he says. "That might even be uncomfortable for people to look at, but I am what I like to think of as a thinking designer."
He sees "fashion everywhere — in pop culture, in music, in movies," no longer the remote and closed-off preserve of a Vogue magazine clientele much less the haute couture (French for "high dressmaking") of Paris ateliers with all custom-fitted, hand-sewn, one-of-a-kind and prohibitively expensive designs.
"I feel very fortunate right now," says Ra'mon, who remains based with his design studio in Minneapolis. "I design for someone very opinionated, someone who is not shy in a crowd and who wants to make a statement but in a very affordable way.
Whether they can spend $50 or $5,000 the trends are the same. They want the same things, but within their budget, and as a designer you need to understand that just because someone has less money does not mean they want to have less quality. I have done mass market and high end, but my label is right in the middle."
His current price tags range from $75 for a knit top to as high as $3,000 for custom-designed eveningwear. His label was in two stores in Minneapolis but he has discontinued that arrangement and is hoping now to find a retail base in New York City, Los Angeles and Chicago — and maybe also the D.C. area, using NOVA Fashion Week as a springboard.
Fashion Week is at 1A Prince Street in Old Town Alexandria, across from National Harbor. The event's proceeds go to three charities: the Lupus Foundation of America, Susan G. Komen for the Cure and Baby Haven. Tickets to see the new Ra'mon Lawrence Coleman collection, to be shown Oct. 23 at 8 p.m., range from $50 for the front row to $10 for the back row and are on sale here.
Disco Funk Brunch at Crazy Aunt Helen's
Tara Hoot and DJ Phil Reese perform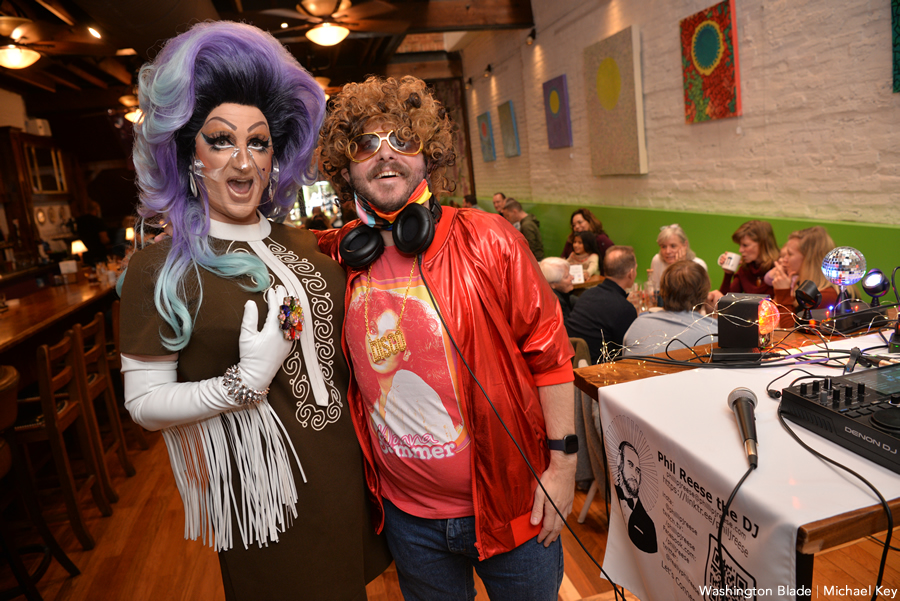 Drag queen Tara Hoot and DJ Phil Reese perform at the biweekly Disco Funk Brunch at the LGBT-owned Crazy Aunt Helen's on Sunday. For future showtimes, go to crazyaunthelens.com. (Blade photo by Michael Key)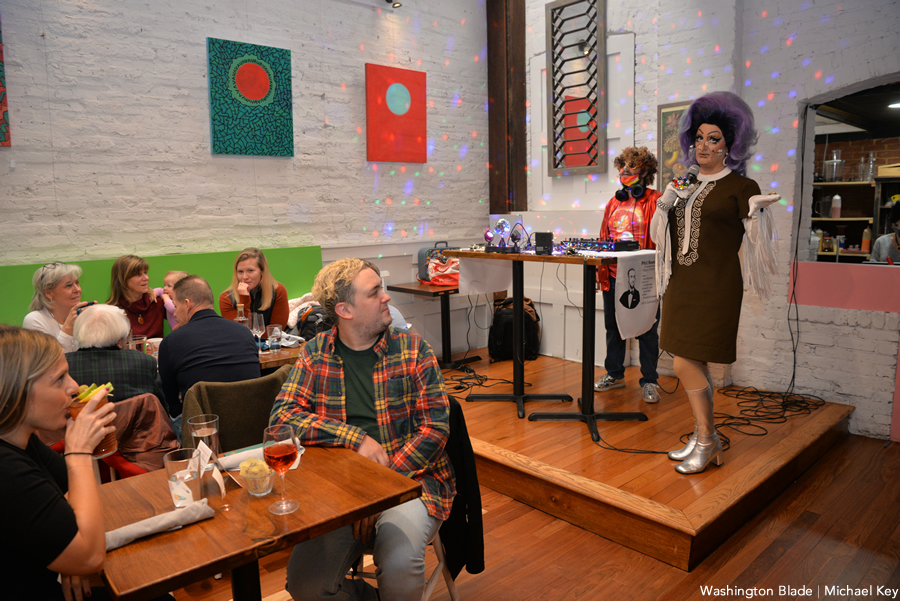 Blade's summer closing party set for Sept. 17 in Rehoboth
Benefits journalism scholarship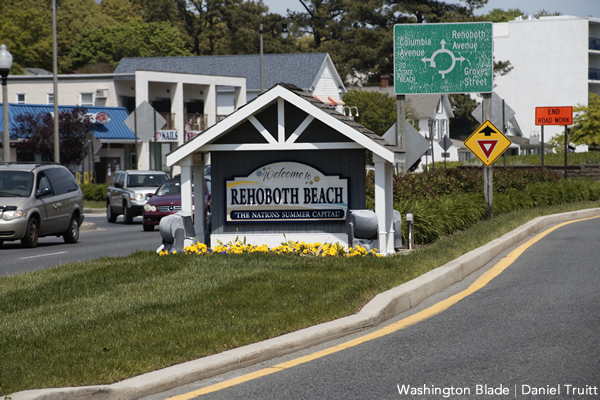 The Washington Blade's 15-year tradition of hosting a summer kickoff party in Rehoboth Beach was disrupted due to COVID restrictions. In lieu of that May event, the Blade is hosting a summer closing party on Friday, Sept. 17 at 6 p.m. at The Pines (56 Baltimore Ave., Rehoboth Beach, Del.).
Tickets are $20, which includes two drinks and appetizers. The event benefits the Blade Foundation's Steve Elkins Memorial Journalism Fellowship, a 12-week program in which an LGBTQ student journalist covers stories of interest to Delaware's queer community each summer.
All COVID safety protocols will be followed, including a requirement that attendees furnish proof of vaccination to gain entry.
If you are unable to attend you can make a donation to the Blade Foundation at BladeFoundation.org. Sponsors of the event include Delmarva Power and The Pines.
Rehoboth to close out summer with SunFest
Series of events to replace long-running Sundance due to pandemic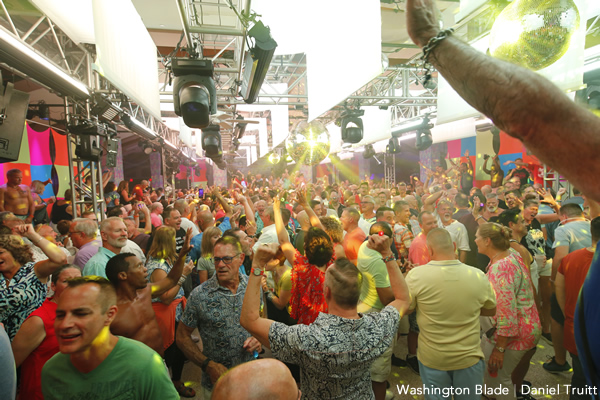 SunFest will feature a week of live performances, dances, and a live auction, sponsored by non-profit LGBTQ+ center CAMP Rehoboth.
The weeklong festival runs from Aug. 29 to Sept. 5 and is a change from the annual SunDance that CAMP Rehoboth has sponsored since 1988. This transformation began last year when the event was forced to go digital due to the coronavirus and the in-person events scheduled this year are important, according to development director and co-coordinator of SunFest Anita Broccolino.
"We love that community feel and the in-person makes all the difference in the world for us. Not being able to do it last year just reminded everyone how important we all are to one another," Broccolino said. "I think that bringing back these events this year is just huge for us and it will be extra celebratory as a result."
The festival begins with a 5k race and online auction opening on Sunday. Monday night features a give-back event at Iron Hill Brewery while Tuesday's agenda is still to be determined, said Broccolino. Diego's will host a Studio 54 give-back dance party on Wednesday and Thursday is the Port 251 women's give-back.
Live performances featuring the Skivvies, Randy Harrison and Diane Huey are scheduled for Friday night and Jennifer Holiday will follow with a performance on Saturday night, both at the Rehoboth Beach Convention Center. The festival closes out Sunday with auction pick-ups and Fun in the Sand and Sun, according to the CAMP Rehoboth website.
This event is also important to the organization's contributions to the community, said Broccolino.
"The essential services we provide for free to the community, which is a huge amount of health and wellness activities, as well as arts programming, a lot of youth programming and the community counts on us for those things. We never stopped during COVID, we made as much as we could virtual, but we took quite a hit not being able to raise those funds and awareness of the programs," Broccolino said. "We invite the entire community to come celebrate with us and make it to Rehoboth Beach, and let's make it joyful, and wonderful and make sure we're living up to the standards of all the people who helped found CAMP Rehoboth and live up to their legacy and beyond."