A passion for fashion
Gay 'Project Runway' alum to show collection at new Va. event

Ra'mon Lawrence Coleman collection

Oct. 23, 8 p.m.

Waterfront Park

1A Prince St.

Alexandria, VA 22314

$10-$50

Tickets are here.
Fashionistas, get ready for the runway. And don't be thinking now about autumn/winter, but spring/summer, for fashion is always forward looking.
The second annual NOVA Fashion Week is Oct. 21 to 24 in Old Town Alexandria and designers from near and far will flock here along with buyers and the media. The entire D.C. region is beginning to make its fashion imprint felt, from Chevy Chase's "Rodeo Drive" of luxury retailers to similar offerings of Sak's Fifth Avenue and Neiman Marcus at Tysons Corner.
So the buzz is on and organizers hope this event will help establish the region as the next big place for fashion, buyers, customers and investors in new talent.
Thus it should be no surprise that new this year among designers showing their spring/summer 2011 collections at NOVA Fashion Week is 32-year-old Ra'mon Lawrence Coleman, a bright star among young designers with a flair for the bold and edgy but also fine hand detailing and impeccable construction. Coleman, who's gay, describes himself as "a perpetual student." He's a whirlwind of energy who began his journey growing up in one of Chicago's predominantly black neighborhoods on the South Side in a single-parent home with his mother, a teacher.
"I certainly wasn't interested in fashion," he says, but he acknowledges he had "a weird artistic side" and was "inclined toward musical theatre and art."
From a pre-teen love of science and math, however, stemmed a decision to plan for pre-med studies and a career in neurological surgery, an ambition partly sparked from his mother who he says "liked the idea of saying 'my son, the doctor.'"
A precocious high school graduate at age 15, Ra'mon (friends call him "Ray") entered the University of Iowa on an all-expenses scholarship to major in biology, firmly ensconced on a pre-med path.
But Ra'mon says during his senior year "my next stop was med school … I had to do some critical thinking and self-analysis, and I couldn't say 'yes' to the next step." Could he really be passionate about medicine? The answer was no.
Though he earned his bachelor's in biology, his love for theater and the arts had cast a spell over him and his laboratory focus on anatomy simply shifted from the physiological to the aesthetic. Instead of the healing arts he would choose a focus on assessing how "fabric can drape the body" in interpretations of human form and texture.
From Iowa City he moved on to the School of the Art Institute of Chicago.
"At first, I wasn't sure of what I wanted to do," he says. "Maybe something theatrical but then I learned they didn't have a costume design program at SAIC."
But they did have a program in fashion design. He created costumes for a performance piece and discovered he had an easy flair for tailoring. He entered the school's fashion design program and went on to earn two degrees in both fine arts and performing arts.
Ra'mon's next step was to head uptown for a design assistant job at the Price Walton Couture Lab, a design studio known to cater to the fashion forward.
"It was an eye-opening experience for me," he says, because Price Walton was "very client-oriented, for people who want your name (as a designer) but they also want what they want."
He could see first hand the whims of customers seeking "very specific and high-end designs," such as for custom-ordered evening wear for Chicago socialites and politicians.
Ra'mon's assignments were to organize trims and hand-embellish custom-made handbags but also menial tasks like cleaning the studio. He would spend hours analyzing the pattern scraps he swept up from the workspace floors and would then match each scrap to its finished counterpart.
Following his early apprenticeship there, he bounced around the four world "fashion capitals" — London, Paris, Milan, and then a stint as an intern in New York City at Gary Graham, a New York design house. Under Graham, he created jeans and a bustier that Britney Spears wore on an album cover.
But his first real step onto the fashion stage came in Washington in 2002 when the Black Fashion Museum named him apparel designer of the year, based on what he now calls his "first real novice show," one he did in Chicago that was part of his junior year thesis at SAIC, a collection he called "Nefertiti's Lament." An homage to the beauteous wife  of the Egyptian Pharaoh Akhenaton, Ra'mon says today that "my collection was based on my idea of what I would offer Nefertiti as a woman."
"She was an empowered figure of her time," he says, and in tribute to her feminine power Ra'mon created a look in silks and chiffons that made a real mark.
"It was my first exploration of architectural silhouettes," he says, and even included one garment where "the sleeve is also the hem … it's one of those things where you just have to see it to believe it."
In 2004, Ra'mon came to Minneapolis to be an associate designer for Target's Massimo label, which he has described as "a very long training course," staying there for five years learning what he calls "fashion for the mass market."
While at Target, during a Twin Cities fashion week in April 2008, he also launched a line of his own creations in his "Eluded Love" solo show featuring 52 looks with muted mauves and creams, sculptural shapes and with a remarkable range from ornate beading on an evening shift dress to hand finishing on a sheer T-shirt, and even safari-esque menswear.
But in September 2008, he left Target to compete on reality TV and take his chances on season six of "Project Runway" with the sudden-death eliminations and often absurdist design challenges under the judging of supermodel Heidi Klum with Tim Gunn as mentor to the aspiring designers. The glittering first prize was $100,000 to start a line of clothing and an all-expenses-paid trip for two to Paris. The shows aired on the Lifetime cable network beginning a year later in the fall of 2009.
Ra'mon started off strong in the competition, looking like a favorite to make it to the finals, scoring a "high" in one competition, to design a dress for a red-carpet event on a $200 budget, and ended the third episode with a "win" from a competition to create fashionable surfer-inspired beachwear.
He held his own through two more rounds, but his luck ran out in the sixth face-off when the judges declared that he flubbed the assignment to create a movie character inspired by the science-fiction genre.
"I took a risk," Ra-mon says, "and it was the least impressive design that I have ever done, but I respect the decision." At the time, however, he was "utterly shocked, because I had won other challenges."
More recently, he has moved on to tackle design assignments for the Mudd label for Kohl's, the giant mid-priced department store chain, and has also showed a spring 2010 collection during New York's fashion week. But now comes the next hurdle — his spring/summer 2011 collection for both men and women's wear for NOVA Fashion Week. He has named his collection "Give Them Grace," based, he says, around Grace Jones, the actress and performer he calls "an iconic, androgynous figure."
His colors will be "a little bit more bold," he says, "not muted at all but bright and vibrant," and with a "punchy" pizzazz that he calls "pop-y" and "a hybrid of everything — from a futuristic spin forecasting a look for the year 2033, to a more ethnic look, but more abstract."
He'll also showcase a menswear collection (another was last year in New York), showing what he calls "a sense of androgyny without being at all feminine."
"I like to be edgy," he says. "That might even be uncomfortable for people to look at, but I am what I like to think of as a thinking designer."
He sees "fashion everywhere — in pop culture, in music, in movies," no longer the remote and closed-off preserve of a Vogue magazine clientele much less the haute couture (French for "high dressmaking") of Paris ateliers with all custom-fitted, hand-sewn, one-of-a-kind and prohibitively expensive designs.
"I feel very fortunate right now," says Ra'mon, who remains based with his design studio in Minneapolis. "I design for someone very opinionated, someone who is not shy in a crowd and who wants to make a statement but in a very affordable way.
Whether they can spend $50 or $5,000 the trends are the same. They want the same things, but within their budget, and as a designer you need to understand that just because someone has less money does not mean they want to have less quality. I have done mass market and high end, but my label is right in the middle."
His current price tags range from $75 for a knit top to as high as $3,000 for custom-designed eveningwear. His label was in two stores in Minneapolis but he has discontinued that arrangement and is hoping now to find a retail base in New York City, Los Angeles and Chicago — and maybe also the D.C. area, using NOVA Fashion Week as a springboard.
Fashion Week is at 1A Prince Street in Old Town Alexandria, across from National Harbor. The event's proceeds go to three charities: the Lupus Foundation of America, Susan G. Komen for the Cure and Baby Haven. Tickets to see the new Ra'mon Lawrence Coleman collection, to be shown Oct. 23 at 8 p.m., range from $50 for the front row to $10 for the back row and are on sale here.
Labor Day sees return of SunFestival to Rehoboth Beach
DJs, live auction, comedy and more planned for end-of-summer bash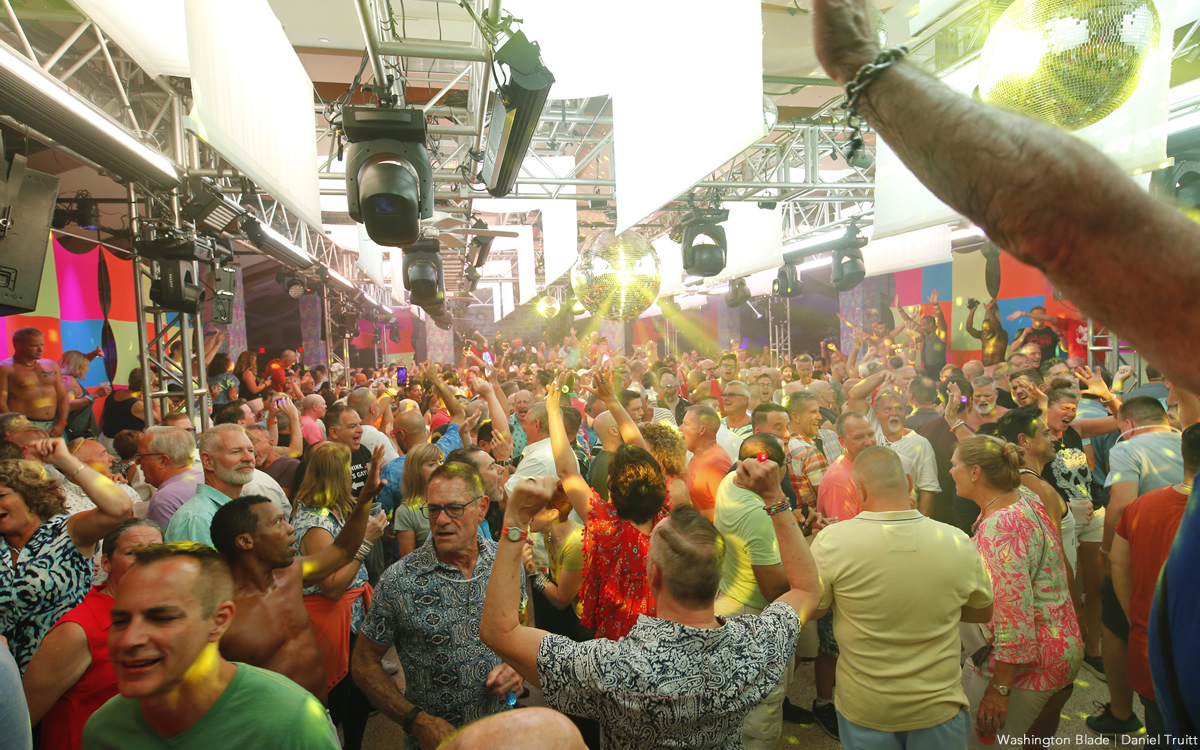 Labor Day Weekend in Rehoboth Beach brings more than the end of summer — it brings the annual SunFestival celebration benefitting CAMP Rehoboth.
The weekend promises two nights of revelry with entertainers and nationally known DJs creating the "ultimate party to close out summer" Sept. 2-3.
Saturday's $45 general admission tickets are sold out but you can join a waitlist at the event's website. That ticket grants you access to a comedy show and an auction where you can bid on six experiences like an eight-day boat tour through Belgium and the Netherlands or a week's stay in Lisbon, Portugal. Organizations have donated these experiences to CAMP to auction off, with all proceeds going to the organization.
The $95 pass to both nights is also sold out. But general admission tickets for the Sept. 3 dance party starting at 7 p.m. with DJs Robbie Leslie and Joe Gauthreaux remain available. CAMP Rehoboth promises a "state-of-the-art club-like atmosphere," with new design elements and video imaging.
Visit camprehoboth.com for tickets and more information. The weekend's schedule is below:
Saturday, Sept. 2: A Night of Comedy, Drag, and Song, plus a LIVE Auction! (Doors Open at 6:30 p.m. Auction and show promptly start at 7:30 p.m.) Featuring Dixie Longate and Randy Roberts.
Serving up Tupperware lady realness, join in Dixie's living room party and all its hilarity. Randy Roberts brings thrills with uncanny impersonations of iconic female vocalists and cabaret.
Experience a night filled with laughter and song as these talented performers will lift your spirits and tickle your funny bone. And not to be missed: the live auction. Check out the live auction items camprehoboth.com/sunfest2023live.
Sunday Sept. 3: A Night of Dance. (Doors open at 7 p.m. Dance ends at 1 a.m.) Featuring DJ Robbie Leslie and DJ Joe Gauthreaux.
Both DJs will offer an unforgettable musical journey starting with classic mirror ball memories, dance floor anthems, and the latest club beats, according to a CAMP Rehoboth statement. Events are held at the Rehoboth Beach Convention Center, which CAMP promises will be transformed "into the ultimate dance party to close out the summer."
There's a tea party in town — and it's for the ladies
Hank's Oyster Bar holds event in Dupont Circle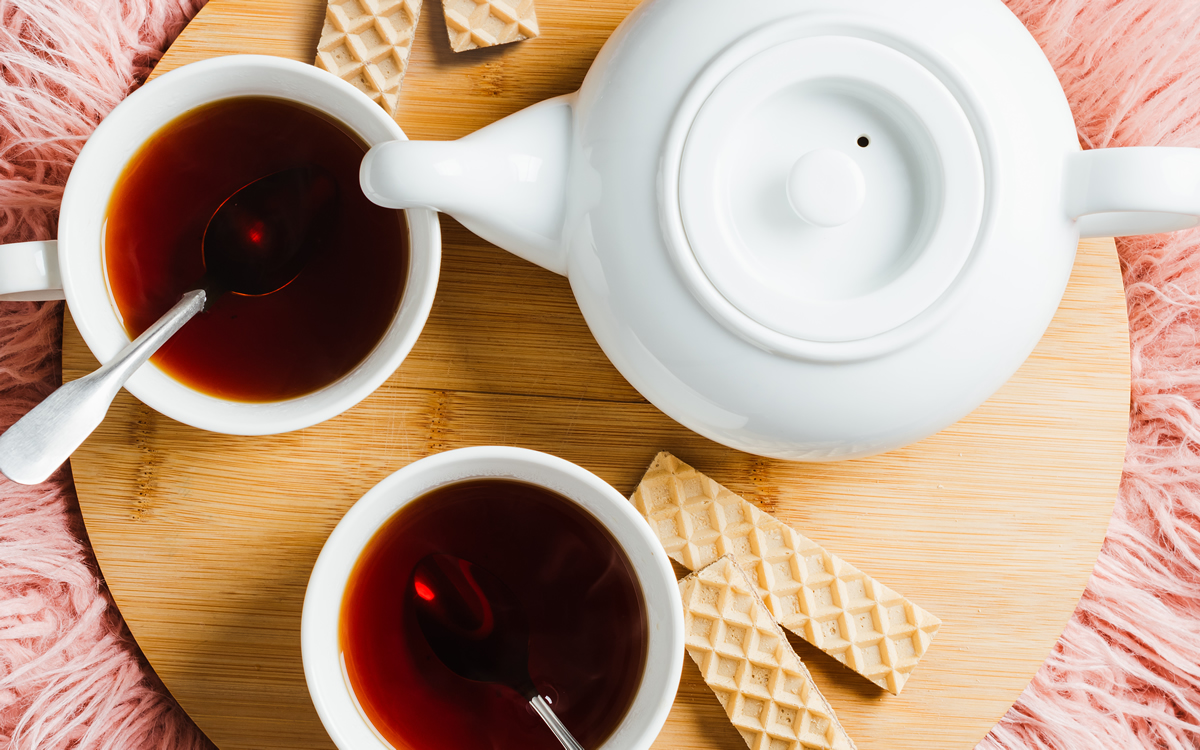 Hank's Oyster Bar will host "Ladies Tea Party" on Sunday, Aug. 6 at 2 p.m. at its location at Dupont Circle.
The Ladies Tea Party at Hank's Dupont Circle was created in 2015 as a safe space for lesbian and queer womxn to gather and meet over drinks on a monthly basis.
This event is free with no tickets or cover charge. More details are available on Hank's website.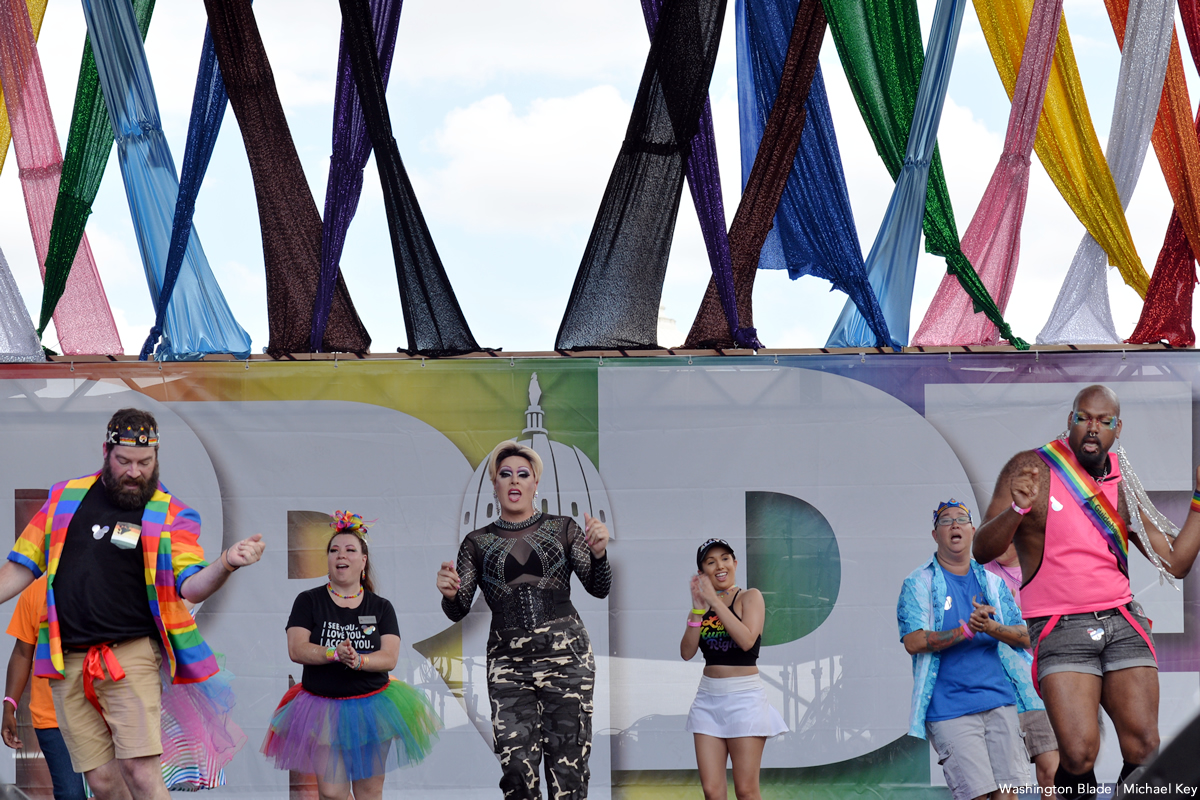 Happy Pride! Below are our picks for some of the most fun and creative things to do today (Sunday, June 11) in the DMV that are of special interest to the LGBTQ community. The biggest item on the list is the Capital Pride Festival today.
---
Capital Pride Official Afterhours Presented by Cherry Fund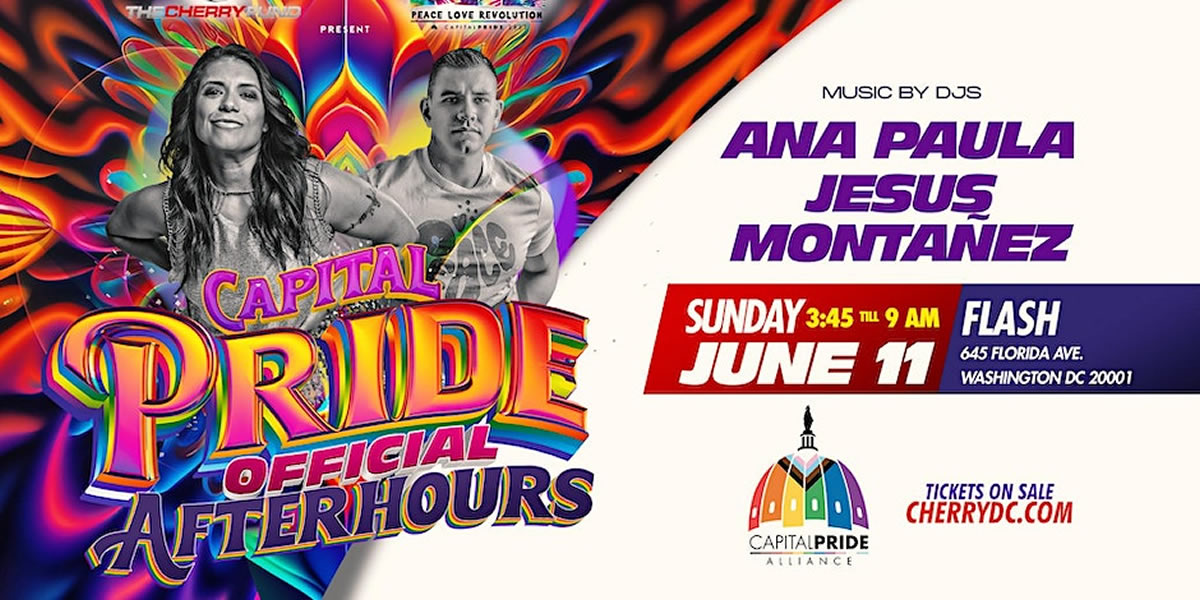 Sunday, June 11
3:30 a.m.-9 a.m.
Flash
645 Florida Avenue, N.W.
$50
Eventbrite
The Cherry Fund presents the Capital Pride Official Afterhours in the wee hours of the morning at Flash from 3:30 a.m. – 9 a.m.
---
Unhinged Pride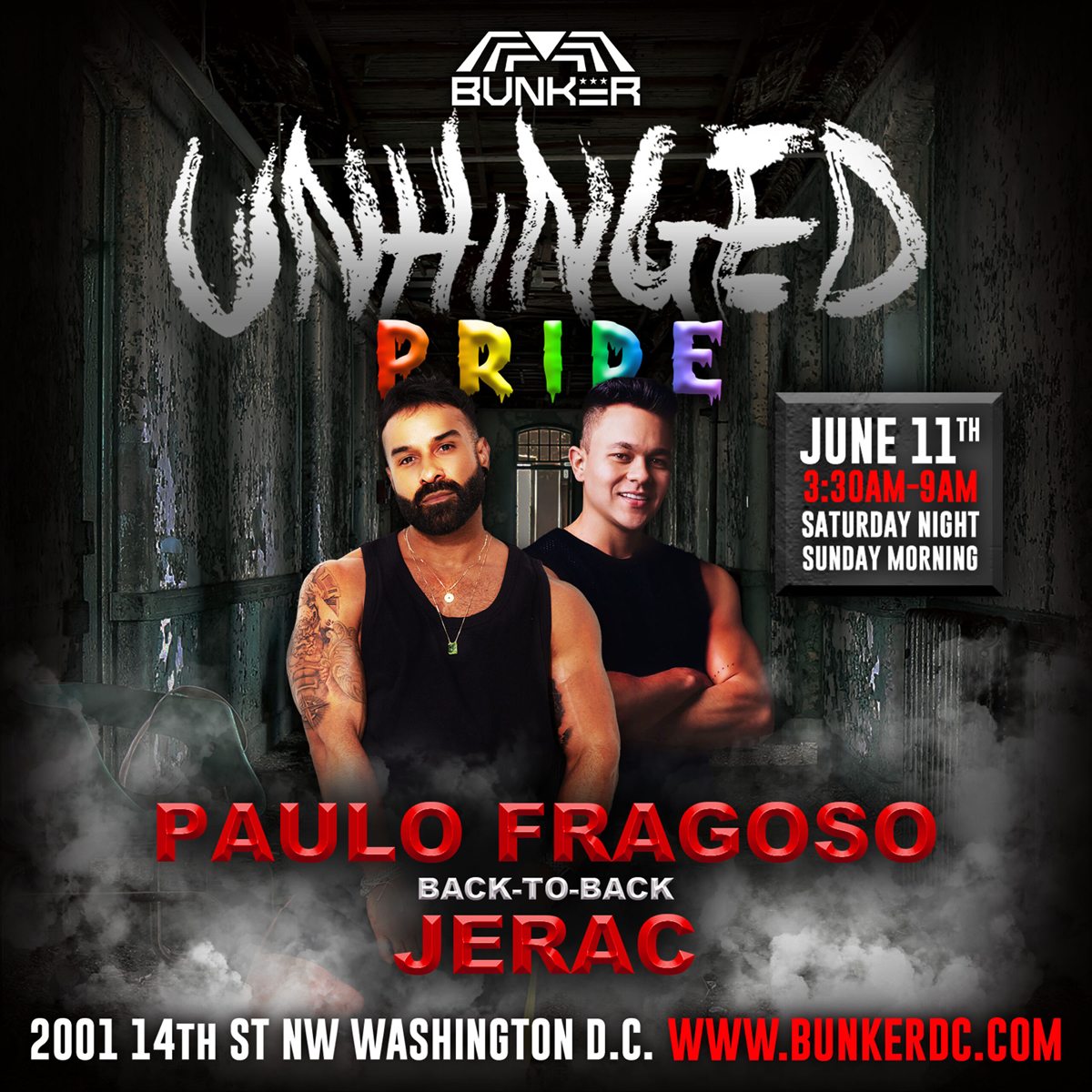 Sunday, June 11
3:30 a.m.-9 a.m.
Bunker
2001 14th Street, N.W.
Some tier 2 priority entry tickets available (includes clothes check) at $50
Tickets
Party early into the morning at Bunker at Unhinged Pride from 3:30 a.m.-9 a.m. There are some tier 2 priority entry tickets available (includes clothes check) at $50 on Bunker's website.
---
Class Act Drag Brunch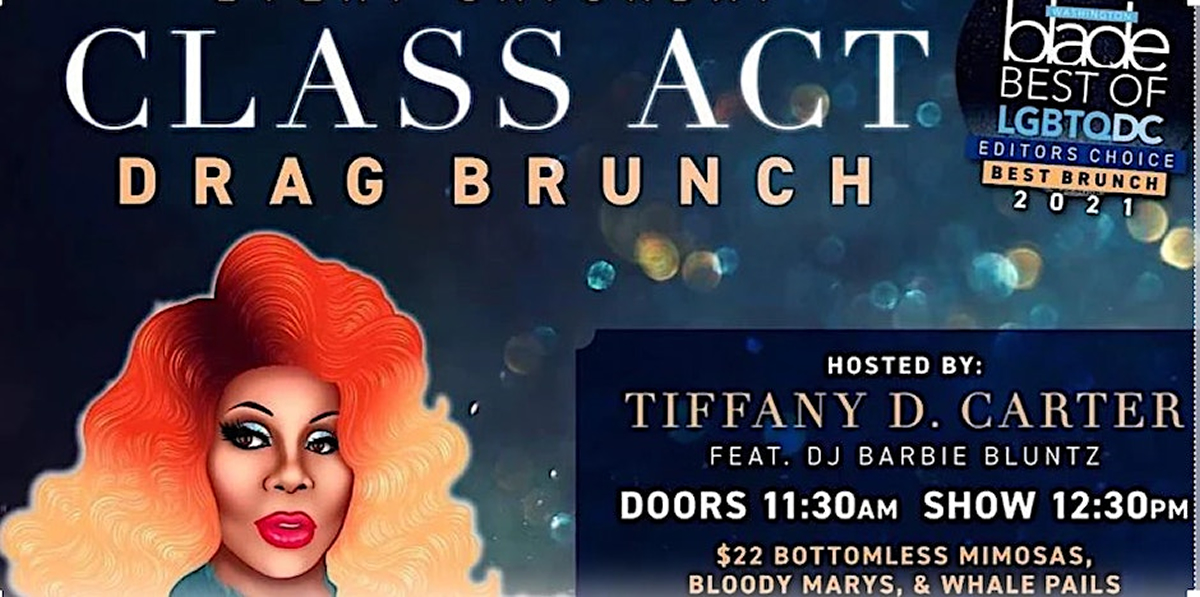 Sunday, June 11
11 a.m.-3 p.m.
Sign of the Whale
1825 M Street, N.W.
$0-$100
Eventbrite
Wake up to Tiffany D. Carter leading the Class Act Drag Brunch at Sign of the Whale today.
---
Elevate Drag Brunch: Pride Edition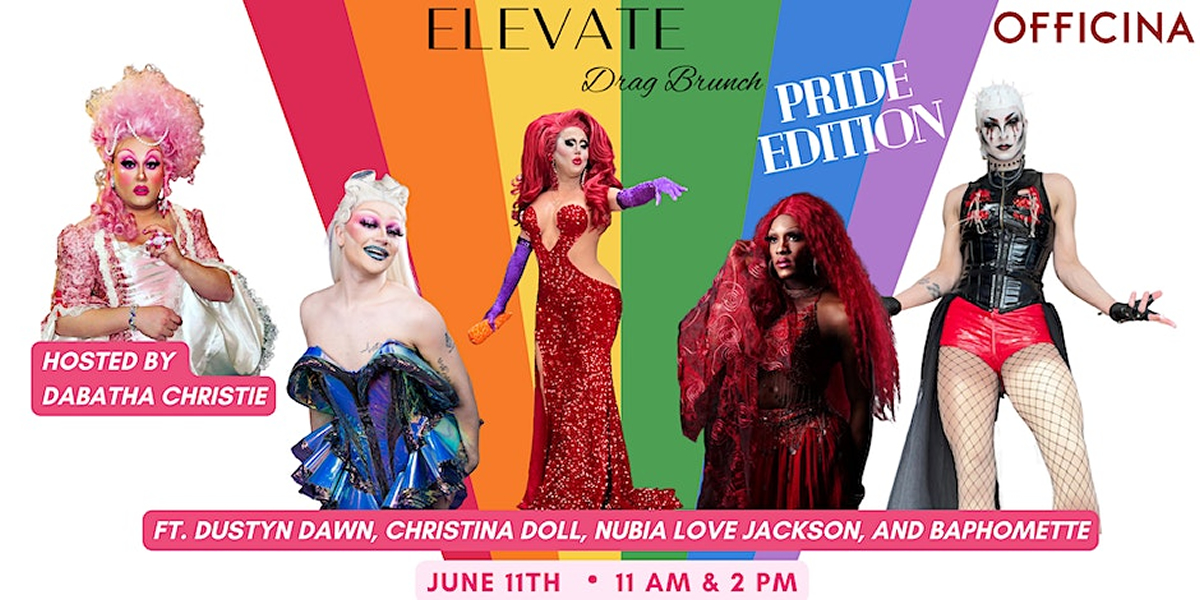 Sunday, June 11
11 a.m. seating
Officina at the Wharf
1120 Maine Avenue, S.W.
$25
Eventbrite
The Elevate Drag Brunch: Pride Edition has seatings at 11 a.m. this morning at Officina at the Wharf. Dabatha Christie hosts a show featuring Dustyn Dawn, Christina Doll, Nubia Love Jackson and Baphomette.
---
Brewed Up Drag Brunch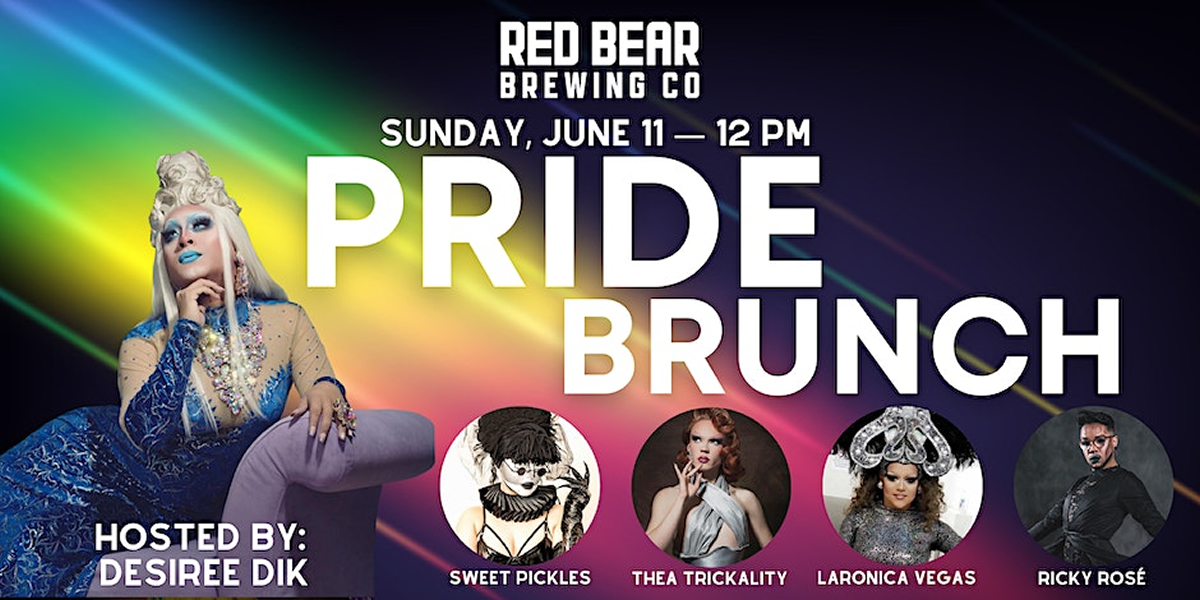 Sunday, June 11
12 p.m.
Red Bear Brewing Company
209 M Street, N.E.
$25
Eventbrite
Desiree Dik hosts the Brewed Up Drag Brunch Pride Brunch today at noon. Performers include Sweet Pickles, Thea Trickality, Laronica Vegas, Ricky Rosé.
---
Capital Pride Festival and Concert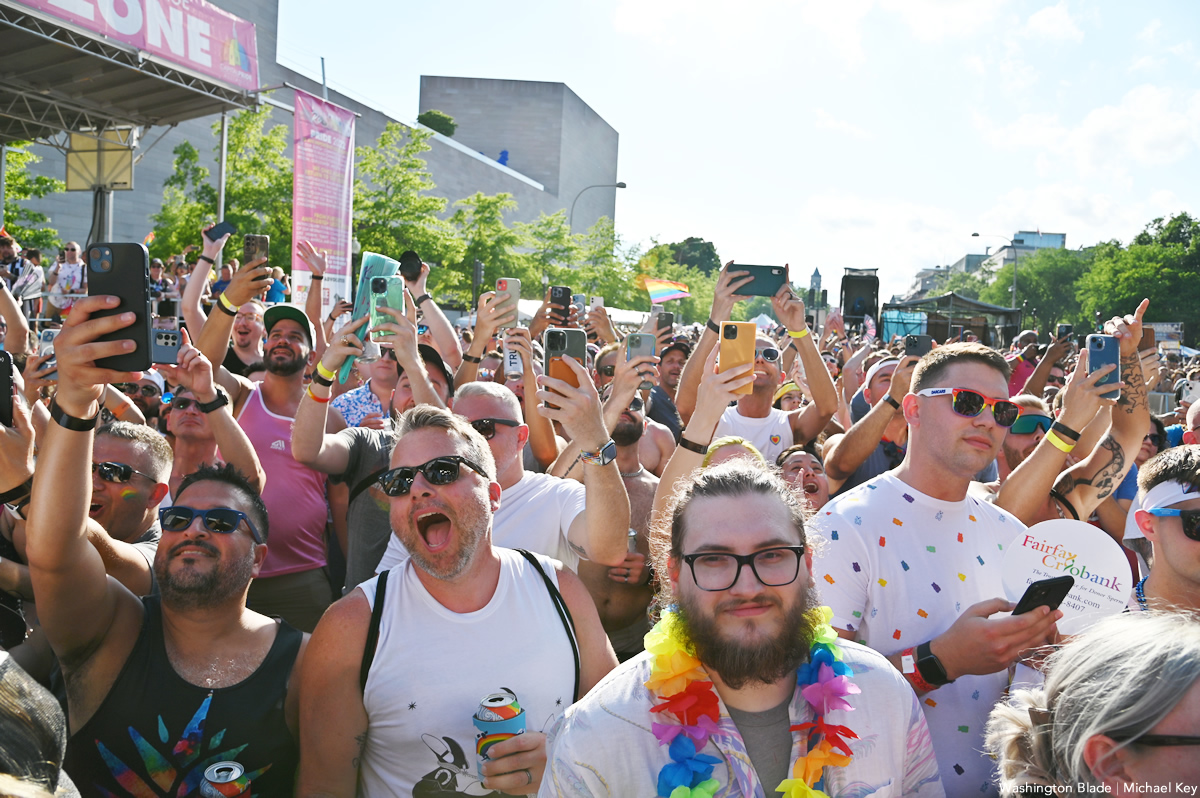 Sunday, June 11
12-10 p.m. (Concert 1-8 p.m. / Sunset Dance Party 8-10 p.m.)
Pennsylvania Avenue, N.W.
Free (A few VIP tickets are available close to the Festival Stage for $55)
Website
The Capital Pride Alliance presents the 2023 Capital Pride Festival today from noon until 10 p.m. along Pennsylvania Avenue, N.W. The event is free and open to the public, but you can purchase VIP passes from Capital Pride's website to get closer to the stage for the concert. The Pride Concert is held from 1-8 p.m. with a Sunset Dance Party from 8-10 p.m.
---
Pride Fest Pregame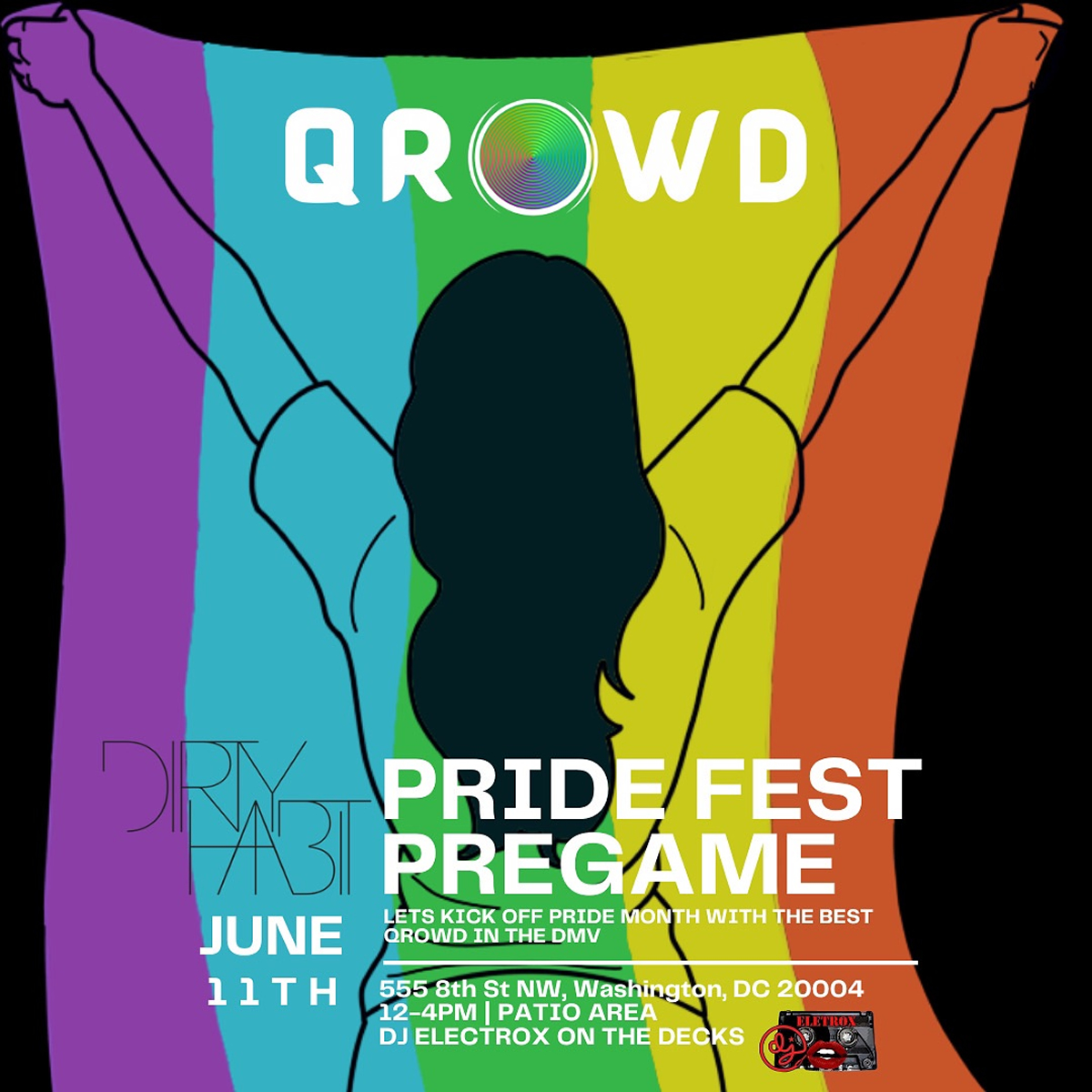 Sunday, June 11
12-4 p.m.
Dirty Habit DC
555 8th Street, N.W.
Facebook
Head over to the Dirty Habit DC for the Pride Fest Pregame party on today from noon to 4 p.m.
---
Shi-Queeta Lee's Illusion Drag Brunch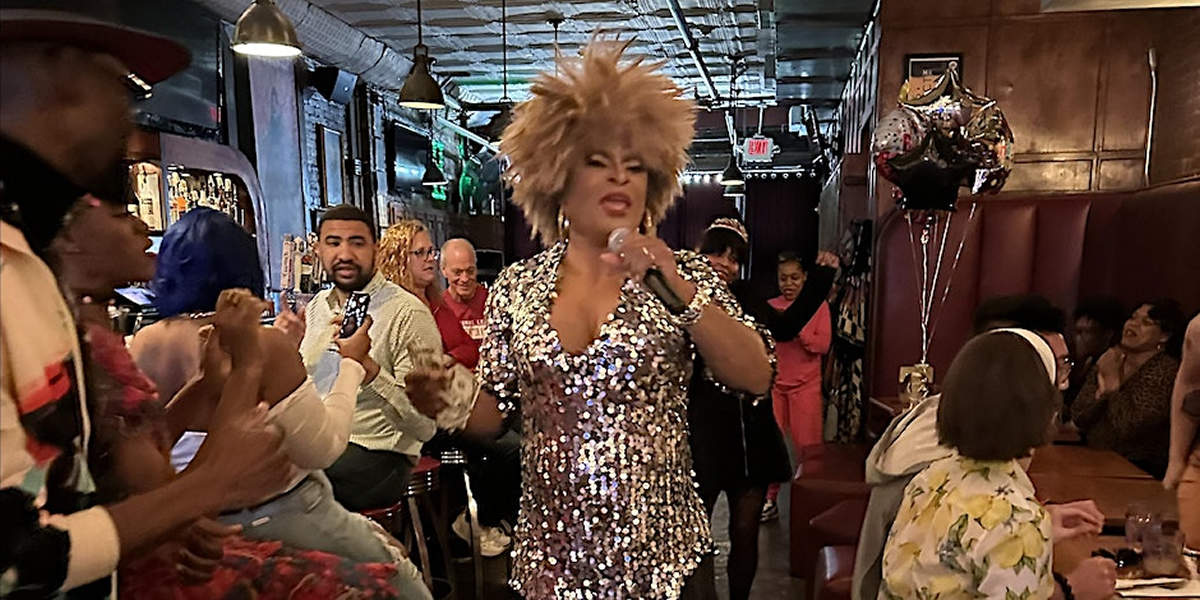 Sunday, June 11
12-2 p.m.
H Street Country Club
1335 H Street, N.E.
$50
Eventbrite
Famed drag artist Shi-Queeta Lee headlines the Illusion Drag Brunch at H Street Country Club today from noon to 2.
---
Nellie's Pride Drag Brunch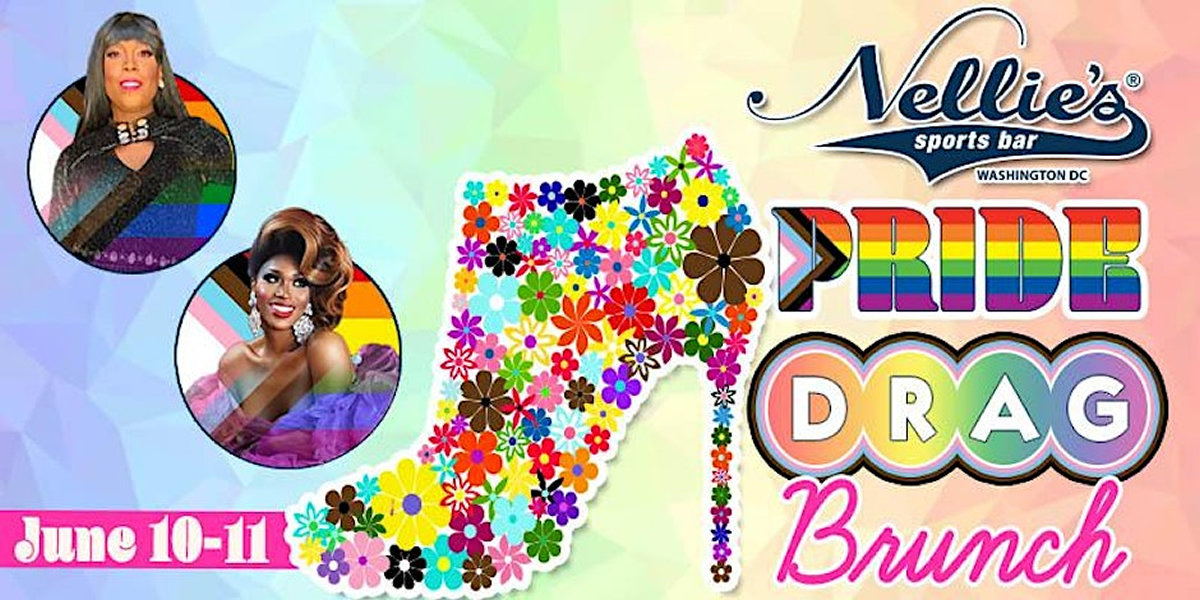 Sunday, June 11
1 p.m.
Nellie's Sports Bar
900 U Street, N.W.
$50
Eventbrite
Nellie's Sports Bar holds the Nellie's Pride Brunch today at 1 p.m.
---
Pride Tea Dance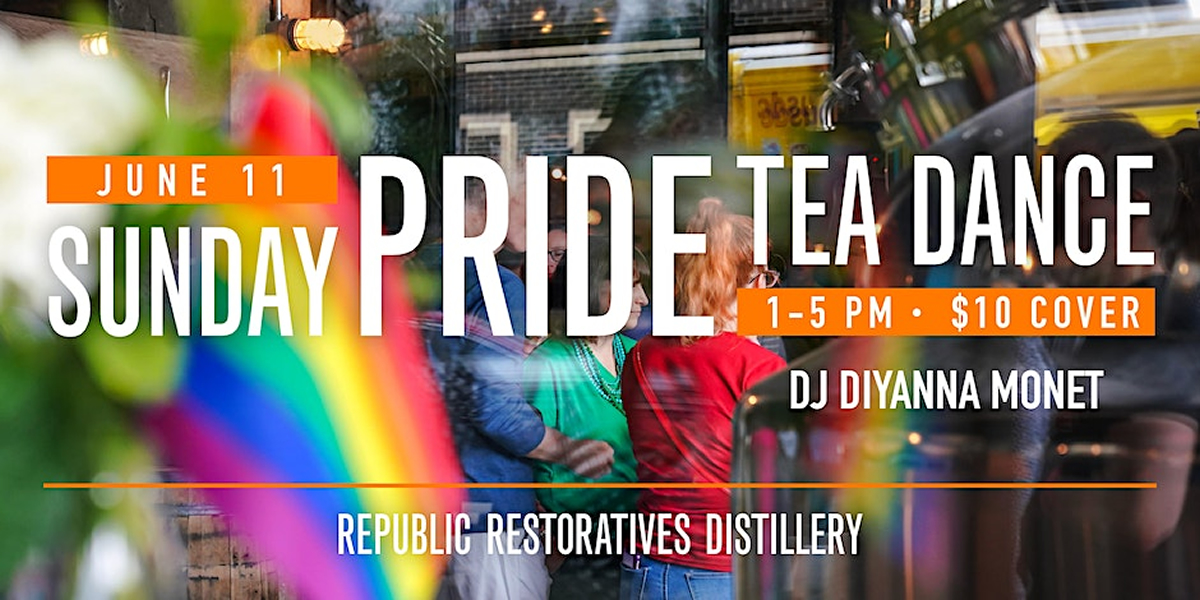 Sunday, June 11
1-5 p.m.
Republic Restoratives Distillery
1369 New York Avenue, N.E.
$10
Eventbrite
LGBTQ-owned Republic Restoratives Distillery is holding a Pride Tea Dance on today from 1-5 p.m.
---
Pride Artisan Market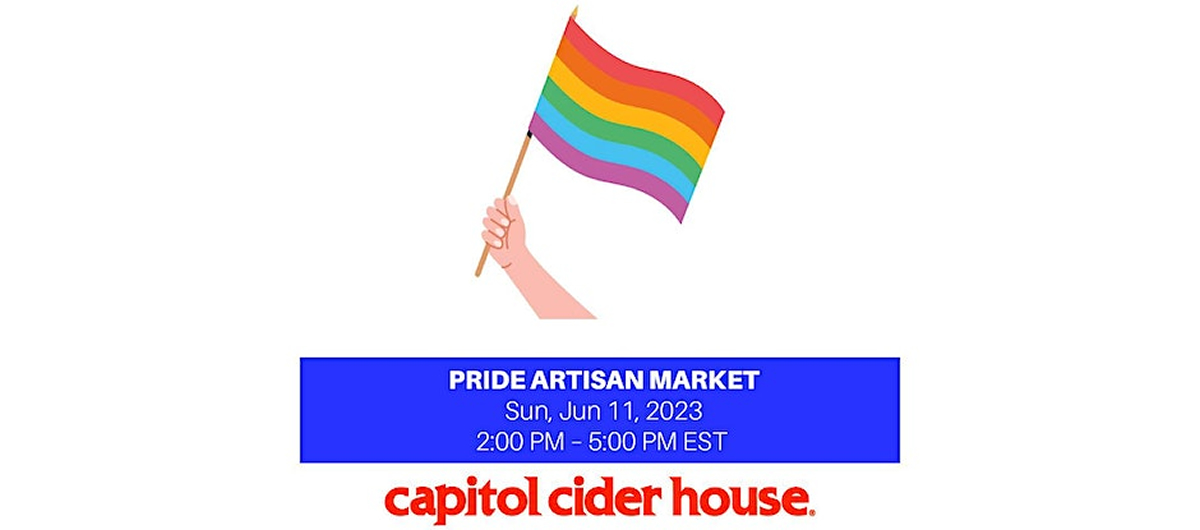 Sunday, June 11
2-5 p.m.
Capitol Cider House
3930 Georgia Avenue, N.W.
Free
Eventbrite
The Pride Artisan Market is free and open to the public at Capitol Cider House from, 2-5 p.m. this afternoon.
---
Sunday Funday: Pride Week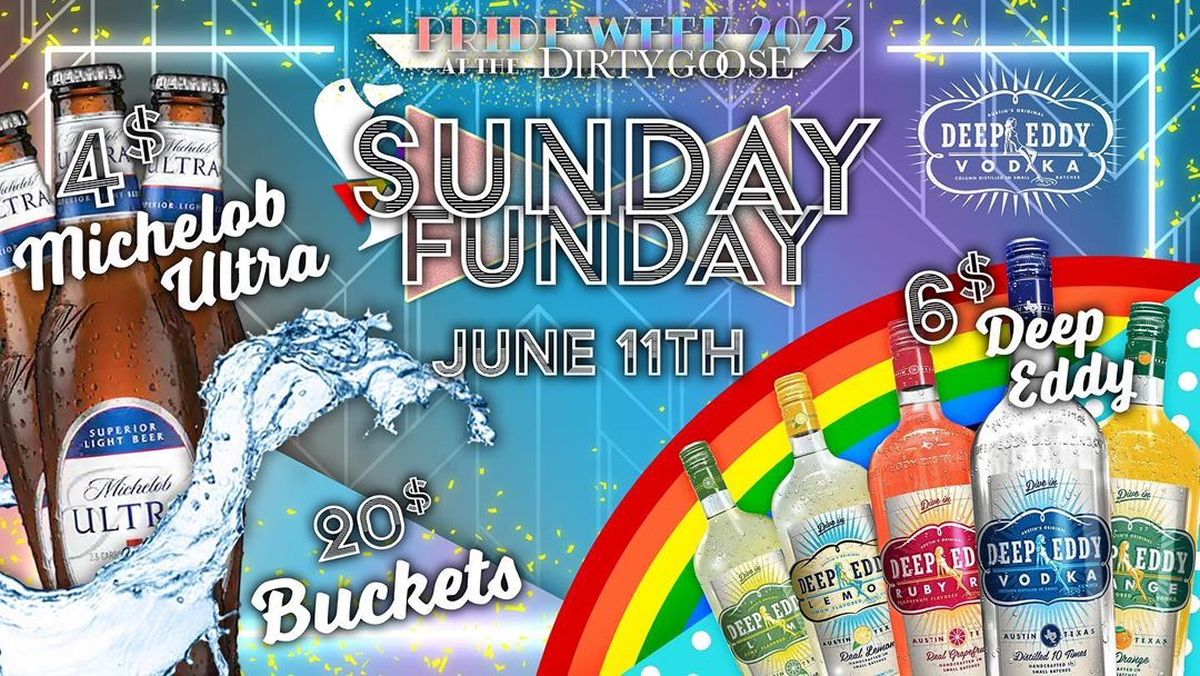 Sunday, June 11
2 p.m.
The Dirty Goose
913 U Street, N.W.
Instagram
The Dirty Goose holds a Sunday Funday: Pride Week party starting at 2 p.m. this afternoon.
---
früt Tea Dance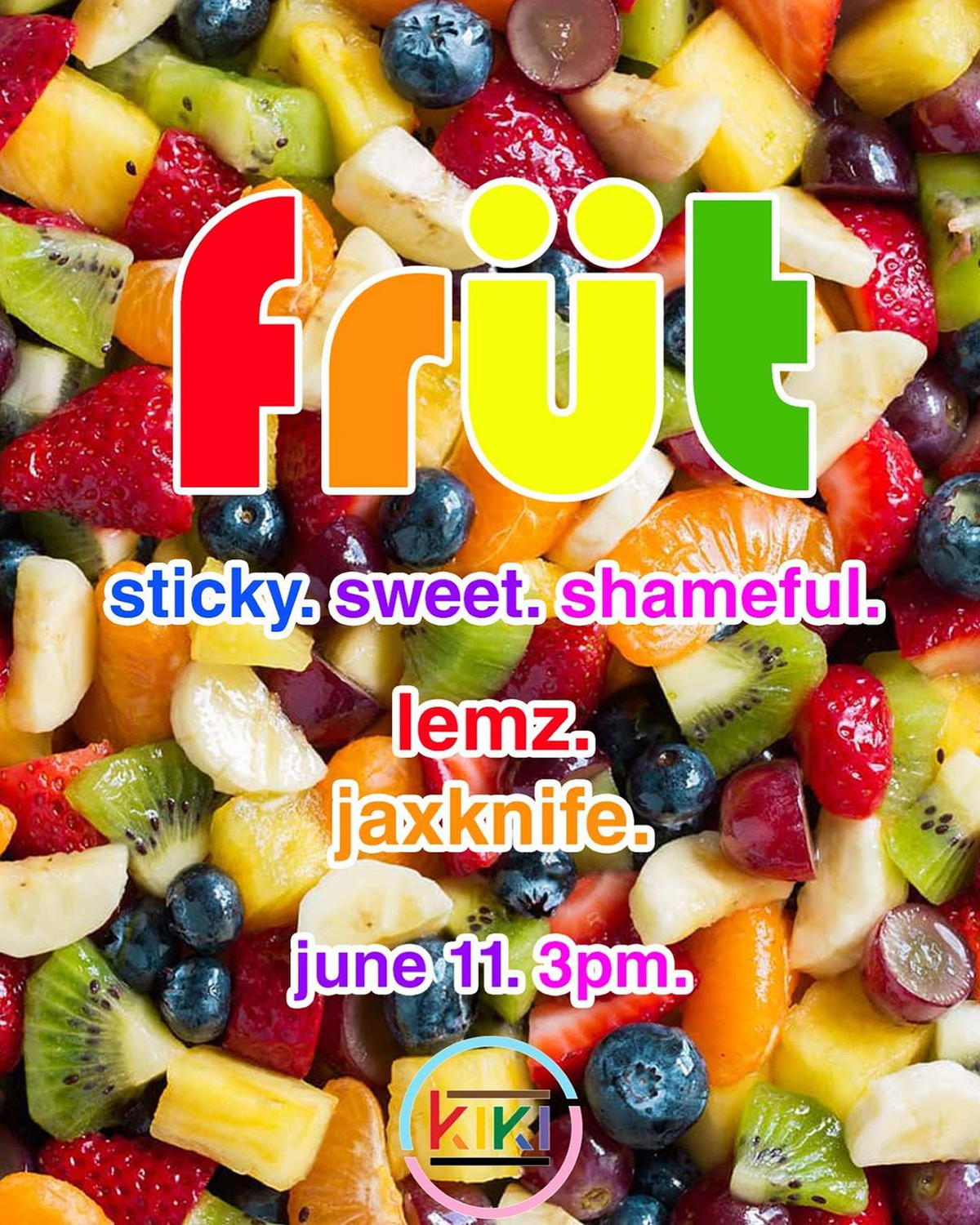 Sunday, June 11
3 p.m.
Kiki
910 U Street, N.W.
Instagram
Kiki holds the früt Tea Dance starting at 3 p.m. this afternoon with DJ Lemz and DJ Jaxknife.
---
PRIDE Beer Bust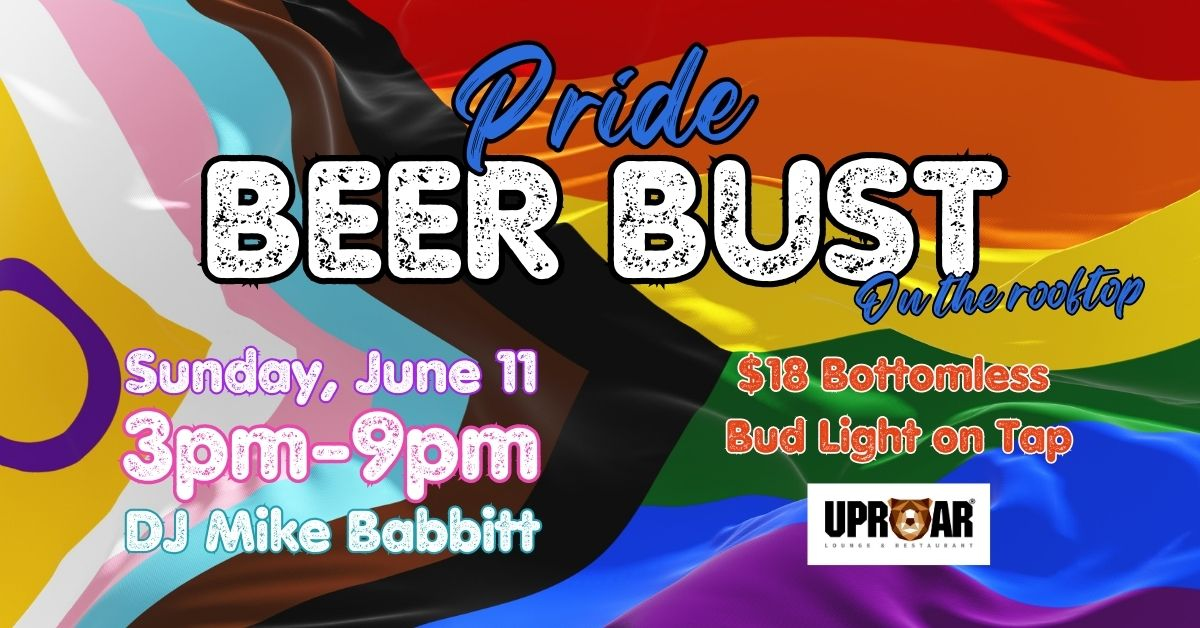 Sunday, June 11
3-9 p.m.
UPROAR Lounge and Restaurant
639 Florida Avenue, N.W.
Facebook
UPROAR Lounge and Restaurant has a rooftop Pride Beer Bust from 3-9 p.m. today with music from DJ Mike Babbitt.
---
LGBTQ+ Social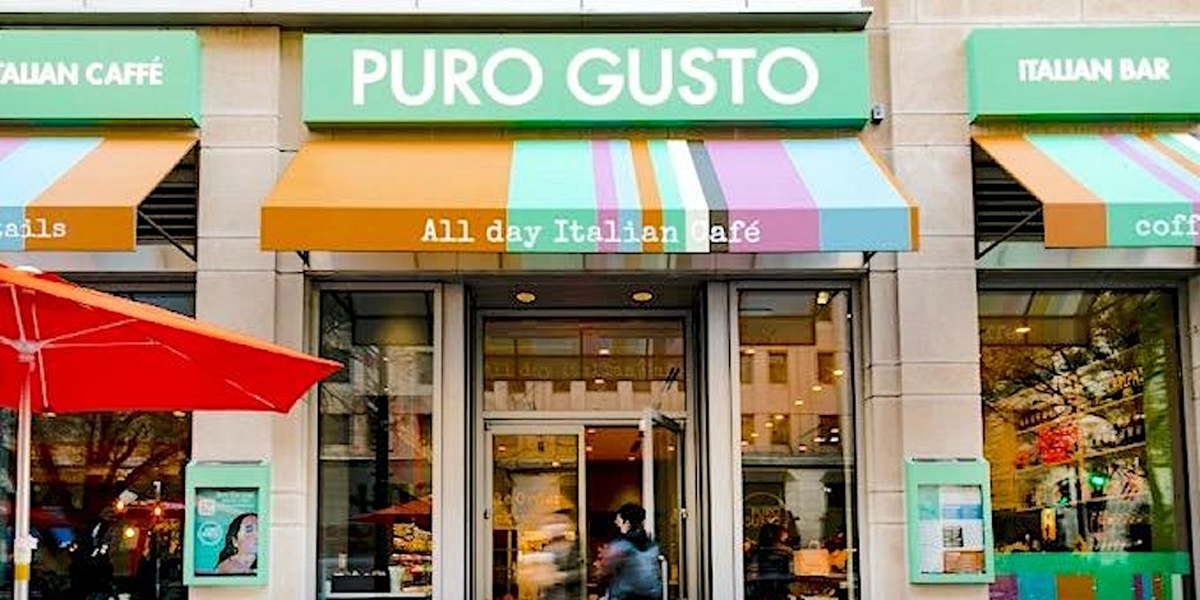 Sunday, June 11
4 p.m.
Puro Gusto Cafe
1345 F Street, N.W.
Eventbrite
Go Gay DC hosts an LGBTQ+ Social today at 4 p.m. at Puro Gusto Cafe.
---
La Loca Pride Edition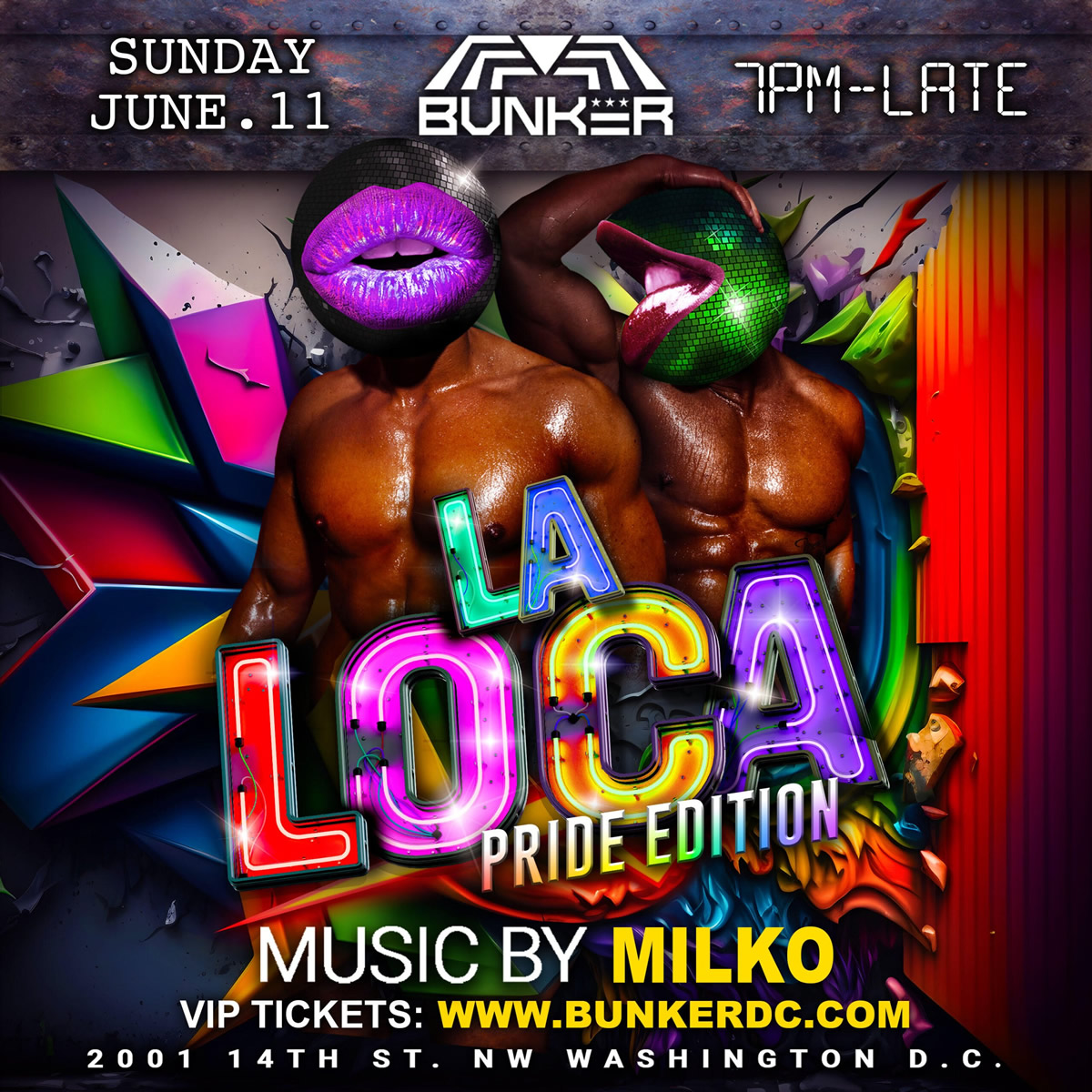 Sunday, June 11
7 p.m.
Bunker
2001 14th Street, N.W.
$10
Tickets
Celebrate Latinx culture at La Loca Pride Edition today starting at 7 p.m. at Bunker.
---
Pride in the Sky with Vanessa Vanjie Mateo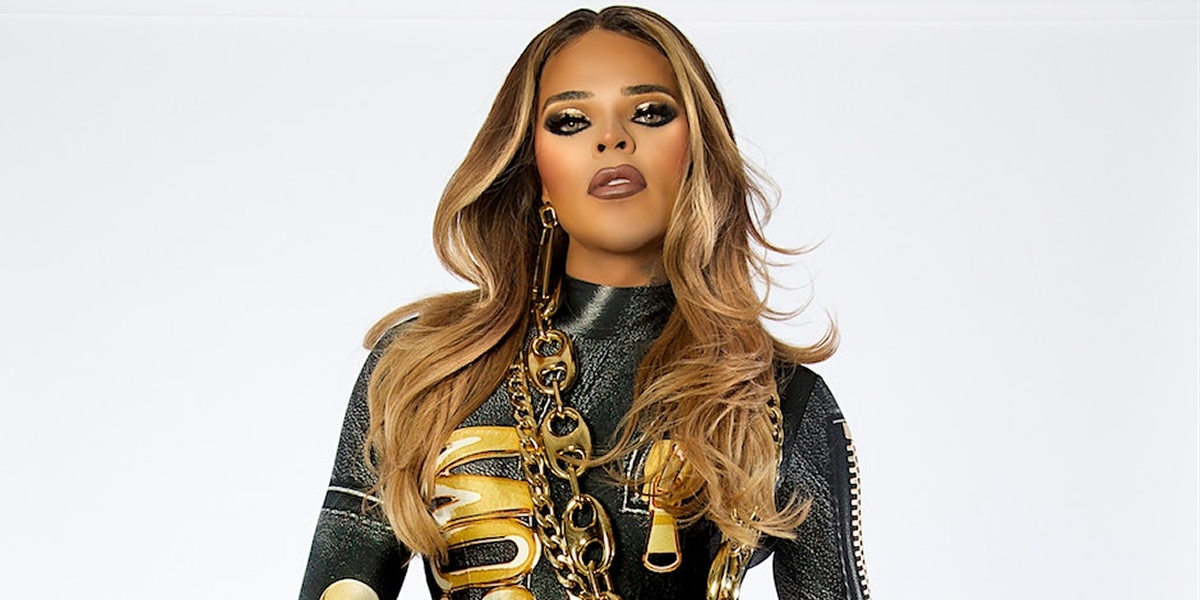 Sunday, June 11
8 p.m.
Hotel Zena
1155 14th Street, N.W.
$35-$75
Eventbrite
RuPaul's Drag Race's Vanessa Vanjie Mateo attends Pride in the Sky at Hotel Zena tonight.
---
Sunday Service at DC9: Charm City Takeover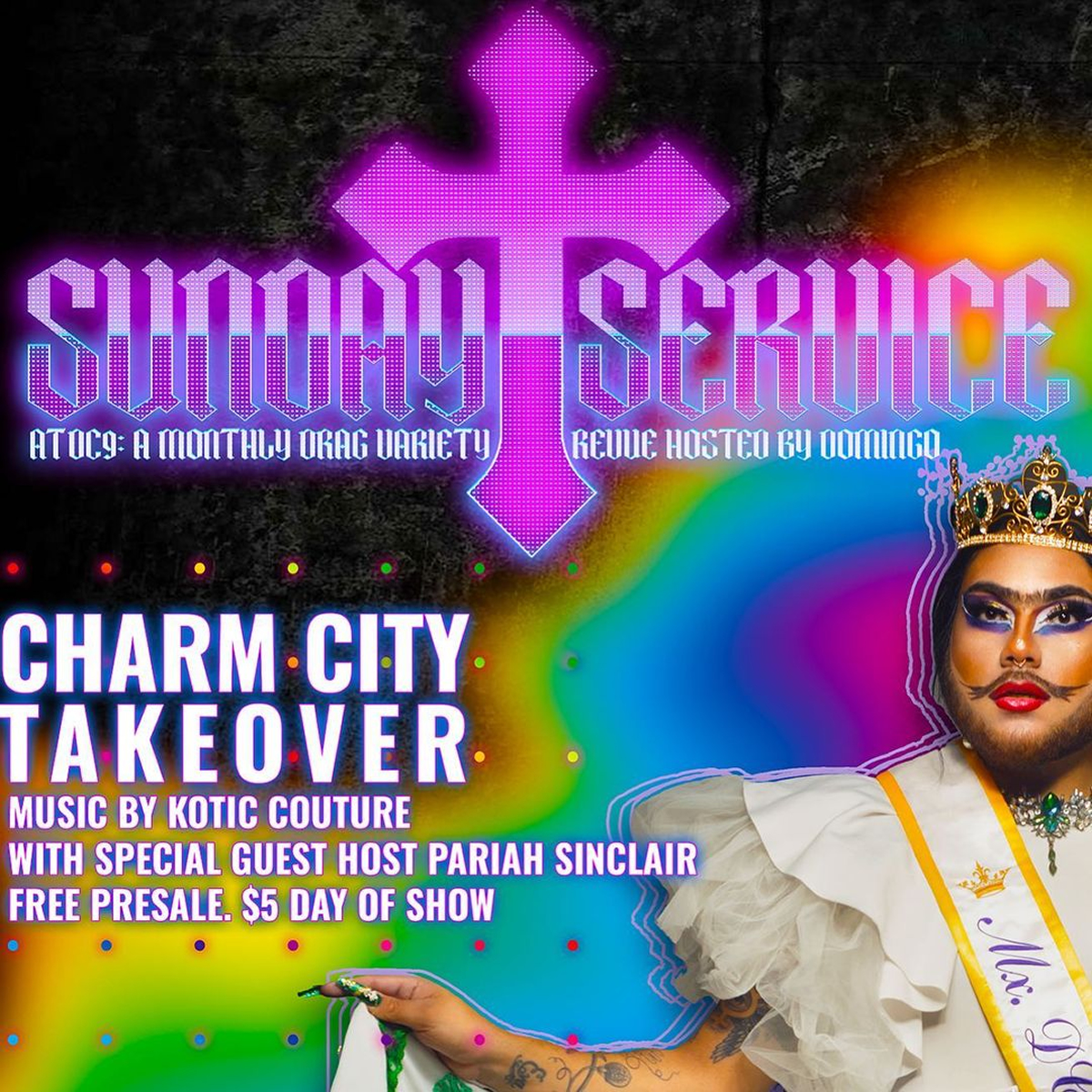 Sunday, June 11
8 p.m.
DC9 Nightclub
1940 9th Street, N.W.
Instagram
Experience the drag variety review with special guest host Pariah Sinclair tonight at 8 p.m. at DC9 Nightclub.
---
Davon Hamilton Events/Impulse DC Pride Close-Out Party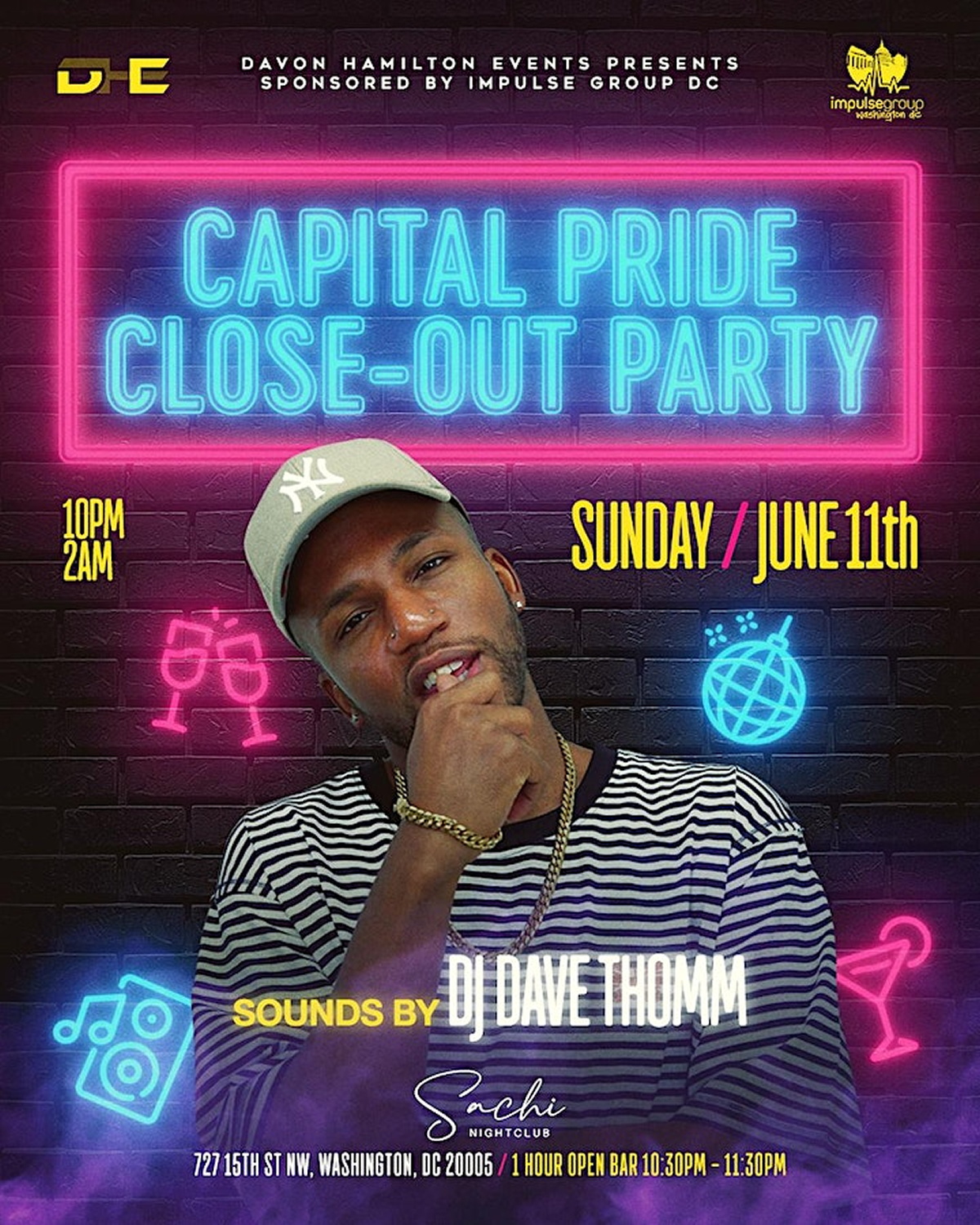 Sunday, June 11
10 p.m.-3 a.m.
Sachi Nightclub
727 15th Street, N.W.
$0-$100
Eventbrite
Davon Hamilton Events and Impulse Group DC join forces to produce the DC Pride Close-Out Party on late tonight from 10 p.m. to 3 a.m. Monday morning at Sachi Nightclub.
---
KINETIC: DiscoVERS with DJ Alexis Tucci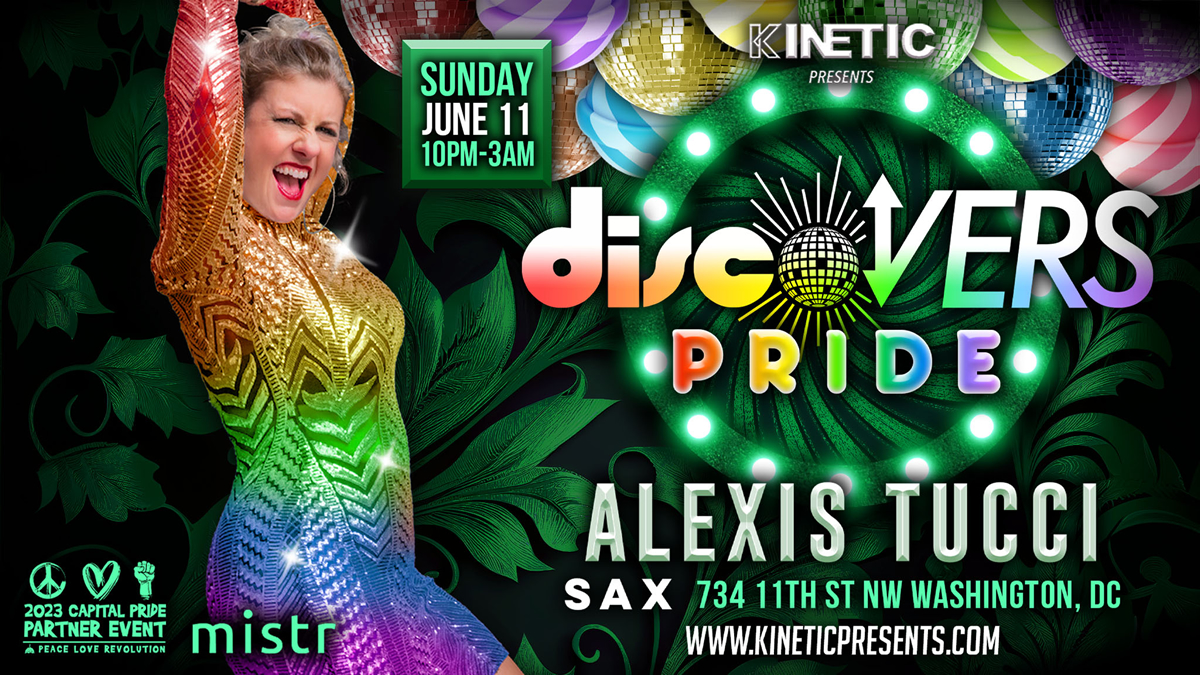 Sunday, June 11
10 p.m.-3 a.m.
Sax Restaurant
734 11th Street, N.W.
$40-$70
Facebook | Eventbrite
KINETIC Pride events conclude with KINETIC: DiscoVERS with DJ Alexis Tucci tonight from 10 p.m. to 3 a.m. Monday morning at Sax Restaurant.
---