HRC dinner slated for Saturday night
White House Senior Advisor Valerie Jarrett announced as last-minute guest

Human Rights Campaign has once again done an impressive job of booking talent for its national dinner, set for Saturday in Washington, its highest profile annual event, with Pink, Bette Midler, Oscar winner Mo'Nique and the cast of ABC's hilarious gay-inclusive sitcom "Modern Family" set to appear. HRC announced today that White House Senior Advisor Valerie Jarrett will also speak.
"Valerie Jarrett is a tremendous addition to the event and we look forward to hearing from one of the President's closest advisors," said HRC President Joe Solmonese.  "She and President Obama both care deeply about equality and are strong supporters of those of us fighting for LGBT rights."
Those who don't have tickets are likely out of luck. The black-tie event is sold out but a waiting list is available here for the $275 tickets. More than 3,000 are expected at the Washington Convention Center. HRC president Joe Solmonese echoes a recurring theme — it's been "a remarkable year," he says, "but there is much work left to be done."
The program begins at 7 p.m. and includes a silent auction of many items, several of which are musically themed such as a child's violin and case, inscribed "Stradivarius anno 1725," and an antique, red and gold silk brocade grand piano cover. Also featured are a package of air travel and hotel accommodations to attend this year's annual Macy's Thanksgiving Day Parade, two Delta Airlines round-trip tickets courtesy of ORBITZ, weekend stays at Kimpton hotels and more.
Every year since 1997, HRC has hosted a national dinner featuring high-profile speakers such as President Barack Obama last year and in past years President Bill Clinton and then-Sen. Hillary Clinton. The organization was founded in 1980 and is America's largest LGBT advocacy group. In 2003, it opened its headquarters building in Washington and Solmonese became president in 2005.
Receiving HRC awards will be singer/songwriter Pink, receiving the Ally for Equality Award from presenter Bette Midler; and Lee Daniels, producer/director of the 2009 film "Precious," receiving the Visibility Award from presenter Mo'Nique, who won an Oscar for her role in that film. The National Arts and Culture Award will go to three members of the cast of the hit TV sitcom "Modern family" — Eric Stonestreet, Jesse Tyler Ferguson and Sonia Vergara.
HRC's agenda is wide-ranging, including pressing for action on hate crimes and success was finally reached on this front in 2009 when President Obama signed into law — in the names of victims Matthew Shepard and James Byrd, Jr. — a hate crime amendment giving the U.S. Justice Department the power to investigate and prosecute bias-motivated violence. At the time, Solmonese called the law "an historic milestone" as "the first time that we as a nation have explicitly protected the LGBT community in the law."
Other priorities include promoting steps to protect families through marriage equality and relationship recognition; fighting to end the military's discrimination through the "Don't Ask, Don't Tell" law; and creating a fair and equal workplace through enactment of a federal Employment Non-Discrimination Act (ENDA), so that employees cannot be fired based on sexual orientation, gender identity or gender expression.
In recent years, other LGBT-oriented groups have staged protests at the National Dinner, accusing HRC of neglecting to prioritize transgender rights issues, among other complaints. Obama's presence last year made for a raucous, celebratory atmosphere. But with repeal of "Don't Ask, Don't Tell," one of the movement's top priorities, in limbo, and Democrats facing dim midterm election prospects, partygoers may not be in such high spirits this weekend.
PHOTO: HRC President Joe Solmonese at the 2008 dinner. (Blade file photo by Henry Linser)
Disco Funk Brunch at Crazy Aunt Helen's
Tara Hoot and DJ Phil Reese perform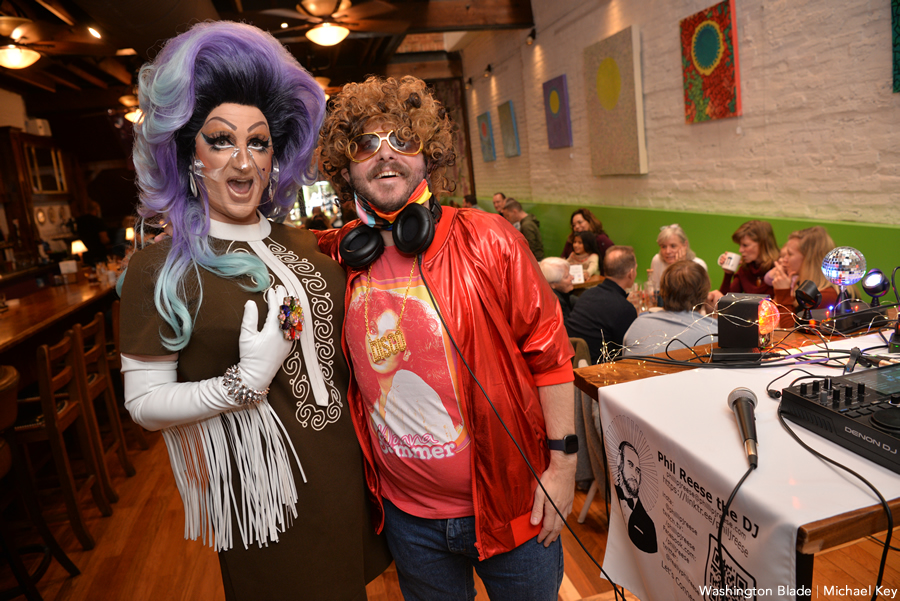 Drag queen Tara Hoot and DJ Phil Reese perform at the biweekly Disco Funk Brunch at the LGBT-owned Crazy Aunt Helen's on Sunday. For future showtimes, go to crazyaunthelens.com. (Blade photo by Michael Key)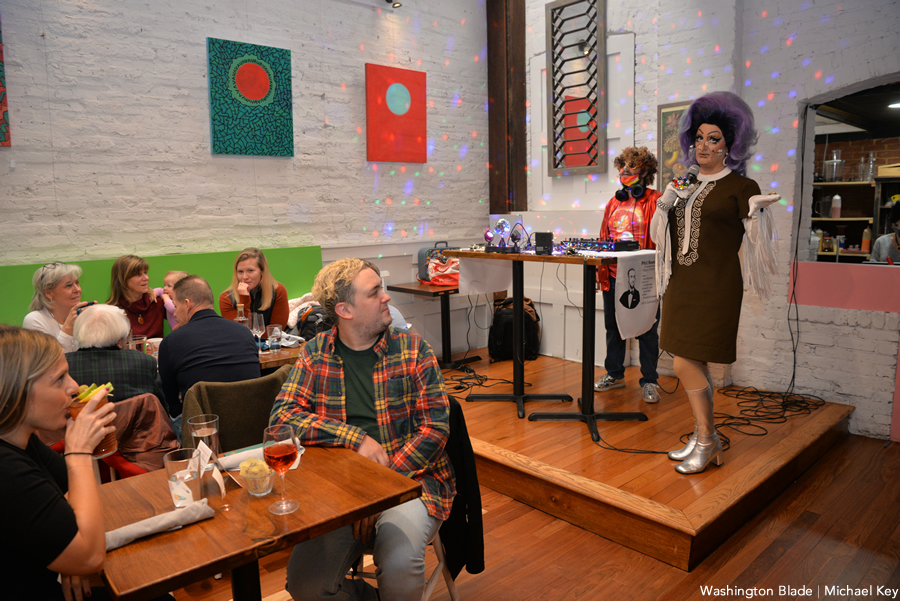 Blade's summer closing party set for Sept. 17 in Rehoboth
Benefits journalism scholarship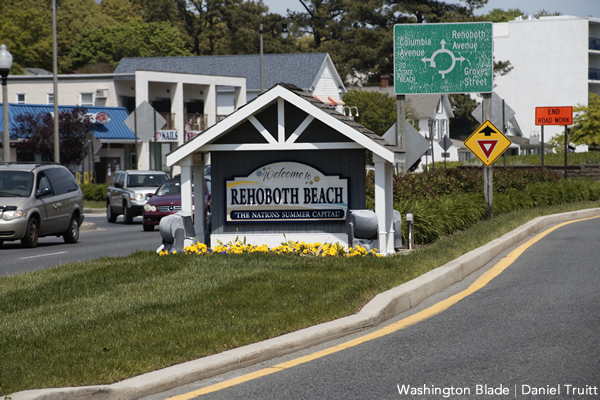 The Washington Blade's 15-year tradition of hosting a summer kickoff party in Rehoboth Beach was disrupted due to COVID restrictions. In lieu of that May event, the Blade is hosting a summer closing party on Friday, Sept. 17 at 6 p.m. at The Pines (56 Baltimore Ave., Rehoboth Beach, Del.).
Tickets are $20, which includes two drinks and appetizers. The event benefits the Blade Foundation's Steve Elkins Memorial Journalism Fellowship, a 12-week program in which an LGBTQ student journalist covers stories of interest to Delaware's queer community each summer.
All COVID safety protocols will be followed, including a requirement that attendees furnish proof of vaccination to gain entry.
If you are unable to attend you can make a donation to the Blade Foundation at BladeFoundation.org. Sponsors of the event include Delmarva Power and The Pines.
Rehoboth to close out summer with SunFest
Series of events to replace long-running Sundance due to pandemic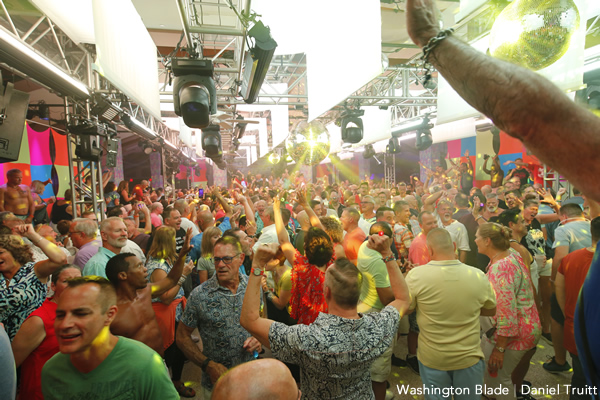 SunFest will feature a week of live performances, dances, and a live auction, sponsored by non-profit LGBTQ+ center CAMP Rehoboth.
The weeklong festival runs from Aug. 29 to Sept. 5 and is a change from the annual SunDance that CAMP Rehoboth has sponsored since 1988. This transformation began last year when the event was forced to go digital due to the coronavirus and the in-person events scheduled this year are important, according to development director and co-coordinator of SunFest Anita Broccolino.
"We love that community feel and the in-person makes all the difference in the world for us. Not being able to do it last year just reminded everyone how important we all are to one another," Broccolino said. "I think that bringing back these events this year is just huge for us and it will be extra celebratory as a result."
The festival begins with a 5k race and online auction opening on Sunday. Monday night features a give-back event at Iron Hill Brewery while Tuesday's agenda is still to be determined, said Broccolino. Diego's will host a Studio 54 give-back dance party on Wednesday and Thursday is the Port 251 women's give-back.
Live performances featuring the Skivvies, Randy Harrison and Diane Huey are scheduled for Friday night and Jennifer Holiday will follow with a performance on Saturday night, both at the Rehoboth Beach Convention Center. The festival closes out Sunday with auction pick-ups and Fun in the Sand and Sun, according to the CAMP Rehoboth website.
This event is also important to the organization's contributions to the community, said Broccolino.
"The essential services we provide for free to the community, which is a huge amount of health and wellness activities, as well as arts programming, a lot of youth programming and the community counts on us for those things. We never stopped during COVID, we made as much as we could virtual, but we took quite a hit not being able to raise those funds and awareness of the programs," Broccolino said. "We invite the entire community to come celebrate with us and make it to Rehoboth Beach, and let's make it joyful, and wonderful and make sure we're living up to the standards of all the people who helped found CAMP Rehoboth and live up to their legacy and beyond."