New design destination
Nova Fashion Week organizers hope to make D.C. a cutting edge hub 

Washington has never been known as a fashion town but there's a movement brewing that wants to change that perception.
This weekend top designers and their models will unveil eye-catching new looks for their spring/summer 2011 lines ranging from elegant high-end evening wear for men and women to urban skateboard punk-chic hoodies.
It's all on the high fashion runway at the Hilton Alexandria Mark Center (5000 Seminary Road, Alexandria —note the location change from what was originally announced) through Sunday in Old Town Alexandria — and well worth seeing it up close. More than 50 top area models will glide, turn, vamp and pose.
It's the second annual charities benefit Nova Fashion Week. Last year it drew a crowd of about 4,000 onlookers — including store buyers and lifestyle fashionistas — to check out the next big things in wardrobe and accessories. Organizers say a last-minute change in locale was required by the city.
This weekend's event follows on the heels of Georgetown's mid-September Fashion Night Out and features the bold-colored newest look from gay designer Ra'mon Lawrence Coleman, the Minneapolis-based "Project Runway" alum. Ra'mon shows his new collection "Give Them Grace" — built around the iconic and androgynous look of actress and performer Grace Jones — at 8 p.m. Saturday.
"A lot of people say that the D.C. area is not a trendsetter, but I beg to differ," says Fashion Week executive director Andrew Roby. "Because we do have talented designers here. And we are also drawing designers from California and the Caribbean, so there's diversity."
"There are simply no set boundaries in this industry," says Roby, at 28 an experienced event planner but also for several years earlier in this decade a model himself.
He got his own start in fashion in 2003 planning shows for — yes, it's hard to believe — the U.S. Army, where he staged fashion events for BOSS (Better Opportunities for Single Servicemembers), which offers recreation and leisure activities for  unmarried soldiers who make up more than a third of those in uniform. Roby says D.C. can rival the other fashion centers like New York or Milan in time.
The high-end fashion industry has long defined itself as an art form as well as a commercial enterprise. Much of its cachet was rooted in its perceived "haute couture" exclusivity. The sky-high prices could therefore be justified. After all, creativity must be cultivated. Artists cost money. And the field comes also with an overlay of snobby privilege that can easily shade over into the snotty.
But that's not the flavor of Nova Fashion Week, which Roby intends to be accessible and wide-ranging in its tastes. The designers will show their latest lines for spring and summer — and don't be surprised if you see such styles catch on, eventually anyway. For what starts at the top of the fashion pyramid usually shows up later, knocked-off and displayed on mass-market mannequins.
This weekend in Alexandria locals can see some of each — the high-end and the low-cost — and pick out what works starting tonight at 8 with the high-end of true haute-couture (French for high-sewing) of the KAS Collection, and ending at 5 p.m. Sunday with the street savvy of the urban skater-punk of DURKL 2047.
This weekend's featured designers are:
KAS COLLECTION — 8 p.m. Friday
These are the highly exclusive, upscale urban designs of D.C.-based Kenneth E. Flanagan, proprietor of the House of KAS. He has incorporated the names of his two daughters, Alexis and Sydney, into his nameplate. Since 1996, his specialty is sophisticated eveningwear and high-style business suits for both men and women. Self-taught, he designs for political figures and entertainment and sports superstars including hip-hop musicians and music video models.
NATALIA SANZ — 2 p.m. Saturday
Chic, modern and sleek and inspired, she says, by "architecture and geometry," this is the signature look of Natalia Sanz. A Maryland native trained in fashion design at Miami International University of Art and Design, she then returned to the D.C. area and now produces two collections each year from her studio in Silver Spring. Her spring 2011 collection, she says, will show "vivid colors and feminine silhouettes, inspired by ancient Greek draping."
AIDAH COLLECTION — 5 p.m. Saturday
Since the launch of the Aidah Collection in spring 2008, the designer Aidah Fontenot has proclaimed her fashion philosophy this way: "Be unique. Be confident. Be sexy." And she sees her hand-made designs of one-of-a-kind pieces as "inspired by the organic beauty of nature within urban existence."
RA'MON LAWRENCE COLEMAN — 8 p.m. Saturday
Ra'mon Coleman, a gay, 32 year-old Chicago-born designer, vaulted to fame from his 2009 appearance on the reality TV "Project Runway" design competition. Ra'mon calls himself "the thinking man's designer" and shows his work through the Mudd label for the giant mid-priced Kohl's department store chain. But for Fashion Week, he will showing his newest designs for both men and women. His colors will be bold, he says, some inspired by the style of Grace Jones, and also featuring a futuristic spin, forecasting a look for then year 2033.
ELIZABETH ST JOHN — 1 p.m. Sunday
The daughter of a master tailor and a fourth-generation designer, Elizabeth St John apprenticed as a designer at age 5 in her mother's workshop. But then at the University of Maryland, she turned to a degree in environmental studies and for more than a decade worked in rainforest preservation.
This led, last spring, to her Eco-Couture line of bridal and eveningwear, combining flirtation and femininity with classic elegance. By 2012 she hopes her Silver Spring studio with be completely solar- and wind-powered.
ANDREW HARRIS — 3 p.m. Sunday
Guyana-born and educated and now Barbadian-based, Andrew Harris Jr. has been labeled "the Prince of Caribbean men's designs." He established his men's wear label in 2007, showing vintage cuts tempered with modern styling in cottons and linens. In 2008, he won the Carifesta X design competition in Guyana as "designer of the year," beating out six competitors.
DURKL 2047 — 5 p.m. Sunday
Thirty-year-old Will Sharp is cutting edge urban punk. His label name "DURKL" is intentionally absurd and 2047 is simply another way to say 24/7, in other words, the designs are for around the clock, for "whenever." The label is deliberately "flashy" and "inspired," says Sharp, "by formerly hilarious trends and seventh grade dances," with its mission proclaimed with a touch of irony as "high quality, low standards." DURKL's warehouse store is at 443 Eye St., N.W. and its distinctive look in street wear – hats, graphic T-shirts and sweats – can also be found at Palace 5ive, D.C.'s skater shop, also with a big collection of sneakers and a hip-hop funkadelic beat.
All the Nova Fashion Week events are at the Hilton Alexandria Mark Center. Ticket prices for each show mostly range from $50 for front rows to $10 farther back. Proceeds will go to various charities, including the Lupus Foundation of America, Susan G. Komen for the Cure and Baby Haven.
To purchase tickets and for more information on the event and designers, go here.
Disco Funk Brunch at Crazy Aunt Helen's
Tara Hoot and DJ Phil Reese perform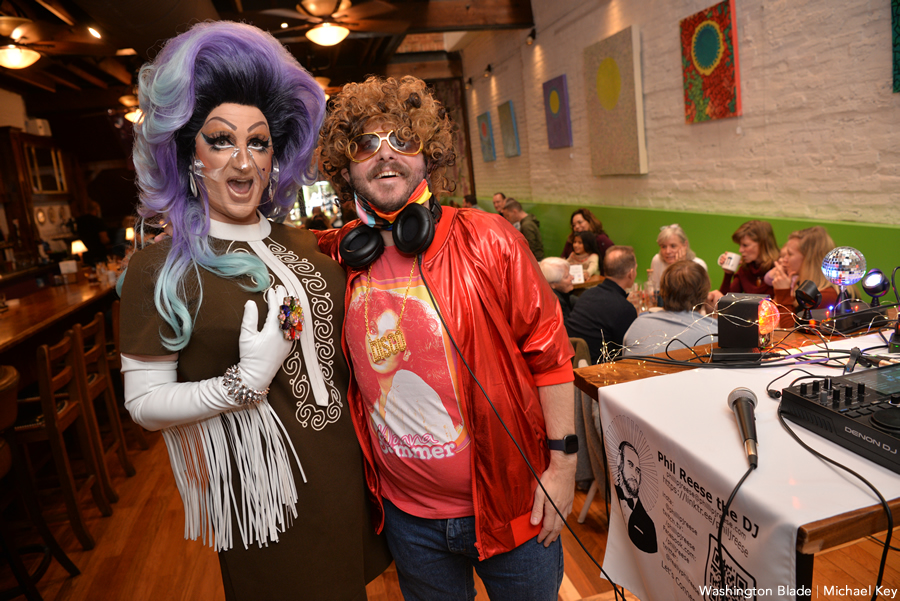 Drag queen Tara Hoot and DJ Phil Reese perform at the biweekly Disco Funk Brunch at the LGBT-owned Crazy Aunt Helen's on Sunday. For future showtimes, go to crazyaunthelens.com. (Blade photo by Michael Key)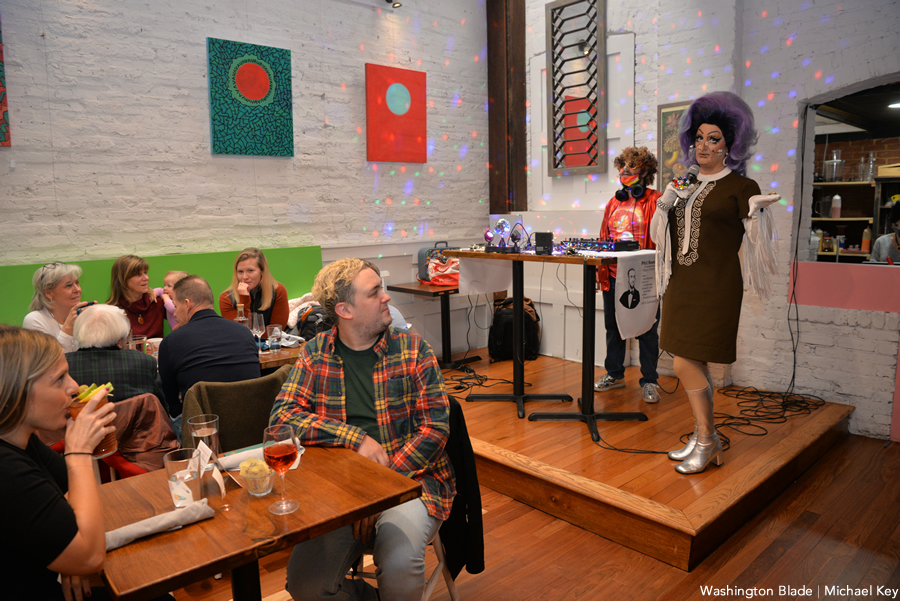 Blade's summer closing party set for Sept. 17 in Rehoboth
Benefits journalism scholarship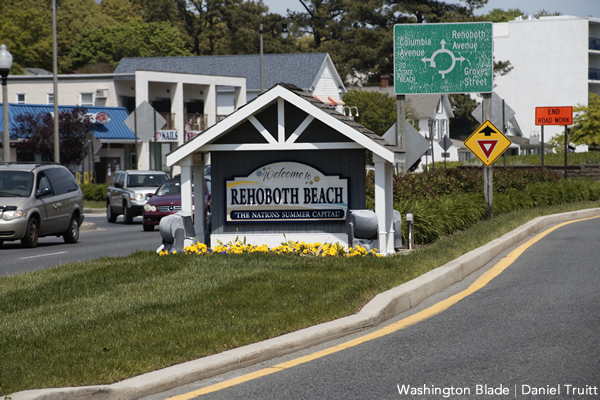 The Washington Blade's 15-year tradition of hosting a summer kickoff party in Rehoboth Beach was disrupted due to COVID restrictions. In lieu of that May event, the Blade is hosting a summer closing party on Friday, Sept. 17 at 6 p.m. at The Pines (56 Baltimore Ave., Rehoboth Beach, Del.).
Tickets are $20, which includes two drinks and appetizers. The event benefits the Blade Foundation's Steve Elkins Memorial Journalism Fellowship, a 12-week program in which an LGBTQ student journalist covers stories of interest to Delaware's queer community each summer.
All COVID safety protocols will be followed, including a requirement that attendees furnish proof of vaccination to gain entry.
If you are unable to attend you can make a donation to the Blade Foundation at BladeFoundation.org. Sponsors of the event include Delmarva Power and The Pines.
Rehoboth to close out summer with SunFest
Series of events to replace long-running Sundance due to pandemic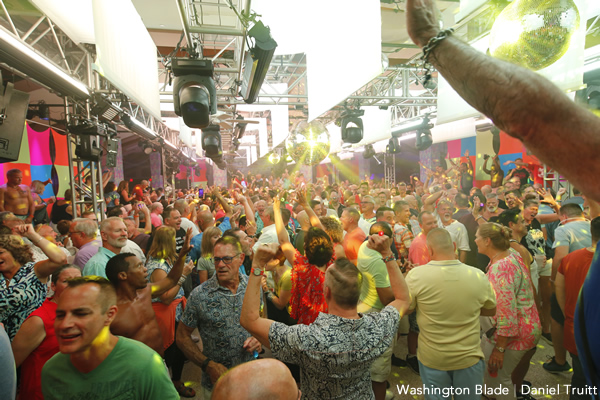 SunFest will feature a week of live performances, dances, and a live auction, sponsored by non-profit LGBTQ+ center CAMP Rehoboth.
The weeklong festival runs from Aug. 29 to Sept. 5 and is a change from the annual SunDance that CAMP Rehoboth has sponsored since 1988. This transformation began last year when the event was forced to go digital due to the coronavirus and the in-person events scheduled this year are important, according to development director and co-coordinator of SunFest Anita Broccolino.
"We love that community feel and the in-person makes all the difference in the world for us. Not being able to do it last year just reminded everyone how important we all are to one another," Broccolino said. "I think that bringing back these events this year is just huge for us and it will be extra celebratory as a result."
The festival begins with a 5k race and online auction opening on Sunday. Monday night features a give-back event at Iron Hill Brewery while Tuesday's agenda is still to be determined, said Broccolino. Diego's will host a Studio 54 give-back dance party on Wednesday and Thursday is the Port 251 women's give-back.
Live performances featuring the Skivvies, Randy Harrison and Diane Huey are scheduled for Friday night and Jennifer Holiday will follow with a performance on Saturday night, both at the Rehoboth Beach Convention Center. The festival closes out Sunday with auction pick-ups and Fun in the Sand and Sun, according to the CAMP Rehoboth website.
This event is also important to the organization's contributions to the community, said Broccolino.
"The essential services we provide for free to the community, which is a huge amount of health and wellness activities, as well as arts programming, a lot of youth programming and the community counts on us for those things. We never stopped during COVID, we made as much as we could virtual, but we took quite a hit not being able to raise those funds and awareness of the programs," Broccolino said. "We invite the entire community to come celebrate with us and make it to Rehoboth Beach, and let's make it joyful, and wonderful and make sure we're living up to the standards of all the people who helped found CAMP Rehoboth and live up to their legacy and beyond."