Gay incumbents face opposition in ANC races
Crime, parking, nightlife issues dominate contests for unpaid posts

Editor's note: Some minor changes were made to this story after it was posted as the Blade's Lou Chibbaro heard from additional sources. The changes are in bold.
At least 29 gay or lesbian candidates are running for Advisory Neighborhood Commission seats in the city's Nov. 2 election, and some who have served as commissioners for multiple terms are facing strong opposition.
Most observers familiar with ANC races say issues like trash collection, street crime, parking, and liquor license applications for restaurants or bars rather than LGBT rights dominate ANC elections.
Among the gay commissioners facing opposition this year is Dupont Circle Commissioner Ramon Estrada, who is being challenged by attorney Sunit Talapatra, who says Estrada's opposition to various development projects along the 14th and U Street, N.W. corridor don't represent the views of the majority of those living in Single Member District 2B09.
Estrada did not return a call seeking comment.
Four other gay commissioners in the Dupont Circle ANC are running unopposed in their re-election bids.
In the section of Ward 6 near the Washington Nationals Stadium, gay longtime Commissioner Bob Siegel, who represents SMD 6D07, is being challenged by urban design advocate David Garber, who says Siegel has not been aggressive enough in monitoring the rapidly changing area surrounding the new stadium.
Siegel disputes that claim, saying Garber has only been to one ANC 6D meeting in the three months he has lived in ANC 6D07. He says Garber doesn't have the familiarity of the longtime residents in an area where new high-rise condominiums and upscale rental apartments are rapidly replacing the warehouses and auto repair garages that once dominated the neighborhood. Garber told the Blade he moved into the district in July but has familiarized himself with the important issues facing the neighborhood.
Siegel received a setback last month when popular Ward 6 Council member Tommy Wells endorsed Garber.
Congress created the ANCs in the early 1970s when it wrote and approved the city's Home Rule Charter. In what was then considered a new means of advancing grassroots participatory democracy, the city's congressional overseers designated 37 Advisory Neighborhood Commissions to represent neighborhoods throughout the city and subdivided them into 286 Single Member Districts.
Each district includes approximately 2,000 residents and is represented by a single commissioner elected to a two-year term. Commissioners are unpaid and their role is limited to advising the city government on a wide range of policy matters. The Home Rule Charter instructs city officials to give "great weight" to the recommendations of the ANCs.
In Ward 5, gay incumbent Barrie Daneker, who represents SMD 5C07 in the city's Bloomingdale neighborhood, is facing a challenge from attorney James Fournier. Fournier states on his campaign website that Daneker didn't adequately reach out to his constituents over a controversial liquor license application in the district and has not adequately handled a controversial proposal to develop the site of the city's former water filtration plant near North Capital Street and Michigan Avenue.
Daneker said he has a two-term record of working closely with constituents and soliciting their views on a wide range of issues, including the water filtration site and the liquor license flap. He told members of the Gertrude Stein Democratic Club Monday night his outspoken support for the city's same-sex marriage equality law was controversial in a ward where many residents strongly opposed the law.
Ward 5 Council member Harry Thomas Jr., who angered many of his constituents by voting for the marriage bill, endorsed Daneker's ANC re-election bid. Thomas won the Democratic nomination for his own seat by winning the primary in September by a comfortable margin despite organized opposition led by same-sex marriage opponents.
Daneker said some of that same opposition may be seeking to oust him from office in the ANC race.
Fournier could not be immediately reached.
In the Estrada-Talapatra race in Dupont Circle, Talapatra, who is straight, is being backed by gay civic activist and former Dupont Circle Civic Association President Joel Lawson.
Lawson and gay D.C. nightlife advocate Mark Lee have raised concerns in the past about Estrada's tactics in opposing the liquor license of the Cada Vez restaurant, which hosted a weekly gay Latino dance party called Fuego. Estrada and others living near 15th and U St., N.W., where Cada Vez was located, complained that it appeared to be operating as a nightclub disguised as a restaurant, placing it in violation of the terms of its liquor license.
In an action that angered gay activists, Estrada and his domestic partner confronted the gay patrons of the Fuego dance party with video and still cameras, videotaping and photographing them as they entered and left the premises. Estrada said the action was needed to submit evidence to the city liquor board that Cada Vez was violating its liquor license by operating as a nightclub. But gay activists said the videotaping intimidated many Latino gays, some of whom feared they would be outed.
"Although Ramon is gay and I am a straight ally, I remain disturbed by the insensitivity Ramon's demonstrated in sanctioning the videotaping of young LGBT patrons entering a club a couple years ago," Talapatra told the Blade. "What home situations were those young kids returning to? Although businesses should abide by the conditions of their liquor licenses, of course, it is important not to embroil innocent patrons in any alleged dispute," he said.
Another seven of the gay or lesbian ANC incumbents are facing opposition, but most are expected to win re-election to their respective seats.
Stein Club President Jeffrey Richardson said the club's bylaws prevent it from endorsing ANC candidates because ANCs were created as non-partisan positions and the club doesn't endorse non-Democrats. But Richardson said the club would send a list of the gay or "LGBT supportive" ANC candidates to its members to help them make "an informed decision" on which ANC candidates to support.
(Photo: Stein Club president Jeffrey Richardson; Blade file photo)
Following is a list the ANC candidates, both incumbents and challengers, who identified themselves as gay or lesbian to Stein Club members:

Juan Lopez, SMD 1B07, incumbent (South Columbia Heights)

Bill O'Field , SMD 1C02, (Kalorama Triangle)

Mike Feldstein, SMD 2B01, incumbent/unopposed (Dupont Circle)

Jack Jacobson, 2B04, incumbent/unopposed (Dupont Circle)

Victory Wexler, 2B05, incumbent/unopposed (Dupont Circle)

Mike Silverstein, 2B06, incumbent/unopposed (Dupont Circle)

Phil Carney, 2B07, incumbent/unopposed (Dupont Circle)

Ramon Estrada, 2B09, incumbent (Dupont Circle)

Alexander 'Alex' Padro, 2C01, incumbent/unopposed (Shaw)

Michael Benardo, 2F05, incumbent (Logan Circle)

Lee Brian Reba, 3C01, incumbent/unopposed (Woodley Park/Zoo)

Tom Smith, 3D02, incumbent/unopposed (Upper Northwest)

Bob Summersgill, 3F07, unopposed (North Cleveland Park/Van Ness)

Michael Yates, 4C01, incumbent/unopposed (Upper Northwest)

Joseph Martin, 4C09, incumbent/unopposed (Petworth)

Thalia Wiggins, 5B06, incumbent (Northeast)

Mary Lois Farmer-Allen, 5C06, incumbent (Northeast)

Barrie Daneker, 5C07, incumbent (Bloomingdale)

Neil Click, 6B08, incumbent (Capitol Hill)

Michael Patterson, 6B09, incumbent (Capitol Hill/Barney Circle)

Larry Frankel, 6B10 (RFK Stadium area)

Brian Cox, 6C05 (North Capitol Hill/H St., N.E. corridor)

Andy Litsky, 6D04, incumbent/unopposed (Southwest Waterfront)

Roger Moffatt, 6D05, incumbent (Southwest Waterfront)

Robert 'Bob' Siegel, 6D07, incumbent (Nationals Stadium area)

Zina Williams, 7B02, incumbent/unopposed (Naylor Rd., S.E. area)

Catherine Woods, 7C03, incumbent (Fitch Pl., N.E. area)
Va. House subcommittees advance two anti-transgender bills
Senate Democrats have pledged to block any anti-LGBTQ measures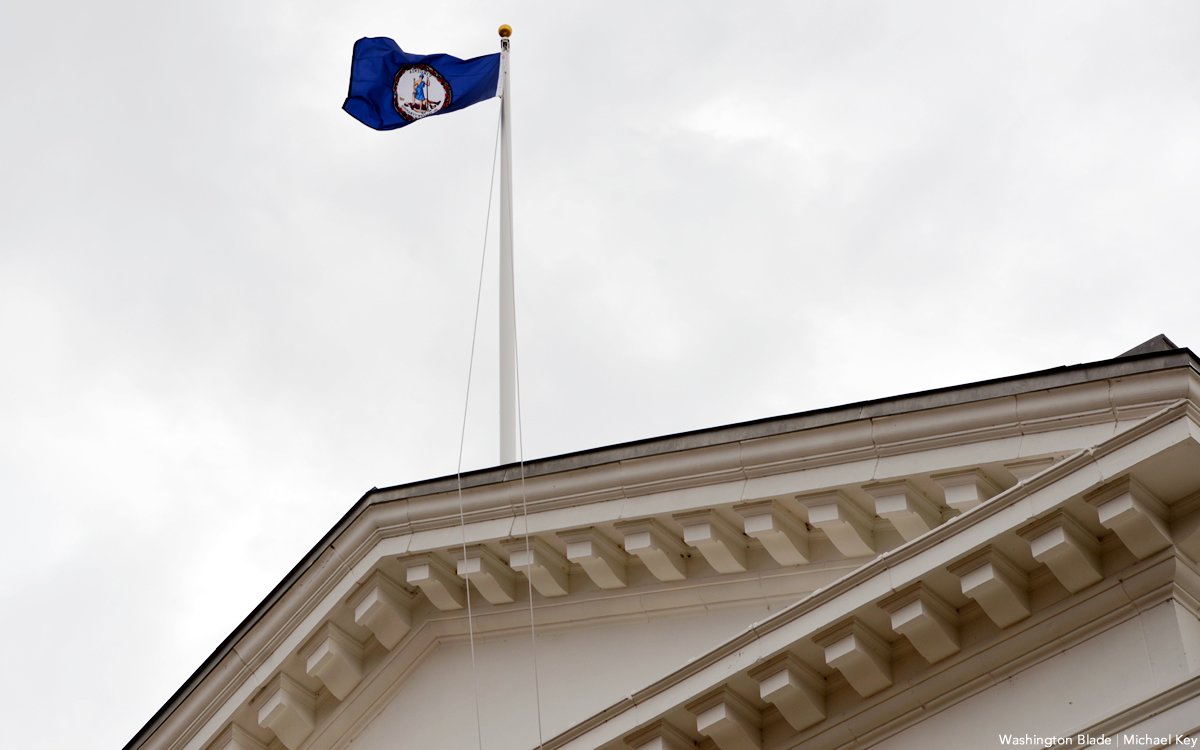 Two anti-transgender bills advanced in the Virginia House of Delegates on Monday.
A House Education Subcommittee by a 5-3 margin voted to advance state Del. Dave LaRock (R-Loudoun County)'s House Bill 2432, which Equality Virginia notes "would require public school personnel to contact a student's parent if they believe that the student's self-identified gender does not align with their 'biological sex.'" The House Higher Education Subcommittee by a 6-4 margin advanced state Del. Karen Greenhalgh (R-Virginia Beach)'s House Bill 1387, which would ban transgender athletes from school sports teams that correspond with their gender identity.
Both bills will now go before the full House Education Committee.
The House Early Childhood/Innovation Subcommittee last week voted unanimously to kill state Del. Jason Ballard (R-Giles County)'s House Bill 1434, which would have required trans students to obtain a court order to update their name in school records. The Senate Public Education Subcommittee on Jan. 26 also tabled three measures that would have banned trans athletes from school teams corresponding with their gender identity.
Republicans currently control the House of Delegates by a 51-47 margin. Democrats, who have a 22-18 majority in the state Senate, have said they will oppose any anti-LGBTQ measure that reaches their chamber.
Va. Senate subcommittee tables three anti-transgender bills
Measures would have banned trans athletes from school teams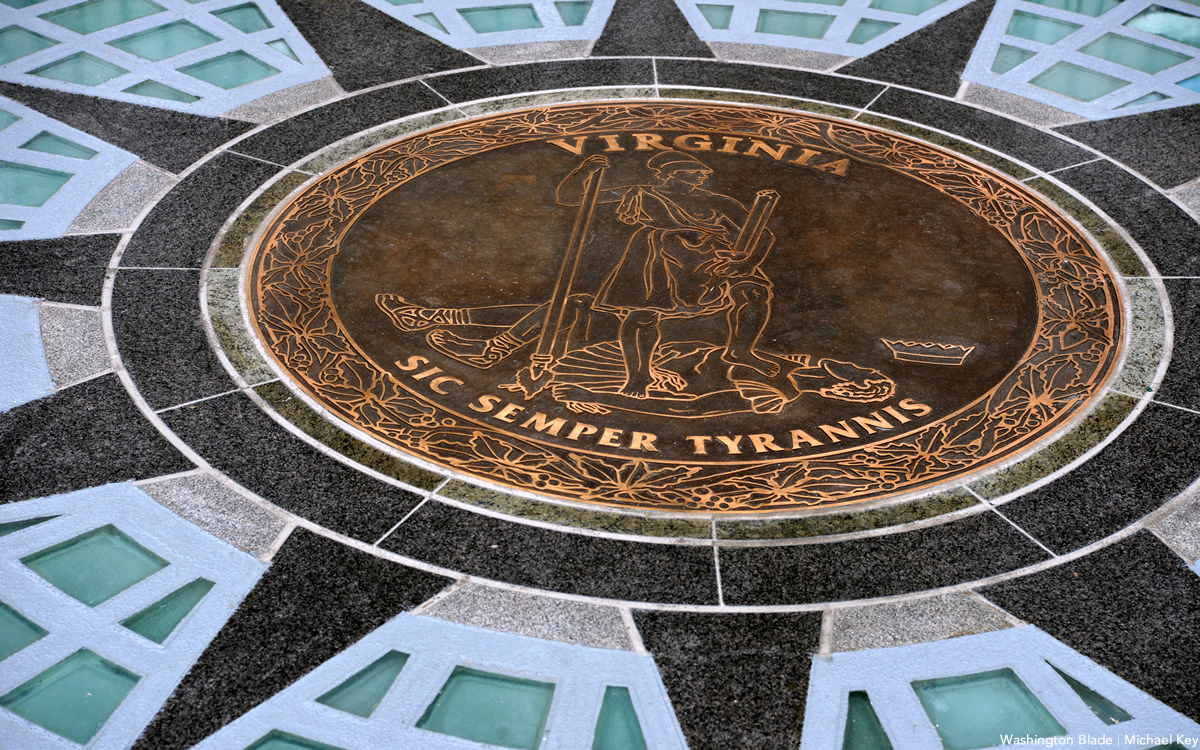 A Virginia Senate subcommittee on Thursday tabled three bills that would ban transgender athletes from school teams corresponding with their gender identity.
The Senate Education and Health Committee's Public Education Committee tabled state Sen. John Cosgrove (R-Chesapeake)'s Senate Bill 911, state Sen. Bryce Reeves (R-Louisa County)'s Senate Bill 1186 and state Sen. Mark Peake (R-Lynchburg)'s Senate Bill 962.
"We're one step closer to these bills being gone for good," said Equality Virginia in a tweet.
GOOD NEWS: A Senate subcommittee voted to pass by indefinitely THREE transgender athlete bans. We're one step closer to these bills being gone for good!

Over 3,000 emails were sent to committee members opposing these harmful bills! #TransYouthBelongVA

— Equality Virginia (@EqualityVA) January 26, 2023
'Talking Trans History' explores lives of D.C. advocates
Rainbow History Project holds first panel for city-funded Trans History Initiative
Longtime D.C. transgender rights advocates Earline Budd and Gabrielle 'Gibby' Thomas gave personal accounts of their transition as transgender women and their work as trans rights advocates Tuesday night, Jan. 24, at a "Talking Trans History" panel discussion organized by D.C.'s Rainbow History Project.
Joining them as a panelist was Rayceen Pendarvis, the acclaimed local event host, public speaker, and LGBTQ community advocate. Pendarvis, among other things, told of being nurtured and taught by dynamic transgender women who proudly affirmed their identity not only as trans people but productive citizens in the community at large.
Vincent Slatt, Rainbow History Project's director of archiving, served as moderator of the panel discussion. He told the audience of about 25 people who gathered at the Southwest Branch of the D.C. Public Library that the event was the first of many such panels planned by the project's recently launched Trans History Initiative.
Slatt noted that Rainbow History Project received a $15,000 grant for fiscal year 2023 from the Mayor's Office of LGBTQ Affairs to conduct the Trans History Initiative. The initiative plans to "better integrate the often-under-represented histories of trans people into our programming," according to a RHP statement.
Budd, 64, who has been a trans-identified activist since the 1970s, became involved in the 1980s with supporting people with HIV/AIDS before founding the D.C. organizations Trans Health Empowerment and Empowering the Transgender Community (ETC), for which she currently serves as executive director. She has received numerous awards for her work in support of the trans community and her self-proclaimed role as "the advocate" for the trans and LGBTQ community.
In her remarks at the panel discussion, Budd told of her childhood upbringing in a religious family where, like many trans people, her parents didn't approve of her early identity as a girl.
"I want to say that around eight or nine my mother found me to be different," Budd said. "The difference was she would lay my clothes out, my sister's clothes and my clothes for us to go to school. And when I would come downstairs, I would always have on my sister's clothes," Budd told the gathering.
"And she would say why do you have on your sister's clothes?" Budd continued. "I said mommy, it fits. No, it does not, you're a boy," Budd quoted her mother as responding. "And let me tell you, that went on and on and on," said Budd, who told how she eventually parted ways with her parents and left the house to embark on her role as one of D.C.'s leading trans advocates.
Among her many endeavors was successful discrimination complaints, including one against a D.C. skating rink and another against the D.C. Jail for discrimination based on gender identity. Budd told how she won in both cases, with strong backing from the D.C. Office of Human Rights.
Pendarvis, among other things, spoke about how an association with trans women as a young adult helped to shape Pendarvis's longstanding and award-winning role as co-founder of Team Rayceen Productions, including 10 years as leading host of "The Ask Rayceen Show," which highlighted topics promoting the LGBTQ and trans community in D.C.
Similar to Budd, Pendarvis has received numerous awards and honors, including recognition from the D.C. City Council, for work as a host and speaker at LGBTQ-related festivals, fundraisers and other events.
"As an activist and host, I have been blessed to do many things," Pendarvis told the panel discussion gathering. "For many who do not quite know how to identify or ask me to identify, first of all, I'm a human being," Pendarvis said. "I am a father of five and a mother of many."
Pendarvis added, "I'm a human being first and foremost, a child of God. And my trans sisters uplifted me first, embraced me first. I came out in a community where our transgender sisters were always on the front line."
Thomas, 65, told the panel session she is a native of North Brentwood, Md., located just outside D.C., but D.C. became her home since shortly after finishing high school. She began her work in the LGBTQ community in 1989 as a caregiver for people with HIV. She has since worked for the local organizations Us Helping Us, Transgender Health Empowerment, and Terrific, Inc. She currently works for Damien Ministries and its "Trans Specific" programming called Shugg's Place that, among other things, focuses on providing services for transgender older adults.
She told of her growing up as one of seven children in a family whose mother and father, she said 'were very loving." But like other trans kids, Thomas said her parents were uncomfortable over her desire to identify as a girl. A more understanding next door neighbor allowed Thomas to spend time in her house as Thomas helped with household errands.
"I would go to the store and things like that for her," Thomas said. "But what's most important, I could dress as I wanted to in her house. She would give me dresses that I could wear. And I could go up there and put on my dresses and watch TV," Thomas continued. "And then I would get to take my dress off and go home because mom and daddy wasn't standing for that."
At around the age of 10, Thomas said, she was aware of current events and observed that her father was a strong supporter and admirer of Martin Luther King Jr. and his civil rights leadership. "I said you can march with Martin Luther King for everybody else's rights but you are going to deny me mine," she recalled telling her father.
Thomas said she initially began patronizing D.C. gay bars after befriending gay men from her high school. A short time later, after realizing that the gay scene was not who she was, she discovered the then D.C. gay drag bars Louis' and The Rogue and had a chance to meet "people like me." But she said someone she met at one of those two bars introduced her to the then D.C. Black gay bar called the Brass Rail, where transgender women hung out.
"And I said, oh my God, I am home. This is heaven," Thomas told the panel gathering. "When I came to the Brass Rail I felt like I was home" as a trans person, Thomas said. "I met so many terrific people."
She went on to tell about the trials and tribulations of fully transitioning as a trans woman and her growth as a transgender activist with a career dedicated to supporting the trans and LGBTQ community.
Japer Bowles, director of the Mayor's Office of LGBTQ Affairs, spoke briefly at the start of the Talking Trans History panel discussion. He said the mayor's office was excited to be supporting the Rainbow History Project's newly launched Trans History Initiative.
"I'm really, really excited to work for a mayor who not only is fighting for things for our community, but truly funding these opportunities," Bowles said. "This is about you and our trans communities. So, I'm here to listen."
Slatt also announced at the panel session that Rainbow History Project has a paid job opening for one or more positions to help run the city funded Trans History Initiative. He said information about the job opening for people interested in applying can be obtained through RHP's website. He said a video recording of the panel session would be posted on the website in a week or two.