High Heel Race is not to be missed

By TYGER LATHAM
Tuesday marked the 25th anniversary of D.C.'s annual High Heel Drag Race. As a long-time Washingtonian, this is an event I try not to miss.  How often do you have the opportunity to see men dressed up like Lady Gaga, Michelle Obama, and the late Princess Di? In a city known for its social restraint and conservatism, the High Heel Race is a nice change of pace.
The event is a famed pre-Halloween tradition that unites the local LGBT community, along with anyone else who cares to join the festivities. One of the things I have always appreciated about this particular D.C. tradition is the open and accepting spirit of everyone who participates.  There are literally thousands of onlookers, including our own Mayor Adrian Fenty, who gather to see drag queens in high heels sprint down 17th Street in Dupont Circle.
While always a lot of fun, the drag races also have a somewhat subversive undertone. Watching more than 100 men dressed up as women can challenge your conception of gender roles and identity. Are these drag queens gender-revolutionaries or gender-conservatives? Does a man wearing a dress, high heels, and lipstick destabilize gender and sexual categories or is this just parody and reinforcing the dominant binary gender roles of women as sexual objects? I'm not sure what the answer is but I can tell you that any guy willing to put on seven-inch stiletto heels and run three blocks at Olympic speed has my respect.
(Tyger Latham, Psy.D. is a licensed psychologist in Washington, D.C. He has a private practice in Dupont Circle, where he specializes in men's issues, sexual abuse and trauma, and LGBT concerns. Reach him via  http://TheRiddlingSphinx.blogspot.com.)
National Gay & Lesbian Chamber of Commerce Certifies Brown, Naff, Pitts Omnimedia, Inc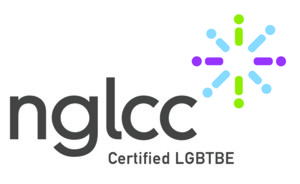 Washington, D.C. — Brown, Naff, Pitts Omnimedia, Inc, the parent company of the Washington Blade and Azer Creative, announced today it has been certified by the National Gay and Lesbian Chamber of Commerce (NGLCC) as an LGBT Business Enterprise. The NGLCC supports and advocates for diversity and inclusion for LGBT-owned businesses. With this certification the Blade's parent company joins more than 510 business and 134 corporate partners of the NGLCC.
Brown, Naff, Pitts Omnimedia, Inc. owns and operates the Washington Blade, the oldest and most acclaimed LGBT newspaper in the country. In 2012, the company launched Azer Creative, a full-service design firm. The company employs more than a dozen full-time LGBT staff.
"We are excited to become one of the 500 LGBT businesses across the country certified by NGLCC," said Lynne Brown, the Blade's publisher and a co-owner of the company. "The LGBT community has been part of our company from the beginning and we look forward to continue that for many years to come."
The Washington Blade was founded in 1969 and is known as the "newspaper of record" for the LGBT community both locally and nationally. Visit washingtonblade.com for more information. Azer Creative is a full-service graphic design firm based in Washington, D.C. Visit azercreative.com for more information. 
Vote now for the 2013 Best of Gay DC!
Choose in dozens of categories among hundreds of nominees, and make your voice heard!
Nominate the 'Best of Gay D.C.' now!
Dozens of categories cover all the best for LGBT Washington. Who deserves the prize this year?