In a naked display of foot-stomping attention-seeking, GOProud today announced it has expanded an ad buy targeting gay Rep. Barney Frank (D-Mass.).
The ad is titled "The Real Democrats of Washington, D.C." and depicts Frank as "catty." GOProud blames him for  "the financial meltdown that devastated our economy."
Of course, the Bush administration that cut taxes while dramatically increasing spending and the size of government is blameless in GOProud's eyes.
The ad itself is amateurish and unfocused — why include Barbara Boxer in an ad running in Frank's district? And if Frank is to blame for the global financial crisis, then where is the proof? The worst GOProud can say about Frank is he's "catty" because he snapped back at a loud-mouthed health care reform protester.
This is just the latest in GOProud's attempts at winning attention for its cause, whatever that may be. The sole purpose of this organization seems to be staging outlandish stunts that will land Chris Barron on cable TV interview shows. Now there's a noble calling.
GOProud bills itself as "the only national organization representing gay conservatives and their allies." This, of course, is a lame and silly dig at the Log Cabin Republicans. Barron needs to get over his sour grapes — he is Log Cabin's former political director who broke with the group after rumors he was passed over for the top job there. The reality is that as GOProud slides into lunacy, the mature gay conservative group, Log Cabin, is making real headlines for its successful and substantive lawsuit targeting "Don't Ask, Don't Tell."
The disintegration of GOProud is disappointing. We need powerful advocates in both parties and Log Cabin has suffered from plenty of its own problems in recent years. But R. Clarke Cooper has steadied the ship there lately.
There are smart and sensible voices within GOProud, most notably Jessica Lee, who has written provocative and insightful columns for the Blade. Unfortunately, the recent stunts — the Frank ad, Ann Coulter speaking at HomoCon — overshadow any good that might come from this group.
Generating faux controversies that lead to ego-gratifying appearances on Fox News and MSNBC is easy. Now it's time for GOProud to find a goal and mission that doesn't involve slinging undeserved arrows at our most important allies.
National Gay & Lesbian Chamber of Commerce Certifies Brown, Naff, Pitts Omnimedia, Inc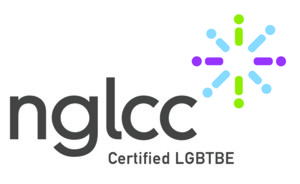 Washington, D.C. — Brown, Naff, Pitts Omnimedia, Inc, the parent company of the Washington Blade and Azer Creative, announced today it has been certified by the National Gay and Lesbian Chamber of Commerce (NGLCC) as an LGBT Business Enterprise. The NGLCC supports and advocates for diversity and inclusion for LGBT-owned businesses. With this certification the Blade's parent company joins more than 510 business and 134 corporate partners of the NGLCC.
Brown, Naff, Pitts Omnimedia, Inc. owns and operates the Washington Blade, the oldest and most acclaimed LGBT newspaper in the country. In 2012, the company launched Azer Creative, a full-service design firm. The company employs more than a dozen full-time LGBT staff.
"We are excited to become one of the 500 LGBT businesses across the country certified by NGLCC," said Lynne Brown, the Blade's publisher and a co-owner of the company. "The LGBT community has been part of our company from the beginning and we look forward to continue that for many years to come."
The Washington Blade was founded in 1969 and is known as the "newspaper of record" for the LGBT community both locally and nationally. Visit washingtonblade.com for more information. Azer Creative is a full-service graphic design firm based in Washington, D.C. Visit azercreative.com for more information. 
Vote now for the 2013 Best of Gay DC!
Choose in dozens of categories among hundreds of nominees, and make your voice heard!
Nominate the 'Best of Gay D.C.' now!
Dozens of categories cover all the best for LGBT Washington. Who deserves the prize this year?