Time has come to bring our city together
Vote Gray, Catania and the Dem slate in D.C.

On Tuesday we have the opportunity to begin to bring our city together. I urge everyone to vote for Vincent Gray for mayor, Kwame Brown for Council Chair, Eleanor Holmes Norton for delegate and the entire Democratic slate. Then cast a vote for David Catania for Council-at-Large for the non-Democratic Council seat.
There has been much talk about the write-in campaign for Adrian Fenty. He personally has said he will vote for Vincent Gray but there are die-hard Fenty supporters who think they are making a statement by writing in his name. They actually may be hurting him. They are turning him into a two-time loser and that can't be good for his future.
Whether Fenty gets 1,000, 2,000 or 20,000 votes as a write-in candidate is irrelevant since he won't beat Vincent Gray who only needs to win by one vote to be the next mayor. There is talk that the write-in will keep Gray from getting a mandate. Well, mandates don't mean much. Fenty had one in 2006 and look where it got him. Gray has good relationships with the Council and a thorough knowledge of our city, so a mandate won't make a difference in how he moves us forward. And move us forward he will.
He has already secured the appointment of Kaya Henderson, deputy chancellor under Michelle Rhee, as the interim chancellor of public schools. Both Gray and Henderson are committed to continuing aggressive education reform. It's likely he will keep Cathy Lanier as chief of police and both she and the union have already said they will work together for the good of the community. Gray is committed to reducing the number of boards and commissions and appointing only highly qualified people to serve on those that remain.
The nastiness of some of the backers of the write-in campaign has been sad to see. Yes, everyone is entitled to vote for whomever he or she chooses, but attacking Gray with make-believe scenarios of returning us to the past is just silliness. And some columnists like Jonetta Rose Barras must have felt slighted somewhere in the past to account for some of the over-the-top vitriol that has appeared in their columns.
Gray has been impressive in the town hall meetings he has hosted across the District. He has amazing amounts of information at his fingertips on agencies, budgets and the history of our city. He successfully chaired the Council that passed education reform, civil marriage equality and universal early childhood education. He supports and recently cut the ribbon for the new Community College of the District of Columbia, which already has nearly 3,000 students enrolled. He continues to speak out against violence and hate and is committed to working with public schools to end the bullying of LGBT youth. He has secured the assistance of Alice Rivlin and Anthony Williams to work with him on budget issues.
Gray doesn't need a mandate to govern but our votes should go to the person who will be the next mayor to symbolize our support for his vision of "One City." We are all a big part of that "One City" and we will see the benefit of having a mayor who is comfortable facing head-on, talking about, and working to end the racism, homophobia and sexism that still permeate our city.
It is time to move to the next phase in building our city. People like Michelle Rhee can be seen as change agents and they often don't stay around. It was Rhee herself that made it impossible for her to continue here. She realized that and resigned. Fenty may one day be looked at as a change agent as well. History will look at what he accomplished and how he did it and answer such questions as whether he overspent the budget and took credit for too much of what Anthony Williams began.
On Tuesday, cast a vote for Vince Gray for the future of the District, for "One City." Only by working together will we succeed in making a better life for us all.
National Gay & Lesbian Chamber of Commerce Certifies Brown, Naff, Pitts Omnimedia, Inc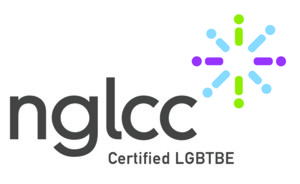 Washington, D.C. — Brown, Naff, Pitts Omnimedia, Inc, the parent company of the Washington Blade and Azer Creative, announced today it has been certified by the National Gay and Lesbian Chamber of Commerce (NGLCC) as an LGBT Business Enterprise. The NGLCC supports and advocates for diversity and inclusion for LGBT-owned businesses. With this certification the Blade's parent company joins more than 510 business and 134 corporate partners of the NGLCC.
Brown, Naff, Pitts Omnimedia, Inc. owns and operates the Washington Blade, the oldest and most acclaimed LGBT newspaper in the country. In 2012, the company launched Azer Creative, a full-service design firm. The company employs more than a dozen full-time LGBT staff.
"We are excited to become one of the 500 LGBT businesses across the country certified by NGLCC," said Lynne Brown, the Blade's publisher and a co-owner of the company. "The LGBT community has been part of our company from the beginning and we look forward to continue that for many years to come."
The Washington Blade was founded in 1969 and is known as the "newspaper of record" for the LGBT community both locally and nationally. Visit washingtonblade.com for more information. Azer Creative is a full-service graphic design firm based in Washington, D.C. Visit azercreative.com for more information. 
Vote now for the 2013 Best of Gay DC!
Choose in dozens of categories among hundreds of nominees, and make your voice heard!
Nominate the 'Best of Gay D.C.' now!
Dozens of categories cover all the best for LGBT Washington. Who deserves the prize this year?