Best of Gay D.C. readers' poll winners
You voted, we tabulated …. the envelope please

Our annual Best Of Gay DC issue is back with the usual accolades for your favorites in dining, nightlife, community and more. There are a few new categories this year, like Best Gay TV Personality — the only category that brought a tie vote.
There's a lot of work involved in putting this special issue to bed each year but it's a labor of love for the sense of community it engenders. Thanks to all who voted and enjoy looking over this year's winners.
The all-time champ, JR.'s, is back again this year adding a 17th prize to its bounty. Other long-time favorites like Phase 1, Freddie's, Town and MCC-DC are also back but there are many newcomers to the list as well.
The winners were selected by Blade readers in an online vote. Thanks to all who participated. The profiles were written by Joey DiGuglielmo, David J. Hoffman, Juliette Ebner, Patrick Folliard and Henry Morillo. Michael Key shot the photos. We'll start with those, then the bios follow.


Best Vegetarian Restaurant: The Reef
The approach to food at the Reef, an Adams Morgan bar and restaurant at 2446 18th St., N.W., is simple — "dining with a conscience." But not just as in good for your principles, but good for your appetite too.
Kitchen manager Connor Ireland promises "you'll taste the difference" with a vegetarian menu that is mouth watering even for confirmed carnivores.
For starters, sample the humus made from organic chickpeas and olive oil drizzled with hemp seed oil, or the warm dip of wild mushrooms flavored with herbs and red wine, and move on to something tasty like the mushroom and barley stew with carrots, potato, onion and celery, or the roasted veggie and black-bean quesadilla.
Meat eaters can also feel less conscience-stricken for the Reef also serves only free-range meats and poultry – no beef or pork from livestock stuffed with growth steroids and hormones and penned in feedlots. A vegan burger is also served. As for seafood, only fish and shellfish from sustainable aquaculture is on the menu. And no endangered species like Atlantic cod or swordfish.
The setting for the Reef is noteworthy — from its jungle-theme lower-level bar to its main floor with 14-foot high windows overlooking the street and large salt-water fish-tanks with colorful clownfish and creatures of the coral reef. There's also a bustling rooftop bar, covered and heated for the creature comfort of denizens of the urban reef. This is the Reef's first Blade award. (DH)
2446 18th Street, N.W.
Washington
202-518-3800
Best Ethnic Restaurant: Rice
If you like fine Thai food, served here at Rice in Logan Circle since 2003 under the supervision of owner Sak Pollert who grew up on a rice farm in rural northern Thailand, then this is for you. He says he can still recall the sweet fragrance of jasmine in the sticky rice steaming in his family kitchen at 4 a.m.
Despite more than 170 Thai-serving restaurants in the metro area, this place stands out. From the burnished nickel nameplate out front to the low-lit calming green palette inside, RICE will put you quickly at ease in its minimalist-chic setting with dark tables topped with flickering candles.
This is Rice's third Blade "Best Of" prize and first since 2005.
Rice offers authentic Thai dishes and a "healthy greens" vegetarian selection – one-third of the menu is meatless. The Thai standbys — spicy drunken noodles and pad thai — are tasty and the curries are all they should be.
The bar is full service, with martinis and specialty drinks that feature a flair for the fruity, like a cucumber-melon mojito. No reservations are taken and the word is to arrive between 5 and 8 p.m. to avoid waiting for a table. (DH)
1608 14th St., N.W.
Washington
202-234-2400
Best Dessert: Hello Cupcake
Hello Cupcake was created out of owner Penny Karas' passion for pastry.  Karas would make home-baked treats for her family, friends and gatherings.
"We're thrilled to have been chosen Best Dessert," Karas says. "It's always great to get positive feedback and affirmation from our customers, especially Blade readers, who we believe to be tastemakers in D.C."
Hello Cupcake has a clean, modern design with a few old-fashioned elements. The pink crystal chandelier adds a fancy touch.
Cupcakes are $3 each and can be bought single, in a box of four, six or 12. The boxes are wrapped with biodegradable twine and customers are provided with a re-useable handle. (JE)
1361 Connecticut Ave., N.W.
202-861-2253
Best Hotel Bar: POV at the W Hotel
POV at the W Hotel is a bar unlike most others.
Each beverage has a customized "ice program." Some cocktails call for chips from a 100-pound ice block, some hand-sculpted spears, spheres or pellets and some require simple shaved ice.
Mixers are made fresh at a juicing station with locally grown produce.
Black- and red-lacquered walls show off the bar's array of colorful, independent labels, spirit bottles and glasses. Customers at the bar sit on zebra-striped cowhide stools to watch the bartenders as mix drinks.
You can also sit on custom couches that stand out against the black walls. The walls are a great outline to 12-foot-tall windows showing a view of the White House and the Washington Monument.
This is POV's second Blade "Best Of" prize. It also won this category last year. (JE)
515 15th St., N.W.
202-661-2478
Best Brunch: Level One
Level One, voted best new restaurant last year, has its "disco brunch" each Saturday and Sunday from 10 a.m. to 4 p.m.
"Two years ago we were begging people to come in to the restaurant," Mark Rutstein, general manager of Level One, says. "The first order of business was to get rid of the $30 brunch and design it with options so that if people want a $14 breakfast they can have it."
All items on the menu, including the unlimited Bloody Mary bar or bottomless mimosas, have disco-themed titles such as "Mamma Mia Steak and Eggs," "54 Eggs" and "Saturday Night Hangover Biscuits and Gravy."
"The community couldn't resist patronizing us," Rutstein says about the humorously named brunch dishes. "We are pleased that [they have] recognized our efforts and made it one of their favorite places to brunch." (JE)
1639 R St., N.W.
202-745-0025
Best Wine Bar: Cork
A gathering place for U Street and Logan Circle residents, Cork has a fine selection of wines and tasty plates to snack on. Owners Diane Gross and Khalid Pitts, Logan Circle residents themselves, took over the location in late 2007.
"Our dream in creating Cork was to open a welcoming space in our neighborhood for people to come with their friends and family," the restaurant's website says.
At any given time, Cork offers at least 50 wines by the glass and 160 bottles from small producers from around the world. Customers can take "flights of wine" to explore different regions. The staff of Cork will also offer suggestions for pairing wines with the different dishes they offer.
The bar offers wine tastings twice a month, with not only wines from the wine list, but also a few surprises.
This is Cork's third Blade prize. It won this category last year and was voted "best new restaurant" in 2008. (JE)
1720 14th St., N.W.
202-265-CORK
Best Place for Food and Free WiFi: Busboys & Poets
Busboys & Poets is a restaurant, bookstore, fair trade market and gathering place established by Anas "Andy" Shallal in 2005 with the flagship location at 14th and V streets, N.W. There are two other locations, all of which strive to enhance the community.
The name refers to American poet Langston Hughes, who worked as a busboy at the Wardman Park Hotel in the 1930s before gaining recognition as a poet. Some rejected ideas for the restaurant's name included Writers Block Cafe, Broken Bread Cafe and White Rabbit Cafe, inspired by "The Matrix."
The store often hosts events for activists, artists, writers and more, including readings, viewings, discussions and open mic nights.
This is Busboys & Poets' first Blade prize since 2006 when it won "best new restaurant." (JE)
2021 14th St., N.W.
202-387-7638
Best Chef: Chef Allan Javery of Level One
Although he's only been executive chef of Level One restaurant for less than a year, Allan Javery has already made enough of an impact to be voted "Best Chef." Since he was appointed, Javery says profits at the restaurant have gone up, a testament to his skills in this troubled economy where many people are dining out less frequently.
Originally from lower Connecticut, Javery's history in cooking started at home and continued through his high school culinary classes. He's been working in a kitchen since he was 16.
Now, as head chef for Level One, Javery must oversee all functions of the kitchen, including creating the schedule, overseeing staff, purchasing equipment and most importantly, deciding on the menu.
He chooses seasonal menus that reflect the restaurant's "New American" style, taking classic American dishes and adding a new twist on them. For the fall menu, he's included innovative choices such as braised short rib and "truffle mac & cheese." He hopes soon the restaurant will be able to provide all natural or organic meat options for specialties.
Javery isn't gay, but his love of the craft has made an impact on the gay community, probably because, as he puts it, "I don't know if other people put as much heart in their food as I do." (HM)
1639 R St., N.W.
202-745-0025
Best Date Restaurant: Floriana
American and Italian cuisine define the Floriana menu and romantic atmosphere abounds. At 1602 17th St., N.W. in Dupont Circle, Floriana is decidedly cozy and upscale.
It's housed in a converted brick Victorian row house, with the kitchen and an intimate bar in the basement and the dining rooms upstairs. Dine in the richly red-hued front room, with its more formal feel suggested by its ornate fireplace. The patio, however, offers an informal choice and is perfect for watching the ceaseless parade of life and people on 17th street.
Pastas are all made in house and you can taste the difference. Monday and Tuesday night try the half-price pasta dishes. The place serves a famous lasagna, a 30-year-old recipe with layer upon layer of al dente pasta with seasoned hamburger and melted mozzarella. Other good choices include butternut squash ravioli sprinkled with parmesan. Also be sure to try the garlicky parsley-almond pesto spread for breadsticks or the mango and goat cheese salad.
This is Floriana's first Blade award. (DH)
1602 17th St. N.W.
202-667-5937
Best Late Night: Annie's Paramount Steakhouse
There are many places in D.C. for late night, but Annie's seems the place to go, and it isn't your average steak house.
Annie's is making a triumphant return to our awards this year. This is Annie's 16th Blade prize. It's second only to JR.'s for most Blade "Best Of" awards.
"We've been doing the late night for quite a while," Raul Deguzman, general manager of Annie's, says. "It's good to be recognized."
The atmosphere is fun and energetic, a great place to meet up with friends before and after hitting the local clubs and bars, since It's open 24 hours on weekends.
Friday nights there is even a midnight brunch that goes until 4 p.m. the next day where customers can enjoy French toast, eggs benedict and, of course, steak and eggs. (JE)
ANNIE'S PARAMOUNT STEAKHOUSE
1609 17th St., N.W.
202-232-0395

Best Dance Club: Town
Town Danceboutique continues to cement its reputation as a top dance club in Washington. But with weekly drag shows, theme parties like the "red party" and "super hero night" and even the somewhat unexpected home of the Friday bear happy hour that needed a new spot when EFN closed, Town is much more than a twink-filled dance club.
Town has won this award every year since it opened three years ago. Counting Ba'Naka's win this year for best drag queen, Town and its staff now have 11 Blade "Best Of" awards.
"I am amazed at the continued response to what we do at Town," owner Ed Bailey says. "We try very hard to provide consistent quality entertainment and value and it's so flattering that people have responded so positively for so many years in a row. Thank you D.C."
Weekly drag shows are every Friday and Saturday from 10 to 11:30 p.m. Its owners previously ran other local dance clubs including Tracks, Velvet Nation, Cobalt and Ozone. (JD)
2009 8th St., N.W.
202-234-TOWN
Best Out-of-D.C. Bar: Freddie's Beach Bar
Freddie's Beach Bar is once again a shoo-in favorite for this prize — this is the Crystal City, Va., bar's ninth consecutive win in this category and counting bartender Kymmr Barker's win, the bar's 14th prize overall.
Owner Freddie Lutz, who's gay, says it's still fun to win after all these years.
"That's fantastic to hear," Lutz says. "We always try to keep things fun and exciting at Freddie's Beach Bar."
Recent highlights have been guest visits from several contestants of "RuPaul's Drag Race."
And many of the traditions will continue in the coming weeks — a three-day Halloween extravaganza, a Halloween-night drag show Lutz says will be "extra special," a Thanksgiving buffet and, in March, the bar's 10th anniversary celebration.
"Thanks to all who voted for us," Lutz says. "We appreciate all our loyal customers." (JD)
FREDDIE'S BEACH BAR & RESTAURANT
555 South 23rd St.
Crystal City, VA
703-685-0555
Best Happy Hour: Thursdays at JR.'s
You'd think with as many Blade "Best Of" awards as JR.'s has won — it holds the all-time record of most wins with 17 — there'd be a wall of fame of Blade plaques hanging there. Perhaps around the moose head. I mean, who are we kidding, this isn't the Academy Awards, but it's still a fun shout out from the locals.
Manager Dave Perruzza says most of their plaques haven't survived.
"They just started giving good ones a couple years ago so most of them have fallen apart," he says.
Perruzza says JR.'s deserves the award.
"It is truly one of the best happy hour specials for gay bars," he says. "I'm pretty sure our prices are cheaper than anyone else's. We have great specials."
This is JR.'s sixth win in the "happy hour" category.
The bar, owned by Eric Little, has been a 17th Street staple since it opened in 1986. (JD)
1519 17th St. N.W.
202-328-0090
Best Place to Meet Men: Cobalt/30 Degrees
Cobalt's cachet has picked up considerably since Mark Rutstein — look for him in the "Best Realtor" category — came on board in late 2008. Blade readers noticed giving the 17th Street staple bar/dance club its first prize since 2005 (its only blip in the meantime was a mini shout-out last year for hosting Bare which won in the "best lesbian nightlife event" category).
Rutstein, who manages the bar for gay businessmen Eric Little and Dave Perruzza, is thrilled.
"I am ecstatic about where we have come as an entertainment venue," he says. "We literally picked ourselves off the ground and started paying attention to what the scene wants to hear and see as far as entertainment goes."
He also gets a kick out of the category.
"We certainly are a great place to meet men," Rutstein says with a laugh. "I see the boys showing up with their friends and leaving with others. But that's top-secret information."
Cobalt is a four-story entertainment juggernaut that, with the success of Level One — another winner this year — is finally seeing its full potential emerge.
This is Cobalt's third win in this category and its fifth "Best Of" award overall. (JD)
1639 R St., N.W.
202-232-4416
Best Drag Show: Ziegfeld's
Ziegfeld's/Secrets is back into a good groove now that it's been open again since February 2009.
Most Blade readers know the story — the construction of the Washington Nationals Stadium wiped it off the local gay nightlife landscape for nearly three years. Despite its off-the-beaten-path location — it's one of the few beacons of gay life in Southwest — it continues to draw big crowds each weekend with local legends Ella Fitzgerald and Kristina Kelly hostessing.
"It's always an honor to win," says general manager Jon Parks. "It's always greatly appreciated to know that we're respected in that way."
This is Ziegfeld's sixth win in this category. It's won it every year it's been open except 2002 when Ester Goldberg's Big Show won (it was still the editors' pick that year).
"I think it's due to the quality of the show," Parks says of the wins. "We're always looking for ways to improve but we really consider it a show club in drag, not just a drag show." (JD)
Entertainment Complex
1824 Half St., S.W.
202-863-0670
Best Place to Meet Women: Phase 1
Phase 1 is a D.C. institution that celebrated its 40th anniversary in February but has seen a rebirth in the last five years since manager Angela Lombardi came on board.
She's delightfully unpretentious about what the Phase offers.
"At the end of the day we're kind of a dive bar," she says. "If you want to go out and have your fancy drink, if you want a capriana or whatever people drink nowadays, you want to go to a fancy bar and pay $14 a drink, that's not us. Here you get a $3 PBR pounder."
Due to Lombardi's vision, Phase has made a name for itself beyond D.C.'s lesbian scene. Its annual Phasefest queer indie music festival has become a September tradition attracting LGBT acts from all over the East Coast. Locals have come to love it for its Jell-O wrestling nights.
Gay owner Allen Carroll, who started the bar with his former partner, the late Chris Jansen, credits Lombardi with raising Phase's hip quotient.
"She's really breathed a lot of new life into it," Carroll told the Blade in February for the 40th anniversary story.
This is the Phase's 11th Blade "Best Of" prize since the awards began in 2001. It won "best lesbian bar" consecutively from 2001 to 2003 and from 2005 to 2008. It won "best place to meet women" in 2004, 2008, 2009 and again this year. (JD)
525 8th St., S.E.
202-544-6831
Best Cocktail: Cucumber Ginger Martini, at Mova Lounge
Picking this one as the tastiest cocktail makes sense as the green sheen of cucumber is all over the interior of the Mova gay lounge. With its clean modern design and the tranquil glow from recessed lighting, sleek and swanky Mova is chill without being chilly.
Across from Whole Foods on P Street, Mova (launched in 2004 as Halo) is named for its owner, Miami-based Babak Movahedi, who intends to position it both for community philanthropy and "green" sustainability. It may yet be moving, the result of a lingering dispute with its landlord, but its tag-line these days – "Mova ain't Ovah" —promises a future for the club (sister to one in Miami's South Beach, and a third is planned for Ft. Lauderdale next year).
Apparently the name change hasn't hurt the bar's popularity. This is Mova/Halo's 13th Blade prize and it wasn't even open the first three years we gave these out. Last year Blade readers gave it a general cocktail award. The year before its mojito won this same category.
So, sample the cucumber ginger martini, dry but with a veggie and piquant bite and other cocktails when the prices come down during the daily two-for-one happy hour and on Wednesdays until closing. (DH)
1435 P St., N.W.
Best Gay-friendly Straight Bar: Cafe St-Ex
Opened in 2003, this is a genuine, friendly neighborhood bar. Located at 1847 14th St., N.W., near T, it boasts food service that is also sophisticated where it counts – in the menu. It's "locavore," meaning it enthusiastically uses local foods with the freshest ingredients from farmers' markets like the one at 14th and U streets.
The theme is aviation since it's named for pilot and author (of "The Little Prince" ) Antoine de Saint-Exupery. The interior look is all masculine dark wood with reddish-hued wallpaper, and in the lower level is Gate 54, a lounge with dance-floor (a DJ is there Tuesday through Saturday). Outdoors are patio-style tables for warmer weather to enjoy such gustatory treats as a dreamy chilled asparagus soup with lemon creme fraiche, or a tuna steak seared translucent pink so tender it cuts like butter, served with a basil and pine-nut risotto with wild mushrooms.
The cocktails can be fruity – try the Point of No Return margarita and there's a wide range of beers at the bar – like Schafly Dry Hopped and Kasteel Rouge.
While the principal owner Mike Benson and staff are all straight, the ambience is totally relaxed and gay-friendly. (DH)
1847 14th St.
Best Live Music: 9:30 Club
The 9:30 club — technically Nightclub 9:30 though nobody calls it that — is one of D.C.'s most popular live-music venues. Plus it features the renowned 9:30 cupcakes, touted as "the best thing you could possibly put in your mouth." A menu of sandwiches, paninis and wraps — including vegetarian and vegan fare – and sweets is also available. Four full bars serve beer and cocktails plus there's a coffee bar for caffeine-fueled fun.
It's mostly standing room only — cheek against jowl — though for those wanting "first come, first seated" there are a few bar stools on the balcony. Virtually every night some solo act or band is rocking or wailing, for example this weekend it's Robert Randolph and the Family Band — a blend of roots rock, blues and gospel and a strongly social message with songs of black American hope and uplift. Every musical taste finds its flavor in the nightly offerings, and most new shows are announced and updated each Thursday evening online. In person you can also try the box office noon to 7 p.m. weekdays, and open nights and weekends for shows.
It's hugely popular with Blade readers. This is its fifth consecutive win in this category.
Music lovers who want to unleash their dance moves on an unsuspecting world should pay special attention to regular, tightly packed Blowoffs- featuring the DJ sounds of singer-songwriter Bob Mould, an indie rocker and onetime member of seminal punk band Husker Du, and renowned remix artist Richard Morel. When not spinning, they also hang out on the dance floor. These nights are guaranteed gay-dance destination-events, high-octane musical smack-downs drawing all sorts, from beer-chugging men's men and leather daddies to circuit boys and hipster glitterati. The next Blowoff is Nov. 13. (DH)
815 V St., N.W.
Best Neighborhood Bar: Nellie's Sports Bar
What sounds like a gay slur isn't. In fact, there's no jock irony whatsoever in naming this great gay sports hangout Nellie's. It's co-owner Douglas Schantz, who's gay, paying tribute to his great- and great-great grandmothers, both named Nellie.
Schantz opened Nellie's with native Venezuelan Rocio Anzola-Mendez, after becoming friends when they used to work together at the same ad agency. Rocio and her husband, Adolfo Mendez, also run Cubano's restaurant in Silver Spring.
There are two floors, each with a bar, and fun also spills over onto the rooftop deck.  The spirit is infectious gaiety — "Eat, Drink and be Nellie!" is the slogan, so almost anything goes, especially at the great Sunday brunch, non-stop fun hosted by drag queen Shi-Queeta Lee (a former Blade "Best Of" winner, by the way). Watch her "work it" while you graze at the sumptuous sampler of tasty buffet brunch fare, from 11 a.m. to 4 p.m.
The kitchen is also said to be a drag queen's domain, with a bent for Latino favorites like quesadillas and nachos. Be sure to try Maria's Empanadas, a Nellie's bestseller, either with beef, chicken or cheese. Or Nellie's Arepa, a saucer-shaped corn muffin served with sour cream and sweet plantain, a Venezuelan specialty.
Nellie's was new to our awards last year when it also won this category and "best place to meet men." Its proximity to Town makes it a great starting spot for an evening out and its open-air balcony, with the Coney Island-esque colored lights, is D.C.'s best gay balcony by oceans. (DH)
900 U St., N.W.

House of Worship: MCC-DC
Metropolitan Community Church of Washington — or MCC-DC — has stabilized substantially now that Rev. Dwayne Johnson, who's gay, has been on staff nearly a year ending a two-year search following the departure of long-time lesbian minister Candace Shultis.
The church is also seeing a boom in interest since same-sex marriage became legal in Washington. Johnson has already performed 29 gay unions. Two more are planned for next week and he expects to reach 40 by year's end.
For MCC, the largest mostly LGBT church in the region, this is its seventh win in this category.
"I am humbled that MCC-DC has again been voted best house of worship," Johnson says. "2011 will be our 40th anniversary year and we will continue to offer exciting, joyful worship services in a friendly, non-judgmental atmosphere. We will also continue our work for equality. We are passionate about serving the spiritual and physical needs or our community including ministry around HIV/AIDS, youth and emergent issues impacting LGBTQ seniors."
The church has a bounty of upcoming activities. The annual Christmas concert is the weekend of Dec. 3-4, a new pastoral care ministry was begun this year, it now collects food for Food & Friends, a children's worship time will soon be offered weekly and Friday night bingo will be offered most weeks. Visit the church online for more information. (JD)
474 Ridge St., N.W.
Best Movie Theater: Landmark E Street Cinema
Think foreign flicks, indie releases and documentaries. This is not your standardized multiplex for mass-market, mega-movie blockbusters. Instead, look for the likes of "Run Lola Run" and "La Femme Nikita" and niche-market film festival fare and midnight cult classics like "The Rocky Horror Picture Show."
E Street Cinema, collecting its seventh Blade "Best Of" award this year, is a cinematic catacomb, cavernous at the bottom of stairs and escalator, drawing film fans into celluloid reveries cut off from the everyday world. And framed classic-movie posters adorn the walls to give you a trip down movie memory lane.
Gay-themed films like "Milk" also regularly play here. Opening today is an award-winning Spanish film "Cell 211," about a young newly recruited prison guard who during a riot ends up the captive pawn of a ruthless con who seems to like him.
With its excellent projection booth picture and sound quality, and extra-comfy seating, also expect espresso and cappuccino at the concession stand as well as wine and beer. (DH)
555 11th St., N.W.
202-452-7672
Best Home Furnishings: Room and Board
If you have a yen — and the dollars — for pricey but handcrafted, mostly American-made furniture and accessories with a classic-yet-contemporary look, this is a great new place to shop — with sofas and much more for indoors and outdoors, distinctly displayed in more than 30,000 square feet of showrooms on four spacious floors at 1840 14th St. N.W.
This Minneapolis-based, privately held retailer, established in 1980, mostly lives up to its slogan — "We believe furniture should be beautiful, affordable and long-lasting," though maybe just a little weak when it comes to affordable, since a sofa with chaise can run you $2,400. But the timeless design and superb customer service presents a great alternative to rival stores. The furniture is "artisan-made, by families, not factories," says store founder John Gabbert, in styles such as Arts and Crafts and Mid-Century Modern – including the timeless Eames Chair.
And you can rely on the store's design associates – they are not salesmen, since they're not on commission, stresses Louine Wailes, who's gay and has worked there since the store opened in June.
"We're here to be a partner," he says, "to help people solve their design problems." The store boasts a rooftop deck with great views of the city. (DH)
1840 14th St., N.W.
800-486-6554
Best Bookstore: Kramerbooks & Afterwords
This Dupont Circle institution has been open since 1976 and is widely considered the first bookstore/cafe in the country to feature cappuccino, espresso, a full bar and food. It's also a staple of our annual readers' survey — this is its seventh Blade prize.
The bookstore has a terrific selection of new releases, older classics and children's books. Staff is always friendly and knowledgeable.
On the cafe side, Afterwords serves breakfast, lunch and dinner, along with brunch and appetizers or "sharezies" that make a great late night snack. Its desserts are notable and there's also a bar.
Kramer's is a multi-purpose venue and often features live entertainment. Since it's open 24 hours on the weekend, it can even serve as a great date spot when everything else is closed. (JE)
1517 Connecticut Ave., N.W.
202-387-1400
Best Hotel: The Dupont Hotel
Recently undergoing a renovation that cost more than $52 million, The Dupont Hotel is energetic and vibrant, helping D.C. claim its place among the most happening cities of the world.
Overlooking Dupont Circle, the hotel is within walking distance of embassies, cafes and bookshops creating a great base from which to explore D.C. The hotel itself features a bar with an outdoor terrace, a cafe and a restaurant with rooftop seating.
The regular rooms are large with modern furnishings, but customers also have the option of staying in the Level Nine, a hotel within a hotel, deluxe rooms. Level Nine offers a penthouse studio with a balcony overlooking the city. Adding a whole new floor to the hotel, the Dupont Hotel created a space for personalized service. (JE)
1500 New Hampshire Ave., N.W.
202-483-6000
Best Art Gallery: Gallery planb
Plan b presents an eclectic mix of artwork from both established and emerging artists in its space on 14th Street. It caters to a diverse and growing audience of art buyers with a casual and comfortable gallery space.
The gallery is on the first floor of a three-story building, right across the street from Studio Theatre, within walking distance from two Metro stops.
The gallery is currently showing works by Sheep Jones and its year-end group show opens on Nov. 26, with a reception with the artists on Dec. 4.
Some other artists who've been featured include Kevin H. Adams, Carl Amt, Keith Clark, Glenn Fry and Jason Wright. Plan b celebrated its five year anniversary in April. (JE)
1530 14th St., N.W.
202-234-2711
Best Non-Profit: Food & Friends
Food & Friends has been helping people living with HIV/AIDS, cancer and other life-challenging illnesses since 1988. It provides nutrition counseling as well as meals and groceries to more than 1,400 people through Washington, D.C., seven counties in Maryland and seven counties and six independent cities in Virginia.
Things have changed quite a bit for the organization since it started. In 1988 it had only 20 volunteers, but according to numbers gathered for 2009, there were 6,500 volunteers. About 3,000 meals go out a day now compared to 15 in '88. Food & Friends will deliver nearly one million meals to more than 2,600 individuals as opposed to its first year of 1,800 meals to 60 individuals.
This is Food & Friends' fourth win in this category. It previously won in 2003, 2007 and 2008. (JE)
219 Riggs Rd., N.E.
202-269-2277
Best Local Blog: DCist
DCist, part of the Gothamist family of local blogs, is a great place for local news and art happenings in the District. Visitors can find art exhibit previews, daily news rundowns, concert recaps and ticket giveaways. There's never a lack of content to scroll through, including highlights from other news sources.
Readers can count on "Monday Roundup" and "Go Home Quickly" posts, which offer quick, one-sentence briefs of the days' events. "Popcorn & Candy" offers a guide to what the editors believe are the most interesting movies playing around town. Readers with a love for photography can enjoy DCist's "photo of the day."
Dcist has more than 30 editors and contributors adding posts to the site.
And it's a huge hit with Blade readers — this is its fourth consecutive win in this category. (JE)
Best Spa: Bliss
Founded in 1996 in New York City's SoHo, Bliss Spa started a new way to enjoy a day at the spa.
The D.C. location at the W hotel is one of Bliss's newest spas.
The spa takes up 3,000 square feet with a retail beauty boutique, a nail lounge with two manicure and two pedicure stations, four treatment rooms and men's and women's locker rooms and lounges.
Along with the spa staple of a carefully compiled menu of services, Bliss customers can enjoy R&B music and the "legendary" brownie buffet, just to mention a few of the ways Bliss differs from the traditional spa. (JE)
at the W Hotel
515 15th St., N.W.
877-862-5477
Best Place to Get Married: Hillwood Estate, Museum and Gardens
Founded by American collector and heiress to the Post cereal empire Marjorie Merriweather Post, in 1955 Hillwood is surrounded by woodlands, but the 25-acre estate provides visitors an opportunity to experience formal gardens.
The gardens were created for Post's leisure and to entertain her guests. The mansion was renovated to allow access to the outdoors with the addition of terraces and porches on all sides.
The gardens are full of plants that offer the greatest impact during the spring and fall, which is when Post was living at Hillwood. The plants in the spring were the newest and most unusual plants during the '50s and '60s.
D.C. gays are still getting the hang of this marriage thing. Despite giving Hillwood, which has gay days each year, this award, marriages aren't conducted there. (JE)
HILLWOOD ESTATE, MUSEUM AND GARDENS
4155 Linnean Ave., N.W.
202-686-5807
Best Wedding Registry: Crate & Barrel
Crate & Barrel opened in Chicago in 1962 by Gordon and Carole Segal with one employee and no cash register. It now has 7,500 employees in 160 stores, including a location in D.C. and others in Maryland and Virginia.
It has cultivated a gay-friendly reputation over the years. A local same-sex couple was a finalist this year in a wedding giveaway contest the chain held. (JE)
4820 Massachusetts Ave., N.W.
202-364-6100
Best Clothing Store: Universal Gear
Since its conception, Universal Gear has been a clothing store with extremely strong ties to the gay community. When architect Keith Cole and the president of the company, David Franco, collaborated to open the store in 1992, they wanted to place it in what would be a center for the gay community and culture.
Apparently they succeeded — Universal Gear never lost this category until last year when it lost to H&M. It's back this year with its ninth "Best Of" win.
Universal Gear opened on 17th street in 1993 but has since moved to 14th and been a large contributor to what Franco calls "an unbelievable renaissance" for the gay community occurring in that area. The store has also branched out to Chicago and New York and although the recession forced the company to shut down two other branches, it's clear that our readers still consider the store their No. 1 choice for fashion.
Franco believes the key to its popularity is the "superior, incredibly friendly customer service" they pride themselves on. As an example, he pointed out Yeme Mengistu, who is likely to "greet you like a long-lost family member" upon your arrival.
Franco credits their "hip, contemporary fashion" as a draw for customers as well. He says the store caters to "young professional males," and with more than 80 brands and in-store shops like Diesel, fashion-conscious men have a wide variety to choose from. (HM)
1529b 14th St., N.W.
202-319-0136
Best Gym: Vida Fitness
This three-year-old, gay-owned chain of three upscale, downtown-D.C. gyms is far more than the basic fitness ABCs of aerobics, barbells and classes. Yes, the equipment is state of the art. The classes are cutting edge. And the look is stylish and both gay- and straight-friendly. But the pulse goes beyond mere fitness into overall wellness, from the passion for same of gay owner David von Storch.
Vida won this award last year after Results took eight consecutive wins.
And yes, there are plenty of ways to sweat and stretch: treadmill and Stairmaster cardio equipment, muscle and spine-strengthening Pilates equipment, spin classes, therapeutic massage services, Aural Spa body treatments (including anti-aging, antioxidant body wraps), aroma therapy, steam room and several pools.
Three locations: Verizon Center at 6th and F St., N.W.; the Renaissance Hotel at 999 9th St., N.W.; and the Metropole at 1517 15th St., N.W. (DH)
Best Theater: The Studio Theatre
"Honored and thrilled" is how the Studio Theatre's new artistic director David Muse describes the company's reaction to being selected "best theater" by Blade readers for the sixth time.
Studio's main outreach tool is the plays they select, Muse says. He believes LGBT theatergoers relate to Studio for a variety of reasons including the quality of their work, their history as an artistic beacon in this diverse downtown neighborhood and the boldness and eclecticism of their programming, which often includes plays that speak directly to the gay experience.
Next up at Studio, Serge Seiden (the company's gay associate producing artistic director) stages "Superior Donuts," a new comedy from Tracy Letts, the Pulitzer Prize-winning playwright of "August: Osage County," about a grouchy white shop owner and an ambitious black teenager with something to hide.
And in January, Studio mounts talented gay playwright Tarell Alvin McCraney's "Marcus; Or the Secret of Sweet," the coming-of-age story of a young, gay African-American man in contemporary Louisiana. (PF)
1501 14th St., N.W.
202-332-3300
Best Weekend Getaway: Rehoboth Beach
Yes, it's a dandy beach but it's much more than just boardwalks and beach balls. Last year, USA Today called Rehoboth Beach one of America's best gay beach destinations  with its 40-plus hotels and B&B's and more than 100 choices for dining, from gourmet elegance to low-cost casual eateries. There are also more than 200 boutique designer and high-end retail outlet stores on Route 1.
So it's always a seaside lure when D.C. swelters, but when this town sizzles, it's in a good way.
Local lore has it that DuPont family oceanfront property was where this town's gay nightlife began, in the 1940s when bi actress Tallulah Bankhead and her Hollywood cronies frolicked here. The local art league also nurtured a cadre of women painters famous equally for paint on canvas and close-knit camaraderie. Later, two gay dance clubs – the Boathouse and the Renegade – flourished during the disco era. In 1980, the gay-owned Blue Moon opened for 5-star dining.
Today, in gay-gracious Rehoboth, you can shop the signature stores on Rehoboth Avenue or sip coffee along Baltimore Avenue, self-styled as one of the nation's gayest streets. In warm weather, check out the outrageous fun and eye candy on Poodle Beach (mostly men) or quieter times Cape Henlopen (mostly women). Annual highlights include Labor Day's notorious drag volleyball and independent film and jazz festivals in the autumn and Halloween parties for treats and tricks. Winter offers romantic getaways and restaurant and lodging discounts along with theater, art and concerts. (DH)

Local Hero, Female: Lynda Carter
Obviously this isn't Lynda Carter's first time being dubbed a heroine. She became famous playing Wonder Woman on the hit '70s series. But as she's quick to point out when she appears at a charity benefit — and she's done plenty of them — those volunteering their time for great causes are the "real heroes."
Her appearance as grand marshal of this year's AIDS Walk Washington, an annual benefit for Whitman-Walker Clinic, was no different. Carter, who's not above spinning around and talking at length about the role that made her a household name, marched gamely with Whitman-Walker's June Crenshaw and U.S. Del. Eleanor Holmes Norton this month carrying the Clinic's banner.
During a pre-event Blade interview, Carter said she's passionate about LGBT issues because of her overarching belief in civil rights.
"I'm just astounded that [being gay] matters to anybody," she says. "It's such a non-issue in my own heart and mind. That's part of who you are and it's such a small part of your life."
Carter also says she's touched by how many gays and lesbians are "Wonder Woman" fans.
"I totally get why they feel so strongly about the character. It's the secret self. The part of them that no one understands. There's this powerful person just waiting to get out, to be accepted and acknowledged."
This is Lynda Carter's first Blade award. She was honored by the nod and said, "The Blade and its readers are uber-cool." (JD)
Local Hero, Male: David Catania
Gay D.C. Councilmember David Catania has long been a friend to the LGBT community.
Catania is competing in a four-person race for two at-large Council seats where the highest two vote getters win under the city's election rules. The Gay & Lesbian Activists Alliance, a local LGBT group that gives scores to candidates running for local office, just gave Catania a perfect score.
"Catania's breadth of knowledge of the issues and support of LGBT people are second to none on the Council," GLAA leaders Rick Rosendall and Bob Summersgill wrote in their assessment.
They also praised him for pushing for universal health care in D.C. resolving issues the organization had dealt with for decades, and, perhaps most notably, Catania wrote the Religious Freedom and Marriage Equality Amendment Act which, when passed in December, brought same-sex marriage rights to the District.
This is Catania's third win in this category. Blade readers also gave this award in 2002 and 2004. He was also named "best gay politician" in the 2007 awards. (JD)
Best Drag King: E-Cleff (Ebone Bell)
Ebone Bell isn't as active with her drag king persona E-Cleff as she used to be but obviously she's out there enough for Blade readers to have remembered her. Bell/E-Cleff also won this award in 2007.
"I was quite surprised to hear that people voted for me," Bell says. "It's pretty cool to know that I still have fans out there who appreciate the art of my performances. And clearly some Michael Jackson fans out there."
Bell says E-Cleff gives her a chance to explore other facets of her personality.
"I love the illusion," she says. "I like it because first of all it's fun. But I also like the idea of being very fluid about gender. I'm very comfortable as Ebone, but I also like another persona so instead of being nerdy, straight-laced Ebone, I can be E-Cleff, who's a womanizer and very smooth. It's really cool to be something you're not."
E-Cleff has been on the back burner for a while as Bell focuses on her company, B.O.I. Marketing & Promotions. But she still brings him out several times each year — at Capital Pride, PW's Sports Bar once a month, George Mason University's annual drag show and a few times a year each with the D.C. Kings at Phase 1 and Apex.
"I still have a passion for it," Bell says. "That's why a lot of my routines I do now are more big production-type performances or more thought provoking. I don't want to just put anything on stage. Anyone can get up on stage and stand there and lip sync, but I think we as performers owe it to our audience to put more time and effort into our routines." (JD)
Best Realtor: Mark Rutstein
Mark Rutstein is another surprised winner.
"I actually laughed and screamed at Cobalt when I got the e-mail," he says. "My employees looked at me like I was crazy. It's funny how a few years ago I and my team were leading our office when I was with Coldwell Banker on several occasions and I never won. I sold at the top of my office for several years before the market tanked."
It tanked so hard that Rutstein joined up with his old pals Eric Little and Dave Perruzza and came in to breathe some new life into Cobalt. It was successful — business is up drastically and Cobalt has returned to the Blade's "Best Of" awards for the first time since 2005. Rutstein still dabbles in real estate, though.
He keeps his license current, filters business through his old contacts and re-launched HYPERLINK "http://iknowdc.com/"iknowdc.com, ramping things up as the market has improved.
In a roundabout way, Rutstein says being at Cobalt may have helped.
"I constantly have people texting me late at night saying, 'I just left the club, do I have to look at you on my TV too?'" (JD)
Best DJ: Chord Bezerra
Please see this week's Queery column for a profile of winner Chord Bezerra.
Best Drag Queen: Ba'Naka (Dustin Michael Schaad)
Ba'Naka (aka Dustin Michael Schaad) is thrilled about winning her first Blade "Best Of" award in the drag queen category, one of the most competitive awards previously won by Blair Michaels, Queen Bambi, Ella Fitzgerald, Shi-Queeta-Lee and more.
"I was really surprised," she says. "I'm one of the youngest queens in D.C. I've only performed here for the past five years so I'm very grateful and it's an extreme honor."
Ba'Naka is at Cobalt every Thursday with Lena Lett for the "Best Package Contest" and at Town every Friday and Saturday for the Ladies of Town Drag show — which starts both nights at 10:30 p.m.
Schaad, who works by day at Universal Gear, says it takes discipline to be a good drag queen.
"It's not only someone who has talent and can paint, but someone who can truly adapt and evolve with the times," he says. "Our world is constantly changing and to survive in the drag world, you should as well." (JD)
Best Businessperson: David Franco
He was not out at the time, when David Franco in 1989 at age 24 helped to launch Tracks to become the focal point of gay dance-floor nightlife back in that day. But he was already an entrepreneur with solid retail experience gleaned from co-owning his family's four discount department stores.
In 1983, he joined D.C. architect Keith Clark to create a clothing store for lifestyle "metrosexuals," gay or straight. Universal Gear started with a small boutique in Dupont Circle but today occupies more than 3,500 square feet at 1529 14th St., N.W., and has grown into a mini-empire with locations also in Atlanta, Chicago and New York City. Since 1999, there are also robust sales online.
In addition to its own line ranging from T-shirts to cashmere sweaters, stores offer top designer brands such as Diesel, with its signature briefs and swim-trunks and belts and blazers, and also briefs by 2(x)ist and Biskit, with the sly declaration that they are "cut to accentuate a man's body."
But it's more than body-hugging garments. The chain also gives back to the community, says Franco, with special focus on AIDS and breast cancer and LGBT priorities. Franco, meanwhile, has branched out with a recent accent on real estate. Last year, he developed and opened the nine-story, luxury apartment building "View 14" – a striking revamp of an old auto-repair site now a soaring steel and stone structure with angular cantilevered glass wedge and panoramic views of the city. A place with the "cool" feel of a boutique hotel, Franco lives there himself. (DH)
Best Personal Trainer: Tyler Sullivan (Vida Fitness Metropole)
Tyler, who's straight but used to work at BeBar and is gay friendly, is 24, and until June he was in training for the U.S. Army Special Forces. But he says he finally decided not to pursue that and turned instead to get others in shape, joining the Vida Fitness Metropole location this summer and already he's hit the heights as a personal fitness fave.
Vida offers a range of personal fitness options, he says, from one-on-one, to two-person, to small group, priced at $85 for one 55-minute, one-on-one session (or $50 for 30 minutes) and three solo sessions for $180 or 12 for $900. Tyler follows the Vida three-step calibrated approach, with focus on correct bio-mechanic technique, consistency, and intensity.
"I want to push you to the next level, but safer is always better," he says. "We listen to your body, and if you're feeling any stress, better safe than sorry. What's key is getting to energy and endurance." (DH)
Best Local Gay TV Personality: (TIE) Roby Chavez & Paul Wharton
Roby Chavez, this year's co-winner for "Best Local Gay TV Personality," is not just interested in reporting the news; he focuses on representing people with a story to tell who might never have had the chance. Chavez says that he is "touched by people who don't have a voice" and uses his status as a reporter for FOX 5 to help get their stories to the public's attention.
His career spans more than 20 years and several states, including his home state of Louisiana, where his journalistic interest started. Growing up, Chavez says he could always be found with a hairbrush microphone in his hand, either singing Cher songs or pretending to interview people.
"There were always two things I knew I was: gay and a journalist," the veteran broadcaster says.
Since moving to D.C., Chavez has found a "great, supportive gay community" and recently made headlines when he and his partner, Chris Roe, were married in what he calls "a fabulous wedding."
As someone who has overcome many obstacles to achieve prominence in his field, Chavez feels that he has a responsibility to speak up and support the gay community.
"There is nothing that will interfere with my ability to communicate that I am a strong and proud gay man." (HM)
Television personality, modeling coach and fashion expert Paul Wharton says he feels "honored" to be voted "Best Gay TV Personality" by Blade readers. Wharton, who grew up in the Washington area, has been reading the Blade since he was a teen and remembers "feeling a sense of exhilaration and relief seeing that there were other people like me."
It is that same sense of community that Wharton hopes to pass along to gay youth. Having been bullied, he has long been upset by the troubling rates of gay teen suicide and is working to be part of the solution by participating in a Facebook campaign in addition to the work he does as a mentor for local foster children, many of whom are gay.
Aside from his volunteer work, Wharton has plenty of projects keeping him busy. He can be seen on BET critiquing celebrity fashion on "Who Wore What" and has just finished writing three books that will be released soon. Additionally, he has begun a series of workshops teaching people to be TV personalities and models and giving makeovers. And who could forget his birthday party on "The Real Housewives of D.C.?"
Wharton began his modeling career at age 12 and his love for the District made him opt to commute to New York instead of moving there because, as he puts it, "It's a wonderful place to live." (HM)
Best Actor: Jeffrey Johnson
Jeffrey Johnson has loved acting ever since he was a little boy. There's nothing he'd rather do: "I have tried other jobs to sustain myself and I suck in the real world. I am very much fueled by my artistic passions."
As artistic director of Ganymede Arts, Johnson stages and is featured in most of the company's efforts including a recent well-reviewed production of "Falsettos," a gay-themed musical by James Lapine and William Finn. Currently Johnson is busy prepping "Edie Beale LIVE at Reno Sweeney" (his hit solo show in which he recreates an evening with Jackie Onasis' fabulously eccentric cousin) for a mini tour to New York City, San Francisco and Los Angeles.
This is Johnson's second win in this category. He also won in 2008 when Ganymede also took the theater company award.
Wherever his work leads him, Johnson doesn't take Ganymede Arts' commitment to the local LGBT community lightly.
"Either I am giving them a piece of theater that they are proud of and have bragging rights to call their own," he says. "Or I'm taking this work to other cities and saying 'Look at what the Washington LGBT community can produce.'" (PF)
Best Straight Ally: Phil Hicks, board member Metro D.C. PFLAG
"As a father of two gay sons … one of the things I've kept in mind is that [they] are the biggest source of pride for me," says Phil Hicks. "I just feel like at this point in time, it is important for me to do things to make them as proud of me, as I am of them."
Hicks, whose sons are now 35 and 26 and live in D.C., is one of the vice presidents of Metro DC PFLAG, which he's been working with for about a year after being a liaison for Suntrust Bank, his day job, through its GLBT Affinity Team.
"I've spent a lot of time with my sons, sometimes in bars like JR.'s, or something like that, and various times what I've found is people seem surprised or shocked that I had the relationship I had with my kids," Hick says.
Hicks noticed how many of his sons' friends did not have the same relationship with their parents and saw how important PFLAG was to many people, finding a voice he hadn't been able to find elsewhere.
Hicks's work with PFLAG mainly focuses on helping figure out how the budget is spent and fundraising for the organization.
He also has a column, "The Straight and (Not So) Narrow." (JE)
Best Secrets Dancer: Christian
Another newcomer to this year's awards is Christian, a Secrets nude dancer who won in this new category.
He's skittish on personal details — he won't give his last name or his age. He even hedges on the sexual orientation question but when pressed acknowledges he's straight. He acknowledges a bi gene or two and sometimes tells Secrets patrons he's bi, but in his personal life he dates women.
Christian, who lives in Vienna, Va., has been in the U.S. for about four years. He started at Secrets about eight months ago but was off for two months when he pulled a muscle — hold the jokes — working out. He's a personal fitness trainer by day and loves dancing. He previously danced in a Hispanic straight club but says he's fine dancing for gays.
"It's no bother for me at all," he says. "My brother is gay back in Venezuela. The people are very nice and I like to make them happy."
Christian says he gets along fine with the other dancers, most of whom are gay. It took him awhile to get comfortable dancing sans clothes but once he did, he came to enjoy it.
And the money, he says, is good, if hard to predict. He works four nights a week — usually Wednesdays and Fridays through Sundays — and always has a nice stash of tips by the end of the weekend. It can sometimes be quite good — a man visiting from Texas recently gave him $700.
"I feel awesome," he says. "I think it's so nice that people voted for me. It's very positive for me." (JD)
Best bartender: Kymmr Barker (Freddie's Beach Bar)
Veteran bartender Kymmr Barker had met her friend, Freddie Lutz, at Rehoboth Beach and agreed to help him for a few days get his new bar up and running in Crystal City, Va. That was seven years ago. She never left.
"Freddie's like family to me," Barker, a lesbian, says. "And it's a very family-oriented bar. It's not pretentious. It's like a big melting pot. Gay people, gay-friendly straight people — my motto is the only labels I like are on my clothes."
Barker's service at Freddie's has won her this award for the second time. She also took the prize in 2008.
Barker, who also manages at Freddie's, says a successful bartender does more than pour.
"Anybody can make a drink," she says. "It's about relating to people, making them feel comfortable and showing some compassion." (JD)
'Jackie & Me' puts a refreshing spin on Camelot
Jack's gay pal narrates fictional take on iconic love affair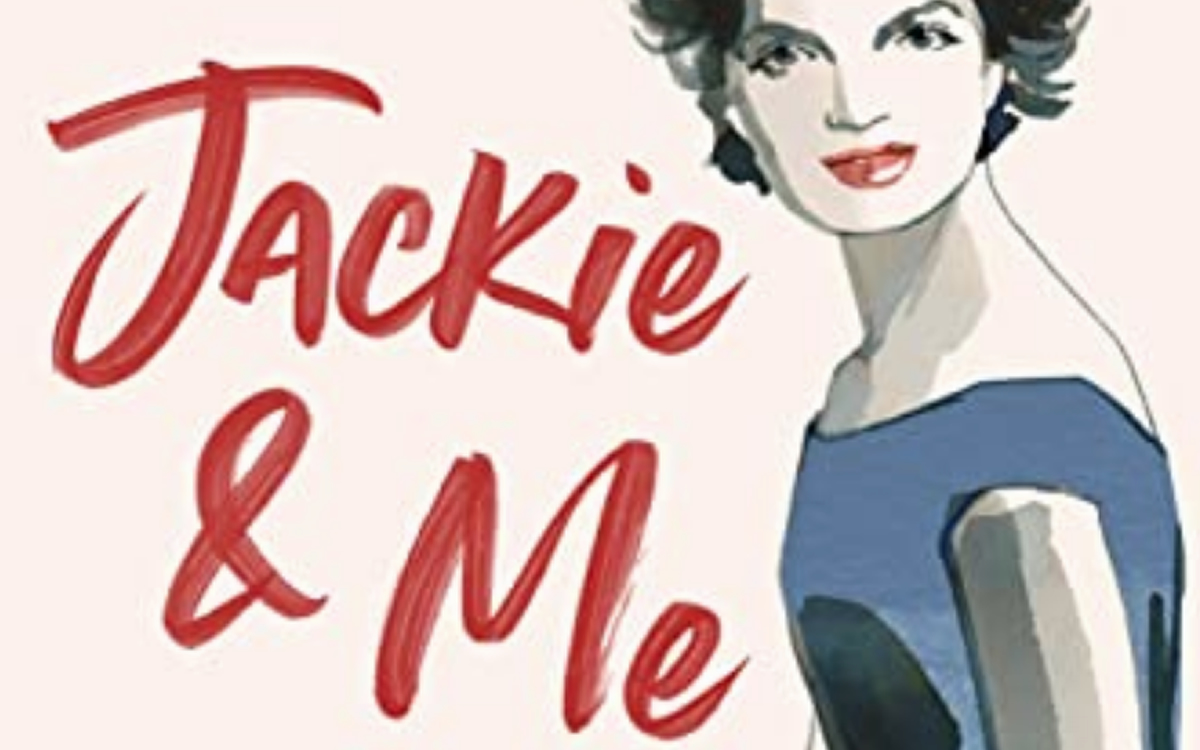 'Jackie & Me: A Novel'
By Louis Bayard
c.2022, Algonquin
$28/352 pages
It is a truth that is universally acknowledged: A love story will be not only entertaining, but a moving, thought-provoking page-turner, if it has a gay best friend.
"Jackie & Me" by Louis Bayard, the acclaimed gay novelist, isn't a Jane Austen tale. But Austen would have appreciated Bayard's witty, poignant, new novel.
Unless you've lived under a rock, whether you're Gen Z or a Boomer, you know about Jack and Jackie Kennedy and Camelot.
Yet, Bayard, in his tenth novel "Jackie & Me," puts a refreshing spin on this story.
The novel is narrated by Kirk LeMoyne (a.k.a. "Lem") Billings, Jack's best friend. Lem has been JFK's pal since they were students at Choate. Though Lem never says "I'm out and I'm proud," it's clear that he's gay.
Lem is JFK's fixer and court jester. He pays for Jack's lunch. If Jack's in the mood, Lem drinks with him. When Jack needs advice on love affairs, Lem's on it.
"Jackie & Me" brings us JFK and Jackie before they were iconic.
The novel takes place in 1952. Jackie, 22, then Jacqueline Lee Bouvier, is the "inquiring photographer" for the Washington Times Herald. Jack, 35, is a Massachusetts congressman. They don't know each other until they meet up at a party in D.C.
What makes "Jackie & Me" so enjoyable is that Lem is our fly on the wall. He takes us along as the couple date, meet the parents, and wed.
Jack is from a wealthy, Irish, Catholic political family. The Kennedys know everyone from Harry and Bess Truman to Henry and Clare Luce to Joe McCarthy.
Jackie's father, known as "Black Jack," was a Wall Street stockbroker. Her mother Janet Auchincloss was a socialite. Her stepfather Hugh Auchincloss was a Standard Oil heir. Unlike many women at the time, Jackie is well educated (with a degree in French literature from Washington University and classes at the Sorbonne in Paris).
Jack loves sleeping with women, but has no love for marriage. Yet he must marry because "my father says I can't get elected [president] if I'm not married," he tells Lem.
Knowing that matrimony is in his future whether he likes it or not, Jack thinks Jackie might be the right woman to marry. But he wants to be sure she's not involved with other men and that, if they wed, she'll tolerate his extramarital liaisons. He turns to his dependable buddy Lem and asks him to pal around with Jackie – to spy on her.
Lem isn't thrilled by this. "Who would I be working for," he says to Jack, "you? Your father 'the bossman'?"
While Jack's been busy in Congress and womanizing, he's been escorting Jackie about town. They've gone to the Smithsonian, laughed at bad Loretta Young movies and gone to an amusement park. They've become close friends.
If something happens and Jack doesn't work out, "would you be my back-up husband," Jackie, who's caught on to Jack's foibles, jokes to Lem.
Billings, who lived from 1916 to 1981, maintained ties with the Kennedy family after Jack's death.
But "Jackie & Me" is, without apology, a fictional work and "an exercise in alternative history," Bayard writes in the acknowledgments.
Though a work of fiction, "Jackie & Me" feels true. In the novel, Jackie and Lem are outsiders. Jackie isn't of the Kennedy family and doesn't, as many women did then, aspire to be a homemaker. Lem was a closeted gay man when homophobia was socially acceptable.
Lem recalls how at Choate, boys who wanted sex or tenderness from other boys, would write notes on toilet paper. "I'm not that kind of boy," responds Jack on receiving a note on toilet tissue from Lem.
"Jackie & Me" is intriguing because it's not, at heart, about the romance of a glittering young couple. It's an Austenesque triangle: the tale of the twists, turns, love and friendship of three compadres.
It's a charming, elegant summer read.
The Blade may receive commissions from qualifying purchases made via this post.
Dorian Awards cast a queer eye on television
Netflix favorite 'Heartstopper' nabs three nominations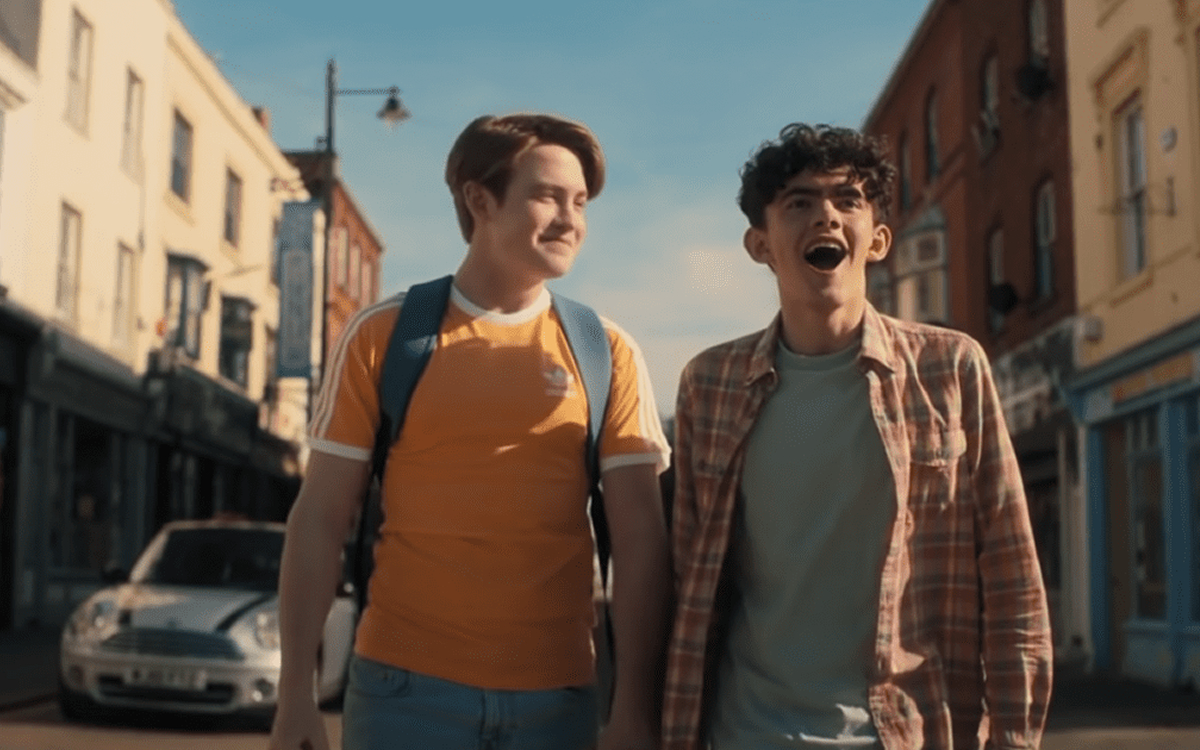 As Hollywood gears up for the year's second "Awards Season" ahead of July 12's scheduled announcement of the 2022 Emmy nominations, it seems only fitting for us to bring some attention to another awards organization that has already dropped its picks for the year's best in TV content. We're referring, of course, to the Dorian Awards, which have been bestowed by the Society of LGBTQ Entertainment Critics since 2009.
If you've never heard of the Dorians, that's not surprising. In keeping with the entertainment industry's frustratingly persistent skittishness when it comes to All Things Queer, the Dorians haven't gotten much attention in the mainstream press – though with a 385-member voting body and a scandal-free history, they are arguably more reputable than the Golden Globes. Named in honor of iconic queer writer Oscar Wilde (as a reference to his novel "The Picture of Dorian Gray"), they are admittedly low profile when it comes to glitz and glamour, handing out their prizes at an annual "Winner's Toast" day party instead of a formal evening affair. Nevertheless, they've gained traction as Hollywood's attitudes toward LGBTQ inclusion and representation have shifted, and each of their two annual ceremonies – one for TV, one for film, held about six months apart – draw an increasing number of A-listers to participate, both as nominees and presenters; and while the Dorians may not hold the level of prestige enjoyed by some of the industry's other awards, at least we can be sure their voting membership won't overlook queer shows and talent as often as their counterparts at the Motion Picture and Television Academies.
That doesn't mean the Dorians are exclusively focused on LGBTQ content. The Society of LGBTQ Entertainment Critics – formerly known as the Gay and Lesbian Entertainment Critics Association, or GALECA – explicitly states that its awards are to honor "the best in film and TV, mainstream to queer+", while calling attention to the importance of queer contribution and sensibility within the wider culture and reminding "bullies, bigots, and our own at-risk youth that the world loves the sly Q eye on entertainment." With some state governments and the SCOTUS itself dedicating themselves an all-out assault on the LGBTQ community and its hard-won rights, that last point seems particularly resonant; with so much homo- and transphobic hate pouring its efforts into erasing us, our visibility is more crucial than ever.
Fortunately, as the slate of Dorian nominees announced by GALECA on June 22 reveals, the queer presence on television is strong. No longer segregated to a "niche" genre, the LGBTQ community has finally begun to appear on our screens as it does in life – blended, alongside everyone else, into a world that has room for us all. That's what ideal inclusion looks like, and it's heartening – especially now – to see that it has become the norm in so much of the industry's best offerings.
This year, HBO leads the pack in terms of nods. Two of its heavily queer-inclusive shows, "Hacks" and "Somebody Somewhere," received five nominations each, while "Euphoria" and "The White Lotus" snagged 4 and 3, respectively. In total, the cable-and-streaming giant got 24, with an additional 13 for programming exclusively on HBO Max, bringing the total to 37.
Coming in second with less than half that number is Netflix. Among its 15 nominations are three nods for "Heartstopper," the runaway queer fan favorite based on a sweet UK webcomic about two schoolboys in love, and two each for Natasha Lyonne's brain-twisting time travel dramedy "Russian Doll" and the already-award-winning Korean thriller "Squid Game."
New series scored high among Dorian voters this year. Besides "Heartstopper" and "Somebody Somewhere," ABC's "Abbott Elementary," Showtime's "Yellow Jackets," and Apple TV+'s "Severance" each received multiple nominations, with many other freshman titles picking up individual nods.
As for the awards themselves, the Dorians feature fewer overall categories – instead of being split into "gendered" divisions, actors of all genders compete for a single award in each category – and set themselves apart by striking a mildly tongue-in-cheek pose in the presentation of its "special" accolades. In presenting awards like Campiest TV Show or the brand new "You Deserve an Award" award, the Dorians give a tip of the lavender hat to the tradition of Wildean wit at their back – but they also assert the importance of queer perspective when it comes to taste-making and the aesthetic arts.
Nominees for the 14th Annual Dorian TV Awards (honoring shows which debuted June 1, 2021-May 31, 2022) are listed below. Winners will be revealed on Wednesday, Aug. 12.
BEST TV DRAMA: "Better Call Saul"; "Heartstopper"; "Yellowjackets"; "Severance"; "Succession"
BEST TV COMEDY: "Abbott Elementary"; "Barry"; "Hacks"; "The Other Two"; "Our Flag Means Death"
BEST LGBTQ SHOW: "Hacks"; "Heartstopper"; "The Other Two"; "Our Flag Means Death"; "Somebody Somewhere"; "RuPaul's Drag Race"
BEST TV MOVIE OR MINISERIES: "Dopesick"; "The Dropout"; "Midnight Mass"; "Station Eleven"; "The White Lotus"
BEST NON-ENGLISH LANGUAGE TV SHOW: "Elite"; "Lupin"; "My Brilliant Friend"; "Pachinko"; "Squid Game"
BEST UNSUNG SHOW: "Better Things"; "The Other Two"; "Our Flag Means Death"; "Russian Doll"; "Somebody Somewhere"; "We Are Lady Parts"
BEST TV PERFORMANCE: Quinta Brunson ("Abbott Elementary"); Kit Connor ("Heartstopper"); Bridget Everett ("Somebody Somewhere"); Bill Hader ("Barry"); Lily James ("Pam & Tommy"); Natasha Lyonne ("Russian Doll"); Melanie Lynskey ("Yellowjackets"); Amanda Seyfried ("The Dropout"); Jean Smart ("Hacks"); Zendaya ("Euphoria")
BEST SUPPORTING TV PERFORMANCE: Murray Bartlett ("The White Lotus"); Anthony Carrigan ("Barry"); Jennifer Coolidge ("The White Lotus"); Hannah Einbinder ("Hacks"); Jeff Hiller ("Somebody Somewhere"); Janelle James ("Abbott Elementary"); Matthew Macfadyen ("Succession"); Christina Ricci ("Yellowjackets"); Rhea Seehorn ("Better Call Saul"); Sydney Sweeney ("Euphoria")
BEST TV MUSICAL PERFORMANCE: Beyonce, "HYPERLINK "https://www.youtube.com/watch?v=4aeDlZOD-B0″Be Alive" (94th Academy Awards); Kristin Chenoweth and cast, "HYPERLINK "https://www.youtube.com/watch?v=_PmS5JIfSkk"Tribulation" ("Schmigadoon!"); Bridget Everett and Jeff Hiller, "HYPERLINK "https://www.youtube.com/watch?v=As-a_bzFrl0″Don't Give Up" ("Somebody Somewhere"); Jean Smart, "You Make Me Feel Like a Natural Woman" ("Hacks"); Cecily Strong and cast, "HYPERLINK "https://www.youtube.com/watch?v=Dj5mJGyoYIM"Corn Puddin'" ("Schmigadoon!"); Hannah Waddingham and cast, "HYPERLINK "https://www.youtube.com/watch?v=4B0HktX4xqQ"Never Gonna Give You Up" ("Ted Lasso")
BEST TV DOCUMENTARY OR DOCUMENTARY SERIES: "The Andy Warhol Diaries"; "The Beatles: Get Back"; "How to with John Wilson"; "Spring Awakening: Those You've Known"; "We Need to Talk About Cosby"
BEST CURRENT AFFAIRS PROGRAM: "The Amber Ruffin Show"; "The Daily Show with Trevor Noah"; "Full Frontal with Samantha Bee"; "Last Week Tonight with John Oliver"; "The Late Show with Stephen Colbert"; "The Rachel Maddow Show"; "ZIWE" (Showtime)
BEST ANIMATED SHOW: "Arcane"; "Big Mouth"; "Bob's Burgers"; "Q Force"; "Tuca & Bertie"; "What If…?"
BEST REALITY SHOW: "Legendary"; "The Real World Homecoming: New Orleans"; "RuPaul's Drag Race"; "Survivor"; "Top Chef: Houston"; "We're Here"
MOST VISUALLY STRIKING SHOW: "Euphoria"; "The Gilded Age"; "Loki"; "Severance": "Squid Game"
CAMPIEST TV SHOW: "Diana: The Musical"; "Euphoria"; "Girls5Eva"; "Nine Perfect Strangers"; "Schmigadoon!"
WILDE WIT AWARD (to a performer, writer or commentator whose observations both challenge and amuse): Joel Kim Booster; Quinta Brunson; Jerrod Carmichael; Jennifer Coolidge; Bowen Yang
THE "YOU DESERVE AN AWARD!" AWARD (to a uniquely talented TV icon we adore): Gillian Anderson; Christine Baranski; Lynda Carter; Kim Cattrall; Cassandra Peterson
GALECA LGBTQIA+ TV TRAILBLAZER (for creating art that inspires empathy, truth and equity): Jerrod Carmichael; Margaret Cho; Russell T. Davies; Kate McKinnon; Bowen Yang
PHOTOS: 2022 Baltimore Pride
Annual LGBTQ march held on Saturday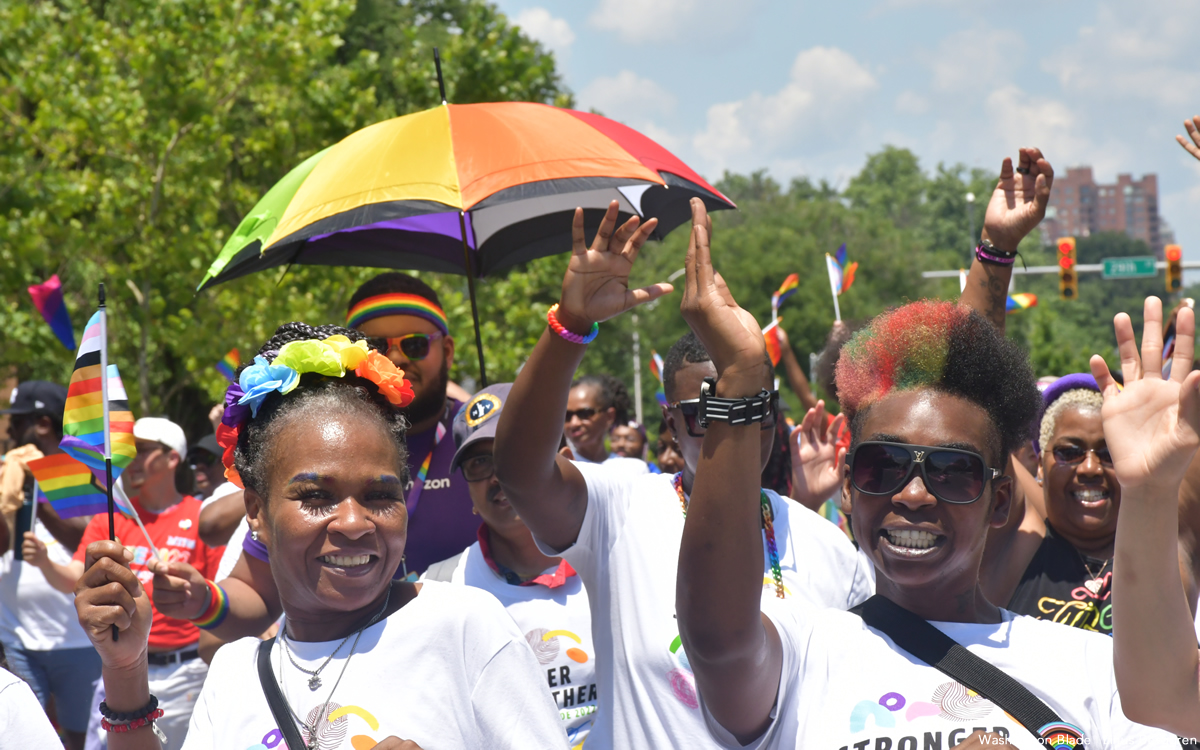 The 2022 Baltimore Pride Parade was held on Saturday, June 25. The march was followed by a block party and entertainment.
(Washington Blade photos by Linus Berggren)