Patrick Murphy loses re-election bid (updated)
Two-term Iraq war veteran loses bid

The champion of "Don't Ask, Don't Tell" repeal in the U.S. House on Election Day lost his bid to retain his seat in Congress.
Rep. Patrick Murphy (D-Pa.), the sponsor of "Don't Ask, Don't Tell" repeal legislation, failed to win re-election against Republican challenger Mike Fitzpatrick in Pennsylvania's 8th congressional district.
According to the Pennsylvania Department of State web site, Fitzpatrick took 53.7 percent of the vote while Murphy claimed 46.3 percent.
Murphy, the first Iraq war veteran elected to Congress, took up sponsorship of "Don't Ask, Don't Tell" repeal legislation last year when the bill had around 150 co-sponsors and gradually built support for the measure.
In May, the work paid off when Murphy submitted a repeal amendment to the House floor that passed by a vote of 234-194.
Michael Mitchell, executive director of the National Stonewall Democrats, said he's "heartbroken" by Murphy's loss.
"To say that we are heartbroken at the loss of one of our champions, Rep. Patrick Murphy, in his fight for reelection is an understatement,' Mitchell said. "With ['Don't Ask, Don't Tell'] repeal, his commitment to our community never wavered."
Aubrey Sarvis, executive director of the Servicemembers Legal Defense Network, said the U.S. House and the country "lost a bright, capable young leader" with Murphy's defeat.
"SLDN will forever remember and be grateful for Patrick's remarkable leadership in the fight to repeal ['Don't Ask, Don't Tell'], and I have no doubt Patrick Murphy will be back to serve this nation again," Sarvis said. "We appreciate his long and extraordinary service to our country."
A former U.S. House member, Fitzpatrick represented Pennsylvania's 8th congressional district before Murphy ousted him in 2006 by the less the one percentage point of the vote.
Fitzpatrick opposes "Don't Ask, Don't Tell" repeal at this time, according to the Bucks County Courier Times.
In response to an inquiry about the Senate's recent failure to move forward with legislation that would end the law, Darren Smith, a Fitzpatrick spokesperson, was quoted as saying Democrats were forcing the issue too soon by not waiting for the completion of a Pentagon study due Dec. 1.
"What Congress has essentially done here is prejudged the outcome of that study," Smith reportedly said. "If we ask the military to figure something out, why are [Senate Democrats and the White House] taking action now?"
Not all LGBT organizations were behind Murphy in the race. The National Log Cabin Republicans had endorsed Fitzpatrick.
R. Clarke Cooper, Log Cabin's executive director, said Fitzpatrick has expressed support for a litany of pro-LGBT initiatives — including repeal of "Don't Ask, Don't Tell" at some point in the future.
"Mike Fitzpatrick has stated he will support ['Don't Ask, Don't Tell'] repeal, support employment non-discrimination, support tax equity and domestic partner benefits for Federal employees," Cooper said. "He was a critical opponent of the Federal Marriage Amendment when first in Congress. Mike Fitzpatrick represents a critical opportunity for allies in a GOP Congress."
National Gay & Lesbian Chamber of Commerce Certifies Brown, Naff, Pitts Omnimedia, Inc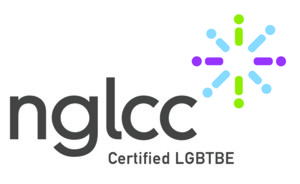 Washington, D.C. — Brown, Naff, Pitts Omnimedia, Inc, the parent company of the Washington Blade and Azer Creative, announced today it has been certified by the National Gay and Lesbian Chamber of Commerce (NGLCC) as an LGBT Business Enterprise. The NGLCC supports and advocates for diversity and inclusion for LGBT-owned businesses. With this certification the Blade's parent company joins more than 510 business and 134 corporate partners of the NGLCC.
Brown, Naff, Pitts Omnimedia, Inc. owns and operates the Washington Blade, the oldest and most acclaimed LGBT newspaper in the country. In 2012, the company launched Azer Creative, a full-service design firm. The company employs more than a dozen full-time LGBT staff.
"We are excited to become one of the 500 LGBT businesses across the country certified by NGLCC," said Lynne Brown, the Blade's publisher and a co-owner of the company. "The LGBT community has been part of our company from the beginning and we look forward to continue that for many years to come."
The Washington Blade was founded in 1969 and is known as the "newspaper of record" for the LGBT community both locally and nationally. Visit washingtonblade.com for more information. Azer Creative is a full-service graphic design firm based in Washington, D.C. Visit azercreative.com for more information. 
Vote now for the 2013 Best of Gay DC!
Choose in dozens of categories among hundreds of nominees, and make your voice heard!
Nominate the 'Best of Gay D.C.' now!
Dozens of categories cover all the best for LGBT Washington. Who deserves the prize this year?