Bad night for Dems, moderate Republicans

Tuesday night was a depressing one for Democrats but having talked to some of my moderate Republican friends they weren't too happy either. With the loss of between 61 and 70 seats in the House and Democrats just hanging on by their fingertips in the Senate we may be in for what Bette Davis once described as, "a bumpy night."
I was pleased with the election results in D.C. having been a strong Vince Gray supporter and I think that it will be good that we will have an elected attorney general starting in 2014. I look forward to the city continuing the progress that we have made in recent years begun under Anthony Williams and continued by Adrian Fenty. It is my hope that the die-hards who did the Fenty write-in, and in essence caused Fenty to become a two-time loser, will now join with Vince Gray to try to unite our City. We have hard times ahead of us. The budget will have to be cut and taxes may have to be raised. None of this will be easy or without strife. But if we unite and reach real compromise on some of the issues facing us we should be OK.
The thing that kept me from sleeping last night was the thought of Jason Chaffetz (R-Utah) as the chair of the District Committee in the House. He is one of the most conservative House members and opposed to marriage equality and nearly every other equality issue. He is a huge proponent of guns of all kinds.
If Congress wants people to have guns then it should be more than happy allowing people to walk the halls of Congress with them strapped on as well. In the coming two years we may face some hard choices if amendments are again attached to our appropriations bill. It might come to us having to ask the president to veto one that is totally unacceptable.
It appears that the LGBT community took a step backwards in this election. We are faced with Rep. John Boehner, as Speaker of the House, and the likes of Rand Paul and Ron Johnson in the Senate to buck up Mitch McConnell who along with close to senile John McCain may be able to stop the repeal of "Don't Ask, Don't Tell." One of the few bright spots in my evening was to see both Christine O'Donnell and Sharron Angle go down to defeat. Other bright spots included seeing Barney Frank, Tammy Baldwin and Jared Polis hold on to their seats and David Cicilline from Rhode Island win and become the fourth sitting openly gay member of Congress.
Then, too, it was nice to see part of the firewall in the West hold. Democrats kept the governor's mansion in California, though who knows if Jerry Brown will live in it, and Barbara Boxer, and Ron Wyden kept their Senate seats. It appears that Patty Murray will keep her seat in Washington as well, though at the time I am writing this that race is too close to call.
I am one Democrat who publicly thanked the Log Cabin Republicans for its lawsuit on DADT. They had the guts to move forward and I applaud them for it. I also hope they move forward with their efforts to elect more moderate Republicans. As I told their executive director, R. Clark Cooper, the problem with his party is still its leadership. Until that changes it will be hard to see them as better on LGBT issues than the Democrats and admittedly we aren't proving to be too great at the moment.
Then there were some questionable endorsements Log Cabin made of anti-gay candidates. We do need to remember it was the Democratic House that did pass a repeal of DADT and other LGBT issues and we will now see what happens if those bills die and the Republicans control the House. It is my hope that the Log Cabin Republicans will be of some help in lobbying their party on those issues.
I foresee Steny Hoyer as the minority leader in the House and that is good. He is a strong supporter of LGBT rights and strong leader. I think that Nancy Pelosi will either retire or take a seat on the back bench and no matter how strong a speaker she was, that will most likely be good for the party at this time.
President Obama will have to retool his message — or should I say develop one — for the next two years. He will need to stand up for the basic issues on which the Democratic Party wins support and elections if he is to re-energize the base; African Americans, women, Latinos, unions and the LGBT community. He may not win the fights but he will at least have to try to fight them. We need to let the Republicans be the party of no instead of seeing Democrats give up before the fight has even begun. The time has come to thank Gov. Tim Kaine for his service and bring a stronger person in to head the DNC who will be able to forge a cohesive message and have the power to deliver it.
The president will need to work the lame-duck session of Congress and at the same time regroup and make sure the party moves forward together. I am tired of constantly having to quote Will Rogers, "I am not a member of an organized political party, I am a Democrat" and have it be a true statement.
We will see some new faces on Obama's White House staff, not unusual for a president after the mid-term elections. Bringing on some veterans at the top could only help. And if he is smart, the president will also bring on at the top a member of the LGBT community who could advise him and stop him and his staff from sending those mixed signals the community keeps getting. Like Valerie Jarrett saying being gay is a lifestyle and the mixed messages on repeal of DADT and on marriage equality.
I also think the president may take a page from the Clinton playbook and focus on some international issues. After Clinton lost in 1994, he oversaw a major military intervention in the Balkans, brokered the interim deal between Israelis and Palestinians, signed a nuclear arms reduction treaty with Russia and ordered cruise missile strikes on Iraq. I am not saying the president should start any wars, but he may want to end one.
As Obama heads to Asia for his next international trip he could try to rebuild the U.S. reputation as a leader and defender of Asian democracies against China's belligerency. There are also the ongoing problems in the Middle East, which he can begin to get more involved in.
As much as I intend to keep a positive outlook, Tuesday's results make that difficult. I am sure in time it will become easier but on some issues related to the LGBT community I would advise friends to not hold your breath for any forward movement. But then in two years we will again have the chance to make another statement. Maybe before then the Democratic Party will have realized what it will take to generate excitement and the president, as head of the ticket, will be able to bring out some of the voters who sat home this time around. There is always hope.
National Gay & Lesbian Chamber of Commerce Certifies Brown, Naff, Pitts Omnimedia, Inc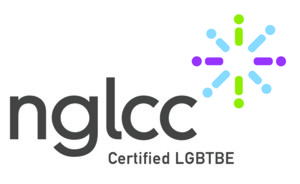 Washington, D.C. — Brown, Naff, Pitts Omnimedia, Inc, the parent company of the Washington Blade and Azer Creative, announced today it has been certified by the National Gay and Lesbian Chamber of Commerce (NGLCC) as an LGBT Business Enterprise. The NGLCC supports and advocates for diversity and inclusion for LGBT-owned businesses. With this certification the Blade's parent company joins more than 510 business and 134 corporate partners of the NGLCC.
Brown, Naff, Pitts Omnimedia, Inc. owns and operates the Washington Blade, the oldest and most acclaimed LGBT newspaper in the country. In 2012, the company launched Azer Creative, a full-service design firm. The company employs more than a dozen full-time LGBT staff.
"We are excited to become one of the 500 LGBT businesses across the country certified by NGLCC," said Lynne Brown, the Blade's publisher and a co-owner of the company. "The LGBT community has been part of our company from the beginning and we look forward to continue that for many years to come."
The Washington Blade was founded in 1969 and is known as the "newspaper of record" for the LGBT community both locally and nationally. Visit washingtonblade.com for more information. Azer Creative is a full-service graphic design firm based in Washington, D.C. Visit azercreative.com for more information. 
Vote now for the 2013 Best of Gay DC!
Choose in dozens of categories among hundreds of nominees, and make your voice heard!
Nominate the 'Best of Gay D.C.' now!
Dozens of categories cover all the best for LGBT Washington. Who deserves the prize this year?