An inauguration speech for Vince Gray
Here's what new D.C. mayor should say

Today, as I take the oath of office as mayor of the capital of these great United States, let the word go forth that the mayor and the people of the District of Columbia are committed to beginning the hard work of becoming one city with full democracy.
Our efforts will focus on being a city that meets the needs of all its residents, from our children to our seniors, rich and poor and every range of the economic spectrum. To those east of the river and west of the river, to those who were born black, white, Latino, Asian, gay, straight, bi or transgender, I commit to you that I will do all in my power to make the District of Columbia a place where you and your families can live, work and recreate in safety, with hope for a better future.
It won't be easy. We need to take a step back and try to understand each other and learn to respect each other. We need to end the racism, sexism and homophobia that still rear their ugly heads in our city. We need to educate our children to understand each other and respect our differences and commit to ending hate crimes and make bullying unacceptable.
As we face economic hardships and a recession in our nation I commit to working with City Council and communities to redouble our efforts to bring our budget under control. We will need to look deep into our souls and determine what people's basic needs are that government must provide. I believe they include police protection to ensure safety on the streets and in our homes. A safety net for those less fortunate including a roof over their heads for the homeless, healthcare, food for families in need and continued aggressive reform of our education system so that we provide the tools and opportunity for all children to achieve their highest aspirations and graduate to better lives able to support themselves and their families.
With a budget of more than $8 billion we can provide those basics and more. We can make all our neighborhoods places where people want to live. We can encourage the arts and culture that make a society great. We can protect our environment. We can be the place that welcomes millions of visitors each year with a successful hospitality industry and we can be the place that provides the type of workforce development for our residents that will prepare them for the jobs of the future. All this must be done openly and transparently.
We will have to tighten our belts and cut budgets. If we work together and share the pain that will cause we will leave no one behind. We must continue planning for better economic times and be ready as budgets allow to move forward aggressively with rebuilding our city. In the meantime we will restructure our regulatory system and make D.C. the most business-friendly city in the nation. We will continue to improve our schools and keep current residents here while also attracting new ones.
I stand here today as the sixth mayor of the District of Columbia since we were granted Home Rule. The time is long overdue for Congress to complete that promise by extending full Democracy to the 600,000 people who call the District of Columbia home. We send our young men and women to war to fight for Democracy in faraway lands, but they have none when they return home. We have no vote in the House of Representatives, no votes in the Senate and don't even control our own budget and legislative agenda. Congress and past administrations have often used the District of Columbia as a petri dish for their experiments.
Today I call on those in Congress who were elected on a promise to keep government out of the business of the people to join with me to keep Congress out of the business of the people of the District of Columbia. This is a prime conservative tenet and while we may over time disagree on many issues this is one area in which I believe we share common ground. I have also asked President Obama to join me in lobbying Congress to extend the basic respect we deserve and to speak out for full Democracy for the people of the District of Columbia.
The task of governing begins now and by working together we will succeed. Join me now as we ask for God's grace on all the people of the District of Columbia.
National Gay & Lesbian Chamber of Commerce Certifies Brown, Naff, Pitts Omnimedia, Inc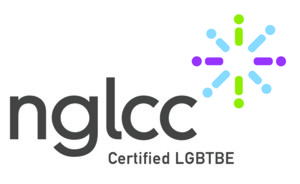 Washington, D.C. — Brown, Naff, Pitts Omnimedia, Inc, the parent company of the Washington Blade and Azer Creative, announced today it has been certified by the National Gay and Lesbian Chamber of Commerce (NGLCC) as an LGBT Business Enterprise. The NGLCC supports and advocates for diversity and inclusion for LGBT-owned businesses. With this certification the Blade's parent company joins more than 510 business and 134 corporate partners of the NGLCC.
Brown, Naff, Pitts Omnimedia, Inc. owns and operates the Washington Blade, the oldest and most acclaimed LGBT newspaper in the country. In 2012, the company launched Azer Creative, a full-service design firm. The company employs more than a dozen full-time LGBT staff.
"We are excited to become one of the 500 LGBT businesses across the country certified by NGLCC," said Lynne Brown, the Blade's publisher and a co-owner of the company. "The LGBT community has been part of our company from the beginning and we look forward to continue that for many years to come."
The Washington Blade was founded in 1969 and is known as the "newspaper of record" for the LGBT community both locally and nationally. Visit washingtonblade.com for more information. Azer Creative is a full-service graphic design firm based in Washington, D.C. Visit azercreative.com for more information. 
Vote now for the 2013 Best of Gay DC!
Choose in dozens of categories among hundreds of nominees, and make your voice heard!
Nominate the 'Best of Gay D.C.' now!
Dozens of categories cover all the best for LGBT Washington. Who deserves the prize this year?