The rancorous debate over repealing "Don't Ask, Don't Tell" has featured many disappointments, but perhaps none as dramatic and opportunistic as Sen. John McCain's emergence as the face of the opposition.
There was no sign of the former straight-talking "maverick" as he appeared on "Meet the Press" on Sunday. McCain said lawmakers should not repeal "Don't Ask, Don't Tell" before adjourning for the year and that congressional hearings should be convened. He also took issue with the content of the recent surveys of service members, suggesting that the study should have focused on the impact on battle effectiveness, rather than on how to implement repeal.
The call for hearings represents yet another predictable delay tactic. After waiting nearly a full year for the Pentagon report, McCain now wants us to wait some more. But the issue has been studied endlessly — more than 20 times — and recent leaks reported by the Washington Post indicate that a vast majority of survey respondents don't see repeal as a problem.
McCain's visible role in opposing repeal comes in stark contrast to the language he used on the 2008 campaign trail while running for president. Back then, McCain made history as the first GOP presidential nominee to grant an interview to the gay press. In that interview with the Washington Blade, McCain cited multiple out gay men as friends and even role models, including 9/11 hero Mark Bingham and former Rep. Jim Kolbe (R-Ariz.), a Vietnam War veteran. He reiterated his view of the time that he would leave it up to military leaders to decide whether the gay ban should be repealed and noted he would support a "review" of the policy. The fact that the chairman of the Joint Chiefs, the defense secretary and the commander in chief now support repeal apparently doesn't matter to the McCain of 2010.
In that 2008 Blade interview, McCain repeatedly said he opposed discrimination against gays and lesbians. He told us that if elected president he would not reject a candidate for cabinet, Supreme Court justice or other appointed position because of their sexual orientation.
"Gay and lesbian people should not face discrimination in the workplace," McCain said. "I've always practiced that in my hiring. I select the best people, regardless of their sexual orientation. I support the concept of non-discrimination in hiring for gay and lesbian people."
So let's get this, er, straight: McCain would support an openly gay Supreme Court justice or an out lesbian defense secretary and he considers Mark Bingham a "role model," but he does not support the right of gay military personnel to serve openly.
McCain's views on this issue are twisted and contradictory. You either support discrimination or you don't; it really is that simple.
National Gay & Lesbian Chamber of Commerce Certifies Brown, Naff, Pitts Omnimedia, Inc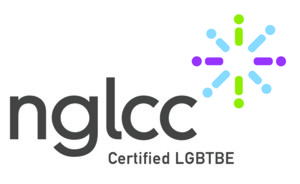 Washington, D.C. — Brown, Naff, Pitts Omnimedia, Inc, the parent company of the Washington Blade and Azer Creative, announced today it has been certified by the National Gay and Lesbian Chamber of Commerce (NGLCC) as an LGBT Business Enterprise. The NGLCC supports and advocates for diversity and inclusion for LGBT-owned businesses. With this certification the Blade's parent company joins more than 510 business and 134 corporate partners of the NGLCC.
Brown, Naff, Pitts Omnimedia, Inc. owns and operates the Washington Blade, the oldest and most acclaimed LGBT newspaper in the country. In 2012, the company launched Azer Creative, a full-service design firm. The company employs more than a dozen full-time LGBT staff.
"We are excited to become one of the 500 LGBT businesses across the country certified by NGLCC," said Lynne Brown, the Blade's publisher and a co-owner of the company. "The LGBT community has been part of our company from the beginning and we look forward to continue that for many years to come."
The Washington Blade was founded in 1969 and is known as the "newspaper of record" for the LGBT community both locally and nationally. Visit washingtonblade.com for more information. Azer Creative is a full-service graphic design firm based in Washington, D.C. Visit azercreative.com for more information. 
Vote now for the 2013 Best of Gay DC!
Choose in dozens of categories among hundreds of nominees, and make your voice heard!
Nominate the 'Best of Gay D.C.' now!
Dozens of categories cover all the best for LGBT Washington. Who deserves the prize this year?