I can see repeal from my front porch
GOP delivered the votes, now it's Obama's turn

There has been a lot of talk in last few weeks about "Don't Ask Don't Tell" in and around the United States Senate. First, there were 13 senators (Joe Lieberman and 12 Democrats) who held a press conference to announce that they had the 60 votes to beat back a John McCain-led filibuster.
Lieberman said that repealing the gay ban was merely a question of process.
That "process" is the guarantee of a fair and open amendment process to the underlying bill – the National Defense Authorization Act of 2011. You see, when the defense authorization bill was first brought up back in September, Senate Republicans wanted to offer germane amendments to the bill that had no effect on the repeal of DADT. But Majority Leader Sen. Harry Reid said no.
So as long as there is a fair and open amendment process, Lieberman says that Sens. Susan Collins (R-Maine) and Richard Lugar (R-Ind.) can be counted as yes votes.
Soon after, returning Sen. Lisa Murkowski (I-Ala.) said she would "not vote against a bill that had that repeal in it." And then we learned that Sen. John Ensign (R-Nev.) intended to vote in favor of moving forward with the defense bill while retaining the provision that would end the law.
On Nov. 30, the Pentagon released its long-awaited report examining the implementation of repeal of "Don't Ask, Don't Tell." The "Report of the Comprehensive Review of the Issues Associated with a Repeal of 'Don't Ask, Don't Tell," as it is titled, runs more than 250 pages long and is extremely comprehensive.
Two days later, the Senate Armed Services Committee began a two-day hearing on the report and on the issue of repeal of the 1993 Clinton-era law. Unfortunately, the questions from the Republican side of the aisle were predictable, even off course at times.
However, shortly after the hearing, Sen. Scott Brown (R-Mass.) issued a statement that read in part, "Having reviewed the report, having spoken to service members, and having discussed the matter privately with Defense Secretary Gates and others, I accept the findings of the report and support repeal."
So if you're keeping count, Mr. President, that's five Republicans who have now signaled that they are willing to vote for repeal. That is what you demanded from Log Cabin Republicans Executive Director Clarke Cooper – to get you two to five Republicans. "It can't be that hard," you said.
Well Mr. President, you continue to say that repeal remains a top priority. Now it's your turn.  Where is your leadership on this issue? Where is that swift urgency of now – that audacity of hope? Get on the phone and demand that Harry Reid have an open and fair debate for the National Defense Authorization Act. Allow the GOP to offer amendments. You still have 58 Democrats. What are you scared of? It can't be that hard.
To McCain: It's time for you to sit down and shut up! That, or simply get out of the way.  You can no longer continue to move the stick for when repeal is OK. Back in 2006, you said you would revisit your views on DADT if and when military leadership said it was time. Ten months ago, Joint Chiefs of Staff Chairman Admiral Michael Mullen said it was the right thing to do; that it "came down to integrity." Once they said it was time, you then wanted to see a study.  Now that they have completed the study, you say the right questions weren't asked; that the service members weren't consulted.
Let's just poll the men and women in uniform on every policy issue that faces the military.  Let's have them vote on whether we should stay in Iraq and Afghanistan. Let them vote on rendition.
Since the passage of DADT in 1993, more than 14,000 service men and women have been discharged under this law. That's 14,000 American jobs that men and women have been fired from simply for having the integrity to say who they are. How do we live in a country where being honest is a disqualifying factor?
This will happen, Sen. McCain. And you will go down in history as a bigot who tried to stand in the way of equal protection for all Americans.
It is time that we repeal this law in an orderly fashion that does not disrupt the organizational structure of our military. That is best done through Congress. If not, we'll continue to see you in court.
National Gay & Lesbian Chamber of Commerce Certifies Brown, Naff, Pitts Omnimedia, Inc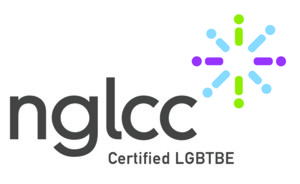 Washington, D.C. — Brown, Naff, Pitts Omnimedia, Inc, the parent company of the Washington Blade and Azer Creative, announced today it has been certified by the National Gay and Lesbian Chamber of Commerce (NGLCC) as an LGBT Business Enterprise. The NGLCC supports and advocates for diversity and inclusion for LGBT-owned businesses. With this certification the Blade's parent company joins more than 510 business and 134 corporate partners of the NGLCC.
Brown, Naff, Pitts Omnimedia, Inc. owns and operates the Washington Blade, the oldest and most acclaimed LGBT newspaper in the country. In 2012, the company launched Azer Creative, a full-service design firm. The company employs more than a dozen full-time LGBT staff.
"We are excited to become one of the 500 LGBT businesses across the country certified by NGLCC," said Lynne Brown, the Blade's publisher and a co-owner of the company. "The LGBT community has been part of our company from the beginning and we look forward to continue that for many years to come."
The Washington Blade was founded in 1969 and is known as the "newspaper of record" for the LGBT community both locally and nationally. Visit washingtonblade.com for more information. Azer Creative is a full-service graphic design firm based in Washington, D.C. Visit azercreative.com for more information. 
Vote now for the 2013 Best of Gay DC!
Choose in dozens of categories among hundreds of nominees, and make your voice heard!
Nominate the 'Best of Gay D.C.' now!
Dozens of categories cover all the best for LGBT Washington. Who deserves the prize this year?