YEAR IN REVIEW: Theatrical partnerships and productions
Several collaborative efforts among the year's theatrical bright spots
Despite a still-struggling economy, it's been a pretty good year for theater in the D.C. area. Along with the crowd-pleasing big musicals, there has been a wide variety of riskier and more offbeat productions. Interestingly, the year that brought marriage equality to the nation's capital also saw an unusually high number of LGBT couples (some married, others not) enjoying productive theatrical collaborations.
Ganymede Arts, D.C.'s only company dedicated to the LGBT experience, grabbed theatergoers' attention with two terrific musical productions in 2010: "Naked Boys Singing" in the spring, and more recently "Falsettos," Lapine and Williams' gay-themed musical about love and family in the time of AIDS.
Surely one of the harder working folks in local theater, Ganymede's gay artistic director Jeffrey Johnson staged both shows and played the lead, Marvin, in "Falsettos." He performed two one-woman shows — his pink-haired drag persona Galactica act and "After the Garden — Edie Beale LIVE at Reno Sweeney" — locally and on tour. True to industrious form, Johnson is closing the year with a new non-lip syncing Galactica cabaret show tonight at Noi's Nook on 14th Street, N.W.
Holly Twyford tested her range in 2010, playing a tap dancing pig in Adventure Theatre's summer production "If You Give a Pig a Pancake." Twyford, an award-winning local actor who is gay returned to children's theater after a long absence in order to give her young daughter a chance to see what mommy does for a living. More recently, Twyford played Pamela, a boozy, country club cougar in Signature's premiere of Ken Ludwig's comedy "A Fox on the Fairway," a show to which her little girl was most probably not invited.
In September, Factory 449 continued building its reputation for impressive and challenging work with Erik Ehn's "The Saint Plays," an exploration of traditional saints in contemporary settings. Directed and produced respectively by John Moletress and Rick Hammerly, both of whom are gay, the ensemble production was beautifully acted and imaginatively staged.
At Studio Theatre (a favorite with Blade readers), gay director Serge Seiden drew excellent performances from small casts in two plays featuring complex, intergenerational relationships: "Sixty Miles to Silver Lake," and Tracey Letts' comedy "Superior Donuts."
Many good things came from out of town this year including the New York-based, gay actor Nicholas Rodriguez. Currently playing cowboy Curly in Arena Stage's hit production "Oklahoma!," the handsome young Broadway actor became widely known for playing earnest-but-sexy activist Nick Chavez, the third man in a tumultuous gay love triangle on TV's "One Life to Live." Rodriguez initially came to Washington in the spring to play Latin lover Fabrizio in Adam Guettel's gorgeous musical "The Light in the Piazza" (also at Arena).
Veteran gay actor John Glover is usually found in New York or L.A., but in March he came to town and put his stamp on the part of over-the-top opera queen Mendy (a role originally created by gay actor Nathan Lane) in Terrence McNally's "The Lisbon Traviatia." The production was part of the  Kennedy Center's mini-festival "Terrence McNally's Nights at the Opera."
Gay director José Luis Arellano García made the trip from Spain to Columbia Heights to stage an earthy and athletic production of Lope de Vega's "El caballero de Olmedo" ("The Knight from Olmedo") at Gala Hispanic Theatre. García's partner, David R. Peralto, provided a varying pulse to the circa 1620 tragedy with his own period-sounding compositions and selected folk music.
For a short time in October, D.C. audiences were delighted with the brilliant work of British director Declan Donnellan and his longtime partner (professional and personal) set designer Nick Ormerod. As part of the Chekhov International Theatre Festival, the couple brought stellar productions (performed in Russian by fabulous Russian actors) of Chekhov's "Three Sisters" and an all-male production of Shakespeare's "Twelfth Night" to the Kennedy Center.
Local theater couple Christopher Henley (Washington Shakespeare Company's artistic director) and Jay Hardee successfully continued their collaboration on and off stage in 2010. In addition to marrying in the fall, the talented pair recently co-staged a strikingly inventive production of "Richard III" in the company's spanking new black box space in Arlington's Artisphere. Earlier this year, Hardee directed Henley as "He," the embodiment of state-inflicted evil in the world English language premiere of Chilean playwright Marco Antonio de la Parra's "Every Young Woman's Desire," an intense allegory of Pinochet's brutal dictatorship.
On April 8 at the Warner Theatre in what was definitely one of the highlights of the theater year, famed gay playwright Terrence McNally, 70, warmly presented the Helen Hayes Tribute to his "friend, colleague and ex," the even more famous gay playwright Edward Albee (the pair were lovers in the 1960s). McNally lauded Albee's genius as evidenced by a long list of extraordinary works, including "Who's Afraid of Virginia Woolf?," "The Zoo Story," "A Delicate Balance" and more (Albee has multiple Tonys and Pulitzers). At a small party the night before the awards, Albee, 82, shared with the Blade his appreciation of the energetic D.C. theater scene and its intelligent audiences.
Actor finds fulfillment raising money for queer non-profits
Aidan Wharton's latest beneficiary is D.C.'s Rainbow History Project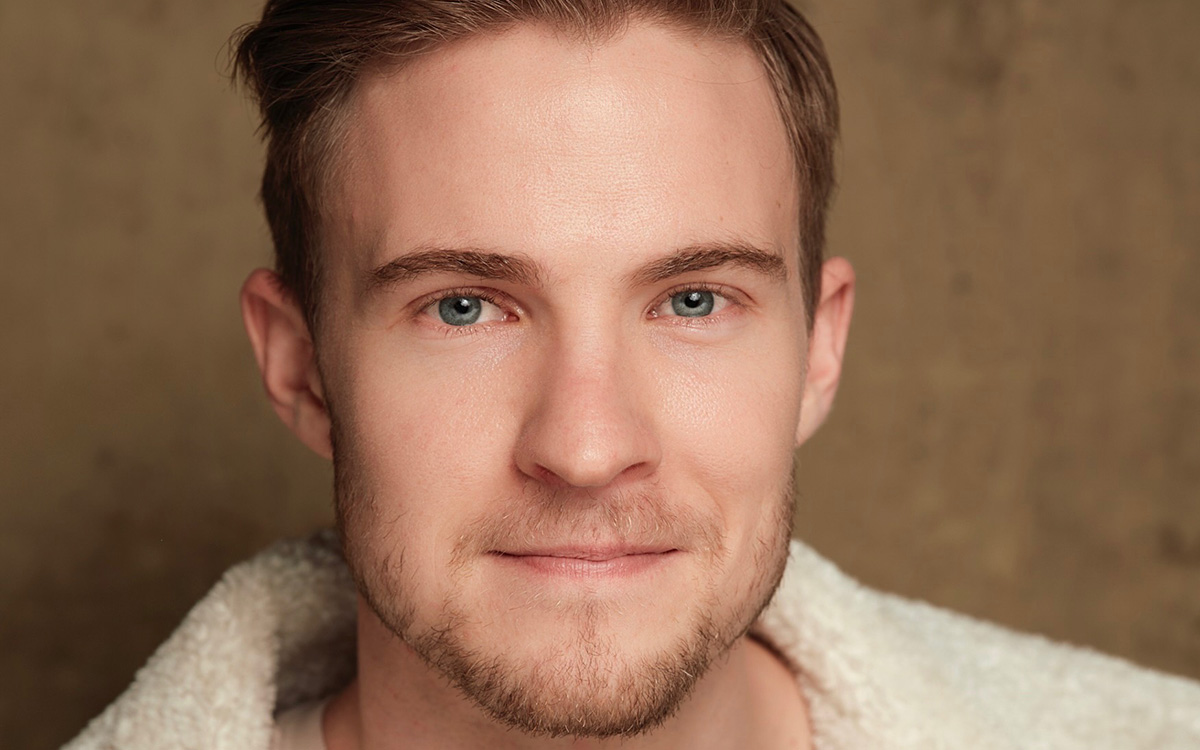 'Girl From the North Country'
Dec. 12-31
The Kennedy Center
$49-$179
Kennedy-center.org
Last summer while travelling with his fiancé to San Francisco and parts of Europe, out actor Aidan Wharton faithfully reported on the queer history of each destination in his newsletter Queer Buffet (Queerbuffet.substack.com). 
When autumn rolled around and Wharton went back to work touring with the Broadway hit musical "Girl From the North Country," he decided not only to continue writing about queer history but also to raise money for a LGBTQ non-profit in each tour stop.
He's rather brilliantly devised a way to combine showbiz with his new interests.
Throughout November in Cleveland, Wharton focused on Margie's Hope, an organization dedicated to providing resources and services for transgender, non-binary, and gender expansive people in Northeast Ohio. And when the show soon lands at the Kennedy Center's Eisenhower Theatre (Dec. 12-31), he plans to fundraise for the Rainbow History Project whose mission is to collect, preserve, and promote the history and culture of D.C.'s queer communities.
Using social media, Wharton, with the help of like-minded influencers, creates awareness while asking supportive folks to give just $5 to the designated organization.
During a recent chat via phone from chilly Des Moines, he explains that his bourgeoning project stems from a desire to help those doing selfless and often thankless nonprofit work related to enriching the lives of LGBTQ people during this wave of anti-LGBTQ sentiment. And, he adds, "the pandemic hasn't made it any easier…a lot of the funding has dried up."
Written and directed by Irish theater maker/screenwriter Conor McPherson, Tony Award-winning "Girl From the North" is built around 20 songs by iconic troubadour and Civil Rights activist Bob Dylan. Set in a rundown guesthouse in 1934 Duluth, Minn., (Dylan's hometown), the action unfolds over a week around Thanksgiving, chronicling the triumphs and tragedies that take place in residents' little microcosm.
Wharton plays Elias, who along with his parents, is staying in the guesthouse. His song is "Duquesne Whistle," a train inspired "chug song" somewhat reinterpreted. "It's a sort of surreal moment and my favorite part of the show. To say anything else would be a spoiler," he says.
The energetic actor has been on tour since it kicked off in October in Minneapolis at the Orpheum Theatre, an historic venue once owned by Dylan. On Broadway he was a swing, covering Elias as well as five other parts. He knows the show well.
Before playing Elias, Wharton, 28, knew Dylan's music mostly from repurposed takes on film and TV, and he always liked what he heard. Since joining the show, he's listened to the original recordings in large part to know just how they've been re-imagined for the show.
"It's a folky musical that still lives in the world of Dylan," he says. "While a lot of the songs are taken out of his style, audiences seem pleasantly surprised. Not long ago a couple stopped me on the street. They'd been Dylan fans since the '60s. They said hearing this show made feel like they were hearing his words for the first time."
"Some juke box musicals try to shoehorn the plot around songs, but 'Girl From the North Country' doesn't. It feels like a play with a soundtrack. The songs don't necessarily progress the plot but they accentuate what's happening on stage; both the script and the music seem to benefit from each other."
At 17, Wharton left Hawaii where he was raised in a yurt in the middle of the jungle to attend Pace University in New York for a year followed by Penn State where he finished up a degree in theater and then back to New York City. He's currently based in Astoria Queens where he lives with his intended.
In addition to a lot of musical theater, he's done some film including back-to-back parts in queer flicks "Fire Island" and "Bros."
"When the tour ends next October," says Wharton, "whatever this nonprofit venture becomes will become a bigger part of my life, possibly my career. I'll always love acting and that's ending for me, but there's something about this new project in particular that's made me feel fulfilled in a different way."
Local holiday theater season sparkles with expectation
Classic tales, modern retellings, Cirque Du Soleil, and more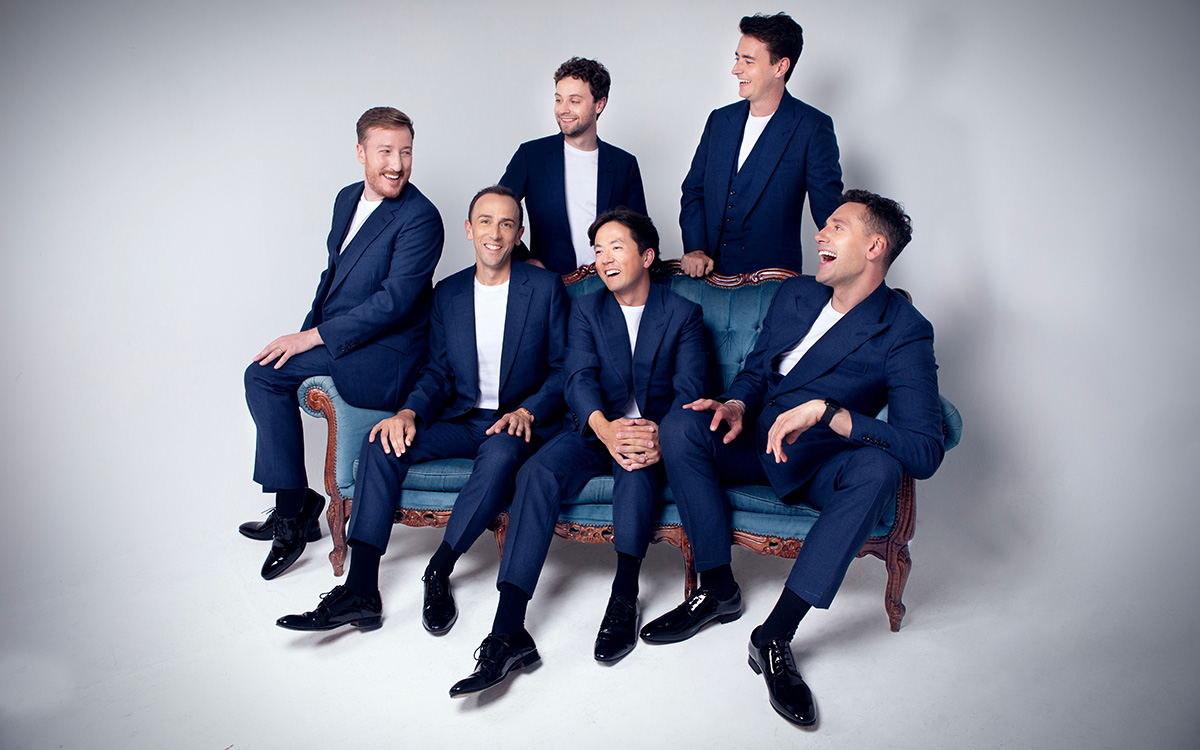 Like Christmas itself, the local holiday theater season is filled with tradition, excitement, and sparkling expectation. And whatever way you might celebrate the holidays, the DMV theater scene has scores of options to treat you and yours to something special. Here's a taste.
Beloved British ensemble The Kings' Singers are booked at the Washington National Cathedral for one night only (Dec. 15). The proposed song list promises a mix of "Christmas favorites, popular familiar tunes, and some surprises."
Earlier this year, the popular a capella group made headlines when a bigoted Florida Christian college shamefully cancelled a performance by the musical sextet over 'concerns' about the sexual orientation of its members. But that's in the past, and now the six good-looking blokes are celebrating the season in one of the nation's foremost places of worship. Tix.cathedral.org
Baltimore's gorgeous Hippodrome Performing Arts Center hosts the eye-popping Cirque Du Soleil production "Twas the Night Before," Nov. 24-Dec. 3
Synetic Theater in Crystal City is bringing back "Snow Maiden" (Dec. 9 – Jan. 6), a dazzling movement piece based on a 19th century folk tale about a lonely boy who builds a girl from snow. Performed by Maryam Najafzada and Vato Tsikurishvili and created by Helen Hayes Award-winning choreographer and Synetic co-founder Irina Tsikurishvili. Synetictheater.org 
In Falls Church, Creative Cauldron presents "Madeline's Christmas" (Dec. 1-17), a charming musical based on the classic book by author and illustrator Ludwig Bemelmans. "Madeline's schoolmates and tutor are all sick in bed on Christmas Eve, unable to go home for Christmas to be with their families. So, it's Madeline to the rescue! And with the help of a magical rug merchant, she takes her friends on a Christmas journey they will never forget." Matt Conner directs. Creativecauldron.org
Rehoboth Beach's Clear Space Theatre Company presents "Estella Scrooge," Nov. 24-Dec. 10. It features Ebenezer Scrooge's great great granddaughter in a modern retelling of the classic Christmas tale. clearspacetheatre.org
Olney Theatre Center spices up the season with "Drag the Halls" (Dec. 8 and 9), a holiday spectacular with fabulous queens Echinacea Monroe (Solomon Parker III), Evon Michelle (Baltimore's Drag Performer of the Year) and Tiara Missou. Olneytheatre.org
Whether handed off discreetly in a sedate ivory envelope or placed under the tree in a silvery wrapped box, theater tickets make a great holiday gift.
For a terrific kids' prezzie, you might give the hour-long musical experience of "A Year in the Life of Frog and Toad" (through Jan. 7) at Imagination Stage in Bethesda. The endearing title characters are played by Deimoni Brewington and Casey Evans, respectively. Imaginationstage.org.
At Theater J there's another show for kids, "Tiny Lights: Tales for Chanukah" (Dec. 3, 9, 10), created by Aaron Posner and Erin Weaver. "Taking inspiration from the great Chanukah tales of master storyteller Issac Bashevis Singer, our theatrical storytellers will weave tales out of words, a few simple props, and theatrical devices — and then teach you and your young kids how to do the same." Sounds fun. Theatrej.org
 The Washington Ballet presents "The Nutcracker" at the gilded Warner Theatre (through Dec. 30). With Tchaikovsky's timeless music and splendid choreography by Septime Weber, this 1882 Georgetown-set production features historical figures including George Washington and King George III, along with the usual suspects like children, rats, fairies and a mysterious godfather. Washingtonballet.org
Bethesda's Music Center at Strathmore is bringing back "The Hip Hop Nutcracker" (Dec. 19-22), Tchaikovsky's classic re-imagined with MC Kurtis Blow ("White Lines"). Strathmore.org  
Undeniably the lynchpin of D.C. holiday theater is the historic Ford's Theatre version of "A Christmas Carol" (through Dec. 31), a popular Washington tradition for more than 30 years. Conceived by Michael Baron, this beautifully staged take on the Dickens' classic features Craig Wallace as Scrooge who after a night of ghostly visits, rediscovers Christmas joy.
Joining the cast this holiday season is versatile D.C. actor Kimberly Gilbert as the Ghost of Christmas Present. The Helen Hayes Award-winning Gilbert says, "I have been wanting to join this show for years and am so over the moon that I get to be a part of the 'beautiful machine.' This kind of process is the most unique I have embarked on in my twenty years on DC stages. Its intricate structure is so well-tuned, which surprisingly means it was flexible enough to allow a maniac like me into the mix.
For Gilbert, taking on Christmas Present has proved a joy. She says, "I don't show Scrooge my powers by anything other than small gestures: a larger goose, an oil can, a few more coins in someone's pocket. And I think that is quite purposeful as I am teaching him that it doesn't take much to create a ripple effect of good on this Earth. That's a huge lesson for all of us right now."
On a personal note, Gilbert adds, "my performance is in honor of my amazing mother, Catherine Gilbert, who we lost in January of this year. My family's holidays were so magical because of my mother, and I will bring her spirit on stage with me every night." Fords.org
And not to be missed, the Gay Men's Chorus of Washington is back with "The Holiday Show" (Dec. 2, 9, and 10) at the historic Lincoln Theatre where they promise to break out the sparkle, reindeer antlers along with glorious music, new jokes, and loads fun. Gmcw.org
Memories of time spent in India revealed in 'Public Obscenities'
An inspiring production from writer-director Shayok Misha Chowdhury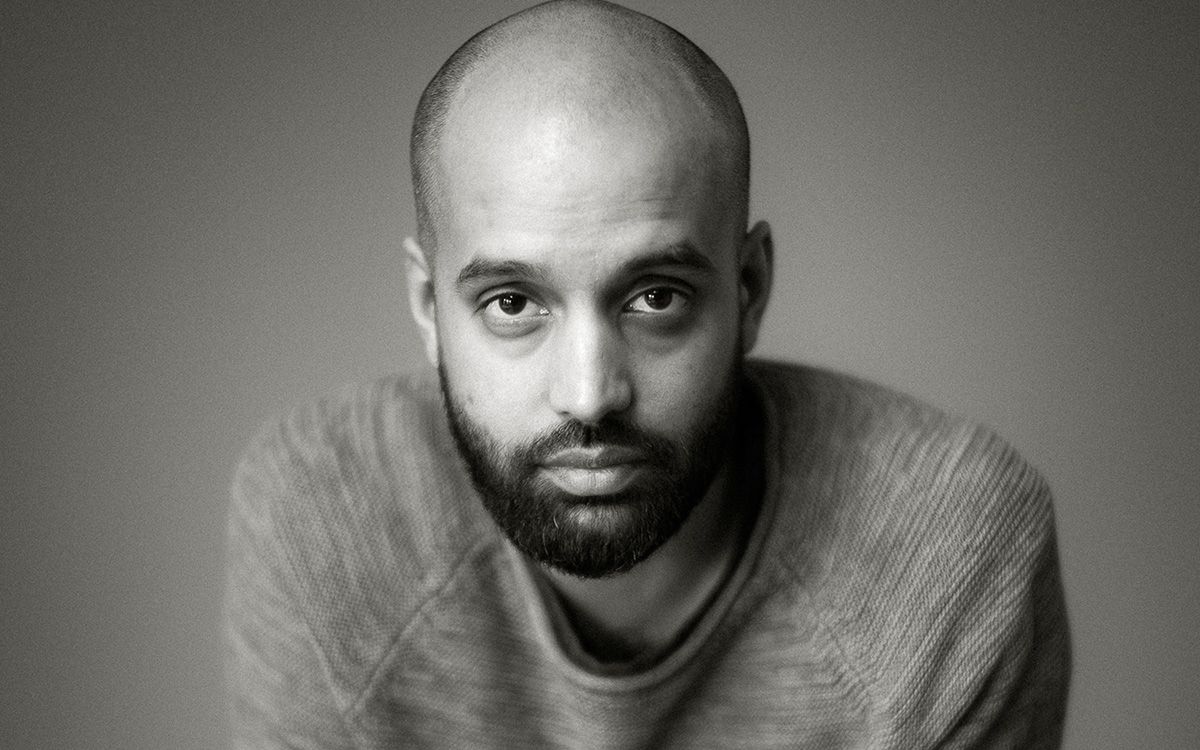 'Public Obscenities'
Through Dec. 23
Woolly Mammoth Theatre Company
641 D St., N.W.
$52-$85
Woollymammoth.net
For writer-director Shayok Misha Chowdhury, the memories and imaginings of time spent in India are revealed in "Public Obscenities," an inspiring new production currently playing at Woolly Mammoth Theatre. 
Born in India, raised in Boston and now living in New York, Chowdhury, 38, has visited his native country often over the years. Those visits serve as a connection to family and himself. "I was trying to a write a thing that reflected the intense specificities of my life as a uniquely situated gay man," he explains. "It's filled with intersecting longings among diasporic gay folks and those on the subcontinent."
A Woolly co-production with Theatre For A New Audience (in which four of the seven characters are queer), "Public Obscenities" follows Indian born Choton (Abrar Haque) as he returns to Kolkata on a research trip with his Black American boyfriend Raheem (Jakeem Dante Powell). While visiting his family home, Choton acts as translator (Bangla and English) and interviews queer locals all while showing Raheem his world.
In the past, Chowdhury, 38, has written musical experimental pieces but had never written a solo author naturalist play. "This is my debut as a playwright. What's more, I'm directing something that I've written for the first time." But being a director is squarely in his wheelhouse.
WASHINGTON BLADE: How much of "Public Obscenities" is about you, Misha?
SHAYOK MISHA CHOWDHURY: The plot isn't autobiographical, but the circumstances are. My partner is an African-American video artist and I'm more words driven. We've travelled many times. Unlike Choton, I don't have a Ph.D.
Definitely Choton's a character close to my skin. He lives in states robust fluency in mother tongue and feels a longing for what might had been had he remained.
He feels very much at home being gay in Kolkata. He can desire and be desired by people who look like him and speak to them in his mother tongue. There's a cross connection: He likes what they have and they like that he lives in America with accepting parents and can easily have a relationship with a Black man. 
BLADE: It is also a bilingual piece?
CHOWDHURY: Entirely bilingual in a very natural way. Characters speak either Bangla or English given circumstances. Choton's partner doesn't speak Bangla so the main character is translating in real time. When Bangla-speaking characters are in a scene, the audience is reading supertitles.
BLADE: Is it tough casting a bilingual piece?
CHOWDHURY: Yes, more than anything it was a casting challenge. Finding these actors is what made the piece possible. I'm very glad we had the muscle to find these folks and keep them in the production by flying them in and housing them.
BLADE: And place is very important?
CHOWDHURY: The house is a character in the play. Very much a scenic replica from real life; I've spent time in that house. For the Woolly production, the scenic designer has added a meta conceit: You enter through a movie theater and behind the screen of the cinema hall that house is revealed. But once there, it will feel the same.
"Public Obscenities" has been described as theater verité. The aesthetic leans into documentary precision and mimics the rhythms of real life. There's been a rewrite for this latest iteration. We have the same cast that appeared at Soho Rep in New York. They were assembled from a wide-ranging casting search. Specificity is required in terms of performance, language, and gender.
BLADE: But it's not the usual queer story
CHOWDHURY: It's not a coming out story; not a family conflict, it's more about the main character working so hard to prove that he's native to this place yet still himself.
BLADE: Is it hard to be objective when directing your own work?
CHOWDHURY: That's always a question you have to ask yourself. Here my proximity was a gift. The nature of this project involved precise vision.