Calendar: events through Jan. 15
Plays, concerts, exhibits and more among week's offerings
Friday, Jan. 7
D.C. Center (1318 U St., N.W.) is having its monthly open mic night tonight from 8 to 10 p.m. This month the event will feature the work of the Brother Tongue poetry workshop participants. Doors open at 7:30 p.m. and performers can sign up between 7:30 and 8.
ANNIEthing Goes and friends present "Absolina" a birthday celebration with DJs Zenbi, Charles Martin and vANNIEty kills tonight at 10 at Jimmy Valentine's Lonely Hearts Club (1103 Bladensberg Rd., N.E.)
RAW, hosted by DJs Bil Todd and Shea Van Horn, will be at Green Lantern (1335 Green Court, N.W.) tonight from 10 p.m. to 3 a.m. Free entry before 11 p.m. with a $3 cover after. There will be an open bar from 10 to 11 p.m. Attendees must be 21 or older.
Metropolitan Community Church of Washington's fundraising team is hosting a bingo night tonight at 7 p.m. at the church (474 Ridge St., N.W.). The evening begins with four early bird games which costs $2 for four cards or $3 for eight cards. This is followed by 17 regular and special games which are packaged for as low as $25. There will be homemade refreshments available in Mama Cecelia's kitchen.
The Foundry Gallery (1314 18th St., N.W.) is holding an opening reception from 6 to 8 p.m. for its newest exhibit "Celebrate Gay Marriage" which is a juried show of regional artists. The reception will feature a performance by Potomac Fever, part of the Gay Men's Chorus of Washington. The exhibit will continue through Jan. 30.
Signature Theatre (4200 Campbell Ave.) in Arlington is hosting "Pride Night" tonight featuring a performance of "Sunset Boulevard" followed by a one-hour post-show cocktail and hors d'oeuvres reception. The performance begins at 8 p.m. Signature has also teamed up with Fleet Transportation and is offering a shuttle service from Dupont Circle on P Street directly to the theater leaving at 6:30 and returning at 11:30 p.m. Roundtrip tickets for the bus are $5 and tickets to "Pride Night" are $86 and $91. All tickets can be purchased at the theater box office.
Apex (1415 22nd St., N.W.) and Gloss present First Fridays Ladies Night tonight with music by DJ Rosie in the main room and performances by the D.C. Kings and the D.C. Gurly Show at midnight. There is a $10 cover. Attendees must be 18 or older to enter.
Front Runners is having its monthly happy hour tonight at the Duplex Diner (2004 18th St., N.W.) at 6:30 p.m.
The Dance Party will be at 9:30 Club with Wallpaper, K-Flay, Ra Ra Rasputin and lowercaseletters at 8 p.m. Tickets are $15 and can be purchased at 930.com.
Saturday, Jan. 8
The planning committee for the D.C. Center's sixth annual Oscar celebration, "Glamour, Glitter, Gold" is meeting today at 11:30 a.m. at the Center (1318 U St., N.W.). The committee is chaired by Michelle Ross and Timur Tugberk.
City Gallery (804 H St., N.E.) will be holding an opening reception for its newest exhibit "Leaves, Words and Screens" featuring the work of Ronnie Spiewak tonight from 6 to 9 p.m. The exhibit will continue through Jan. 29.
Pianist Alexander Paley will be giving a free all-Liszt concert tonight in celebration of what would be Franz Liszt's 200th birthday at 8 p.m. at Westmoreland Congregational UCC Church (1 Westmoreland Circle) in Bethesda.
Team D.C. will be having an information Q&A session today at 10 a.m. at the Verizon Center. The session is open to anyone, but space is limited. To reserve a space, e-mail Ryan Bos at [email protected]
The Capitol Hill Arts Workshop will host its fifth annual juried photography exhibition and reception today from 5 to 7 p.m. at CHAW (545 7th St., S.E.). The exhibit will feature works from local and regional artists. The show will continue through Feb. 4.
Apex presents Glowing, a fusion of black lights, dayglo paint and glow sticks tonight with DJ Gigi. DJ Michael Brandon will host Caliente, a latin dance party, in the east wing dance lounge. Kristina Kelly and the Girls of Glamour will perform at 11 p.m. There is a $10 cover.
The NSO Teddy Bear Concert: "Fancy That!" will have three performances of a one-woman show with NSO violinist Marissa Regini today at 11 a.m., 1:30 and 5 p.m. in the Kennedy Center's Family Theatre (2700 F St., N.W.).
Sunday, Jan. 9
LAMBDA SCI-FI, a monthly meeting and social of LGBT science fiction, fantasy and horror fans, will have its annual blind book exchange today at 1:30 p.m. Attendees are encouraged to bring a snack or a non-alcoholic drink to share. The meeting will be held at 1414 17th St., N.W. For more information call James at 202-232-3141, e-mail to [email protected], or visit the group's website at lambdascifi.org.
D.C. Kings will be at Phase (525 8th St., S.E.) tonight with "One Hit Wonders." Doors open at 7 p.m. and the performance begins at 10. There is a $5 cover.
The Baltimore Museum of Art (10 Art Museum Drive) is having its free family Sundays with "Collage Wacky Warhol Wigs" today from 2 to 5 p.m. Today is also the last day to view the exhibit "Andy Warhol: The Last Decade." Tickets to the exhibit range from $15 for adults to $5 for children 6 to 18 years old.
Burgundy Crescent Volunteers will be helping fight hunger in the D.C. area today from 9 a.m. to noon, with D.C. Central Kitchen. Volunteers will help cook, working along chefs who have graduated from the Kitchen's job training program. No experience is required, just an interest of cooking. The Kitchen provides job skills by using rescued and donated ingredients to teach unemployed and homeless individuals how to cook, then turns this food into free meal services. E-mail [email protected] for more information.
Monday, Jan. 10
The fourth Mid-Atlantic Band Battle IV Preliminaries start tonight at 7 p.m. at Jammin' Java (227 Maple Ave., E.) in Vienna. The preliminaries continue through Thursday.
Tuesday, Jan. 11
The Baltimore Museum of Art (10 Art Museum Drive) begins "Rest, Restore, Renew," its winter yoga series, today from 6 to 7:15 p.m. There are six sessions and they are $95 for members and $110 for non-members.
Join Burgundy Crescent Volunteers to help pack safer sex kits from 7 to 9 p.m. tonight at FUK!T's new packing location Green Lantern, 1335 Green Ct., N.W.
Wednesday, Jan. 12
The Big Gay Book Group will meet tonight at 7 p.m. at 1155 F St., N.W., Suite 200. The book for discussion will be "Great Speeches on Gay Rights" edited by James Daley. For more information, visit the group's website biggaybookgroup.com or e-mail [email protected]
Rainbow Response will hold its monthly meeting tonight from 7 to 8 p.m. at the D.C. Center (1318 U St., N.W.)
Thursday, Jan. 13
DCBiWomen will be having its monthly dinner at Café Luna (1633 P St., N.W.) tonight from 7 to 8 p.m. For more information, visit dcbiwomen.org.
Exposed Tattoo and Baller Inc., present the D.C. Tattoo Arts Expo starting today at the Crystal City Doubletree Hotel (300 Army Navy Drive) in Arlington with a VIP welcome party in the Sky Dome from 8 p.m. to 2 a.m. The expo will continue through the weekend, ending Sunday.
Friday, Jan. 14
DJ Joshua and TheNewGay present BALLS! Tonight from 10 p.m. to 3 a.m. at Velvet Lounge (915 U St., N.W.) featuring the debut DJ set of Steve Scarlata. There is no cover for this event. Drink specials include $3 Natty Boh and $4 kamikazes.
Gross National Product returns with "The Sound of Palin" at Atlas Performing Arts Center (1333 H St., N.E.) tonight at 8 p.m. Tickets range from $10 to $20 and can be purchased at atlas arts.org.
Saturday, Jan. 15
Blowoff, a dance party featuring gay DJs Bob Mould and Richard Morel, will be at 9:30 Club (815 V St., N.W.) tonight. Doors opens at 11:30 p.m. Attendees must be 21 or older. Tickets are $12 and can be purchased at 930.com.
PHOTOS: New Year Still Queer
The Washington Blade holds appreciation happy hour at Pitchers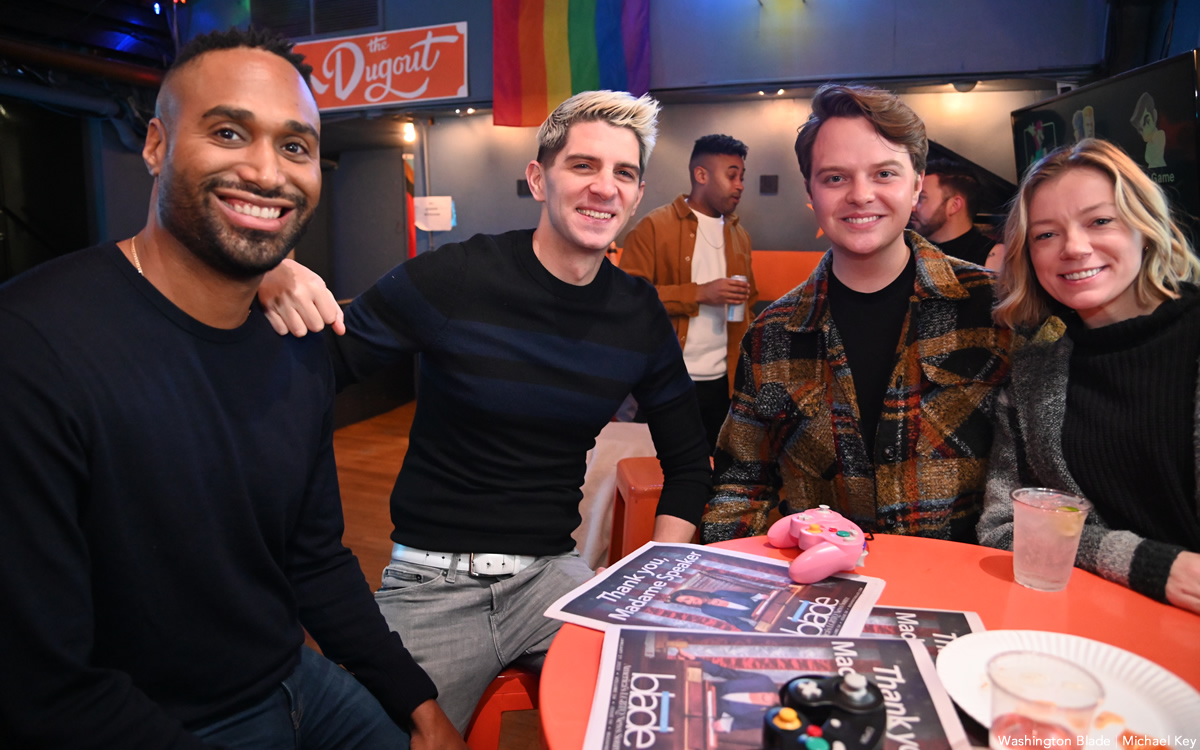 The Washington Blade held a New Year Still Queer appreciation happy hour at Pitchers DC on Friday, January 27.
(Washington Blade photos by Michael Key)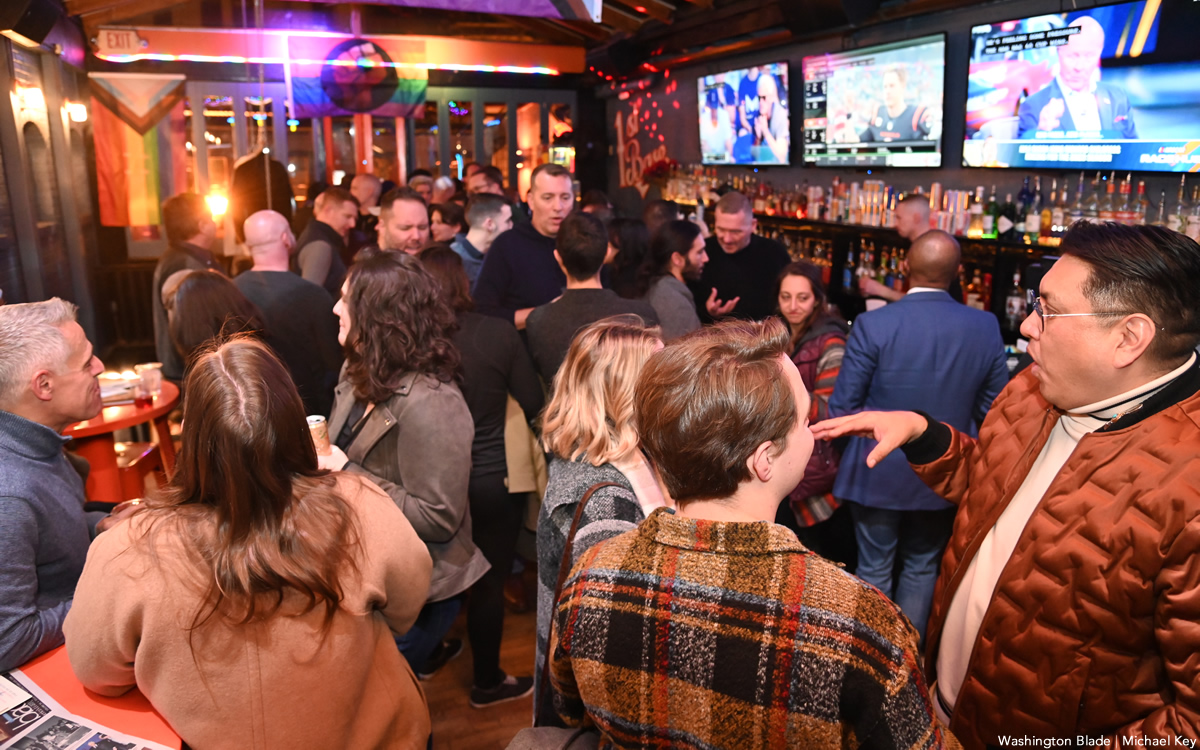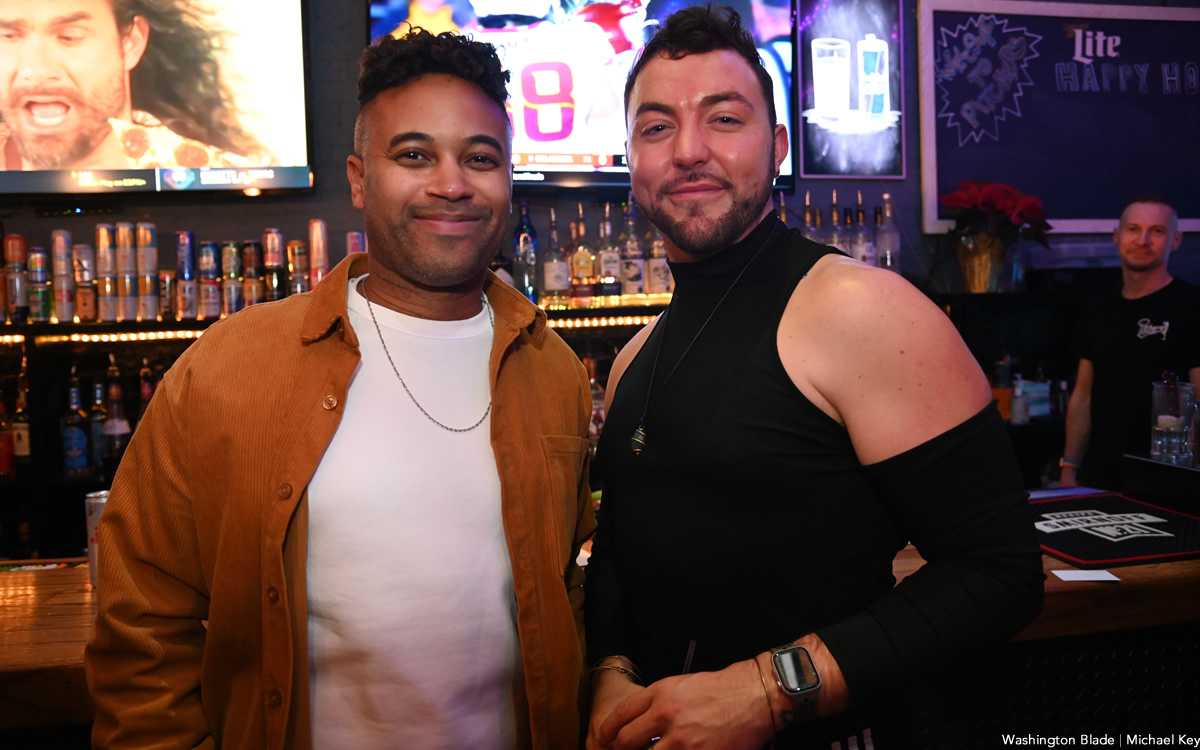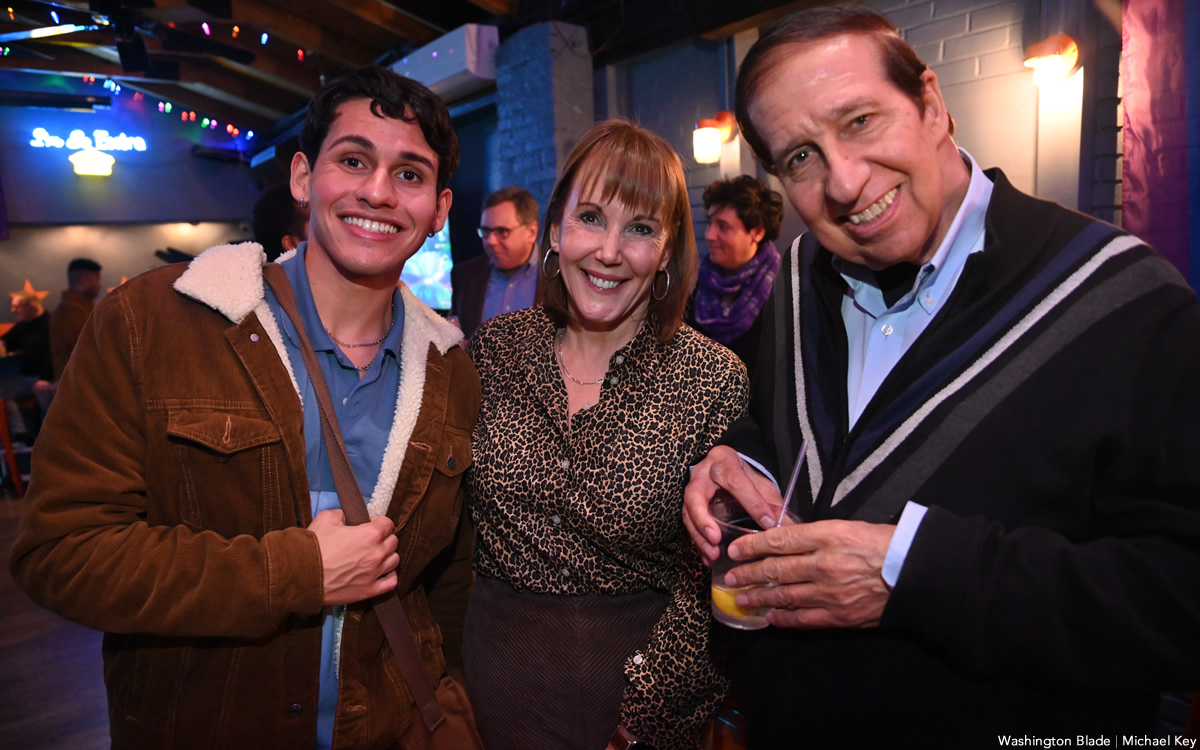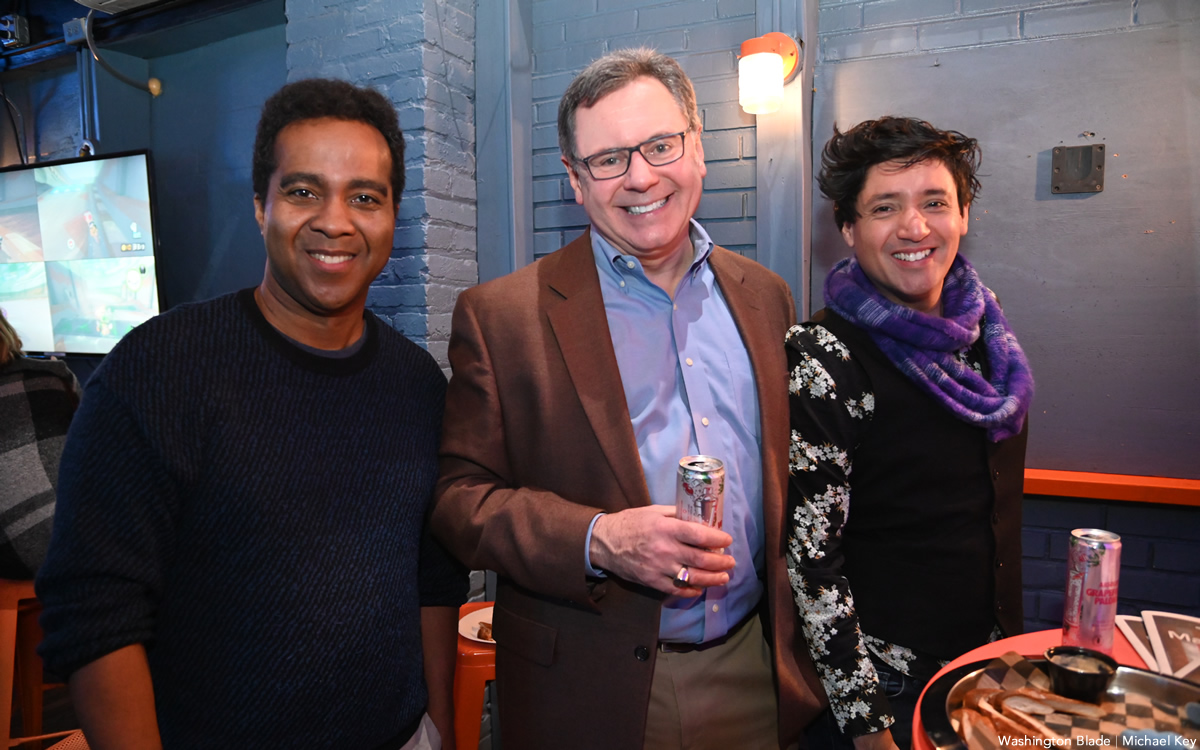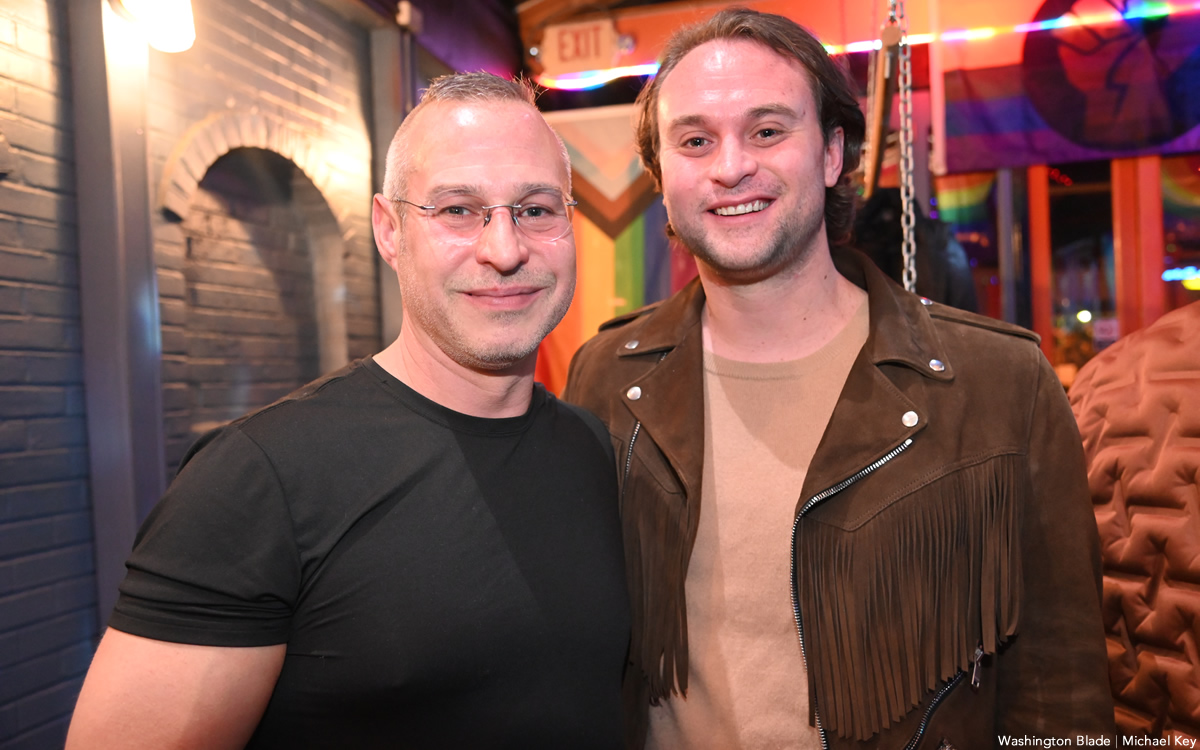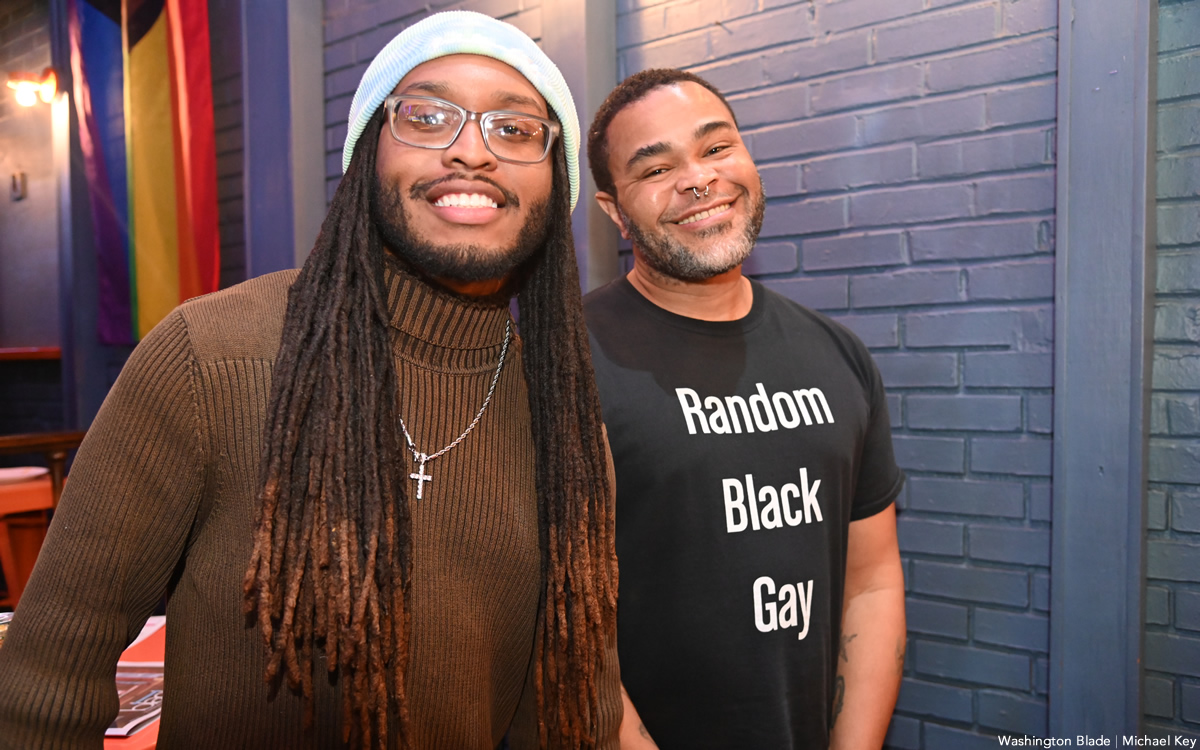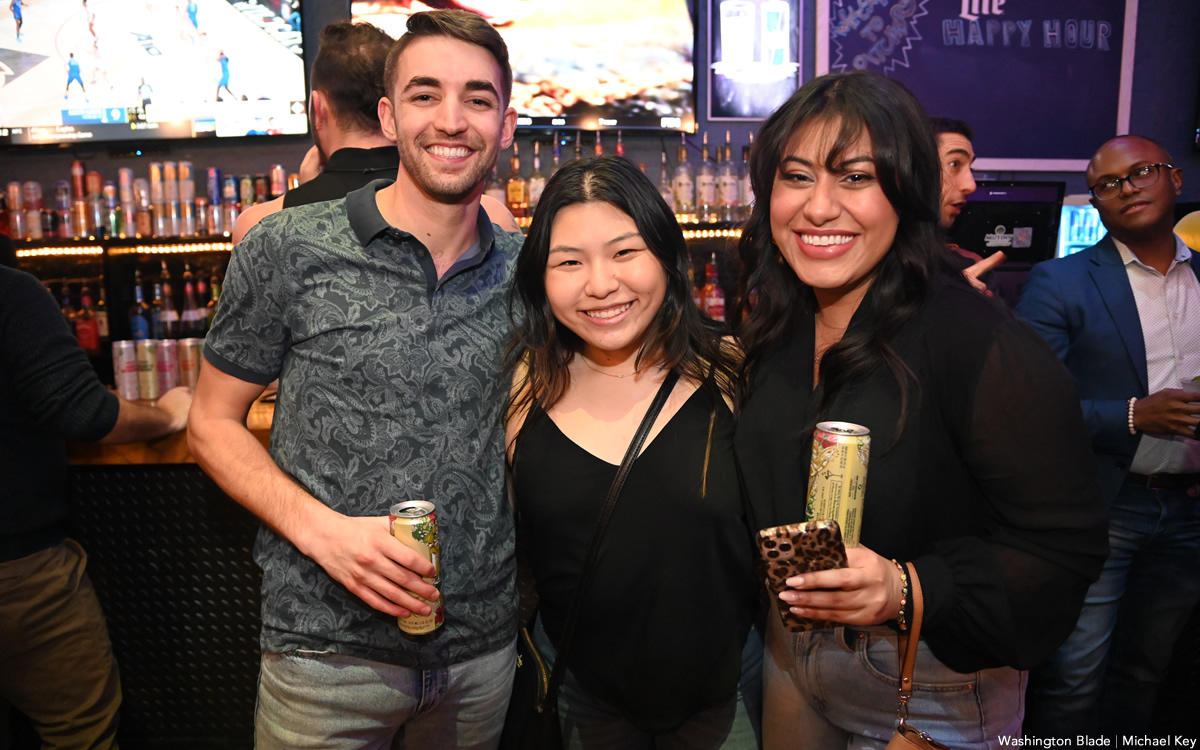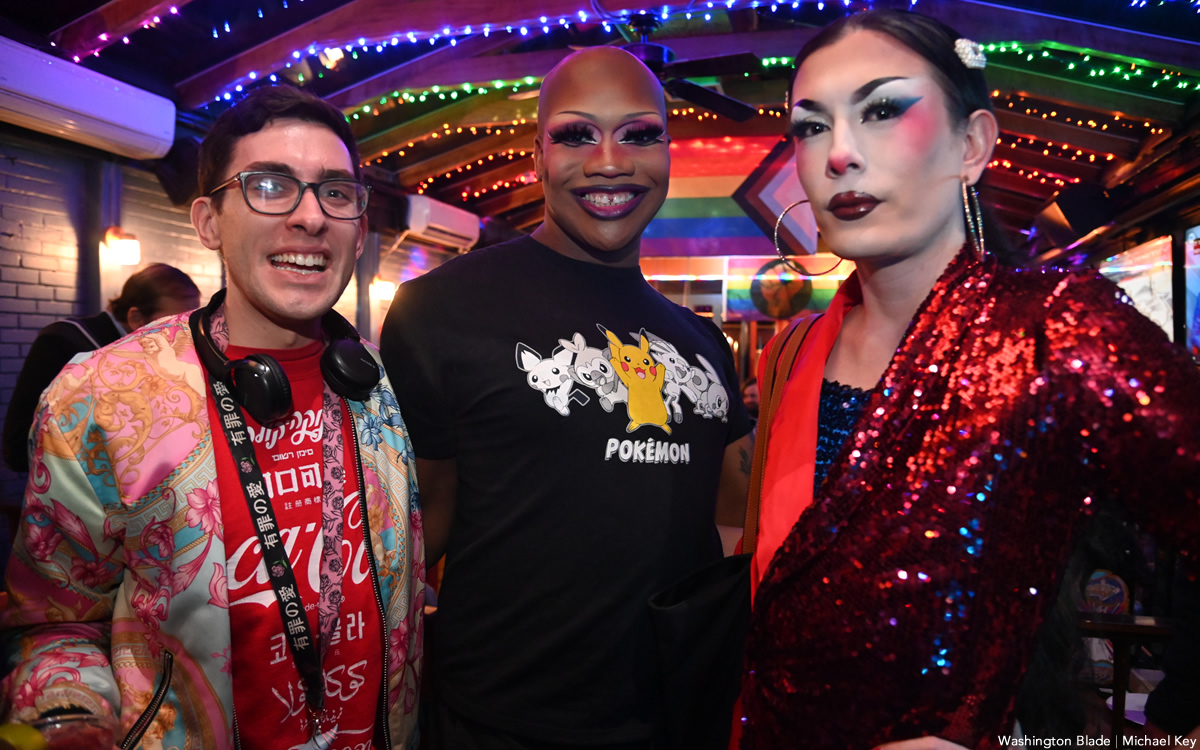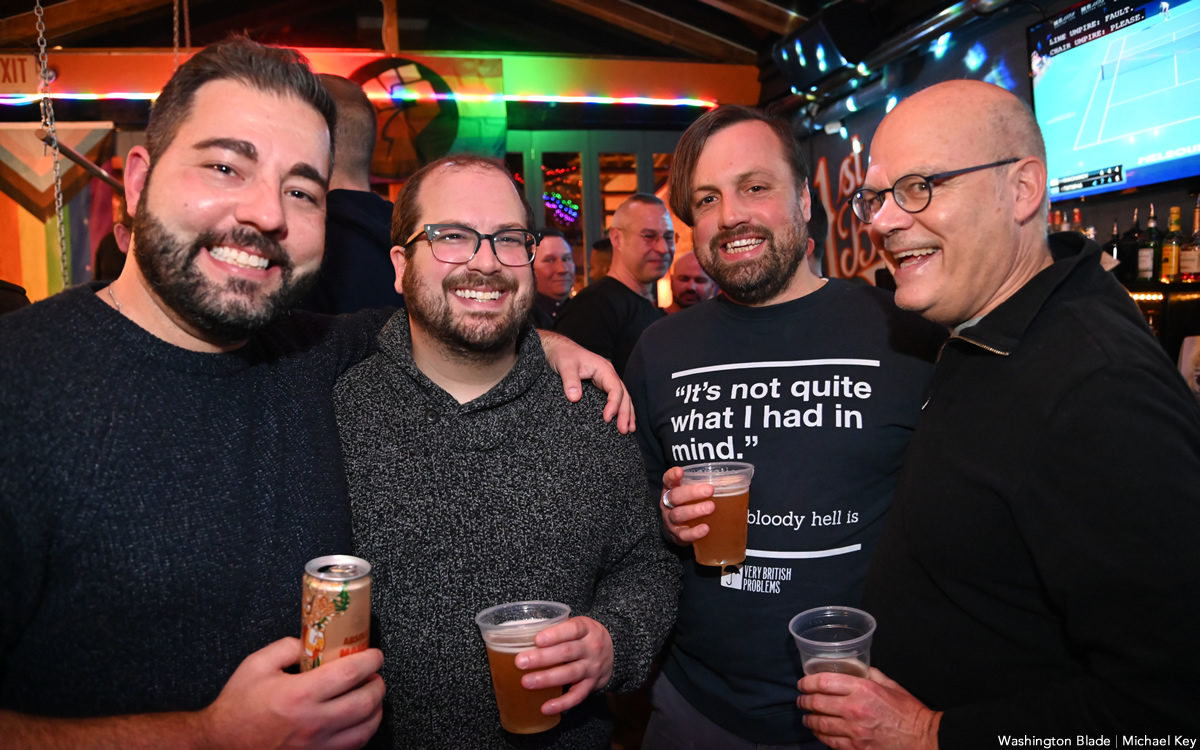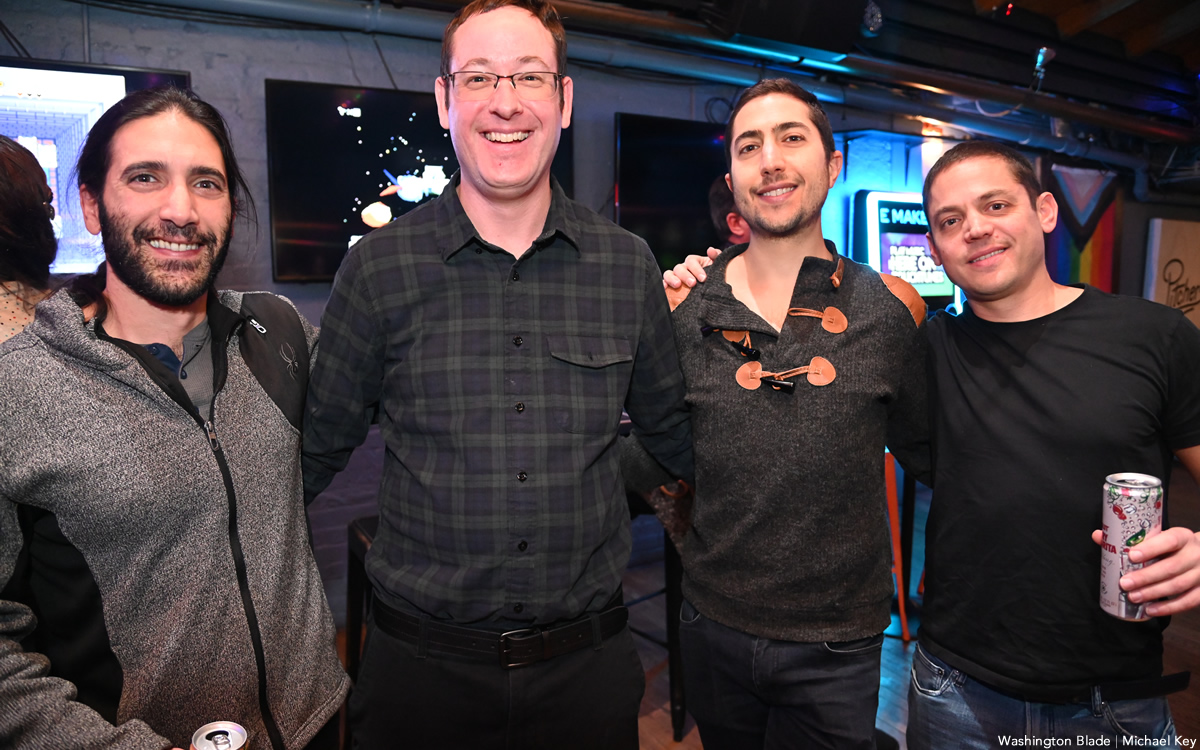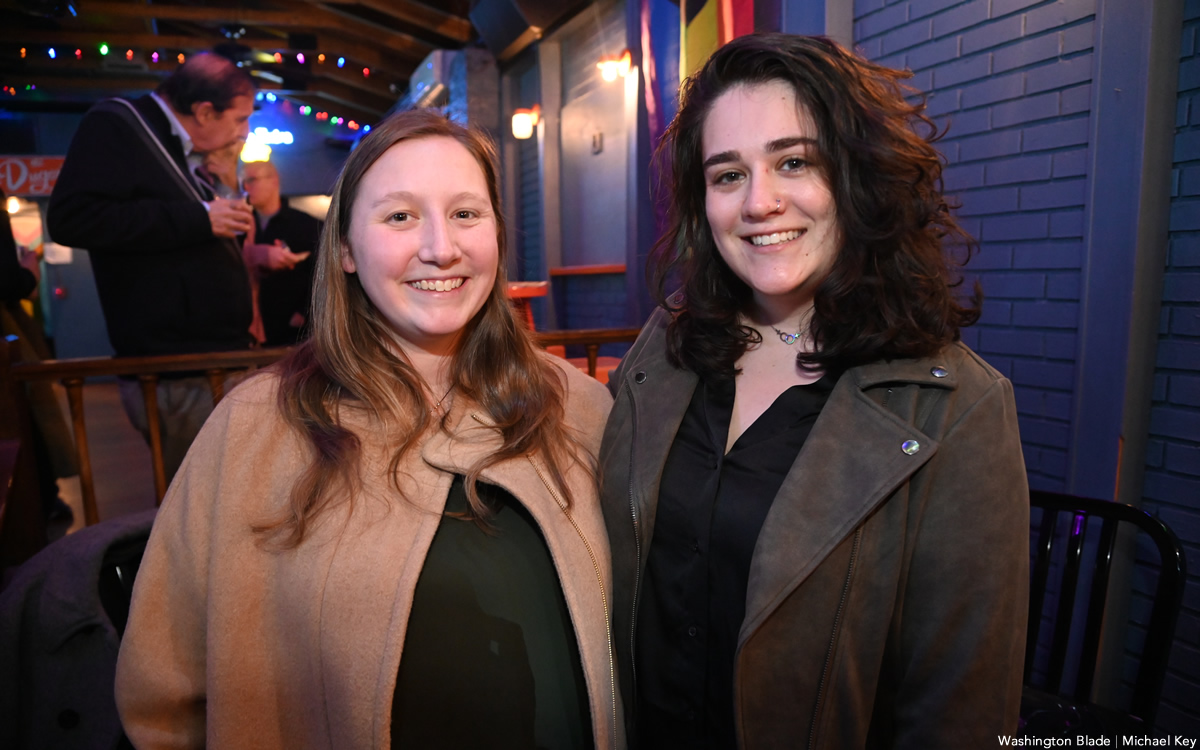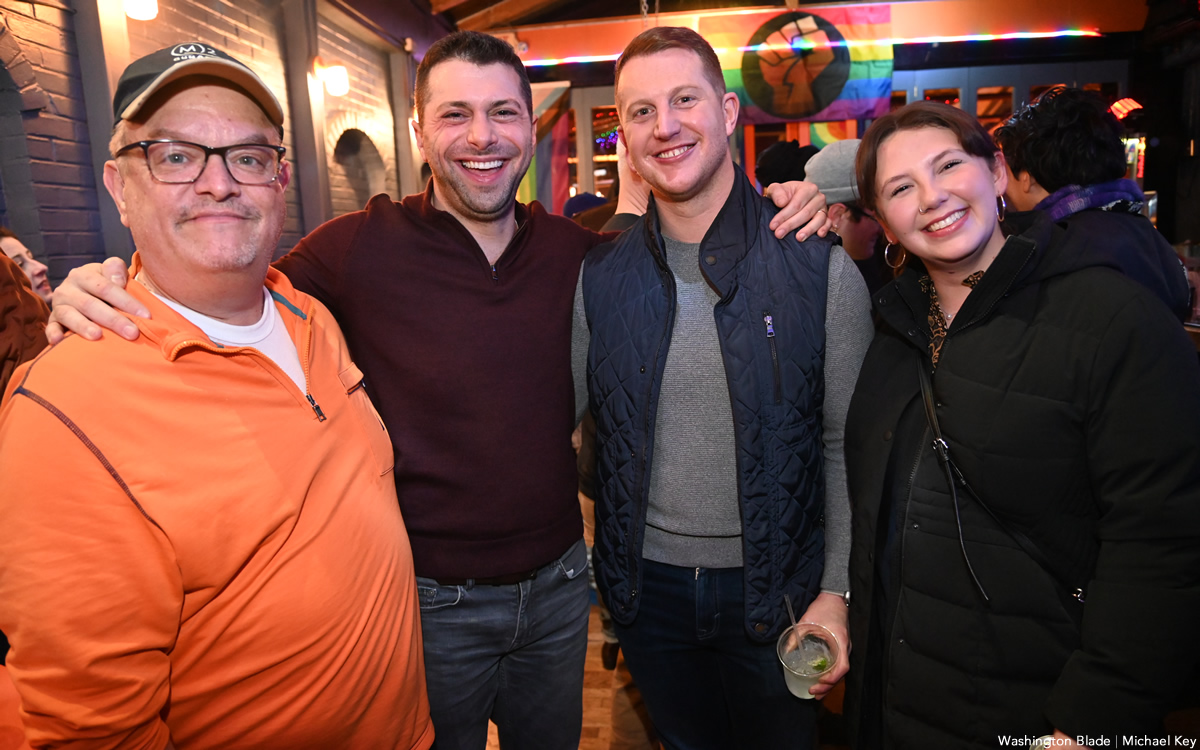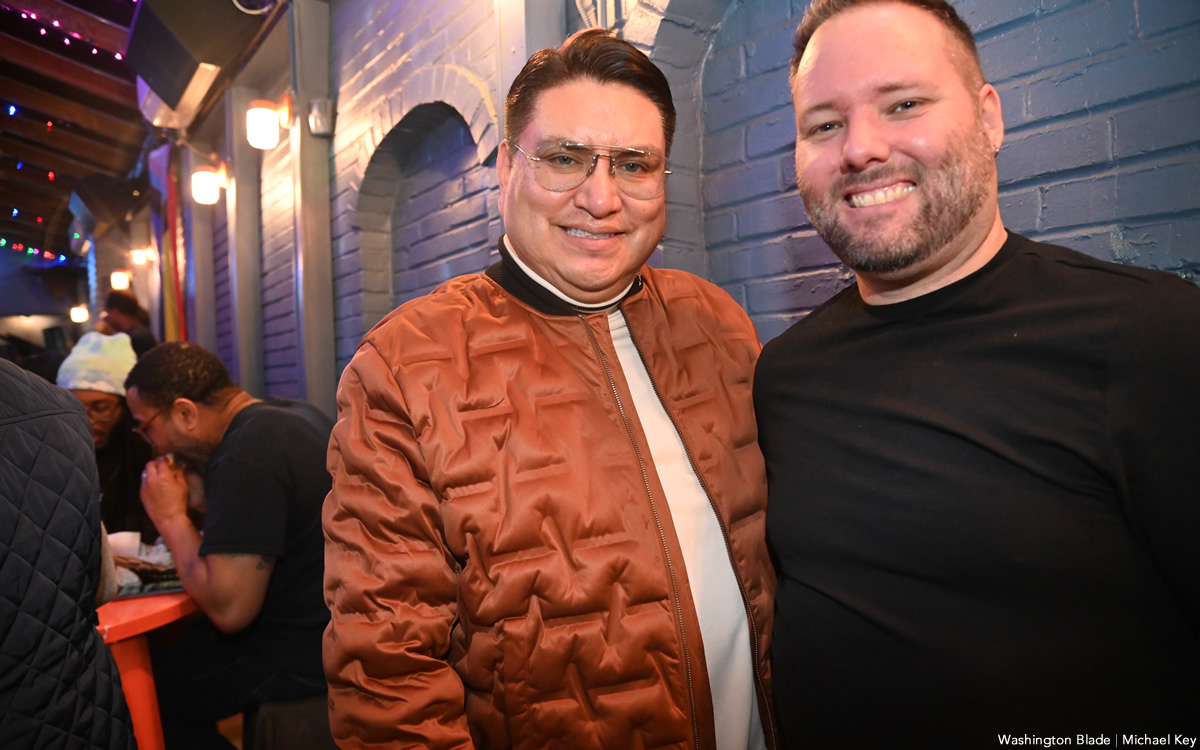 A balanced look at whether to have children
New book, 'So When are You Having Kids?' makes no judgments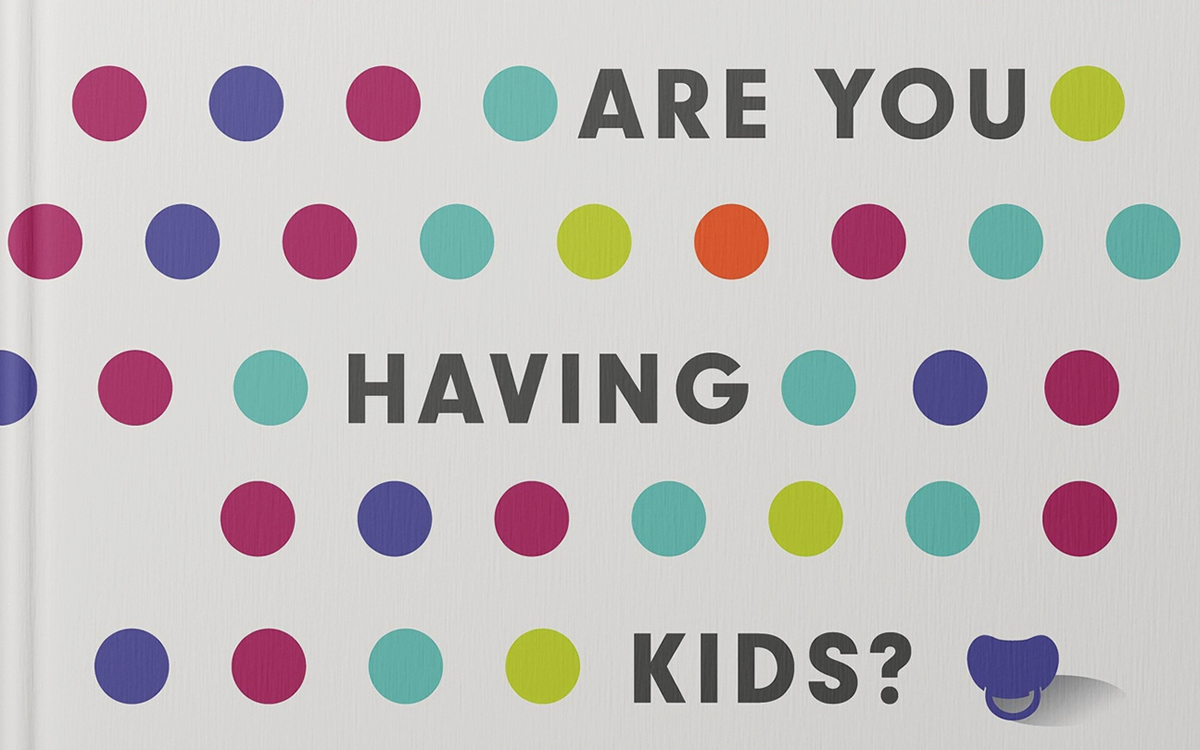 'So When are You Having Kids?'
By Jordan Davidson
c.2022, Sounds True, Macmillan
$28.99/356 pages
Your mother lingers way too long in the children's department.
She sighs over tiny suits and little sneakers, running her fingers along soft blankets, hugging plush animals. You know what she wants but you're not ready; she might be sure but you're not. Maybe baby for you or, with the new book "So When are You Having Kids?" by Jordan Davidson, maybe not.

It's the thorniest of decisions, "one of the biggest you'll ever make." It's personal, but even strangers want to know; the questions start in your 20s and end when you've acquiesced or aged, although having kids is not a given or a thing-by-committee. So how do you quiet the busybodies and make the right decision for yourself?
First, says Davidson, ask yourself if you even want children, and after you've looked inward, "it's worth looking outward" at expectations, culture, and things that "shape our understanding of parenthood." Ask around, to see why others had children but don't be surprised if you get cliches. Throw out the idea that children fulfill you or that they'll take care of you when you're old. Know that genetics, religion, and your parents' parenting styles will affect you; and that if you're queer or Black, there'll be other factors involved in having and raising a child.
Should you decide to the positive, you may still have reservations.
Don't give in to the romance of having kids; it's hard work, and expensive in both money and time. Remember that perceptions of good parenting have "shifted over time" and that having a childhood exactly like yours probably won't be an option for your kids. If you have a partner, communicate your thoughts, hopes, and divisions of household labor and childcare.
Finally, decide how you're going to become a parent. Will you give birth, choose IVF, adopt, foster, or kick the decision down the road?
Says Davidson, the mere ability to ask these questions and decide "is in many ways a privilege."
Chances are that if you hear a screaming baby, you have one of two reactions: you cringe and look for an exit, or you notice and shrug. Either way, "So When are You Having Kids?" is a book for you.
There are many, many parenting books on miles of shelves, and a number of books on being childless, but author Jordan Davidson pulls the two subjects together here with thoughtfulness, candor, inclusiveness, and a refreshing lack of judgment. This is a book that doesn't promise answers, though: it's meant to give readers – whether they want kids, don't, or are ambivalent – an in-one-place, balanced look at myths, truths, pros, cons, and rarely-considered points for an informed decision. It also, perhaps most importantly, offers comforting reminders that there is no right or wrong, no matter what Mom says.
"So When are You Having Kids?" is like having a big sister to bounce ideas with, or a break-out session in your living room. It's like asking Baby Maybe questions you didn't know you had. It's help when you need it in that department.
The Blade may receive commissions from qualifying purchases made via this post.
PHOTOS: SMYAL for the New Year
LGBTQ youth services organization holds fundraiser at Red Bear Brewing
The SMYAL Young Donors Committee held a fundraiser for the LGBTQ youth services organization Supporting and Mentoring Youth Advocates and Leaders (SMYAL) at Red Bear Brewing Company on Thursday, Jan. 26.
(Washington Blade photos by Michael Key)