Continuing the fight for education reform
As more gays adopt, we must support fixing our schools

If there's one thing that we should have learned over the last 20 or so years, it's that throwing money at a problem often exacerbates the very problem you are seeking to solve. This has been the case with the D.C. Public School System for a very long time. At one point, Washington, D.C., was spending more dollars per student than any other jurisdiction in the country. And we had nothing to show for it.
For decades, the same problems were prevalent. There were decaying buildings where students were supposed to learn. The management systems were dysfunctional, to say the least.  And, most importantly, the test scores were abysmal. Graduation rates were down and dropout rates were high. That is a contributing factor to the 12 percent population decrease in the District between 1960 and 2000.
No matter which side of the recent mayoral debate you came down on, it is widely agreed upon that former Mayor Adrian Fenty was wise to take over the D.C. schools and appoint Michelle Rhee as chancellor. Before Rhee took the reins, there were six superintendents in the past decade alone. Before her appointment, there was no real accountability. There was only a circular firing squad. The city had a mayor, a Council, a superintendent and a school board all pointing the finger of blame at one another.
Four years later, things are looking up.  Now, even though Fenty lost his reelection bid, and Rhee has resigned, D.C. students have a fighting chance.
As part of D.C. public education reform in 2007, the State Board of Education was established. This past November, several new members were elected to the recently recreated school board. One of them is Patrick Mara in Ward 1.
Though he has lived in D.C. for many years, Mara is fairly new to the local political scene.  Many may recall two years ago, Mara ran against and defeated longtime Council member Carol Schwartz in the Republican primary. Though he lost in the general election for the at-large seat on the City Council, he didn't give up. He thought of how he could best serve his adoptive city.
Mara has served as a mentor at the Maya Angelou Public Charter School in Shaw and with the Hoop Dreams Scholarship Fund Program. He has tutored DCPS special education students through Project Northstar and is an officer for a non-profit organization focused on promoting global awareness, literacy and meaningful citizenship in D.C. Public Schools.
On top of those accomplishments, Mara, though straight, is a very good friend to our community.  He was an early supporter of bringing marriage equality to the District and surely will be instrumental in advancing any anti-bullying policy that presents itself to the school board.
As our community begins to adopt and have children of our own, the quality of the schools in our neighborhoods will become a deciding factor as to where we buy — D.C. or the suburbs.
Although it is uncertain what kind of leadership the new mayor and a new chancellor will bring to D.C. schools, Patrick Mara's leadership will be refreshing and innovative.
Mara was sworn in as State Board of Education Member, Ward 1 on Sunday.
National Gay & Lesbian Chamber of Commerce Certifies Brown, Naff, Pitts Omnimedia, Inc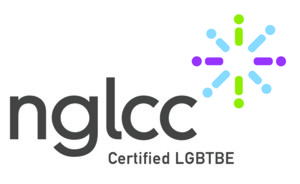 Washington, D.C. — Brown, Naff, Pitts Omnimedia, Inc, the parent company of the Washington Blade and Azer Creative, announced today it has been certified by the National Gay and Lesbian Chamber of Commerce (NGLCC) as an LGBT Business Enterprise. The NGLCC supports and advocates for diversity and inclusion for LGBT-owned businesses. With this certification the Blade's parent company joins more than 510 business and 134 corporate partners of the NGLCC.
Brown, Naff, Pitts Omnimedia, Inc. owns and operates the Washington Blade, the oldest and most acclaimed LGBT newspaper in the country. In 2012, the company launched Azer Creative, a full-service design firm. The company employs more than a dozen full-time LGBT staff.
"We are excited to become one of the 500 LGBT businesses across the country certified by NGLCC," said Lynne Brown, the Blade's publisher and a co-owner of the company. "The LGBT community has been part of our company from the beginning and we look forward to continue that for many years to come."
The Washington Blade was founded in 1969 and is known as the "newspaper of record" for the LGBT community both locally and nationally. Visit washingtonblade.com for more information. Azer Creative is a full-service graphic design firm based in Washington, D.C. Visit azercreative.com for more information. 
Vote now for the 2013 Best of Gay DC!
Choose in dozens of categories among hundreds of nominees, and make your voice heard!
Nominate the 'Best of Gay D.C.' now!
Dozens of categories cover all the best for LGBT Washington. Who deserves the prize this year?