Galactica shines in live singing debut
Jeffrey Johnson's drag persona delights in New Year's Eve cabaret show

After years of elaborately staged lip synced routines, Special Agent Galactica (the drag persona of Ganymede Arts' Jeffrey Johnson) made her live singing debut last night in a New Year's Eve cabaret act at Go Mama Go that proved the pink-coiffed hostess is capable of executing a tight and entertaining set without playing along to a recorded track.
It's difficult to compare the two — Johnson, while a capable singer, could hardly hold a candle to the legends' studio-tweaked vocals he usually uses for his shows. And accompanists Christopher Wingert (piano) and Paige Miller (drums), who proved a tight, efficient combo as the "Escape Pods," could hardly conjure all the bells and whistles a studio cut can provide. But that was never really the point. Still it's impossible not to compare the two kinds of shows since before last night, lip syncing was all we'd seen Galactica do.
So since comparison is inevitable, I'd say the previous Galactica shows are perhaps more entertaining while last night was more artistically satisfying. I always marveled at Johnson's lip syncing prowess (he's every bit as dead on as John Epperson's Lypsinca) but wondered, at times, what the point was. It was technically impressive, but one marveled the way one does at a juggler or acrobat — it's eye popping, but it sometimes felt like virtuosity for virtuosity's sake and little more. The difference is important — it's why nobody pays big money to hear a concert pianist play Czerny at Carnegie Hall but a recital of the Chopin etudes — pieces that are as technically demanding as they are artistically satisfying — works.
Galactica, for the record, was never the drag equivalent of Czerny. There were always plenty of costume changes and mood shifts to keep things interesting. But last night's show found her flexing different creative muscles in a 90-minute revue that presented old school pop culture gems expertly chosen and sequenced (Johnson is a master of pacing and set list construction — his shows, lip synced or sung, flow like melted butter).
He confessed on Facebook today he was only performing at about 50 percent last night. There weren't any money notes and he exhibited far more range in last fall's "Falsettos," but his vocal skill never really seemed to be the point. He's a capable singer (he has years of musical theater under his belt), but you don't go see his shows for the same reasons you buy a Clay Aiken CD. With Johnson, it's more about hearing what forgotten gems he may dig out from his vast record collection. There are many wonders there, however he presents them, and that's really the fun. It's never predictable. You never feel you're at a straight wedding reception or campfire singalong where "Proud Mary" or something from "Tapestry" are inevitable. Even on songs everybody knows like the Muppets' "Rainbow Connection," you never feel you've been dumped in a predictable place.
Johnson's real artistic contribution — and he's an under-appreciated D.C. treasure — is that he's a pop culture curator with queer sensibilities who has dead-on instincts about what we want to hear and where we want to go before it's occurred to us. In reviving "Falsettos," in re-creating Edie Beale's nightclub act and with the Galactica shows, Johnson exhibits queer artistic sensibilities that the mainstream just doesn't get. You could see a microcosm of it at last night's show. The handful of straights who were there gamely played along (and were even some of the most vocal), but there was still a subtle-but-palpable disconnect. Not surprisingly, they had the most fun with the least gay song of the night — a silly Ray Stevens cover. It's why we need LGBT-specific art companies like Ganymede (even though last night wasn't technically a Ganymede show) — we get each other, regardless of our mediums — in ways straight society never will. It's hard to define but it's what makes an Ann-Margaret song the gayest thing you ever heard even though she's straight.
Kudos to Johnson for soldiering on. You don't get famous putting on these kinds of shows but they provide something you can't get anywhere else. And Wingert is proving a savvy collaborator. He was a fluke sub for a "Naked Boys Singing" show last year but he and Johnson found in each other a kindred spirit. His flashy-but-unobtrusive accompanying skills were imperative to the success of last night's show.
Oh, and for those curious about who (or what) Galactica is, last night did shed a few insights, but it was mostly in jest. She said she ditched one song they'd considered doing about pregnancy because as a "special agent" she'd had her tubes tied and couldn't relate.
Set list:

1. Some People/On the Other Side of the Tracks

2. I Enjoy Being a Girl

3. The Gentlemen is a Dope

4. The Dumber They Come the Better I Like 'Em

5. Nobody's Heart (Belongs to Me)

6. The Minute Waltz

7. The Boy From …

8. I Never Do Anything Twice

Intermission

9. What Are You Doing New Year's Eve/Auld Lang Syne (instrumental jam)

10. Beat My Dog

11. Still Do Love You So

12. Your Son Isn't Going Through a Phase, Mrs. Worthington

13. Believe Me

14. Cast Your Fate to the Wind (instrumental)

15. 13 Men

16. Rainbow Connection

17. Would Jesus Wear a Rolex

18. Everything Old is New Again
National Gay & Lesbian Chamber of Commerce Certifies Brown, Naff, Pitts Omnimedia, Inc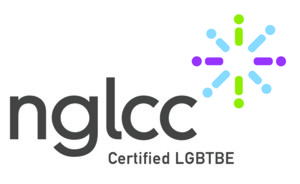 Washington, D.C. — Brown, Naff, Pitts Omnimedia, Inc, the parent company of the Washington Blade and Azer Creative, announced today it has been certified by the National Gay and Lesbian Chamber of Commerce (NGLCC) as an LGBT Business Enterprise. The NGLCC supports and advocates for diversity and inclusion for LGBT-owned businesses. With this certification the Blade's parent company joins more than 510 business and 134 corporate partners of the NGLCC.
Brown, Naff, Pitts Omnimedia, Inc. owns and operates the Washington Blade, the oldest and most acclaimed LGBT newspaper in the country. In 2012, the company launched Azer Creative, a full-service design firm. The company employs more than a dozen full-time LGBT staff.
"We are excited to become one of the 500 LGBT businesses across the country certified by NGLCC," said Lynne Brown, the Blade's publisher and a co-owner of the company. "The LGBT community has been part of our company from the beginning and we look forward to continue that for many years to come."
The Washington Blade was founded in 1969 and is known as the "newspaper of record" for the LGBT community both locally and nationally. Visit washingtonblade.com for more information. Azer Creative is a full-service graphic design firm based in Washington, D.C. Visit azercreative.com for more information. 
Vote now for the 2013 Best of Gay DC!
Choose in dozens of categories among hundreds of nominees, and make your voice heard!
Nominate the 'Best of Gay D.C.' now!
Dozens of categories cover all the best for LGBT Washington. Who deserves the prize this year?