LGBT boomers face new challenge
Staying out in old age can be complicated

On New Year's Day, I, a queer boomer, welcomed 2011 by breakfasting with two friends, a 40-something lesbian couple. Sitting in the pancake house, I thought more about how I wanted coffee than perceptions of aging until Heather said of a woman she knew, "She must be 60 — she's getting up there!"
That woke me up more than the java, which the server was pouring in my mug. At 58, like many of my boomer peers, I often think of myself as, in the immortal words of (a few years older than us boomers) Bob Dylan "forever young." I love Lady Gaga, the TV show "Modern Family" and Halloween. Yet, though far from 90 or even 80, I, along with Heather's acquaintance, am "getting up" there. So is my generation. On Jan. 1, the oldest boomers began turning 65.
Who are the boomers? We're the 79 million Americans born between 1946 and 1964. We make up about 26 percent of the population of the United States. "There are estimated to be up to 6 million LGBT baby boomers," Jan Cullinane, co-author with Cathy Fitzgerald of "The New Retirement: The Ultimate Guide to the Rest of Your Life, told "Newsweek."
Elton John, Madonna, Ellen DeGeneres, Wanda Sykes and writer Michael Cunningham are all queer boomers leading lives I'd bet we'd all love to live. They're doing great work and, with or without children, they've found their mates.
While we're not iconic singers, actresses or writers, many of us LGBTQ boomers can still be proud of ourselves. Like our straight peers, some of us came of age working for social justice — whether protesting the Vietnam War or fighting for civil rights.
Sure, generalizing about boomers or any generation is risky. Some of us supported the Vietnam War, and too often, we've been narcissistic and self-pitying. Yet, even with our self-absorption, today, as social workers, teachers, doctors, lawyers, government workers, police officers, soldiers and chefs some of us do what we can to make the world better, safer, more nurturing or more fun.
Perhaps our most important contribution was our role as the first modern "out" generation. A few of us took part in the Stonewall Rebellion. Many of us have fought homophobia by coming out of the closet in our personal and professional lives. We helped to get the American Psychiatric Association to remove homosexuality as a mental illness in 1973, worked for gay rights bills in cities across the country and are among those now working for marriage equality.
Ironically, despite our openness about our sexuality – our refusal to deny our sexual orientation – we queer boomers are in denial about aging.
Our straight friends, too, don't want to let aging on their radar screen. Yet I can't help but wonder: Are LGBTQ boomers more touchy, more fearful of becoming old than our hetero counterparts?
There aren't definite answers to these questions.  But, according to a 2010 survey conducted by the Metlife Mature Marketing Institute and the American Society on Aging, queer boomers are more frightened of becoming old than their straight peers.
Those of us who are single and who don't have children worry about who will care for us as we age. Same-sex couples are concerned because they can't receive Social Security and other benefits that straight married couples can.
We're afraid that we'll have to go back in the closet in a nursing home, retirement community or if we need help caring for ourselves in our own homes.  "The biggest fear is not being accepted as gay or lesbian," said Kathleen DeBold, president of Moving Experiences, a company that serves queer and straight seniors in the Washington, D.C. area, in a telephone interview.
This fear is realistic, DeBold said, citing an example of homophobia in a retirement community, "a lesbian couple introduces themselves to the president of the community. As they walked away, he said in a booming voice, 'they're a lesbian couple!'"
Ensuring that we don't wind up in the closet after being out for most of our lives will be our Stonewall in our Golden Years. Let's begin by coming out to ourselves about aging. Though youthful in heart, we're not forever young.
National Gay & Lesbian Chamber of Commerce Certifies Brown, Naff, Pitts Omnimedia, Inc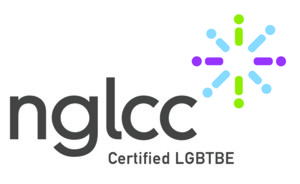 Washington, D.C. — Brown, Naff, Pitts Omnimedia, Inc, the parent company of the Washington Blade and Azer Creative, announced today it has been certified by the National Gay and Lesbian Chamber of Commerce (NGLCC) as an LGBT Business Enterprise. The NGLCC supports and advocates for diversity and inclusion for LGBT-owned businesses. With this certification the Blade's parent company joins more than 510 business and 134 corporate partners of the NGLCC.
Brown, Naff, Pitts Omnimedia, Inc. owns and operates the Washington Blade, the oldest and most acclaimed LGBT newspaper in the country. In 2012, the company launched Azer Creative, a full-service design firm. The company employs more than a dozen full-time LGBT staff.
"We are excited to become one of the 500 LGBT businesses across the country certified by NGLCC," said Lynne Brown, the Blade's publisher and a co-owner of the company. "The LGBT community has been part of our company from the beginning and we look forward to continue that for many years to come."
The Washington Blade was founded in 1969 and is known as the "newspaper of record" for the LGBT community both locally and nationally. Visit washingtonblade.com for more information. Azer Creative is a full-service graphic design firm based in Washington, D.C. Visit azercreative.com for more information. 
Vote now for the 2013 Best of Gay DC!
Choose in dozens of categories among hundreds of nominees, and make your voice heard!
Nominate the 'Best of Gay D.C.' now!
Dozens of categories cover all the best for LGBT Washington. Who deserves the prize this year?