Giffords shooting shines light on guns, speech
Will tragedy bring out the best in us or reinforce partisan divide?

Maybe the shooting of Rep. Gabrielle Giffords (D-Ariz.) is the natural outgrowth of our country's polarization, hyper-partisan climate and all of our hateful political speech. Or maybe we're all reading too much into it and Jared Lee Loughner is simply a psychopath.
Regardless, the tragedy in Tucson has shone a bright light on our culture — from the way political adversaries demonize one another to our lax gun laws that enable psychopaths to walk into a big-box sporting goods store and buy 200 bullets at a time.
When news surfaced that Giffords was among 20 Democrats targeted by Sarah Palin on her web site — her congressional district depicted in the crosshairs of a gun — the predictable battle lines were drawn. Palin's critics on the left rushed to blame her, while Fox News commentators turned the tables and said Loughner was a left-wing radical. They all missed the lesson of the tragedy.
Palin didn't pull the trigger and isn't directly to blame. But she needs to take responsibility for her dangerous rhetoric. The First Amendment doesn't grant us freedom of speech free of consequences. A true leader — which Palin this week showed us she is not — would step forward, apologize for using such violent metaphors and work to change the ugly tone that permeates political debate in this country.
In moments of crisis, we drop our political affiliations and come together and it's been gratifying to watch the interviews this week of the witnesses and first responders who ran toward the gunfire to help victims. From doctors who happened to be grocery shopping nearby and rushed to administer CPR, to a young man buying cigarettes who helped subdue the gunman, there were real moments of compassion and courage amid the tragedy.
Perhaps the person who stood out most in the chaos was Daniel Hernandez, a 20-year-old gay Hispanic-American intern who'd been working for Giffords for just five days. When most people would have run away from the gunfire, Hernandez instinctively sought out victims who needed medical attention.
He quickly assessed the scene and understood the severity of Giffords's wound, thanks in part to his training as a certified nursing assistant. He realized that the congresswoman risked choking on her own blood, so he propped her up in his lap and applied pressure to the wound to slow the bleeding. Even after medical crews arrived, Hernandez stayed with Giffords.
"I saw my job then as not taking care of her medical needs but taking care of her emotional needs," a poised and articulate Hernandez told the "Today" show. "I tried to comfort her and make sure she knew she wasn't alone. I let her know I was going to try to contact her parents and her husband."
Some have since questioned the significance of reporting on Hernandez's sexual orientation, but it's important for Americans to see LGBT people as a visible part of society and, yes, sometimes as heroes. In the aftermath of the 9/11 terrorist attacks, the compelling story of Mark Bingham, the gay rugby player who helped bring down United Airlines Flight 93 over Pennsylvania, captured headlines. Arizona Sen. John McCain, in a 2008 interview with the Blade, cited Bingham as one of his gay heroes. After Hernandez's brave actions in Tucson, others will surely view him in the same light.
National Gay & Lesbian Chamber of Commerce Certifies Brown, Naff, Pitts Omnimedia, Inc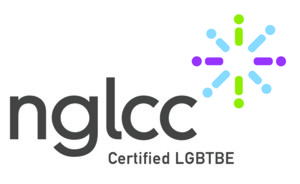 Washington, D.C. — Brown, Naff, Pitts Omnimedia, Inc, the parent company of the Washington Blade and Azer Creative, announced today it has been certified by the National Gay and Lesbian Chamber of Commerce (NGLCC) as an LGBT Business Enterprise. The NGLCC supports and advocates for diversity and inclusion for LGBT-owned businesses. With this certification the Blade's parent company joins more than 510 business and 134 corporate partners of the NGLCC.
Brown, Naff, Pitts Omnimedia, Inc. owns and operates the Washington Blade, the oldest and most acclaimed LGBT newspaper in the country. In 2012, the company launched Azer Creative, a full-service design firm. The company employs more than a dozen full-time LGBT staff.
"We are excited to become one of the 500 LGBT businesses across the country certified by NGLCC," said Lynne Brown, the Blade's publisher and a co-owner of the company. "The LGBT community has been part of our company from the beginning and we look forward to continue that for many years to come."
The Washington Blade was founded in 1969 and is known as the "newspaper of record" for the LGBT community both locally and nationally. Visit washingtonblade.com for more information. Azer Creative is a full-service graphic design firm based in Washington, D.C. Visit azercreative.com for more information. 
Vote now for the 2013 Best of Gay DC!
Choose in dozens of categories among hundreds of nominees, and make your voice heard!
Nominate the 'Best of Gay D.C.' now!
Dozens of categories cover all the best for LGBT Washington. Who deserves the prize this year?