August 18, 2020 at 2:55 pm EDT | by Kathi Wolfe
Suffrage is a badass history of revolution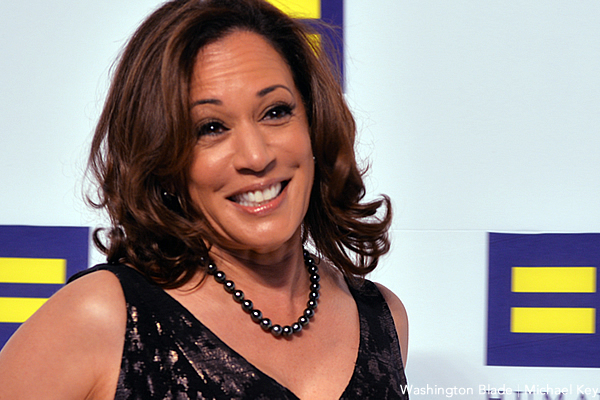 Editor's Note: This is the first of a two-part special on the 100th anniversary of women's suffrage.
It's not often that history happens in your lifetime. But history was made recently.
On Aug. 11, Joe Biden picked Sen. Kamala D. Harris (D-Calif.) as his running mate.  Harris, of Jamaican and Indian descent, is the first Black woman and the first Asian-American woman to be the vice-presidential nominee on a major party ticket in the United States.
This may seem old-hat to you by now, but besides Harris, Sarah Palin and Geraldine Ferraro are the only two other women to have been nominated for vice president by a major party in U.S history.
I don't want to reduce Harris' qualifications to a series of firsts. Before she became a senator, Harris, 55, was the San Francisco district attorney. Later, she was the attorney general of California. She would be a superbly qualified vice president, or if, necessary, a good president.
As a lesbian, I'm excited! If the Biden-Harris ticket wins, (after four years of the anti-queer Trump administration), we'll have LGBTQ allies in the White House. Harris is a long-term supporter of LGBTQ rights going back to her tenure as San Francisco district attorney, the Blade reported.
"I grew up in a community and a culture where everyone was accepted for who they were," Harris told the Los Angeles Blade in 2018. "It was about equality, inclusion."
This election season, I can't think of anyone better than Harris to call out Trump's many falsehoods and misdeeds. Though her parents were immigrants, Harris was born in California. Yet, Trump and his team, resurrecting their racist, false "birtherism" claims about Barack Obama, already falsely claim that Harris isn't eligible to be vice president. (I'm confident that folks are on to Trump's racist assertions and that Harris will be able to fend off these baseless attacks.)
The election will, and should, focus on much more than Harris' gender and race. Yet, the news of her being picked as Biden's running mate is history making. Women are half of America's population, according to the U.S. Census Bureau. In a country that's been run by (mostly) white men, it's grab-you-by-the lapels-make-you want-to-dance-historic.
As I'm white, I can't imagine how electrifying this must feel to women and girls of color. Words fail to say how thrilled I was to hear Harris say on Aug. 12, the day after Biden picked her to be his running mate, that she remembered the "heroic and ambitious women before me."
Harris' historic moment isn't the only milestone being marked this week. On Aug. 18, 1920, the 19th Amendment to the Constitution giving women in the United States the right to vote was ratified. (The amendment was passed by Congress on June 4, 1919.) Women could vote in some Western states. But women throughout the entire country couldn't vote until Secretary of State Bainbridge Colby certified the 19th Amendment on Aug. 26, 2020.
It's wonderful that the 100th anniversary of women's suffrage arrives as Harris makes history. Yet, a not-so-celebratory irony permeates this milestone. Until recently, we've often been told in history books that the suffrage movement (beginning at a convention in Seneca Falls, N.Y. in 1848) was led by Susan B. Anthony and Elizabeth Cady Stanton, two white, heteronormative, middle-class women. Once the 19th Amendment was ratified, the story went, every woman in the United States could vote.
For decades, I (like many folks) bought into this narrative. Only recently, did I begin to question why LGBTQ women and women of color were left out of the prevailing narrative of women's suffrage. Or to stop and think that many Black women couldn't vote until the Voting Rights Act was passed in 1965.
Now, queer women and women of color are being included in women suffrage narratives. The history of the suffrage movement may make your eyes glaze over. "But it's not a boring history of nagging spinsters," Kate Clarke Lemay, a historian at the National Portrait Gallery in Washington, D.C., has said. "It is a badass history of revolution staged by political geniuses."
Hooray for those badasses!
Kathi Wolfe, a writer and a poet, is a regular contributor to the Blade.