August 20, 2020 at 8:29 am EDT | by Peter Rosenstein
Be optimistic but work your ass off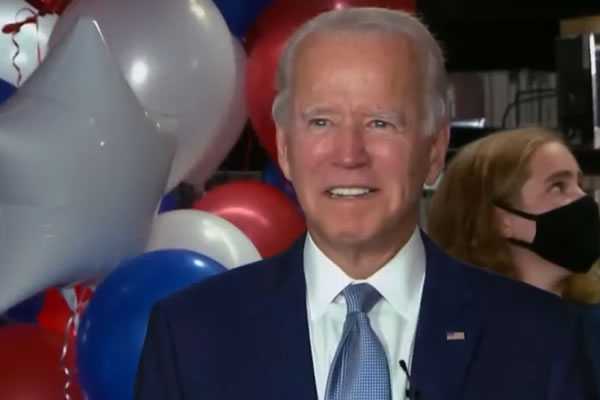 We are hearing about all the impediments Republicans are trying to put in the way of people voting. At times it appears they are trying to turn the United States into a banana republic or the next Belarus. They are doing everything from closing voting locations, scrubbing the voting roles, and now the president has publicly said he is against giving the Post Office the money it needs to keep functioning at full capacity in order to stop them from delivering ballots on time. President Obama called it when he said the president is "kneecapping" the Post Office. Clearly they are doing all this because they can read the tea leaves like the rest of us, they are losing and scared.
Convention week is here. Joe Biden and Kamala Harris make a historic team and the public is responding. Biden raised $48 million in 48 hours after naming Harris as his running mate, including 150,000 new donors. This show of support is mirrored in the polls. Biden/Harris are leading according to Five Thirty Eight both nationally and in many targeted states including Wisconsin, Michigan, Arizona, Minnesota, Florida, and Pennsylvania. They are within half a percentage point in Georgia and Texas. With all this I am optimistic but not overly so. There are about 75 days to the election and much less in many states where early voting is available.
So everyone who wants to see Trump defeated has to be working their ass off from now until Nov. 3. Biden's campaign is being well run by Jennifer O'Malley Dillon, who has a long history of working on campaigns. She understands this campaign is like no other anyone has ever run because of the coronavirus pandemic. As reported in the Washington Post, "the campaign manager is trying to create a new way of organizing. As she described it: "We really tried to strip it back and say two things: One, it's engagement. And it's connection." She went on to say: "We spent several months in the early part of the pandemic where we were doing heavy voter contact all across the country, but it was not political in nature," she said. "It was about reaching people and checking in on them: How are you doing? What's going on? What's happening? How can we help?" 
For four days, Aug. 17- 20, we are seeing something never seen before, a virtual convention. No thousands of people in a large convention hall cheering every word. No funny hats and balloon drops. Biden and Harris will make their acceptance speeches from Wilmington, Del., without crowds in the audience. Votes on the rules and platform are by email. The roll call of the states will be from more than 50 different locations. No parties or spontaneous demonstrations. If it goes smoothly it could be the end of in-person conventions. This virtual thing has its benefits. Two hours of speeches each night for the networks and cable news to carry. For some it might be harder to give a speech without audience reaction. Yet Joe Biden and Kamala Harris showed how effective speeches without an audience can be when he introduced her as his running mate. I never heard Harris give a better speech. She is a brilliant, compassionate, empathetic candidate and that came across in her speech. Her presentation made you listen and she never had to raise her voice. Biden also gave a great speech that day. He was clear, concise and right on target. I am very optimistic they will do that again when accepting their nominations.
Then it will be up to every Democrat, independent and decent Republican to work their hearts out and asses off until Nov. 3 to ensure the disgusting sexist, homophobic, racist pig currently occupying the Oval Office is thrown out. It will be up to us to give Biden and Harris the mandate she asked for when she accepted Biden's offer to be on the ticket. My optimism includes believing Americans will overcome every obstacle the Republicans are putting in our way to keep us from voting. We will show them and the world the overwhelming majority of Americans will do what we must to save our democracy.
Peter Rosenstein is a longtime LGBTQ rights and Democratic Party activist. He writes regularly for the Blade.