At last, a role model for 'queer crips'
Celebrating Geri Jewell's coming out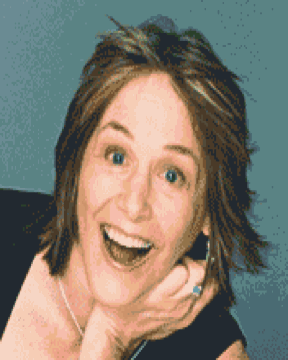 Back in the day, a celebrity coming out was a showstopper. Today, so many glam folk reveal they're queer, that these revelations are like snowflakes: lovely, but hard to distinguish from one another. You know it's good for the LGBTQ community when celebrities are open about their sexuality; yet, you almost stop noticing.
But last weekend, when actress and comedienne Geri Jewell, 54, the first person with a visible disability to appear in a recurring role on prime time TV, came out as a lesbian, I was as excited as I was when Ellen rocked the world by saying "I'm gay."
Why was I so riveted by Jewell's reveal of her sexual orientation? Because I'm legally blind and lesbian, and like many of us who are crip and queer, I've found that people with disabilities are often invisible in the LGBTQ community. (Some of us, reclaiming pejorative terms, refer to ourselves as queer and crip.) Most of us don't desire invisibility. Yet, exclusion from inaccessible bars and meeting places to employment discrimination keep us off the radar screen.
Like many of my disabled friends, when I was growing up, I thought I'd die before adulthood because I rarely saw anyone like myself on TV. Nobody used a wheelchair or had a seeing-eye dog on "Leave It To Beaver," "I Love Lucy " or any of my favorite programs. From the boob tube, you'd have no idea that folks with disabilities went to school, held jobs or (heaven forbid!) had sex.
When I came out, I didn't meet other LGBTQ people with disabilities. I had no role models.
Now, queer crips are gradually becoming more visible, according to Bethany Stevens, a faculty member and policy analyst with the Center for Leadership in Disability at Georgia State University.
"There's a sense of exclusion from the larger queer movement," added Stevens, who is a queer sexologist and wheelchair user, "there's the pervasive notion of the 'body beautiful' — and we don't live up to those standards."
But in "hotbeds" of urban culture, "there are moments of visibility," Stevens said, "[for example] wheelchair users start the San Francisco Pride parade. But, we're still not experiencing social inclusion. We're not seen as desirable."
Jewell, who has cerebral palsy, has achieved fame and critical acclaim over her more than 30-year career. In 1980, she broke new ground as cousin Geri on the NBC sitcom "The Facts of Life." During four seasons of the show, Jewell portrayed a character who was attractive, performed comedy gigs, and dated, and who happened to have a disability. Sure, Geri's "experiences" were with men. But this was a watershed moment for crips — hetero and queer.  Geri wasn't pitiable. She was a strong woman and funny as hell. When she joked, "I don't have cerebral palsy, I'm drunk. When I'm drunk, I walk perfectly straight," people with disabilities were freed from their "heroic" halo.
"Jewell showed that people with disabilities exist and not in an 'after school special,' framework," said Robert J. Thompson, professor of television and popular culture at Syracuse University in a telephone interview. "She wasn't 'inspiration' – the character was from her point of view."
Jewell's work in the HBO western "Deadwood" (set in the 19th century during the Gold Rush) was important, said Beth A. Haller, author of "Representing Disability in an Ableist World: Essays on Mass Media," in an e-mail. "Her character had sass and complexity and was an integral part of the Deadwood community."
Jewell, whose memoir "I'm Walking as Straight as I Can: Transcending Disability in Hollywood and Beyond" will be out in April, is likely coming out partly to reinvigorate her career, which due to disability based discrimination, has lagged between "Facts" and "Deadwood." The climate is more open now, but it's still brave to come out.
Jewell is the Ellen of queer crips. Barbara Walters take note: Jewell would be a great addition to your "most fascinating people" of 2011 special. I only hope that Geri will use her celebrity not only to increase her fame, but to help make queer crips more visible and welcome in the LGBTQ community.
National Gay & Lesbian Chamber of Commerce Certifies Brown, Naff, Pitts Omnimedia, Inc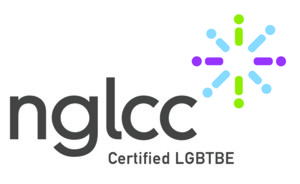 Washington, D.C. — Brown, Naff, Pitts Omnimedia, Inc, the parent company of the Washington Blade and Azer Creative, announced today it has been certified by the National Gay and Lesbian Chamber of Commerce (NGLCC) as an LGBT Business Enterprise. The NGLCC supports and advocates for diversity and inclusion for LGBT-owned businesses. With this certification the Blade's parent company joins more than 510 business and 134 corporate partners of the NGLCC.
Brown, Naff, Pitts Omnimedia, Inc. owns and operates the Washington Blade, the oldest and most acclaimed LGBT newspaper in the country. In 2012, the company launched Azer Creative, a full-service design firm. The company employs more than a dozen full-time LGBT staff.
"We are excited to become one of the 500 LGBT businesses across the country certified by NGLCC," said Lynne Brown, the Blade's publisher and a co-owner of the company. "The LGBT community has been part of our company from the beginning and we look forward to continue that for many years to come."
The Washington Blade was founded in 1969 and is known as the "newspaper of record" for the LGBT community both locally and nationally. Visit washingtonblade.com for more information. Azer Creative is a full-service graphic design firm based in Washington, D.C. Visit azercreative.com for more information. 
Vote now for the 2013 Best of Gay DC!
Choose in dozens of categories among hundreds of nominees, and make your voice heard!
Nominate the 'Best of Gay D.C.' now!
Dozens of categories cover all the best for LGBT Washington. Who deserves the prize this year?