Shared responsibility and a tax increase
After spending sprees, chickens are home to roost

D.C. is facing a budget crisis. Unlike the federal government, we must balance our budget. Cutbacks in government resources at every level will force us to unite as a community to deal with this crisis. Whether it's cleaning sidewalks after snowstorms, preventing more cases of HIV/AIDS and caring for those already sick or improving our children's education, we must assume more responsibility for helping ourselves and each other. The LGBT community has a history of doing just that. That may be the best explanation for what Mayor Vince Gray means when he talks about "One City."
The District of Columbia is no better or worse than other big city governments when it comes to waste and fraud. But where we are different is that Congress still controls our destiny in too many ways. We aren't allowed to charge a commuter tax, meaning about 35 percent of the income earned here isn't taxed here.
Fifty percent of our land is federal with no property taxes paid. Congress insists we have offices like the State Education Office because that is the only way to get our fair share of federal funds. There is no longer a general federal payment to the District but rather specific payments such as support for our court system, Metro, schools and prison system and now Congress is threatening to cut those funds.
Budget cuts will impact every area of our lives and fall most heavily on those who need government the most. Whether it's shortened library and recreation center hours, cuts in programs for seniors, needle exchange, HIV/AIDS services or TANF payments, it is the poor with few options that will be impacted the most.
Taking care of ourselves and donating more time and money to the organizations we care about will be crucial. Our government continued to spend above its means long after it should have. We increased program funds and built libraries and recreation centers, dog parks and bike lanes knowing all along we may not be able to keep them up or staff them at current levels. Now the chickens have come home to roost.
The mayor and Council need to make the budget transparent and be willing to cut waste and cut spending to the bone. But after they do that we as a community will realize we need to find additional funds because the impact of the cuts even with added private support will leave our most vulnerable residents without the services they need to keep them healthy and alive. I would then support a tax increase knowing that some programs like education and workforce development can't be cut but will need to be enhanced if we are to train people for jobs that enable them to become contributing taxpaying members of society.
The tax increase should be broad and progressive so everyone shares in the burden. It should also have a sunset clause. As the economy recovers and revenues increase the tax rates must return to current levels. The last thing we want is for our politicians to think they will have more money to spend in perpetuity.
And even with a tax increase government services will be heavily reduced and we will need to step up to the plate and do for ourselves. The responsibility for making sure our children are prepared for school becomes ours as a community. We need to take responsibility for things like cleaning our walkways and alleys and keeping them free of ice and snow in storms. Take some personal responsibility for things like the horrendous traffic jams in the last storm. If a storm is predicted for the afternoon rush hour, then leave the car at home and take Metro. Don't blame government for two-hour trips home from downtown to Georgetown when you could have left your car where it was.
Step up giving to organizations like Whitman-Walker Clinic, Us Helping Us, SMYAL, Metro TeenAIDS and faith organizations like Foundry Methodist Church that feed the homeless.
In good times government can and should help. In times of crisis individuals need to step up to the plate. We are fighting two wars that weren't paid for with the only people paying the price for Afghanistan and Iraq being the military and their families. The least we can do is take over some responsibilities on the home front and contribute something to ensure everyone continues to receive basic services.
John Donne said, "No man is an island." That statement was never truer than it is today.
National Gay & Lesbian Chamber of Commerce Certifies Brown, Naff, Pitts Omnimedia, Inc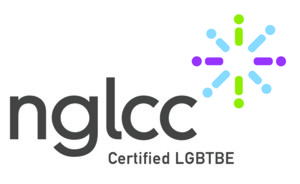 Washington, D.C. — Brown, Naff, Pitts Omnimedia, Inc, the parent company of the Washington Blade and Azer Creative, announced today it has been certified by the National Gay and Lesbian Chamber of Commerce (NGLCC) as an LGBT Business Enterprise. The NGLCC supports and advocates for diversity and inclusion for LGBT-owned businesses. With this certification the Blade's parent company joins more than 510 business and 134 corporate partners of the NGLCC.
Brown, Naff, Pitts Omnimedia, Inc. owns and operates the Washington Blade, the oldest and most acclaimed LGBT newspaper in the country. In 2012, the company launched Azer Creative, a full-service design firm. The company employs more than a dozen full-time LGBT staff.
"We are excited to become one of the 500 LGBT businesses across the country certified by NGLCC," said Lynne Brown, the Blade's publisher and a co-owner of the company. "The LGBT community has been part of our company from the beginning and we look forward to continue that for many years to come."
The Washington Blade was founded in 1969 and is known as the "newspaper of record" for the LGBT community both locally and nationally. Visit washingtonblade.com for more information. Azer Creative is a full-service graphic design firm based in Washington, D.C. Visit azercreative.com for more information. 
Vote now for the 2013 Best of Gay DC!
Choose in dozens of categories among hundreds of nominees, and make your voice heard!
Nominate the 'Best of Gay D.C.' now!
Dozens of categories cover all the best for LGBT Washington. Who deserves the prize this year?