A tipping point on marriage
The once hot-button issue cools considerably

Earlier this week, I debated marriage equality on a radio show in Baltimore. The other guests on the show were Mary Ellen Russell, head of the Maryland Catholic Conference, Derek McCoy, president of the Maryland Family Alliance and the former GOP Senate leader in the state.
It seemed I would be outgunned and outnumbered — a Catholic, a pro-family blowhard and a Republican politician versus the lone gay journalist. But my trepidation about the interview quickly melted away when the Republican turned out to be Sen. Allan Kittleman, who broke with his party and endorsed marriage equality. And when Russell and McCoy spoke, their arguments were so hollow and specious that batting them away was effortless. To make matters even easier, the host and all of the callers had my back.
Russell focused on procreation and the importance of child rearing to the institution of marriage. McCoy adamantly opposes same-sex marriage because it would necessitate teaching schoolchildren about gay relationships.
When I asked Russell if the Catholic Conference advocates for rescinding marriage rights for infertile couples, she fell silent. And I reminded McCoy that same-sex marriage is already being taught in schools because it's legal in five states and D.C., along with a growing list of foreign countries.
There was no shouting or name calling; no one got emotional. The debate, if you can call it that, was a real let down and a microcosm of what's happening in communities across the country over the issue of relationship recognition for same-sex couples.
From Maryland, which appears poised to legalize full marriage rights in the coming months, to Hawaii, where the House overwhelmingly approved a civil union bill, the debates are less rancorous, the polls less lopsided and the politicians less fearful of standing up for equality. This week, lawmakers in Washington State introduced a marriage equality bill; Freedom to Marry launched a major national advertising campaign promoting marriage rights; and a new poll in New Hampshire found that 63 percent of voters have no appetite for repealing marriage equality there.
When Kittleman realized his own civil union bill stood no chance of passing, he ditched it and simply endorsed marriage. He said this week that the reaction from Republican friends and constituents was surprisingly low-key, even supportive. And Kittleman isn't alone among state Republicans. Chrysovalantis P. Kefalas, deputy legal counsel to former Maryland Gov. Robert L. Ehrlich Jr. (R), said he considers marriage equality to be consistent with the Republican principle of limited government.
Make no mistake that opponents of marriage rights remain active and vocal, but they are increasingly shrill and seen as being on the wrong side of history. At a Senate committee hearing in Maryland last week, opponents showed up in significant numbers to testify against marriage rights.
One witness made national headlines when he warned that extending marriage rights to gay and lesbian couples would open the door to human-robot weddings. Robert Broadus, from Protect Maryland Marriage, said, "If you pass this bill, you will set the groundwork, that one day when artificial intelligence is that advanced, we will be considering whether or not people can marry their androids. … If you say that any two people who love each other can get married, then you set that precedent." He wasn't joking. Broadus referenced "Stark Trek's" Lieutenant Commander Data's ability to shed tears and added, "You laugh, but it's true."
Other witnesses compared same-sex relationships to pedophilia and incest. "Where do we draw the lines? What comes next? If a man loses his wife to a premature death, shouldn't he be allowed to marry his daughter, or son, or both," said Gerard Selby.
In response to that ugly, homophobic testimony, Sen. Edward Kasemeyer, who represents a conservative district and had previously declined to reveal his position on the issue, announced he would vote for the marriage bill.
As the Senate inches closer to a vote, the concerns about a protracted, pitched battle have given way to a sense of inevitability. Maryland's lieutenant governor, attorney general and former Senate minority leader have all spoken publicly about their support for marriage equality. Gov. Martin O'Malley remains a holdout, but pledged in a 2007 interview with the Blade to sign a marriage bill if lawmakers send it to his desk. A public endorsement from O'Malley would be welcome and history's judgment would be more favorable to him if he spoke out now. But enough elected officials have found the courage to speak out and stand up for justice that O'Malley finds himself on the sidelines in this debate, which is where he is most comfortable. A profile in courage, O'Malley ain't.
With more and more Americans accepting our relationships, opponents of equality will continue to find themselves outnumbered and relegated to the sidelines. It's inspiring and surreal to watch. As Maryland Attorney General Doug Gansler has repeatedly said, in another 20 years, all 50 states will have marriage equality. It's inevitable.
Kevin Naff is editor of Washington Blade. He can be reached at [email protected]
National Gay & Lesbian Chamber of Commerce Certifies Brown, Naff, Pitts Omnimedia, Inc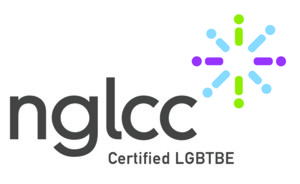 Washington, D.C. — Brown, Naff, Pitts Omnimedia, Inc, the parent company of the Washington Blade and Azer Creative, announced today it has been certified by the National Gay and Lesbian Chamber of Commerce (NGLCC) as an LGBT Business Enterprise. The NGLCC supports and advocates for diversity and inclusion for LGBT-owned businesses. With this certification the Blade's parent company joins more than 510 business and 134 corporate partners of the NGLCC.
Brown, Naff, Pitts Omnimedia, Inc. owns and operates the Washington Blade, the oldest and most acclaimed LGBT newspaper in the country. In 2012, the company launched Azer Creative, a full-service design firm. The company employs more than a dozen full-time LGBT staff.
"We are excited to become one of the 500 LGBT businesses across the country certified by NGLCC," said Lynne Brown, the Blade's publisher and a co-owner of the company. "The LGBT community has been part of our company from the beginning and we look forward to continue that for many years to come."
The Washington Blade was founded in 1969 and is known as the "newspaper of record" for the LGBT community both locally and nationally. Visit washingtonblade.com for more information. Azer Creative is a full-service graphic design firm based in Washington, D.C. Visit azercreative.com for more information. 
Vote now for the 2013 Best of Gay DC!
Choose in dozens of categories among hundreds of nominees, and make your voice heard!
Nominate the 'Best of Gay D.C.' now!
Dozens of categories cover all the best for LGBT Washington. Who deserves the prize this year?