Buddha Bar's gay night delights
So many of D.C.'s gay bars are holes in the wall. And that's fine — I love a good dive sometimes. But sometimes it is nice to hang out a trendier spot and that's exactly what Buddha Bar provides with its Sunday night "gay night."
I checked it out two evenings ago and had more fun that I've had out in eons. A big part of it was the crowd — I ran into several friends I hadn't seen in awhile, but the space is really what blew me away. The room is cavernous. Not Convention Center cavernous, but mammoth nonetheless. I'd seen photos of the interior before but had no way to put it in perspective until I saw it in person.
The Buddha statue that's the focal point of the room lords over the space like the Lincoln Memorial statue. Even with loud dance music waffling through the room (loud, but not deafening or conversation-defeating) and a bustling late-night crowd of hundreds, the Buddha and the decor in general give the room a serenity. I didn't eat dinner — though it's served til midnight and several were eating — but I can't wait to go back sometime for sushi.
The drinks were great, too. I didn't order anything fancy — just gin and tonic — but even with the dense crowd, I never had to wait more than a couple minutes to get a bartender's attention. And the cocktails were reasonably priced in the $6-$7 range. I never had that heavy Halo-esque feeling of, "Oh god, I better watch it here before I drop a hundred bucks on three or four rounds."
Though the DJ was great, her booth — an odd little balcony/pod coming out of the wall from on high — was the only thing that didn't gel with the rest of the decor, which is full of warm earth tones, mammoth Sri Lanka-esque chandeliers and mirrors as big as basketball courts.  The sheer scope of this place is dazzling.
Oddly, though, there was no dance floor. There was enough open space that a few who couldn't resist were shimmying in place, but no place to really "get down." I didn't miss it, but for some it could be a deterrent.
Buddha is on Massachusetts Ave. near Union Station. That part of the street is a little tough to navigate — you can't just take the spoke off Thomas Circle and get there in a straight shot. But once you find it, parking is pretty easy. I found a great spot one street over. This is my new Sunday night hangout!
National Gay & Lesbian Chamber of Commerce Certifies Brown, Naff, Pitts Omnimedia, Inc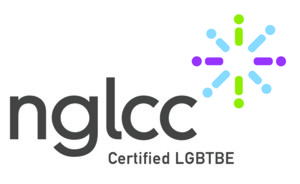 Washington, D.C. — Brown, Naff, Pitts Omnimedia, Inc, the parent company of the Washington Blade and Azer Creative, announced today it has been certified by the National Gay and Lesbian Chamber of Commerce (NGLCC) as an LGBT Business Enterprise. The NGLCC supports and advocates for diversity and inclusion for LGBT-owned businesses. With this certification the Blade's parent company joins more than 510 business and 134 corporate partners of the NGLCC.
Brown, Naff, Pitts Omnimedia, Inc. owns and operates the Washington Blade, the oldest and most acclaimed LGBT newspaper in the country. In 2012, the company launched Azer Creative, a full-service design firm. The company employs more than a dozen full-time LGBT staff.
"We are excited to become one of the 500 LGBT businesses across the country certified by NGLCC," said Lynne Brown, the Blade's publisher and a co-owner of the company. "The LGBT community has been part of our company from the beginning and we look forward to continue that for many years to come."
The Washington Blade was founded in 1969 and is known as the "newspaper of record" for the LGBT community both locally and nationally. Visit washingtonblade.com for more information. Azer Creative is a full-service graphic design firm based in Washington, D.C. Visit azercreative.com for more information. 
Vote now for the 2013 Best of Gay DC!
Choose in dozens of categories among hundreds of nominees, and make your voice heard!
Nominate the 'Best of Gay D.C.' now!
Dozens of categories cover all the best for LGBT Washington. Who deserves the prize this year?