Queery: Daniel Phoenix Singh
The gay dancer/choreographer answers 20 gay questions

Dancing for Daniel Phoenix Singh is a passion, a notion with which many artists can relate. So much so, in fact, that he essentially works two full-time jobs to make it happen.
He works in information technology by day ("To pay the bills," he says) and spends four or five days a week dancing with his eponymous group, the Dakshina/Daniel Phoenix Singh Dance Company, a seven-year-old outfit of 14 dancers that specializes in modern American, classical and traditional Indian dance. Their next performances are next weekend (April 2-3) at Dance Place in Washington where they'll perform "By the Light," a dance the late D.C. choreographer Eric Hampton created while suffering the latter stages of the Lou Gehrig's disease to which he eventually succumbed.
"It's really about what dance meant to him," Singh says. Go to danceplace.org for information.
Singh grew up in India but moved to the U.S. when he was 17 in 1990. He chose "Phoenix" as a translation of his middle name because his Indian name was too long to fit on his passport and green card. Dakshina means offering in Sanscrit, a name he chose to honor his company's Indian roots. Four of its male members, including Singh, are gay. He says queer sensibilities inform his work in several ways.
"I never think of gender in terms of casting," he says. "I might cast two men for a dance, two women or a man and a woman. It's whoever does the work the best. It's very freeing for me. I have a strong interest in social justice that comes from my LGBT sensibilities, and also an awareness of how the arts can be used to speak to something larger. It's not just something that's pretty, it's a way to address something that's relevant to our lives."
Singh is single and lives in Petworth. He enjoys reading, napping, chocolate, movies, cooking, working out and biking in his spare time.
How long have you been out and who was the hardest person to tell?
I've been out for close to 15 years now.  The hardest person to tell was my mother, she didn't know what gay meant. So it was a bit difficult/humorous to try to explain and come out at the same time — perhaps more humorous in hindsight. When I first came out, it made me reel that someone who loved me so much — that she gave up a comfortable life in India to work 80-90 hours a week so I could have a good education and life — could hate a part of me so unquestioningly because of what her church told her. But she has had a pretty incredible change of heart. Props to my mom, even though she doesn't understand it completely and is still a pretty conservative Christian, she grew to accept me and love me again.
Who's your LGBT hero?
Audre Lorde, she lived a composite, nuanced, self-analytical, socially conscious/active, artistic life that I covet.
What's Washington's best nightspot, past or present?
Chaos! I loved Chaos and miss the space where people from diverse backgrounds and age groups gathered to dance the night away. My favorite memory of Chaos is when a young guy brought his grandmother to the drag show that happened before the Salsa nights.
Describe your dream wedding.
Intellectually, I'm not sure I believe in the institution of marriage — it's too hetero-normative for me. But my heart strings still tug when I see a traditional Indian wedding, and I'm always the first person to start crying when a couple begin saying their vows.
What non-LGBT issue are you most passionate about?
I'm very passionate about the arts. I'm concerned that we as a community don't realize the long-term effects of this steady decline in engaging with the arts whether it is in the K-12, general public, senior citizens or immigrant communities. To me it is inconceivable to define a progressive developed society without the arts having a central role. There is a lot of talk about the loss of nuance, abstraction and engagement in our conversations (both social and political). People often take the most polarized views, everything comes down to a yes/no check box and then they wonder why we can't get along or move forward. To me, the arts is about the subtleties of life, about finding the gray areas and looking at life from various angles. Most importantly art is about self-reflection and awareness — something critical for us to grow as a society.
What historical outcome would you change?
There are several things I'd like to change. I don't know where to start.
What's been the most memorable pop culture moment of your lifetime?
When Dana Fuchs, one of the heroines in "Across the Universe" locked lips with me (among several others) at her concert.
On what do you insist?
Kindness.
What was your last Facebook post or Tweet?
Mornings = Bad.
If your life were a book, what would the title be?
"Artful Mischief."
If science discovered a way to change sexual orientation, what would you do?
Make everyone poly-sexual?  If everyone loved everyone, maybe some of our problems will go away.
What do you believe in beyond the physical world?
I don't believe in an afterlife — learning to let go of the ego of permanence was a hard lesson for me. But I do believe integrity in our lived lives survives us.
What's your advice for LGBT movement leaders?
To find a community-based, grassroots solution to our host of issues, instead of trying to create a top-down abstract model. Have stakeholders present in very early planning stages, don't just invite them as "community sponsors" after the main conversation has finished. And to try to frame issues as more than the hetero-homo binaries.
What would you walk across hot coals for?
My dance company and my friends.
What LGBT stereotype annoys you most?
That we're here to recruit.
What's your favorite LGBT movie?
"Milk"
What's the most overrated social custom?
Clubbing (different from dancing).
What trophy or prize do you most covet?
The MacArthur Fellowship
What do you wish you'd known at 18?
That I should have started dancing earlier.
Why Washington?
Like Goldilocks, it's just the right size — not too big, not too small.
Surprise rides of 2022
Fun, frugal, and full of frills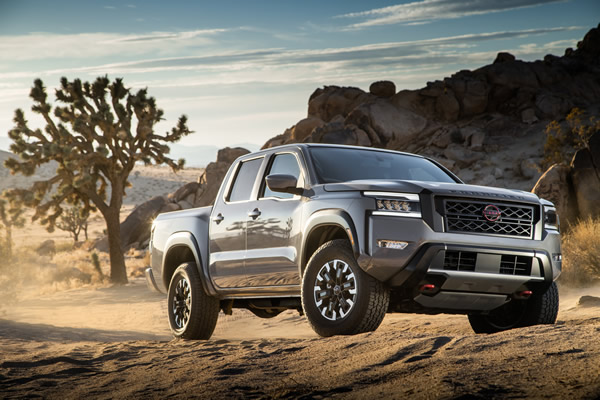 Each January, I list my top vehicle picks of the year. But with so many contenders this year, the focus this time is on surprise rides: Three solid choices that are unexpectedly fun, frugal and full of frills.
NISSAN FRONTIER
$29,000
Mpg: 18 city/24 highway
0 to 60 mph: 7.3 seconds
Sure, Tesla, Rivian and other newcomers may be garnering lots of press these days. But other automakers also have been upping their game. Cue the Nissan Frontier pickup, completely redesigned with bold, bad-boy styling. This includes a pugnacious grill, menacing headlights and sleek LED taillights. Inside, new laminated side windows reduce wind and road noise. Refined, soft-touch surfaces are a pleasant surprise, as are various clever storage spaces. And then there are the zero-gravity seats, built to alleviate driver fatigue. Despite the space-age description, these NASA-inspired seats have a traditional design but are built with 14 different pressure points to reduce stress on tired muscles. They may not be as fancy as massaging seats in luxury vehicles, but they feel just as effective. Other cabin niceties include large easy-to-read gauges and an optional 9-inch touchscreen, along with wireless charging, Wi-Fi and 10-speaker Fender stereo. One minor annoyance: the steering column tilts but has no telescopic function. While there may be a few less-expensive pickups on dealer lots, none come with as many features. As for performance, the 310-horsepower V6 is the best in its class, and overall handling is more akin to a well-mannered SUV than a workhorse hauler. For off-road enthusiasts, a Pro-4X model comes with heavy-duty Bilstein shocks, electronic locking rear differential for better grip and beefy all-terrain tires.
JEEP WAGONEER
$60,000
16 city/22 highway
0 to 60 mph: 7.3 seconds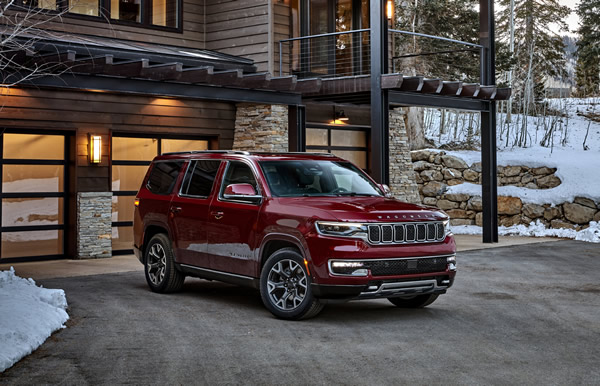 While oversized rides don't really fit my urban identity, the all-new Jeep Wagoneer had me almost pining for a Brady Bunch lifestyle in the burbs. Out of production since 1991, this resurrected land yacht made me feel safe and secure on the road. It also tapped into my love of a beloved cruiser: the Pontiac Grand Safari station wagon that I drove across country in my 20s. (Alas, those tawdry travel tales are another story.) But while such behemoths may be described as big and boxy, the Wagoneer is definitely chic, echoing many of the more sculpted elements of a ritzy Range Rover. Powered by a gutsy V8 Hemi engine, this super-sized SUV quickly hustles down the road. A mild-hybrid system not only helps conserve fuel but also adds some extra oomph. Front-wheel drive comes standard, though many buyers will prefer one of the four-wheel-drive options for even better drivability. Air suspension lets you raise and lower the Wagoneer, which has up to 10 inches of ground clearance and can trek through two feet of water. Along with offering more standard features than most competitors, there's also more second- and third-row legroom. The rich interior, with contrast piping and stitching on the seats, includes a wraparound dashboard with up to three large screens. Two more screens are available for rear-seat passengers, who can stream thousands of programs via the Wi-Fi. Notable amenities include automated parking, rear-seat monitoring camera and premium 19-speaker McIntosh stereo. Fully loaded, a Wagoneer can reach $75,000. That's still less than the primo Grand Wagoneer ($89,000), which can sprint from 0 to 60 mph in a wickedly fast 5.7 seconds. That glam model, with goodies such as a refrigerated front console and a hidden touchpad safe to store valuables, can easily top $100,000.
MITSUBISHI OUTLANDER
$28,000
Mpg: 24 city/31 highway
0 to 60 mph: 8.6 seconds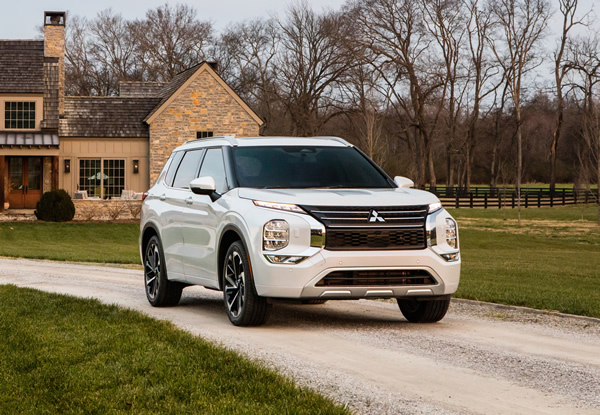 Of the three vehicles reviewed here, the updated Mitsubishi Outlander was the biggest surprise. After all, the automaker isn't the most popular or reliable brand on the block. But like a washed-up diva making a stunning comeback, the Outlander is now taking its star turn in the highly competitive crossover market. The overall styling is dazzling, with sheet metal that has been stretched and pulled into an edgy origami design. Built on the same platform as the Nissan Rogue, this new Outlander is taller, wider and longer than that popular compact. It also offers a third seat, even if legroom here is miniscule. And despite what is a capable but rather tepid engine, the Outlander handling is crisp and spirited. Driver visibility is especially good, and I found the cabin to be pleasantly quiet. But most notable are all the amenities, including head-up display, wireless smartphone integration, 10-speaker Bose stereo, panoramic sunroof, power tailgate, heated steering wheel, heated seats (both front and back), a full slate of the latest safety gear and much more. Another plus: the 10-year/100,000-mile limited powertrain warranty. All in all, it's nice to see Mitsubishi start to regain its footing—with the Outlander center stage.
Is cash always king?
How to stay competitive in the face of all-cash offers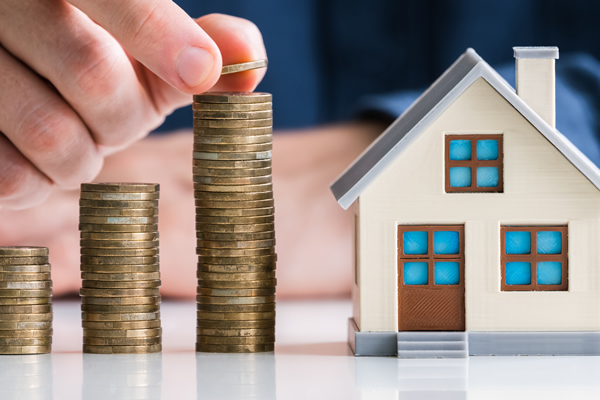 One of the frequently asked questions I get as a real estate agent serving the DC Metro area and Delaware beaches is: How can I be competitive in a market that is seeing an increase in all-cash offers?
I get it, the real estate market is super competitive, but it's not just because of the low inventory, it's also because of the cash offers sellers are seeing.
Money is money right? Why would a seller be inclined to take a lower all-cash offer versus a higher offer with a mortgage. Let's break it down a bit.
An all-cash offer usually comes with very limited contingencies in addition to the more important piece, which is the timing. A cash sale can close in less than a week whereas a sale with a conventional mortgage can usually only be expedited to a 21-day close. Don't lose hope! There are still a few ways you can have a competitive edge over cash offers with a few steps your agent can advise you through:
OFFER CASH – THEN ACQUIRE FINANCING: If the stars align and you are purchasing a home that the sellers currently reside in, you can expect that they will need some time to gather their items and move — they also have to gather their great great grandmother's wedding dress and Uncle Fester's golf clubs that they just HAVE to keep. This will allow you time to go the conventional mortgage route. Please note that this is a very detailed alteration and it is recommended fully that you speak with your real estate agent prior to doing this to ensure that you are fully educated with the pros and cons of this method and what is at risk. The biggest item to highlight is that a mortgage comes with the infamous appraisal. The appeal of an all-cash offer is that there is no appraisal. With a mortgage an appraisal is required. If the appraisal comes in low, you will need to be ready to come to the table with the difference in appraised value – in cash. For example: Appraised value is $100,000 and you are under contract for $200,000 – that is a delta of $100,000, which you will need to come up with in cash in order to continue with the transaction, separate from any other monies you have already placed down.
OFFER $$$ OVER LOW APPRAISAL: Following up on the appraisal aspect here – you can write a contract with financing in place from the onset and provide an addendum that you will pay the difference in low appraisal (referencing the example above) or you can offer an alternative that would be to pay up to XX over a low appraisal. In this example of paying a dollar amount over a low appraisal, you write into the contract that you are going to offer $50,000 over the appraisal if it is a low appraisal. So if the contract price is $150,000 and you offer to pay $25,000 over a low appraisal value and the property is valued with appraisal at $125k then you would have to pay a total of $150k for the home and that $25k difference would, again, need to be in cash. This allows a bit of leverage with lower cash amounts on hand – but again similar to the example of acquiring financing above, the sellers must allow for the timing of a mortgage application process to occur.
GIFTS FROM FAMILY: What is family for if it isn't for providing you large sums of cash!? In all seriousness – this is a fully accepted method of cash funds. You will want to speak to a financial planner/tax individual to fully understand tax implications for both parties (giftor and giftee) to fully understand what this means, but there is always the ability to be gifted funds from parents, aunts, uncles etc., to ensure that you are liquid and can purchase the property of your dreams.
OFFER "RENT BACK" TO SELLERS: Following the guise that the sellers must find a property to purchase or perhaps they are moving across the country and need a month or two in order to get their affairs in order. This allows you to provide a "rent back" to the sellers and basically become their landlord. In this scenario you would typically charge them rent, which would be equal to your carrying costs for your home expenses. For the purposes of being competitive in this market, you can offer a "rent FREE rent back" where you afford them the ability to sell the home to you and they still reside in the home for an established time post closing at no cost to them. This sounds silly — why would you let someone stay in your new home rent free for two months when that means that you are paying for your mortgage and other expenses in addition to rent for an apartment or maybe shacking up with mom and dad again?
It's important to remember that in order to get a property in this market there is the need to think creatively if you don't have all the cash in the world — you can still be VERY competitive.
Justin Noble is a Realtor with Sotheby's international Realty licensed in D.C., Maryland, and Delaware for your DMV and Delaware Beach needs. Specializing in first-time homebuyers, development and new construction as well as estate sales, Justin is a well-versed agent, highly regarded, and provides white glove service at every price point. Reach him at 202-503-4243, [email protected] or BurnsandNoble.com.
Leather and lace in your home decor
From couches to countertops, add some flair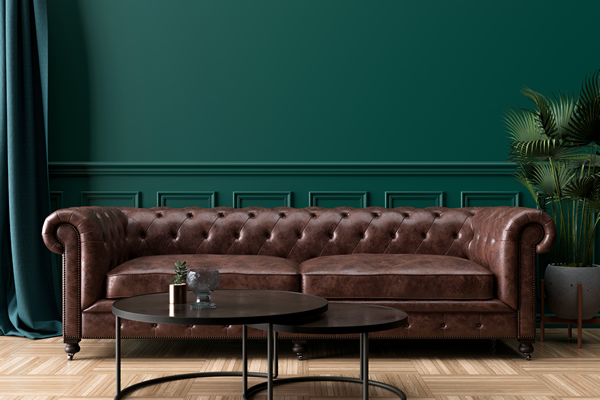 When I was very young, I would visit my maternal grandmother and marvel at the hand-tatted and crocheted doilies that adorned the arms and backs of her sofa and chairs. They were also found on her dressers and side tables, and on the dining table as coasters and placemats, to prevent scratches on the furniture. Like snowflakes, the designs of the doilies were both intricate and individual.
I'm convinced that people had better posture in the early 20th century, because I never saw the remnants of men's hair tonic, Macassar oil, or pomade on Nana's doilies, even though they were there to keep the furniture from absorbing those hair products. Certainly, people weren't the couch potatoes lounging on sofas then that we are today. Being able to Netflix and chill was a long way off.
I was impressed with the amount of work that had gone into such a little piece of fabric, so I later tried to learn to crochet. Sadly, all I was able to accomplish was string after string, never having been taught how to join those strings together to resemble a doily. At least with knitting, I was able to form squares large enough to be blankets for my Barbie.
In my mid-century childhood, doilies were put away and saved for grandchildren who, years later, would neither want them nor appreciate their historical value. The '50s saw polyvinyl chloride (PVC) go from a commercial substance used frequently in post-WWII construction to a residential fabric that we now refer to fondly as "pleather." I can still remember the sound of my thighs peeling off the vinyl banquette at the diner when I would get up to leave a booth.
To be without a leather couch in the '60s was déclassé and, although styles have changed, such a couch remains a timeless piece. These days, if you are looking for a little more leather in your life and in your home, you can look beyond that couch and chair, where options range from the subdued to the highly decorative.
While vinyl is still the least expensive leather-look fabric, we now have "bonded" leather, made with scraps that are bonded together using polyurethane or latex. As you can tell from the prices of such furniture, the actual leather used in the process can vary from 10-90 percent.
Of course, top grain leather is the most expensive, and we have suede, die cut, embossed, patent, and a variety of other techniques used to change the look of a hide. In addition, there is now vegan leather.
For something unique for your kitchen or bar, check out the tooled leather countertop from Kosel Saddlery (koselsaddles.wixsite.com/marty) in Montana. They also make saddles and chaps.
Instead of the shiny granite counters that we all know, MSI Surfaces (msisurfaces.com) makes honed and leathered granite finishes for a more subtle appearance and has dealers throughout the DMV. 
For a do-it-yourself application, Amazon sells the Aspect brand eight-pack of leather glass, peel and stick subway tiles for backsplashes in five neutral colors for less than $20 each.
EcoDomo (ecodomo.com) in Gaithersburg offers a variety of custom leather treatments, including countertops, door and cabinet panels, floor planks and tiles, and wall systems. Your color choices aren't limited to black or brown either. They can manufacture pieces in blue, red, green, and even in custom colors to match other items in your décor.
Many online stores such as Wayfair and Overstock carry real and faux leather headboards, footstools, poufs and benches at affordable prices.
There's always something in leather at Pottery Barn, even for the conservative budget: pieced leather pillows, tufted stools, basket collections, and even a leather-bound coffee table book for cigar aficionados.
If you're looking for small accent pieces, try a leather coaster, placemat, napkin ring, or my personal favorite, a cutlery pouch for your tableware collection from Lucrin Geneva (lucrin.com). They also offer office accessories such as crocodile desk sets, wastebaskets and storage boxes.
And for the connoisseur of leather, vinyl, rubber, or even neoprene items of a more personal nature, head to the Capitol Hill Hyatt Regency this Friday through Sunday for Mid-Atlantic Leather weekend. With plenty of specialty items, high-impact fashion, toys and games for all ages and yes, even custom-made furniture among the vendor exhibitions, you're sure to find something that will tickle your fancy.
Just remember that you (and your puppy) must both be vaccinated and masked to attend. We take COVID (and rabies) very seriously here in D.C.
Valerie M. Blake is a licensed Associate Broker in D.C., Maryland, and Virginia with RLAH Real Estate.  Call or text her at 202-246-8602, email her via DCHomeQuest.com, or follow her on Facebook at TheRealst8ofAffairs.