Was William Donald Schaefer gay?

A legend has passed away. William Donald Schaefer served first on the Baltimore City Council, then as mayor of Baltimore for four terms from 1971 to 1987 and then governor of Maryland for two terms from 1987 to 1995. Out of office for a couple of years he soon got bored and ran and won two terms as comptroller of Maryland from 1998 to 2007.
Schaefer was never taken with the trappings of government in the way so many other politicians are. He remained an average guy until the day he died. I had the pleasure of having dinner with him after he left office and he reminisced about how the biggest joy he got out of being in elected office was the ability to help people and he meant it. He just cared about people, enjoyed doing things for them and enjoyed being around them. As mayor, Schaefer was credited with turning around Baltimore partially by pushing for the building of a new convention center and building Harborplace. As governor, he is credited with pushing through the financing of two Baltimore stadiums, Camden Yards home of the Orioles and M&T Bank stadium home of the Ravens.
I have heard from close friends of Schaefer's that while he had thousands of acquaintances he had few real friends and that isn't all that unusual for some political figures. He was in many ways a very private person and part of the reason for that may have been that by all accounts he was gay. But Schaefer grew up at a time when that wasn't something politicians would or could share with the electorate. Into his 60s he lived with his mother in a row house in Baltimore and then when he moved into the governor's mansion in Annapolis he brought his longtime friend and neighbor Hilda Mae Snoops to live with him in the mansion as his hostess.
When I met Schaefer after he left office he was already beginning to suffer from some of the illnesses that finally overtook him at the age of 89. But I often thought of him and said a silent thank you when I would drive to Rehoboth Beach over the new Kent Narrows Bridge and on to the Denton bypass. Those two road improvements made a hell of a difference for those heading out to the Eastern Shore and some thought they happened much faster than they otherwise would have because Schaefer owned a home on the Eastern Shore. Anyone who ever got stuck on Route 50 by the old Kent Narrow's drawbridge knows what a debt of gratitude they owe Schaefer.
I am not sure that Schaefer could have been elected today as politics has changed so much. There would have been journalists and bloggers investigating his every move and writing about all the outrageous remarks he was known to make. Snide remarks about women's behinds and cutting remarks about patients with AIDS. In 1992 Schaefer made headlines when he as a Democrat endorsed George H.W. Bush for the presidency against Bill Clinton. He remarked how he enjoyed being invited to Camp David. He didn't have much impact on how Maryland voted but many chalked it up to, there goes Schaefer again. He was a mayor and a character similar to Mayor Ed Koch in New York, only Koch never did win higher office.
One thing that I find sad is that if it is true, as many who knew him well suggested, that he was gay, is that he never did come out. There are so many young boys and girls across this country who would be helped if more of our great political figures came out and showed that being gay is not something to be ashamed of and that gay people can be respected government and community leaders. There are others in Congress and former cabinet members who are still active and who could do so much good by coming out. It is wonderful that so many of our straight allies are willing to speak up for us, but nothing compares with when someone who is gay and understands what it means, speaks out. It is then that a young boy or girl who is struggling with their identity can truly relate.
With the country now polling over 50 percent in favor of marriage equality we have come such a long way that these well-known and respected individuals standing up and speaking out could really make an important difference.
It can make the difference between life and death for a young person who may be bullied in school, or shunned at home. I can only hope that the time will come when all of our gay and lesbian leaders will speak out as only then will they realize what a great feeling it is when you can finally be true to yourself.
National Gay & Lesbian Chamber of Commerce Certifies Brown, Naff, Pitts Omnimedia, Inc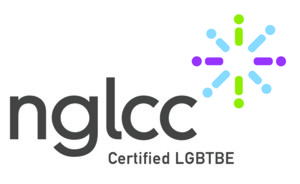 Washington, D.C. — Brown, Naff, Pitts Omnimedia, Inc, the parent company of the Washington Blade and Azer Creative, announced today it has been certified by the National Gay and Lesbian Chamber of Commerce (NGLCC) as an LGBT Business Enterprise. The NGLCC supports and advocates for diversity and inclusion for LGBT-owned businesses. With this certification the Blade's parent company joins more than 510 business and 134 corporate partners of the NGLCC.
Brown, Naff, Pitts Omnimedia, Inc. owns and operates the Washington Blade, the oldest and most acclaimed LGBT newspaper in the country. In 2012, the company launched Azer Creative, a full-service design firm. The company employs more than a dozen full-time LGBT staff.
"We are excited to become one of the 500 LGBT businesses across the country certified by NGLCC," said Lynne Brown, the Blade's publisher and a co-owner of the company. "The LGBT community has been part of our company from the beginning and we look forward to continue that for many years to come."
The Washington Blade was founded in 1969 and is known as the "newspaper of record" for the LGBT community both locally and nationally. Visit washingtonblade.com for more information. Azer Creative is a full-service graphic design firm based in Washington, D.C. Visit azercreative.com for more information. 
Vote now for the 2013 Best of Gay DC!
Choose in dozens of categories among hundreds of nominees, and make your voice heard!
Nominate the 'Best of Gay D.C.' now!
Dozens of categories cover all the best for LGBT Washington. Who deserves the prize this year?