Baltimore City Hall among first to host same-sex weddings
Baltimore Mayor Stephanie Rawlings-Blake decided to open the doors of City Hall to allow same-sex couples to marry as soon as it was legal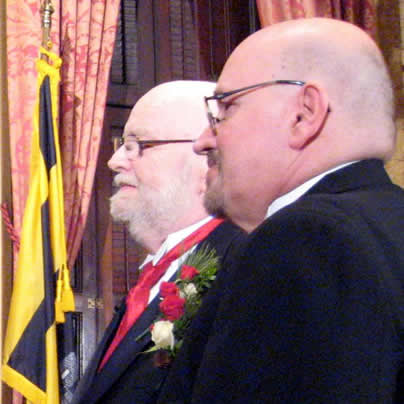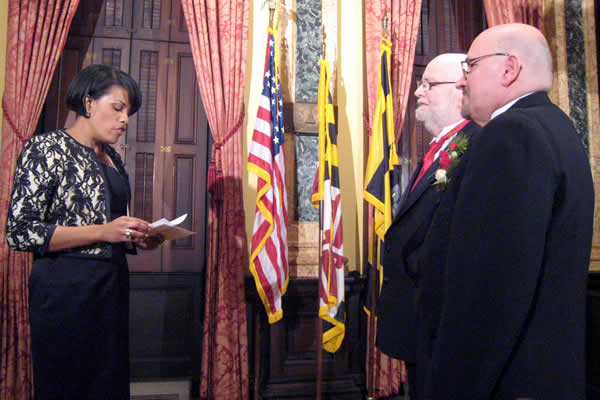 Baltimore Mayor Stephanie Rawlings-Blake, who was a high-profile advocate for same-sex marriage in Maryland especially during the referendum battle, decided to open the doors of City Hall to allow same-sex couples to marry as soon as it was legal.
Beginning at 12:30 a.m. on New Year's Day, seven couples participated in ceremonies with the first officiated by the mayor herself.
"New Years Day will have a new meaning for the hundreds — if not thousands — of couples who will finally have the right to marry the person they love," said Rawlings-Blake in a statement prior to the event. "It is a remarkable achievement for Maryland and we are excited to open City Hall to host some of the first wedding ceremonies in our great state. Newly married couples will stand before their friends and family to profess their love and commitment to each other. This is what we worked for and I am looking forward to take part in this historic and jubilant day."
Jim Scales, a 40-year employee of Baltimore City who has been an office manager serving all mayors since William Donald Schaefer, and his partner Bill Tasker were the first to get married in City Hall at 12:30 a.m. on Jan. 1. The couple, who reside in Essex, have been together 35 years.
"We didn't want to rush into this," Scales said.
The idea of opening City Hall originated with attorney Mark Scurti of PK Law. It took several phone calls and networking, but he was ultimately able to pull it off with help from the mayor's office.
The other six couples who tied the knot at City Hall were Brigitte Ronnett and Lisa Walther, Danielle Williams and Darcea Anthony, Jamie Kraft and Sarah Vickery, Tom Rabe and Robert Coffman, Ryan Wilson and Shehan Welihindha, and William L. Countryman, Jr. and Roy Allen Neal.
Similar ceremonies took place around the state with some occurring one minute after midnight. Unions occurred in Annapolis, Tighlman Island, Howard County, Cumberland and more. Havre de Grace City Councilman Joseph C. Smith married his partner Don Starr at the city's Concord Point Lighthouse, complete with fireworks.
Va. House committee advances two anti-transgender bills
Democrats in state Senate will likely kill measures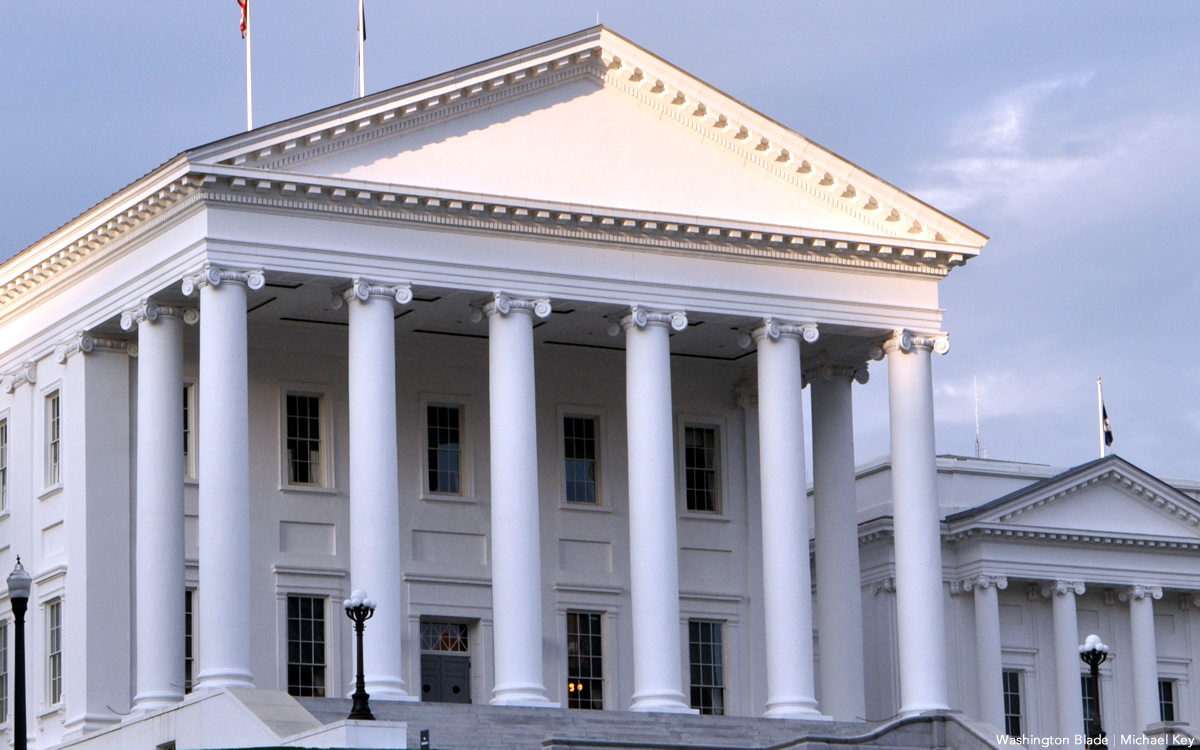 The Virginia House Education Committee on Friday approved two anti-transgender bills.
Committee members advanced state Del. Karen Greenhalgh (R-Virginia Beach)'s House Bill 1387, which would ban transgender athletes from school sports teams that correspond with their gender identity, and state Del. Dave LaRock (R-Loudoun County)'s House Bill 2432, which would require school personnel to out trans students to their parents.
A House subcommittee earlier this week approved the two bills.
Republicans control the House of Delegates by a 51-47 margin. Democrats have a 22-18 majority in the Virginia Senate.
The Senate Education Committee on Thursday killed six anti-trans bills. It is likely HB 1387 and HB 2432 will meet the same fate once they reach the state Senate.
Comings & Goings
Swaruup takes role as executive director of DC Legal Aid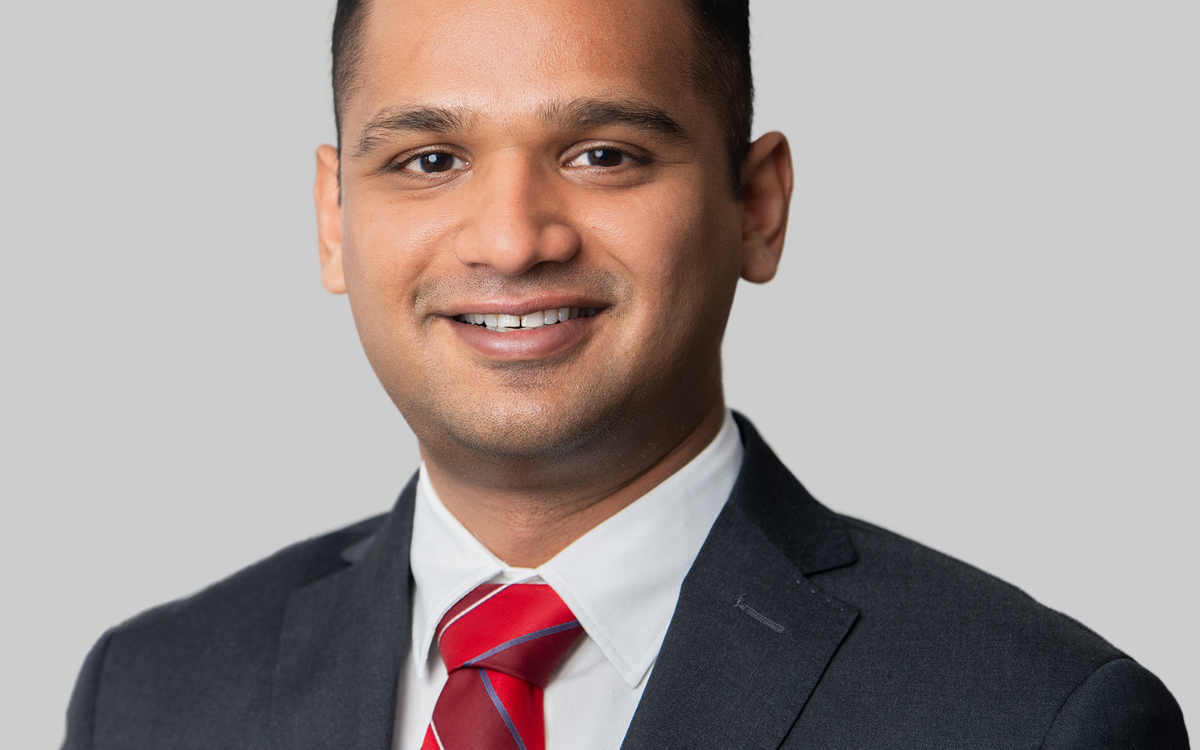 The Comings & Goings column is about sharing the professional successes of our community. We want to recognize those landing new jobs, new clients for their business, joining boards of organizations and other achievements. Please share your successes with us at [email protected].
The Comings and Goings column also invites LGBTQ college students to share their successes with us. If you have been elected to a student government position, landed an exciting internship, or are graduating and beginning your career with a great job, let us know so we can share your success. 
Congratulations to Vikram Swaruup on his new position as executive director of DC Legal Aid. Upon accepting the position Swaruup said,"Legal Aid is one of the most important institutions working to make sure all District residents are treated fairly in our legal system, and I could not be more grateful to the board for this tremendous honor. I'm excited to be joining a top-notch team that is on the front lines of fighting for District residents."
Swaruup has been working in the Office of the Attorney General for the District of Columbia, as Chief Deputy Attorney General. He served as second-highest ranking officer and thought partner to the attorney general in management of all legal work of the office, including the District's affirmative, defensive, and appellate litigation, as well as legal advice provided to District agencies and the legislature. He began working there in the Civil Rights Section, as Assistant Attorney General. He litigated civil rights cases, including investigating pre-suit, drafting complaints, engaging in discovery and motions practice, and developing recommendations for amicus participation.
Prior to that he served in the U.S. Department of Justice, Civil Rights Division, Appellate Section, Washington, D.C., as a senior attorney. Before going to the DOJ, he served as a law clerk for Judge Lucy H. Koh, U.S. District Court for the Northern District of California, San Jose, Calif. He was a summer associate with Boies, Schiller & Flexner LLP, Oakland, Calif. He was a Holley Law Fellow with the the National LGBTQ Task Force in D.C., and a Pride Law Fund Fellow with the Transgender Law Center, San Francisco.
Vikram earned a bachelor's of journalism, with high honors, University of Texas, Austin; and a Juris Doctor, University of California, School of Law, Berkeley, Calif. During his college years he participated in many activities including: California Law Review (Senior Articles Editor); Berkeley Journal of Gender, Law & Justice (Executive Editor); Faculty Appointments Committee (student co-chair); Queer Caucus (outreach chair); and South Asian Law Student Association.
D.C. Council to honor drag performer Ba'Naka
Memorial resolution expected to pass unanimously on Feb. 7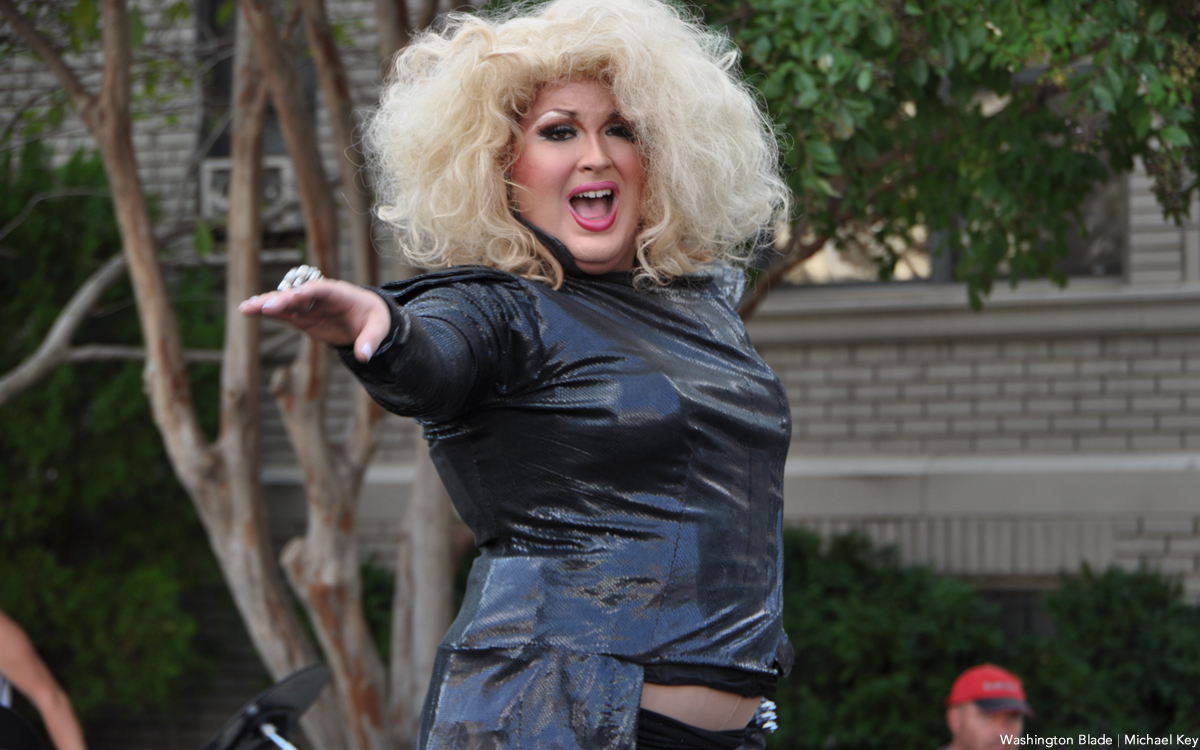 All 13 members of the D.C. City Council have signed on as co-introducers of a ceremonial resolution honoring the life of the late D.C. drag performer Dustin Michael Schaad, who performed at many of the city's gay bars and LGBTQ events under the name Ba'Naka.
The resolution, introduced by D.C. Council member Anita Bonds (D-At-Large), was expected to be approved unanimously at the Council's Feb. 7 legislative session.
"The Council of the District of Columbia honors Dustin Schaad's memory, recognizes and celebrates their legacy of love, unity, and compassion for all those who knew him, and expresses sincere condolences to Dustin's family and loved ones," the resolution states.
The resolution notes that Schaad, 36, moved to D.C. shortly after graduating high school in his hometown of Bradenton, Fla., and not too long after that "began performing as Ba'Naka at drag shows around the city, eventually becoming one of the most recognizable people in the District's drag community."
Schaad died Jan. 11 at George Washington University Hospital from complications associated with a longstanding illness, according to friends.
David Perruzza, owner of the D.C. gay bars Pitchers and A League of Her Own, said Schaad had been performing most recently at Pitchers while overseeing a popular drag bingo event at the Adams Morgan bar. Perruzza said Schaad talked about having performed in drag since the age of 18.
"[T]hrough their vibrant personality and outgoing nature, Ba'Naka raised awareness around issues impacting the LGBTQ+ community," the Council resolution says, adding, "Ba'Naka became a beloved regular at gay bars and clubs around the District, lifting the spirit of the LGBTQ+ community."
"RESOLVED, BY THE COUNCIL OF THE DISTRICT OF COLUMBIA, that this resolution may be cited as the 'Dustin Michael Schaad Memorial Recognition Resolution of 2023,'" the resolution states.